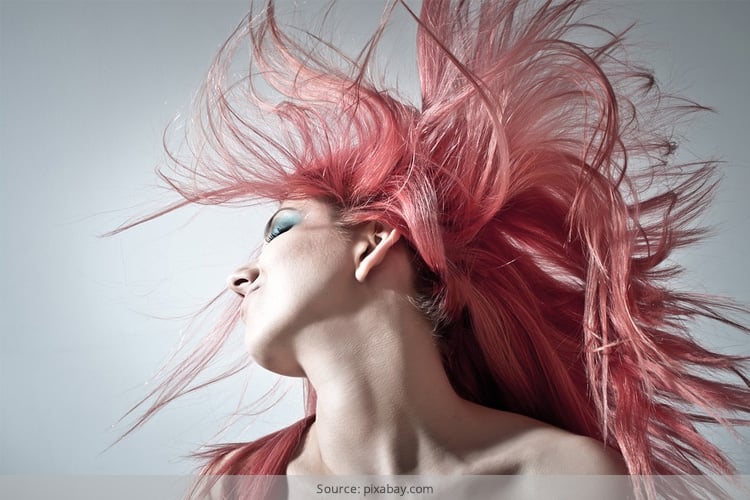 It is said that only a woman with long and sensuously luxurious locks can portray youth and femininity. For this, from investing in a range of shampoos and conditions, women nowadays believe in spending a lot on organic hair care products such as serums, hair oils and hair dyes. Talking about organic hair dyes, it's a personal choice to really choose the one with least amount of toxic present.
Because well anything with chemicals is sure to wreak havoc, not only on your hair, but also other parts of your body (scientifically proven) . One of the most dangerous chemicals every woman should watch out for when buying hair dye is PPDs (p-Phenylenediamine).
Here's our list of harmless and best hair dyes for women.
1. Garnier Colour Naturals
Garnier Colour Naturals is one of the most well-known brands out there, owned by the internationally recognised L'Oreal. Featuring as the number 1 hair colour in our list of top 2 hair dyes, Garnier has a wide spectrum of cololur base to choose from, something that can really make a lady spoilt for choice. From reds to burgundys to browns and blacks, Garnier Colour Naturals has a range of colour options, which is easily available at any of the local stores. Assuring long-lasting hair colour that is ammonia free, the brand takes care of the fact that your hair remains silky and shiny after its application. Your hair will become softer, guaranteed with no single strand of grey hair in sight.
Price: Rs. 180
2. L'Oreal Paris Casting Creme Gloss
If there's one product that deserves a solid mention in the list of top 2 hair dyes, then L'Oreal Paris Casting Creme Gloss is second to Garnier Colour Naturals. This ammonia-free hair dye is one of the best selling solutions out there, with the brand being amongst the first one to launch the range of ammonia-free hair colours. The range is best known for covering up all your grey hair while giving your glossy and healthy hair as an aftermath. The colour lasts for as long as 28 washes and takes 20-25 minutes to process. Packed with aloe vera goodness, L'Oreal Paris Casting Creme Gloss is also a good blonde hair dye, which is packed with natural tea goodness.
Price: Rs. 467
3. Clairol Natural Instincts Crema Keratina
If you want to invest in at-home hair dye for black hair, then you should definitely go for Clairol Natural Instincts Crema Keratina. Meant to leave your hair feeling healthier and well nourished, Clairol Natural Instincts Crema Keratina leaves a strong colour, which can be processed fairly quickly. Apart from it being a completely ammonia-free solution, its best part is that it comes with a hydrating conditioner, which contains coconut oil. Something that aids in keeping your hair shiny and silky, while keeping dry and frizzy hair at bay. Clairol Natural Instincts Crema Keratina is a non-drip formula, which not only works wonders in greys but also boosts the colour of the darker hair strands.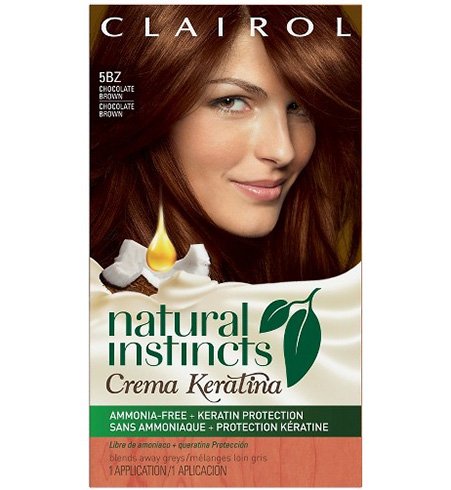 4. BBLUNT's Salon Secret High Shine Creme Hair Color
If BBLUNT Salon Secret is loved by Kareena Kapoor, it is loved by us! Keeping our love for Kareena Kapoor aside, BBLUNT's Salon Secret High Shine Creme Hair Color is one hell of a shine tonic solution, which guarantees you silky hair almost pronto. This at-home hair dye stands, true to its tagline of getting salon-like hair at home within minutes, is a fragrance-free blend, which is non-drippy too – this is a huge plus. BBLUNT's Salon Secret High Shine Creme Hair Color is also one of the most loved blonde hair dyes out there that takes only 30 minutes to process. However, keep in mind that the colour starts to fade within 8 weeks and you will have to re-apply the solution quite often when compared to other well-known brands in this field.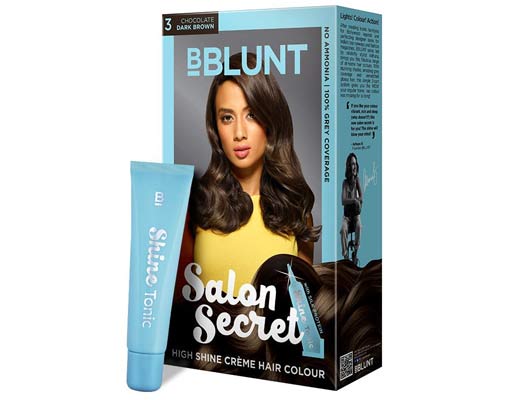 Price: Rs. 185
5. Naturtint Permanent Hair Color
Naturtint Permanent Hair Color is next in our list of best at-home hair dyes. The solution claims to make your hair 'naturally better', as it is packed with only plant-based ingredients. Devoid of any kind of harsh chemicals, Naturtint Permanent Hair Color does a fine job of giving your hair the colour you desire, without compromising with the health of your hair. The product also contains botanical extracts that are meant to revitalise your hair. The best part about this brand is that it is not only free of ammonia, but it also doesn't contain parabens and resorcinol. Free of animal cruelty of any sorts too, the brand has a wide range of 29 mixable shades, which can take anywhere from 30-40 minutes to develop.
Price: Rs. 1450
Take your pick from these best at-home hair dyes, which are not only harmless but also help in naturally nourishing, colouring, and beautifying your hair.