Wrist tattoos are  the most popular forms of body ink and are very stylish and trendy as well. They can also be personalized according to the individual requirements, butterfly, heart, madala, and more.
Want to try tattoos on your wrist? Sometimes, it can be a bit tricky to pick the right design for your skintone. Here in this article, we have curated the best wrist tattoos design for girls. Check it out!
What's a Tattoo?
There is a bit of style quotient in it, a bit of romance, fashion, adventure, and bonding as well. In short, sporting tattoos for girls on a wrist, arm, shoulder, foot, neck, hand (countless places on which you can get a tattoo inked) is being 'bindaas'. Are you one?
Why Tattoos For Girls?
Whether it's a simple rose, geometric pattern, religious symbol or names and initials, half sleeve or half leg, there are so many ways in which a girl can express herself through a tattoo. The choice is numerous and the options are unique. To cut it short, a tattoo is meant to make you look good, feel awesome and get attention and envy.
Tattoos For Girls On Wrist
Wrist tattoos for girls are probably the most underestimated tattoos that make a huge impact. The most unique tattoos of the lot, although they might seem simple to the outsider, they hold a lot more in-depth to the wearer.
No doubt, wrist tattoos are attention-grabbing but not every girl may risk getting her skin permanently inked. If you desire to draw interest to your hands and are not ready for something to stay forever on your skin, you may want to go with wrist jewelry. Pieces like this women's tiny skull bracelet are not only eye-catching but also meaningful.
1) Fern Leaves Wrist Tattoo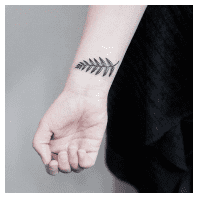 Source: Pinterest (Elis Silverio)
What's the fern doing across the shoulder? It's beautiful and comes across as a nice color gradient. Fern leaves symbolizes the youthful side and express new beginnings of life with this tattoo. Further, it is also a symbol of endurance and resourcefulness too.
2) Snowflake Wrist Tattoo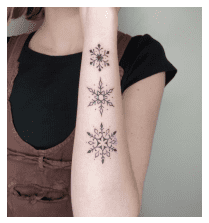 Source: Pinterest (Mädchen Ausm Wald)
Snowflake wrist tattoo is one of the best ways to look fashionable and unique among the group of members while attending kitty parties or other events. Snowflake when melted transforms into water, making it an icon for transformation and new beginnings. Furthermore, it is considered as the symbol of rebirth, purity, and love for nature.
3) Viking
Guess the meaning of this Viking symbol? It means "Where there's will, there's a way." Isn't it motivating?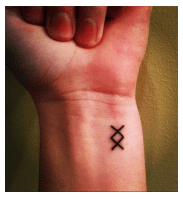 Source: Pinterest (Lively)
4) Trishul Tattoo Design on Wrist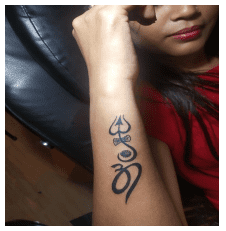 Source: Pinterest (Satty Tattoo Artist)
Trishul is a symbol of power, hence many girls tend to have it on their wrist to show the power and control of their life. At times, it can also be considered as a symbol of protection, good over evil forces.
5) Spread Your Wings
This is a free bird wrist tattoo design for girls who like their space and enjoy freedom. Definitely a cute tattoo for girls on wrists.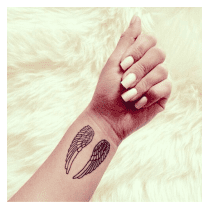 Source: Pinterest (Madelyn Dorn)
 6) Cartoon Tattoos for Girls

Source: Pinterest (Shilpa Kambham)
If you are a girl who loves pandas and wants to have a tattoo, it's good to have it on the wrist. In general, cartoon tattoos express the beloved childhood memories and give a nostalgic feeling for an individual. Not just Panda, you can also try your favorite fictional characters like tom and jerry, chota bheem, etc as per your choice of interest.
7) Sword Tattoo for Girls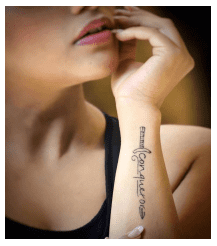 Source: Pinterest (Yseline Malonie)
Sword is the symbol of power, protection, strength, and courage. These days you can mostly find sword tattoos that portray bravery and courage in an individual to fight against the odds in life.
8) Roman Numerals Wrist Tattoo for Girls

Source: Pinterest (Jamie Burgan)
Roman numerals as a tattoo design represents the most important dates like birthdays, anniversaries, and other memories. Moreover, the Roman numerals look stylish and modern on the wrist too.
9) Abstract Design
If you are the type who lives in a shell, a tattoo with an abstract design on the wrist will definitely depict your personality.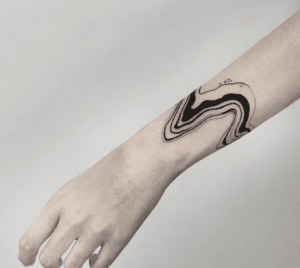 Source: Pinterest (Elan)
10) Stunning Butterfly Wrist Tattoo
Butterflies and cupids are the first love of every young girl. Then, why not get that depicted on your wrist with a butterfly wrist tattoo.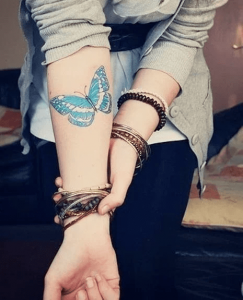 Source: Pinterest (Cuded Art & Design)
11) Butterfly Wrist Tattoos
There are umpteen butterfly wrist tattoo designs that you can choose from – black and white, colorful, stencil, single-colored, etc.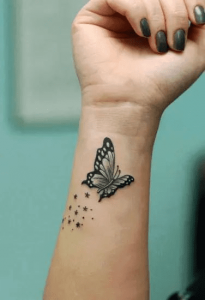 Source: Pinterest (Aurelia Meerettig)
12) Fly Away
This pretty butterfly depicts what lies within you. A good soul that wants to be let free in all walks of life.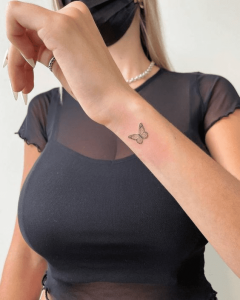 Source: Pinterest (Tattoofilter)
13) Love Your Wrists
This girl's tattoo idea on her wrist is the free handwriting of Love. This is one of the most sought-after woman's wrist tattoos.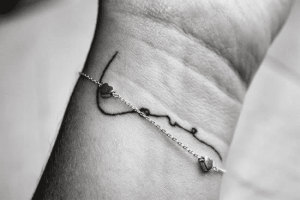 Source: Pinterest (Amaya Moneo Gil)
[Also Read: Animal Tattoos]
[Also Read: Eyebrow Tattoo]
14) Rosary Wrist Tattoo
Wrist tattoo designs can also include that of a rosary. Instead of physically carrying it around, a rosary tattoo design on the wrist can be an option.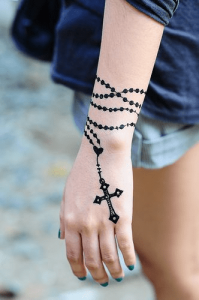 Source: Pinterest (Abhishek Rohni)
15) Musical Notes On Wrists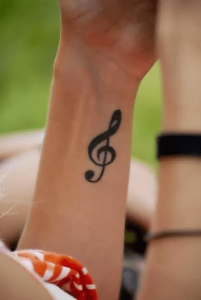 Source: Pinterest (CoffeeEcstasy)
Music tattoos are one of the best ways to show your love of music. Music tattoos are popular because they not only look cool but also remind people that you are passionate about music. There are many different types of music tattoos available, so whether you prefer classical, rock, or pop tunes, there's likely a design that suits your taste and personality.
Those who have made music a part of their life can have a music note tattooed on their wrist. You can get a small wrist tattoo done with the musical note design.
[Also Read: Bird Tattoos]
16) Music Note Symbol on Wrist
Music fans and freaks can get a musical note tattooed on the wrist.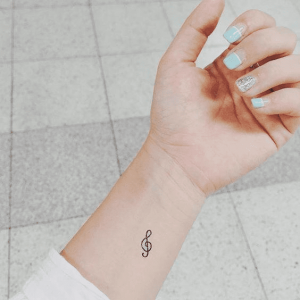 Source: Pinterest (Minha Tatuagem)
17) Simple Wrist Tattoos
Want to express love? Get this tattoo design done on the wrist of yours and your partners. Isn't this a cute and simple heart tattoo on wrists?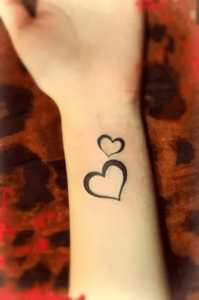 Source: Pinterest (Cuded Art & Design)
18) Om Wrist Tattoo
'Om' is a powerful symbol in the Hindu religion which stands for a "source of life" in the whole universe itself. Those who are religious can use this religious wrist tattoo idea for their arm or wrist. This om tattoo design can however be done in any other part of the body too.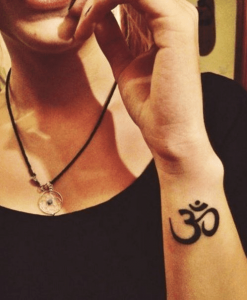 Source: Pinterest (Cultura Colectiva)
19) Wrist Tattoos With Words
Want to show off your dimples? Have a simple tattoo like this on your wrist. This will also bring a smile to the person who sees it for the first time.
20) Wrist Tattoos With Quotes
This is one of the wrist tattoos that most girls prefer as it symbolizes freedom.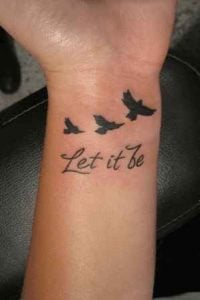 Source: Pinterest (Jess Lane)
21) Dainty Wrist Tattoo
Those who feel they are delicate and want to be handled with utmost care can get a rose tattooed on their wrist.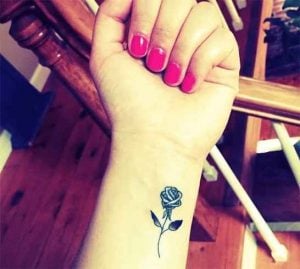 Source: Pinterest (Fiona Schiavo)
22) World On Your Wrists
Does travel run in your veins? If you say yes, then this is what you must get. It is one of the awesome wrist tattoo designs for travelers.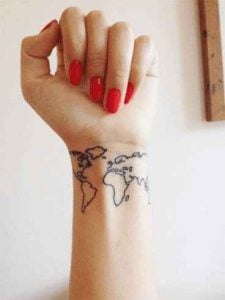 Source: Pinterest (Cuded Art & Design)
23) Wrist Tattoos for Pet Lovers
Love pets? If yes, then we are sure you would go gaga over this cute inner wrist tattoo design. You can also explore the different types of pet tattoos like paw prints, houses, breeds of dogs or cats, and even lions that can be trendy and stylish for girls.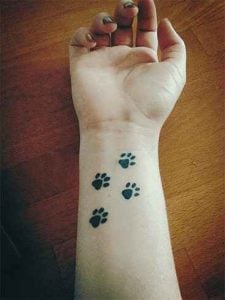 Source: Pinterest (Tessa Brown)
24) Flying Sparrows Tattoos On Wrist
Sparrows going in a particular direction are a good way to tell you – stay focused! It also symbolizes freedom, true love, and humility.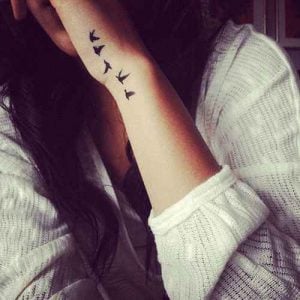 Source: Pinterest (Parul)
25) Paw Tattoo
Little foot paw print tattoo is fun, sweet and impressive. The paw tattoo represents the love and care for pets like dogs, cats, bears, etc. Hence, you can have this amazing design on your wrist, neck, and foot as well.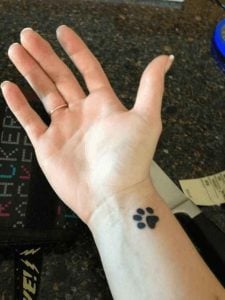 Source: Pinterest (Kailee Bennett)
26) Angelic Wrist Tattoo
If you are among those who believe in angels, then you know what you must have as a tattoo.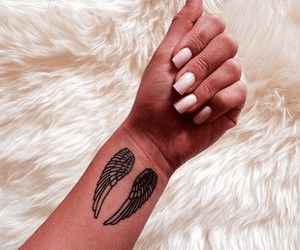 Source: Pinterest (Kate Tucker)
27) Motivational Quotes On Wrist Tattoos
After PeeCee tattooed "Daddy's Lil Girl", the trend to get a quote on the arm has set in. Quotes are the ideal choice of design if you want to get outer wrist tattoos done. You can also add such inspiring motivational quotes on arms as well. We highly recommend you to pay a visit to the arm tattoos for women and get it as you desire.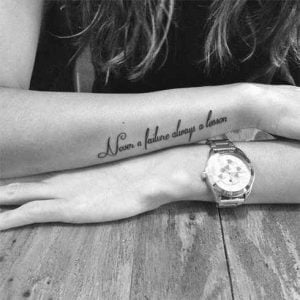 Source: Pinterest (tatuajes)
28) Nature Lovers
Those who love to be close to nature, we know you will love this one. This combination of birds and trees is an awesome wrist tattoo idea for the nature lover.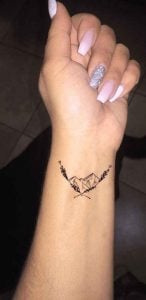 Source: Pinterest (Chaitri)
[Also Read: Christmas Tattoos]
29) Flight Of Birds
Freedom is what you love? Then you will want this one.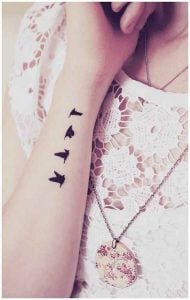 Source: Pinterest (Candice Moore)
30) Feather On Wrist Tattoos
Feather tattoos are the latest craze that defines the nobility and status. They also represent strength, power, and immortality. Moreover, everygirl wants to flaunt a feather whether it is as an inner wrist tattoo or on other body parts.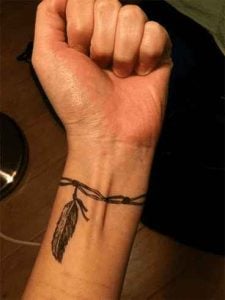 Source: Pinterest (Morgan Hamblin)
31) Sister Love
Get a matching tattoo with your sister on your wrist. Check out the below image of a cool wrist tattoo that sisters can sport.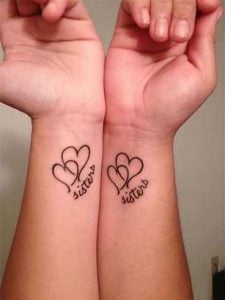 Source: Instagram (Musely)
32) Couple Wrist Tattoos
Looking for a couple tattoo ideas? The below unique wrist tattoo looks like a winner!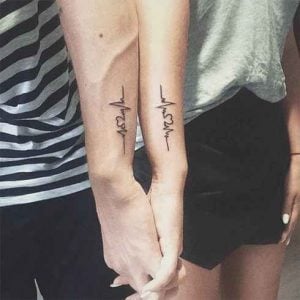 Source: Pinterest (Susanne Rodriguez)
33) Heartbeat Tattoo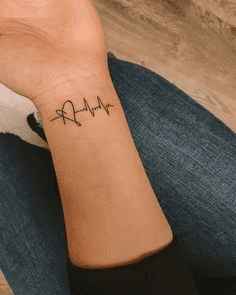 Source: Pinterest(Lavanya Manthena)
Heartbeat tattoo designs symbolizes remembering your loved ones, be it your life partner, sibling, or parent. You can quickly recollect the wonderful memories spent together.
34) Queen Of Hearts
When you are his 'Queen' you ought to show it with a cool wrist tattoo.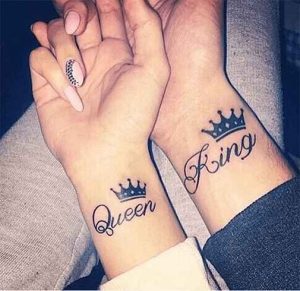 Source: Pinterest (Leyla)
35) Infinity Tattoo
Infinity tattoos with a quote would be the perfect choice for your daily dose of motivation. It is also one of the most sought after wrist tattoos for women.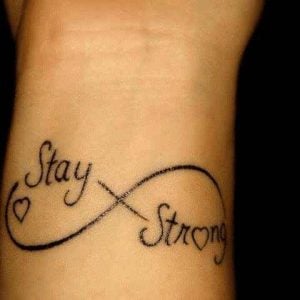 Source: Pinterest (Aliza)
36) Small Wrist Tattoos
Not everybody likes to flaunt a big tattoo! If you are one of them and are looking for small wrist tattoos, then here is a cute wrist tattoo that you can try out.
[Also Read: Least Painful Place To Get A Tattoo]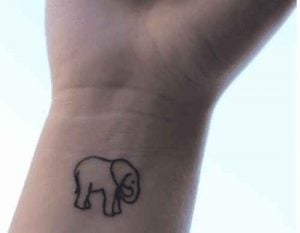 Source: Pinterest (Natalia Russo)
37) Bat Wrist Tattoo
There is nothing scary about the 'bat' outline tattoo on the girl's hand. In fact, it gives an abstract look.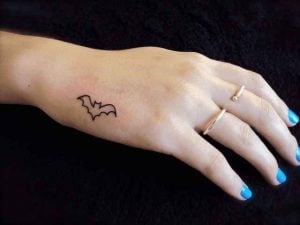 Source: Pinterest (Alice Moreira)
38) Wolfy Wrist Tattoo
Can you hear the wolf scream? Even in the absence of a jungle background, this wolf tattoo on the hand cannot be missed!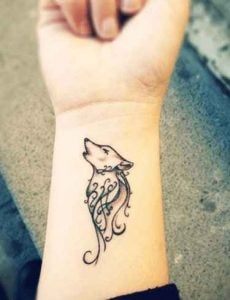 Source: Pinterest (Alice G)
39) Pretty Pink Bow Wrist Tattoo
A pretty pink bow as a tattoo on my wrist is sure to make everyone go awwww!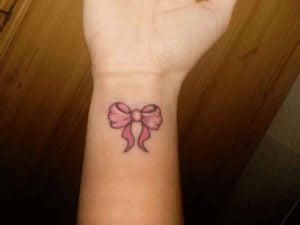 Source: Pinterest (Steph)
40) Tribal Wrist Tattoos
Bring out your bold and edgy personality with some cool tribal wrist tattoos. Tribal wrist tattoos are a popular addition for girls who want to express their unique personality and style. They come in a variety of different styles, ranging from simple dots to intricate patterns and illustrations, making you stand out from the crowd.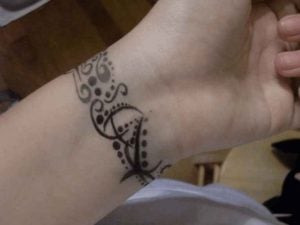 41) The Structured Heart
A heart doesn't go wrong anywhere and it's the same in this case. Just lines and curves turning into a simple beautiful heart is amazing.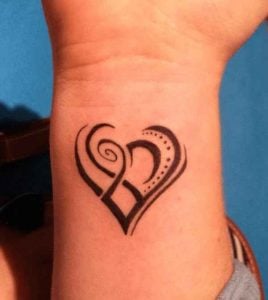 Source: Pinterest (Mike Whalen)
42) The Fire Within
A very simple way to depict the soul as free and something that could aim for the skies. There's no limit, it says.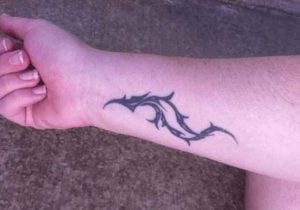 Source: Pinterest (Eva Jones)
43) Flower Tattoos On Wrist
Another popular design for which you will find thousands of inspiration is the flower design. If you love flowers, then we are sure you would be spoilt for choices.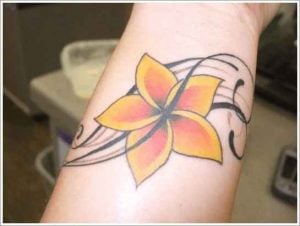 Source: Pinterest (Kerstin Kohn)
44) Heart Flower Wrist Tattoo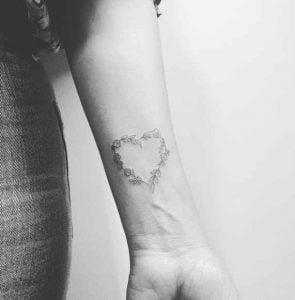 Source: Pinterest (Ismini Naoum)
The heart symbol is often considered as happy, passionate, and different tattoo colors represent your mood and mindset. This simple design is perfect for women who want to express their love to partners in a unique way.
45) Wanderlust Tattoo For Girls On Wrists
The below wrist tattoo design is ideal for young girls with a wanderlust soul.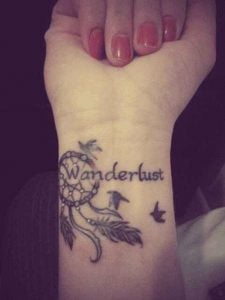 Source: Pinterest (Annah)
46) Rose Tattoos On Wrist
Earlier in the post, we showed you a dainty rose tattoo on the wrist for the demure girl. Here is another kick-ass rose tattoo on wrist design for the not so demure girl.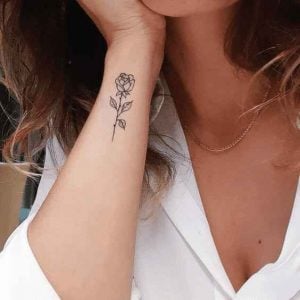 Source: Pinterest (Sharon Rabby)
Girls love roses more than anything. If you are one among them, give it a try with a rose tattoo on the wrist. As there are different-colored roses, each has its own importance. White represents honor, Yellow represents happiness, friendship, Pink represents, and  red symbolizes pure love, affection and relationship.
The red rose on neck you see in the picture will no doubt make you stand out from the crowd
47) Inner Wrist Tattoos
While going through the innumerable inner wrist tattoos, we found this elegant and simple dream catcher tattoo.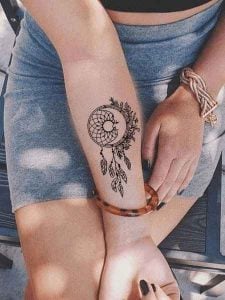 Source: Pinterest (Deanna Hastings)
48) Bird Wrist Tattoos
Though bird wrist tattoos are quite common, you can make your bird wrist tattoo unique by getting some inspiration from the below images.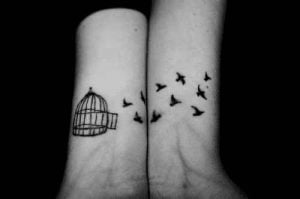 Source: Pinterest (Misha Mishelle)
49) Love Birds Wrist Tattoo
The love birds wrist tattoos are quite popular these days because they look premium and versatile too. Also, the birds symbolize freedom as well as peace, optimism and happiness.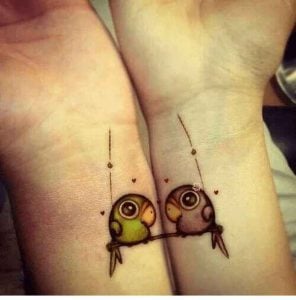 Source: Pinterest (Love Birds)
50) Heart Tattoos On Wrist
A post on wrist tattoos would be incomplete without showcasing some amazing designs of heart tattoos on the wrist.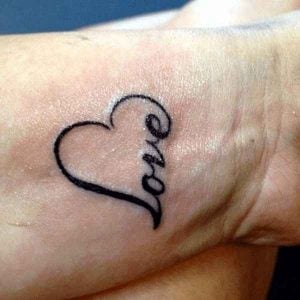 Source: Pinterest (Charlotte Pringle)
51) Anchor to my Heart
Anchor tattoo on the wrist symbolizes stability. It also conveys that you will stick with family or friends for everything. Also, it is a sign that you stay calm even under pressure.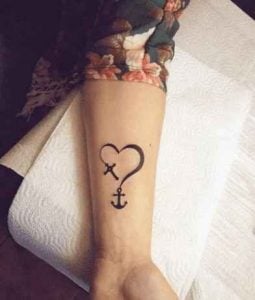 Source: Pinterest (Betty Stephens)
52) Anchor Wrist Tattoo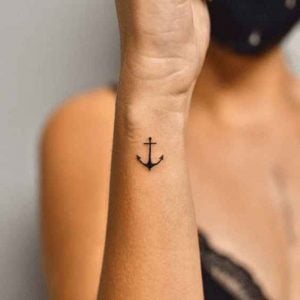 Source: Pinterest (Jacy Kosbab)
Anchor wrist tattoo represents the stability as an anchor that keeps the ship stable during a storm. Most teenagers prefer an anchor tattoo on the wrist to remind themselves to stay firm and peaceful during tough times.
53) Anchor Replay Wrist Tattoo
There is an anchor, there is foliage- a big thumbs up to this tattoo on hand.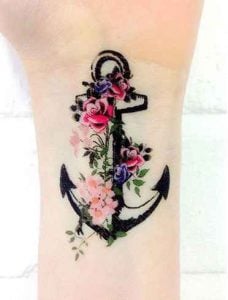 Source: Pinterest (Diego Hernandez)
54) Arrow Wrist Tattoo

Source: Pinterest (Sonali Bohra)
This wrist arrow tattoo is a perfect choice for women who are entering into the world for the first time. The design looks simple and can be done easily without pain. Moreover, it symbolizes your inner strength, independence, and right direction in your life.
55) Unique Wrist Tattoos
Check out some of the unique wrist tattoos that we came across. They are definitely inspiration-worthy.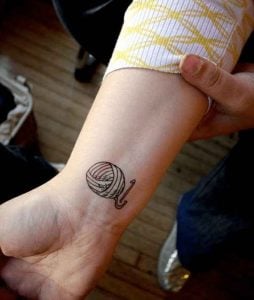 Source: Pinterest (Susanna Kuhanen)
56) Feather Flock Together Tattoo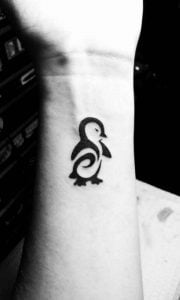 Source: Pinterest (Teresa Ludwig)
57) Name Tattoos On Wrists
Name tattoos on wrists are adorable and rather than just getting the name inked, you can try different designs like combining it with the infinity symbol or hearts or writing it in your native language, etc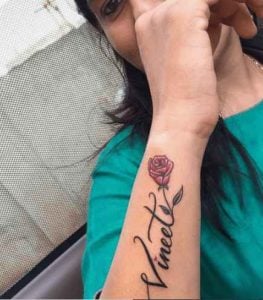 Source: Pinterest (Trachelle Hillard)
58) Religious Wrist Tattoos
A religious wrist tattoo such as a cross would make a great design for outer wrist tattoos. You can also try out other religious symbols.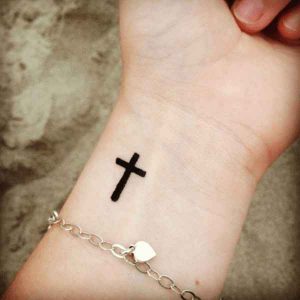 Source: Pinterest (Héctor Novelo)
59) Bracelet Tattoos For Wrists
Love bracelets but find them cumbersome while doing your day to day activities? Well, how about getting a bracelet wrist tattoo which will fulfill your desire of wearing a bracelet which is not only pretty but also won't hamper your daily activities.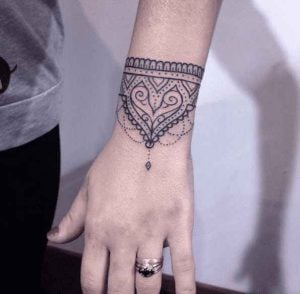 Source: Pinterest (Beth Hawkins)
60) Japanese Wrist Tattoos
You don't have to really learn Japanese to get a Japanese wrist tattoo. You could get your name or a motivational quote translated and inked on your wrist.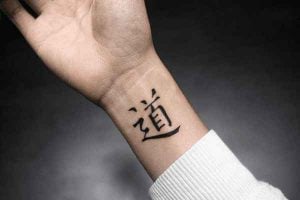 Source: Pinterest (Tammytiley)
61) Star Tattoo on Wrist for Girls
Women with Star tattoos on the wrist have hope, ambitious as the major qualities. The star symbol represents an achievement in your life and brings positive vibes when you look at it everytime.
Check out the below images if you are on the lookout for small star tattoos on your wrist.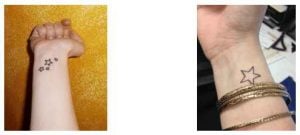 Source: Pinterest (Sajani Aloysius)
62) Upper Wrist Tattoos
For a more elaborate design, you can get an upper wrist tattoo done.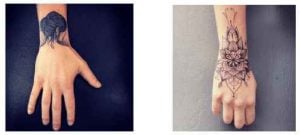 Source: Pinterest (Yesica Jimenez)
63) Mountain Time
Wanna climb the "peak(s)" of a mountain? No formal training required, just get your wrist inked!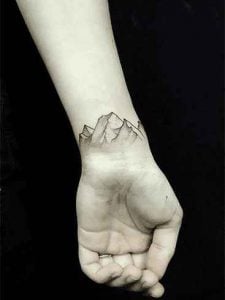 Source: Pinterest (Aman Sahni)
64) Swallows Wrist Tattoo
You have got to 'swallow' this. The wrist tattoo, I mean. The saying "birds of a feather flock together" is so true, don't you think?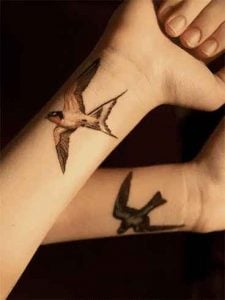 Source: Pinterest (İrem Keskin)
65) Single Letter>
Sometimes, simplicity makes a bold statement. Just one letter here, and look how it shines through on the arm. This might be an old fashioned font, but is very powerful!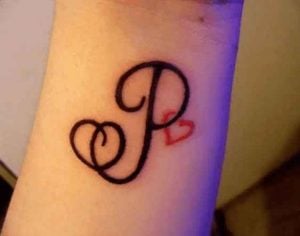 Source: Pinterest (Ashvina)
66) Black-n-White Bow
This dotted bow looks so dainty, delicate and feminine at the same time. Small but tasteful, it is.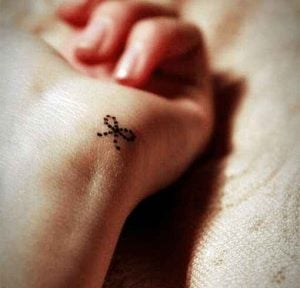 Source: Pinterest (shriya mahajan)
67) Mandala Flower Tattoo Design on Wrist
Source: Pinterest (YourTango)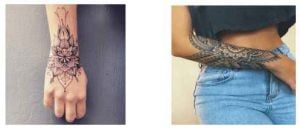 Mandala is the Sanskrit word meaning circle whereas Mandala tattoos comprises overlapping circles and other shapes. This wonderful design showcases eternity, perfection, and balance in life.
68) Punctuation
What's a semi-colon doing here? It's a novel tattoo, apt for the literature students. It also conveys affirmation, addiction, and other mental health issues. You can also try other tattoo designs on the finger as well depending up on your choice of interest.
69) Father-Daughter
This is a beautiful tattoo. All about bonding between a father and a daughter! No matter the terrain or the moment, this will stay close to your heart.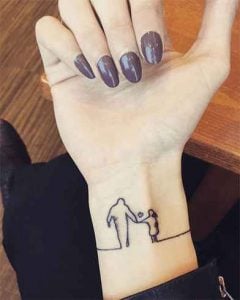 Source: Pinterest (Denise R.)
Tattoos For Girls On Hand
Hand tattoos make a statement, with their style. Mostly covering the area of couple tattoos and tattoos that portray minimalism, these hand tattoos are a great deal. Hand tattoos could include cute ring tattoos on the fingers too.
70) Colorful Bow
Of Bows and Tattoos! Well, this colored bow with black outline and red/orange fill looks "super duper" on the edge of the thumb.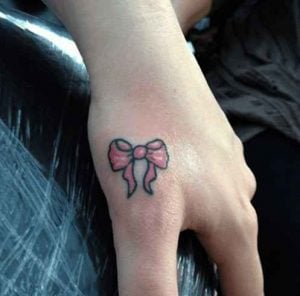 Source: Pinterest (Jennifer Phelan)
71) Flower Trick
Don't you wish you could 'pluck' the tiny flower sitting pretty on the feminine hand? It is nature's bliss captured beautifully on hand! Sweet-n-fresh it is, isn't it?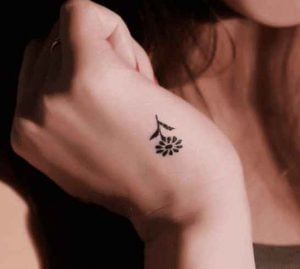 Source: Pinterest (Elena Brown)
72) Pin It!
You know the best part about this simple and elegant looking tattoo featuring a 'safety pin' on hand? The way it takes the shape of the hand is phenomenal! Well-thought out and 10 on 10!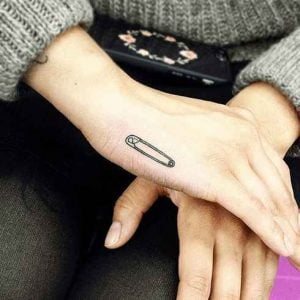 Source: Pinterest (Petit Lu)
73) Sun & Moon Tattoo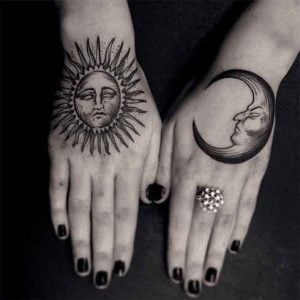 Source: Pinterest (Suryamjoll)
Sun on the right thumb and the moon on the left thumb, looks like a planetary association of things.
74) Small Sun and Moon Wrist Tattoo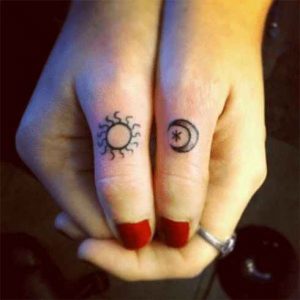 Source: Pinterest (feedpuzzle)
This "sun" will stay with you 24 hrs a day! After all, it has been inked on the back of your neck.
75) Tribal Tide
The left hand with the tribal tattoo inking leaves much for imagination.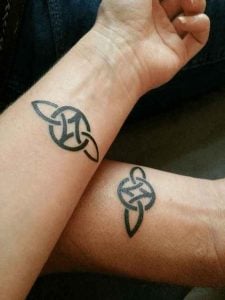 Source: Pinterest (Justin Ge)
76) Eye Wrist Tattoo
In general, the eye tattoo represents life itself. If you are adding an eye tattoo on your wrist, it means you are basically saying that life is lost and you want to focus on the challenges that life throws at you.
Source: Pinterest (Nargis Patwardhan)
77) Smile Emoji Wrist  Tattoo
The smile emoji wrist tattoos symbolizes happiness and joy. It also builds a positive vibe and lets you see the good things in others.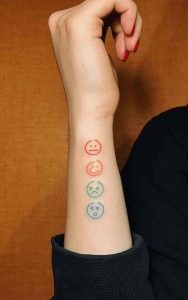 Source: Pinterest (We Heart It)
78) Lotus Wrist Tattoo
The lotus wrist tattoo symbolizes rising above temptation and becoming a better person. In Hindu mythology, lotus flowers are referred to as Padma and represent beauty, purity, and spirituality.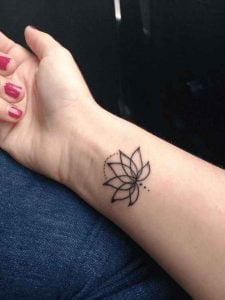 Source: Pinterest (Maria Belen Lopez Carmie)
79) Apple Wrist Tattoo
If you are a nature lover, you would probably end up having an apple tattoo on your wrist. It is because the fruits are considered as nature's gift and traditionally believed to hold the seeds of life.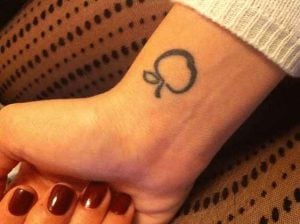 Source: Pinterst (Sami)
80) Be Strong Wrist Tattoo
If you want to keep yourself motivated and face the tough situations in life. The "be strong" tattoo can be the right choice. You can have it on your wrist to keep you remind that difficult time will pass on and you have to be ready for it.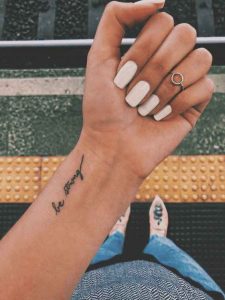 Source: Pinterest (Otzi)
81) Piano Wrist Tattoo
Piano is a unique instrument that produces soothing sounds when it hits the strings. If you are a music lover and want to have a music-related tattoo on the wrist, Piano is the best option. You can also go with the mix of piano and heart that showcases your love towards musical instruments.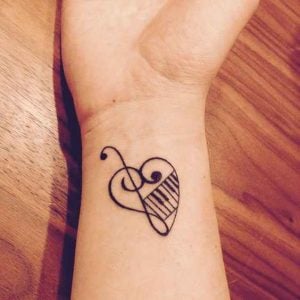 Source: Pinterest (Aditi Gupta)
82) Violin Key Wrist Tattoo
Having a violin wrist tattoo represents tranquility, sympathy, and joy.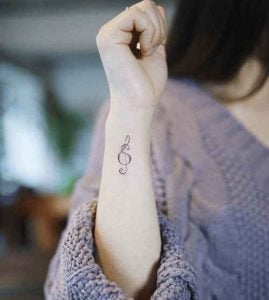 Source: Pinterest (Liz Price)
83) Snake Wrist Tattoo
Snakes have been worshiped in many countries and also considered as the changing seasons of life and cyclical nature of the universe. As snake shed their skins, it also symbolizes transformation, rebirth, healing, and immortality.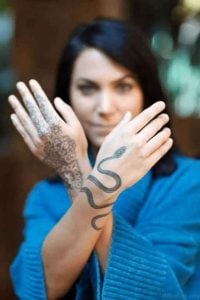 Source: Pinterest (PetPress)
84) Love Infinity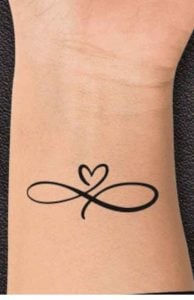 Source: Pinterest (Shelly Falconer)
Infinity love tattoos are popular as it conveys endless love towards your life partner, friends, and family members. Also, it looks simple on the wrist too.
85) Tribal Trivia
This kind of tribal-tattoo-on-the-hands gives such an awesome feeling.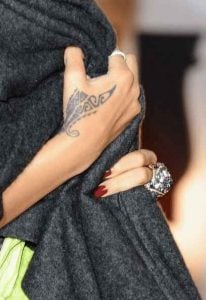 Source: Pinterest (We Heart It)
86) Phoenix Wrist Tattoo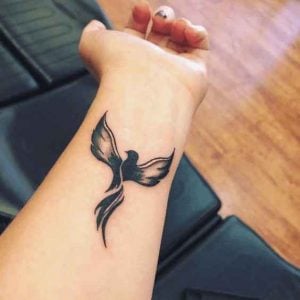 Source: Pinterest (Next Luxury)
The phoenix symbol represents birth, death, and rebirth. Many people prefer phoenix tattoos on their wrist to showcase that they want to kick-start their life again with a lot of hope.
87) Cross Wrist Tattoo
Cross is Classic! The "cross tattoo" I mean. Great for women, in different professions.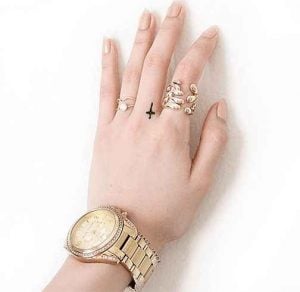 Source: Pinterest (Glamour)
88) Flower Power
Flowers could never look so beautiful this way. The fusion of color and black and white, running on the back of both hands is SUPERB!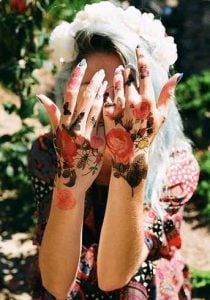 Source: Pinterest (Koldaki kadınla)
[Also Read: Watercolor Tattoo]
89) Book-ish Nature!
Are you an avid reader? Get a small and cute looking book inked on your hand, or on your finger…who knows you could be the next author.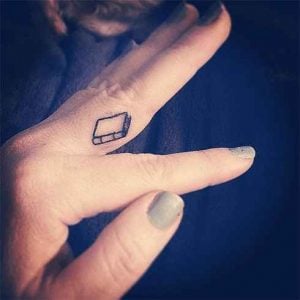 Source: Pinterest (Pamela Doyle)
90) Leaf Vein
Mind you, this is a henna tattoo, running from the fingers to the hands. Such a feminine and dynamic pattern it is, it will bring joy to the most boring of hands.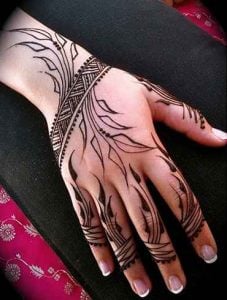 Source: Pinterest (Mehak World)
Tattoos for Girls on Shoulder
Shoulder tattoos for girls look incredibly trendy as they add to the glamor and oomph quotient of the individual. So ink up your shoulder with these super cool designs shown below. They are sure to keep you happy and satisfied, only to come back for more.
91) Shoulder Blade Tattoo
Delicate shoulders or delicate tattoos? Both actually. The tattoo is so simple and understated, and oh-so-feminine, won't you want to keep staring (no ogling please) at it?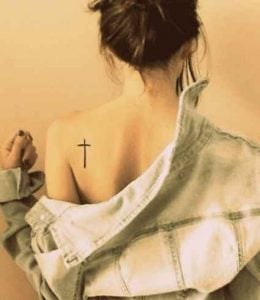 Source: Pinterest (Floristería Morales)
92) Rose Delight
What's a medium sized flower doing on the shoulder blade? Creating a ladylike statement. This tattoo goes well when you are dressed in off-shoulder or tops with straps.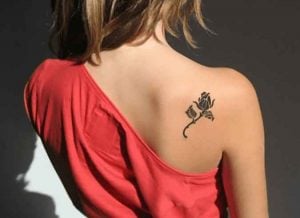 Source: Pinterest (Reba Rasmussen)
93) Floral Back
Why hide your shoulder back when there is a pretty damsel with her prettier flower-like tattoo inked on her back? The subtlety shown in the color of the petal steals the show.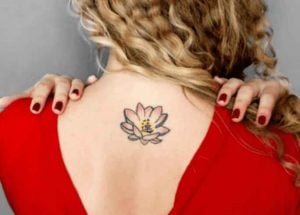 Source: Pinterest (Gina Pstoff)
94) Birds Love
There are many different bird tattoos that can be perfect for girls. Some of the most popular designs include beautiful birds in flight, lovebirds, and parrots. Other types of birds you might want to consider include hawks, eagles, and seagulls.
In fact, there are a variety of different designs and styles that can be used to commemorate special moments in life or express your personal style. These creatures have fascinated us for centuries with their graceful flight and unique sounds. They can also symbolize our capacity to transform and grow.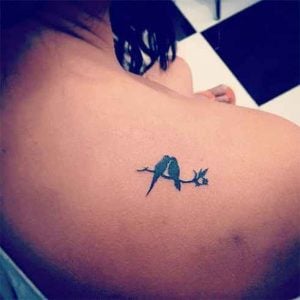 Source: Pinterest (Step Fashions)
95) Meet-me-in-the-heavens
Written in "Script" text, this shoulder tattoo is a heavenly one, with loads of attitude.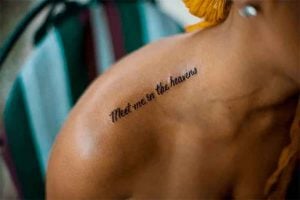 Source: Pinterest (Alicia Michek)
96) Sketch Style
Watch the ladies shoulder, not for the shoulder part, but for the beautiful floral design done in sketch style.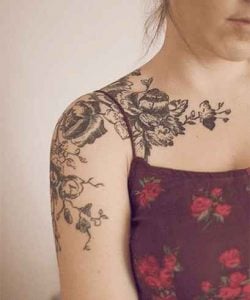 Source: Pinterest (Cheveyo van Doorn)
97) Eagle Design for Tattoo Lovers
With such an intricately-done up eagle on the shoulder, it is time you got-the-eagle.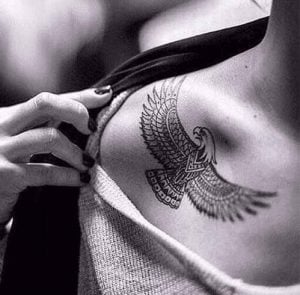 Source: Pinterest (Fashion Goalz)
The Eagle Tattoo on the wrist for women signifies beauty, ferocity, strength, and power. Also in many cultures and traditions, the eagle symbol means dominance, freedom, luck, and focus as well. It even conveys spiritual connection with your loved ones or someone who you have lost. Now you can even have the intricately-done up eagle on the shoulder as well.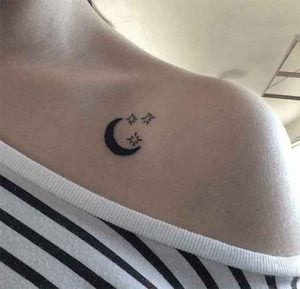 Source: Pinterest (Tattoosfor girl)
98) Malin
Originated in Sweden, the Malin symbol seems like an infinity symbol, containing arrows in the middle. It also means: be prepared to face setbacks in life to be able to move ahead.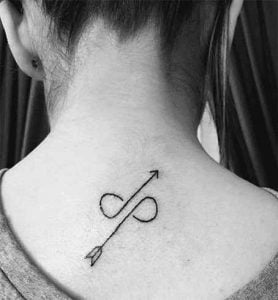 Source: Pinterest (Tricia Cunning)
99) Crowning Glory
Not all the crowns are won on the battlefield. This cute small crown tattoo on the finger symbolizes 'winning streak'.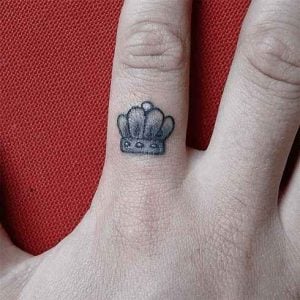 Source: Pinterest (BeautyTester)
100) Get Lucky
This 4-leaf flower tattoo means 'lucky'. If you are in for some serious luck, then go for this tat.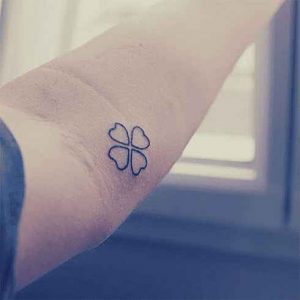 Source: Pinterest (Flor Sol)
Tattoos For Girls Quotes
Every person has at least one quote that they can connect to on a personal level and this is what urges them to get it tattooed. Girls' quotes are more on the lines of being an independent soul to being a woman of inspiration. Every quote has so much to say, and so much motivation to give with every glance at it.
101) Heaven
Read the quote inked on the foot of the lady – "Heaven is a place on Earth with you". More than the quote, it is the cursive script writing which makes this tattoo simple and elegant.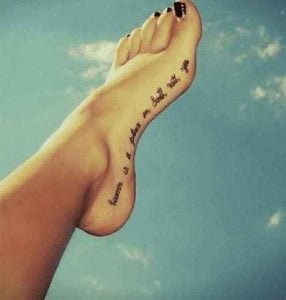 Source: Pinterest (Claudiette Rush)
102) EHFAR
Know what this tattoo means? Um, I have an answer. EHFAR stands for "Everything happens for a reason". That's an awesome quote we all have said many times in our lifetime already.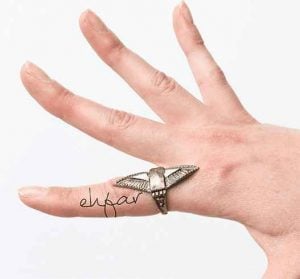 Source: Pinterest (Carla Rodriguez)
103) Enough
There are many ways of saying "enough" – for eg. "I am good enough", "I am smart enough". Your choice matters!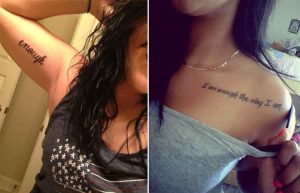 Source: Pinterest (Paty Calle)
104) Love Yourself
Forgot to "love yourself"? You shouldn't. It is a terrible habit of not being able to do that. Loving yourself should come to you as an instinct.
"Love Yourself Tattoo" on your wrist may be the perfect choice if you're looking to empower and remind you to love yourself. It is also a great reminder to maintain healthy lifestyle habits such as eating right, exercising regularly, and taking care of your mental well-being.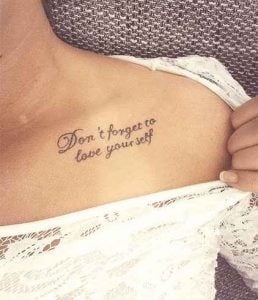 Source: Pinterest (Haley Fernandes)
Tattoos For Girls On Foot
Foot Tattoos are becoming increasingly popular with age, as they can range anywhere from a random floral design to a profound meaning hidden. The foot tattoos can look very striking when barefoot or with footwear that doesn't cover the feet entirely.
105) Wordy Part
Getting words or phrases inked on the foot is a matter of choice. Many Hollywood stars are getting it done, as a reminder of strength and forgiveness.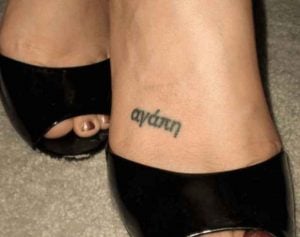 Source: Pinterest (Feliz Vid)
106) Footsy Play
This is an unusual 'word play' on the back of the foot. But it looks super-cool or hot, whichever. The bold text and its positioning on the back of the ankle is just perfect!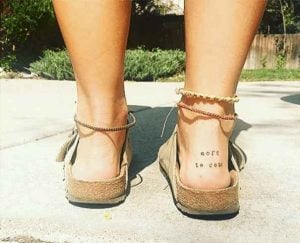 Source: Pinterest (Mathilde Pedersen)
107) Robin-hood
What's this cute-looking "robin" doing here? It has been fascinatingly inked! Totally adorable, pretty and colorful.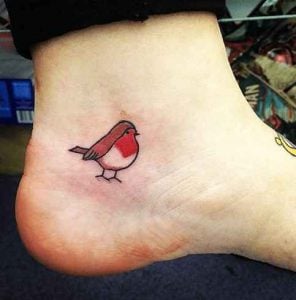 Source: Pinterest (Lexi)
108) Owl Tattoo
What's an owl doing over the female foot? I suppose, adding some style and flair.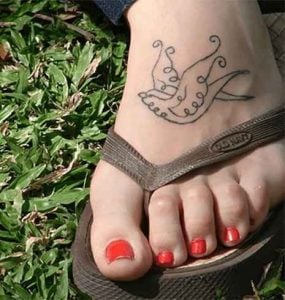 Source: Pinterest (Alana)
109) Jeweled Show
All set for a formal do? Put on your best attire, but when it comes to the foot, no harm in getting jewels on the foot (As shown).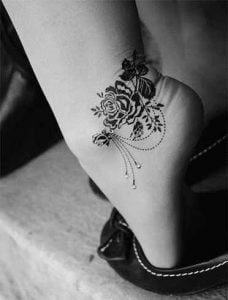 Source: Pinterest (Medium)
110) Ankle Tale
Now, these are cute-looking and unfussy ankle tattoos. Simple going symbols and a bit artistic!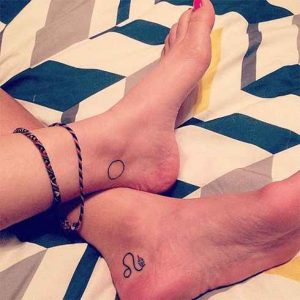 Source: Pinterest (Trending Tattoo)
111) Heart-on-Foot
Love finds its way and this foot tattoo showing a heart is perfectly matched with the long pencil heels. Way to go, babe!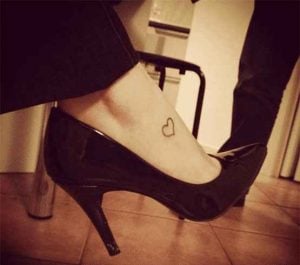 Source: Pinterest (Chen Larya)
112) Floral Footprint
Strap on your bellies or buckle up, you can't escape the beauty of this floral tattoo. With a bit of color added, this tattoo would surely make your foot look like a grapevine.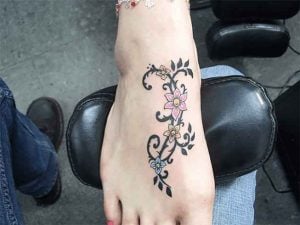 113) Mountain Tall
Striking and unique, the unusual placement and the amazing detail, mountains look so new and dainty when inked on foot, don't they?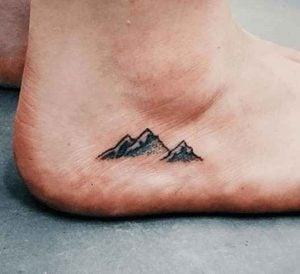 Source: Pinterest (Tizzi Liberti)
114) Birdie-I-Am
Talk of the most popular foot tattoos for girls? The bird! It is far from clichéd or overdone and is just apt for the girl who aims to reach the sky.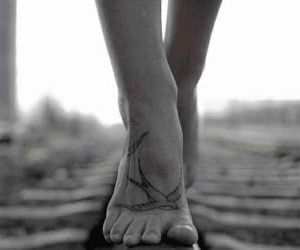 Source: Pinterest (Ashley Rivera)
115) Peacock Adventure
Seeing a Peacock, what comes to mind is beauty and intricacy. This unique peacock tattoo design on the toe incorporates lovely swirls and shapes.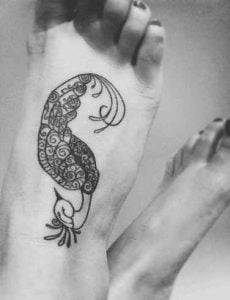 Source: Pinterest (Inkbox)
116) Love-It
The word "Love" – has been so artistically (and romantically) etched on foot as a tattoo. This unique typeface looks like an infinity symbol.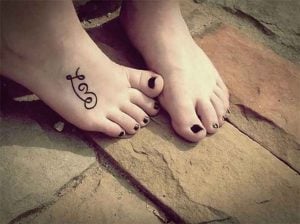 Source: Pinterest (Tattoomaze)
117) Feather Fern
Different patterns such as leopard print and a beehive beautifully describe the feather fern. Pretty intricate!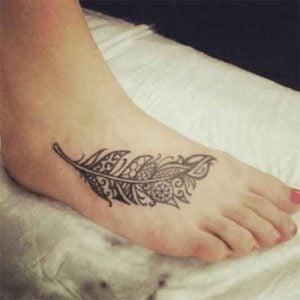 Source: Pinterest (Naver)
118) Anklet-style Tattoo
Presenting an anklet-style tattoo "band" with a feather. Even though bands were not so popular, they still make great looking tattoos.
119) Bird-Time
How cool is this bird tattoo? The use of pinks and greens, and then the matching toenail color which matches with the green on the birds' wings; isn't it a work of artistry?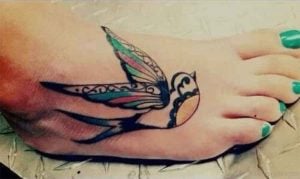 Source: Pinterest (Leg Tattoo Designs)
120) Batty Affair
What a contrast! Bats filled in on the left foot and non-filled in on the right. Either way, it comes up as a cool tattoo design.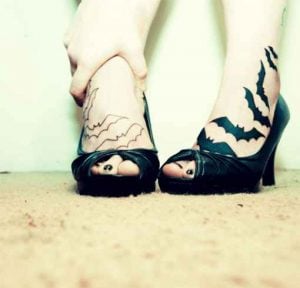 Source: Pinterest (Leg Tattoo Designs)
121) Bold-and-Delicate
What's not to love in this beautiful abstract design? It borders between the neck and chest, so you can call it 50-50 magic!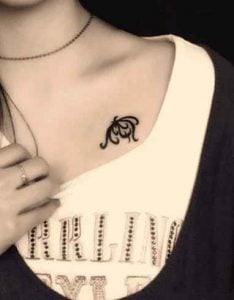 Source: Pinterest (Tattoos Bag)
122) Neck-A-Statement
Delicate and beautiful this tattoo looks! With the flower drooping gently on the back of the shoulder, it makes a stunning and timeless tattoo.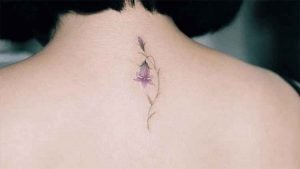 Source: Pinterest (Rachel Firasek)
123) Black Bow
Ever knew how trendy the back of the neck could be? Take a look at this super chic, statement-making tattoo.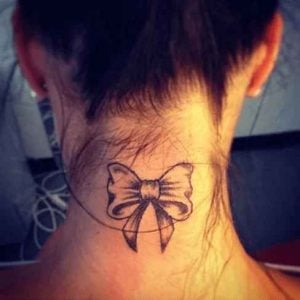 Source: Pinterest (Yeliz Ozgur)
124) Infinity-to-the-best
The power of infinity. That's what this neck tattoo beautifully captures.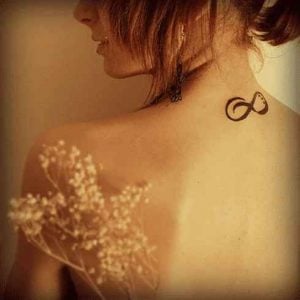 Source: Pinterest (ArchZine FR)
125) Watercolor Ribbon
Don't know whether this could be the next entry at an "art gallery", but the intricacy of the watercolor effect in this tattoo could make it a top runner! However, if you wish to have any other patterns on the spine, do check out the coolest spine tattoos to make an informed decision.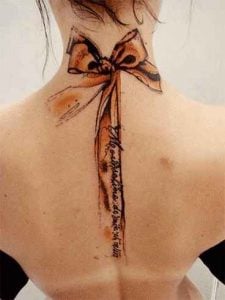 Source: Pinterest (Alfemminile)
126) Sweet-n-Colorful
Yeah, this tattoo with a touch of color is a borderline case between "neck" and "chest". But no harm in appreciating something that catches your eye and is here to stay, isn't it?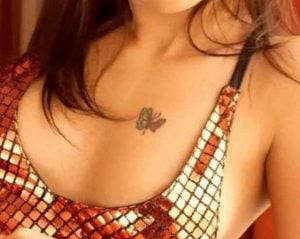 Source: Pinterest (Tips Elite)
A butterfly is an insect that conveys beauty, metamorphosis, rebirth, and most importantly, change. The Japanese are of the belief that a butterfly stands for someone's soul.
127) Ankle Adventure
Make your ankle look as 'cool' as you by going for this twosome tattoo – butterfly on one ankle and a cross-and-chain on the other. Gives you a feeling of toughness and power. Hot pink heels give it a 'killer' look.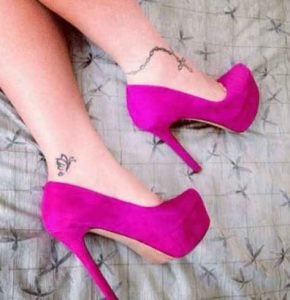 Source: Pinterest (Elena Harea)
128) Butter-fly Cult
Catch the sight of the delicate looking butterfly 'inked' on your foot. Simple and bold lines that make a great piece of art.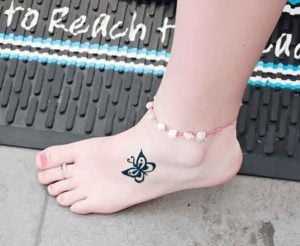 Source: Pinterest (Tattoo Screens)
129) Butterfly Tattoo On Neck
Looks like a collar band – this butterfly tat on the neck. You wouldn't want to wear a jeweled chain with this, would you? Think.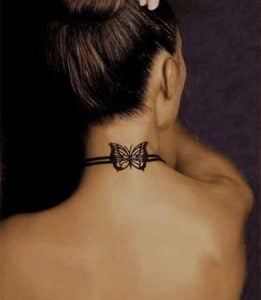 Source: Pinterest (Caroline Blouin)
130) Paw Tattoo On Foot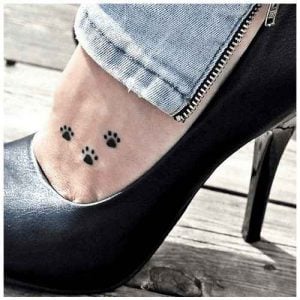 Source: Pinterest (solange salazar)
Get into a cute way to pay your homage to the 'pawed' animal via this neck tattoo. It's fun and sweet-looking (and you don't need to go to a jungle for this).
131) Paw Neck Tattoo
Having a paw neck tattoo symbolizes that the woman is fond of pets like dogs and cats. They also care a lot and affection to their loved ones.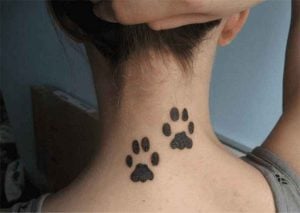 Source: Pinterest (Tatuajes Para Mujeres)
132) Cat
The cat is finally out of the bag, sorry on the neck. The cat tattoo, I mean. Inked black in solid line and with its whiskers, it can hardly be ignored.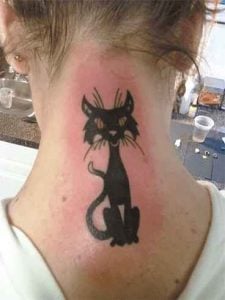 Source: Pinterest (Neck Tattoo Designs)
133) Collar Bone Fad
What's screaming out in this collar bone tattoo is the bold outline of your favorite canine animal. Bold, bolder, boldest!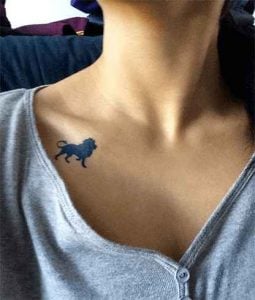 Source: Pinterest (Lauren Helton)
134) Hare Tattoo
The tattoo sketch of the "super detailed" hare (shown here) is so intricate, you can feel the actual impression of the talking animal.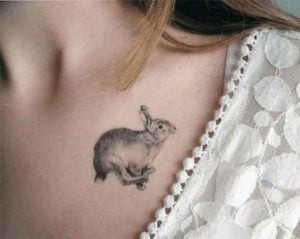 Source: Pinterest (Inkme)
135) Bat Neck Tattoo
The bat tattoo is a symbol of happiness, longevity, and good luck in China. A tattoo with three bats represents long life, wealth, and prosperity too. You can also give it a try with this bat neck tattoo.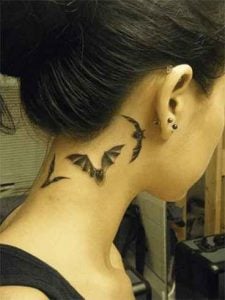 Source: Pinterest (Tattoos Book)
136) Dolphin
This dolphin is not 'alive', but 'inked'. You can't play with it; only sport it on the back of your neck.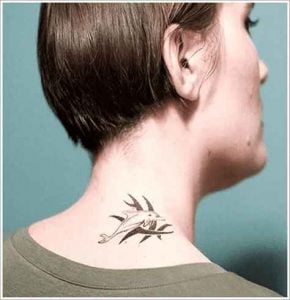 Source: Pinterest (Tatuajes de Delfines)
137) Red Heart
Hearts are supposedly red (bloody red). But this heart-shaped tattoo at the base of the hairline is so attractive and romantic, any man would fall for "it" (and the girl, as well). The red coloring of the heart is super!!!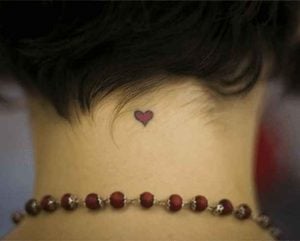 Source: Pinterest (Gizelle Prado)
138) Anchor Foot Tattoo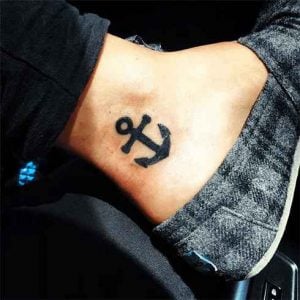 Source: Pinterest (Tattoo Joy)
This cool anchor tattoo on the foot could be your next defining style statement.
139) Star Tattoo
The Star tattoo can be an appealing thing on the back of the neck as well expressing yourself in more ways.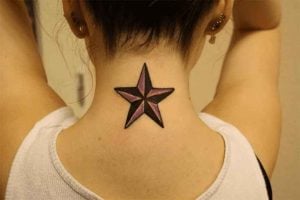 Source: Pinterest (Tattoo Bite)
140) Mandala Tattoo On Shoulder
Mandala tattoo on the shoulder could give you serious beauty goals!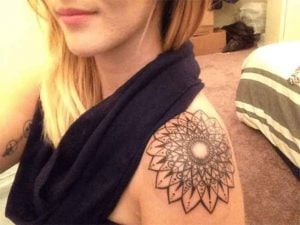 Source: Pinterest (Viet Red Tattoo)
Final Thoughts
As you know, tattoos are becoming increasingly popular these days. They come in all shapes and sizes, with a variety of designs that can appeal to everyone. If you are looking for a permanent way to express your personality and style, wrist tattoos are a great option.
However, wrist tattoos need to be properly taken care of in order to look best. That's why we have curated the list of best wrist tattoos that are trending now. Whether you are looking for a floral design, heart-shaped tattoo, or even a mandala, we have got you covered.
Do you have any concerns related to tattoos? Please write to us in the comment section given below. We are happy to clarify them as soon as possible.
Wrist Tattoos for Girls – FAQ's
Are wrist tattoos safe for girls?
Tattooing involves penetrating needles on the epidermis layer of the skin which houses arteries and veins. Hence, it is highly safe to have a tattoo on the wrist.
What are the best wrist tattoo designs?
Flower, butterfly, arrow, heart beat, eagle wings, stars, mandala are some of the popular and trending tattoo designs available for women.
How much do wrist tattoos cost in India?
You may typically spend Rs 3000/- to Rs 10000/- depending on the size of the tattoo.
Why do girls prefer wrist tattoos?
Wrist tattoos symbolize spirituality, confidence, and independence. They make you look stylish among the crowd with vibrant colors and design patterns.