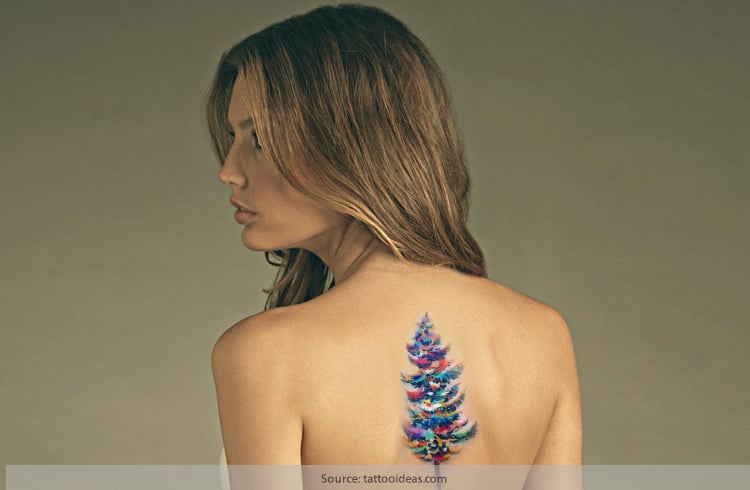 With Christmas literally knocking at our doors, it is little wonder that everyone is not only busy preparing for the festivities but are also going almost berserk styling themselves up and staying ahead in the fashion game! Unfortunately, the pomp, glory and happiness of Christmas last just for a short period and you need to wait a complete year to re-live in it again! However, you can capture the essential memories and happiness of it through your life through Christmas tattoos! There is no other way to make the Christmas memories permanent other than getting it inked on your body!
[ Also Read: Ear Tattoos]
If you are among the bunch of Christmas-obsessed, we have rounded up some of the latest Christmas tattoo designs to get your inspiration and motivation sky-rocketing!
1.Watercolor Pine
Trees lend an amazing tranquility simply because it is a part of nature. When it is a pine tree, it can be such a festive symbol of Christmas. The colorful tree etching really makes you wonder if it is the Christmas tree glowing with all the holiday lights or simply the riot of colored snow. It's a beautiful Christmas tree tattoo to adorn on your sides!
2. Merry Christmas Tree Tattoo
What better way to celebrate the Christmas spirit than a decorated Christmas tree! Getting the authentic ornamental Christmas tree all decorated and completed with gifts truly immortalize the holiday season's spirit on your skin! The good news about these vibrant tattoos is that there are plenty of them available as temporary transfers so that you can revel in them and wipe them away by the time the festivity gets over! Decorated trees never fail as the most coveted merry Christmas tattoo.
3. Fuse Various Ideas
Break away from the traditional monotony and give your own imagination a free reign! If you are a die-hard Star wars fan, why not flaunt it via a Yoda Santa Claus, perhaps a zombified one! Add a herd of satanic reindeer and you can be confident of your merry Christmas tattoo grabbing eyeballs at the family dinner!
4. The Christmas Message
For those who love to get the Christmas spirit inked permanently, this wonderful quote message may be the perfect Christmas tattoo to get inscribed on your skin! Celebrating the Christmas spirit, this back tattoo has an inscription in German which translates to 'Merry Christmas every day.'
5. Santa Claus Tattoos
We may give numerous twists but traditional tattoos have a unique aura and charm of their own! Nothing can be more traditional than Santa Claus! Getting him inked solo in varied styles or with Jesus and the Easter bunny looks ethereal! You can even get him with Jesus either permanent or temporary! You can be confident of making heads turn!
6. Christmas Light Tattoos
No Christmas tree decoration and its spirit are complete without Christmas lights or the mistletoe and various other Christmas decorations! Getting a Christmas light tattoo is an awesome way to get into the Christmas mood and spirit!
[ Also Read: Cool And Unique Spine Tattoos ]
7. The Grinch
Ages ago, Dr. Seuss made this cynical looking strange creature immensely popular! The Grinch remains a big rage even today! Getting its polarizing tattoo by an expert artist will definitely look swag! It still rates among the top coveted merry Christmas tattoos!
8. Nightmare Before Christmas Tattoos
There are very few Christmas movies which spur an utter frenzy among its fans and even drive them to get its tattoo as a declaration of their undying love for it. "Nightmare before Christmas" is one such flick and its tattoos have well withstood the test of time. Once you see them, do not be surprised if you desperately want them on your skin! The Jack and the zero tattoo definitely looks cute while the Sally and Jack tattoo might seem like forever.
[sc:mediad]
9. Ralphie From 'A Christmas Story' Tattoo
While talking about movies, the character of Ralphie from the 1983 Christmas comedy, 'A Christmas Story' is still popular enough to get tattooed! Well, we cannot deny that they look super cute and mesmerizing!
10. Buddy The Elf!
Who can forget Will Ferrell as the Elf in his 2003 Christmas festive flick 'Elf'? Getting his face inked as the elf still remains a popular though a bit peculiar tattoo. We must admit it looks strangely impressive and an unique Christmas statement!
11. The Reindeer Tattoo
The reindeer tattoo on the back looks absolute badaas and masculine for any hot tough guy to flaunt and drive the fairer sex to go gaga over him! Wanting to flaunt further? Get it on the arm and your beautiful reindeer Christmas tattoo design is bound to prove riveting!
Which Christmas tattoo zinged best with you? Chime in your comments below!