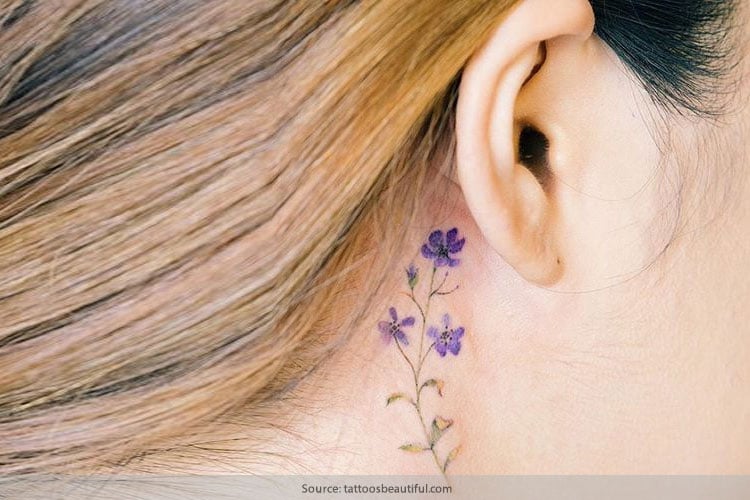 Tattoos are for a lifetime and when you do decide to get one, you will have to understand that it is something that can't be taken off easily. Many of us would love to have tattoos, but most of us are scared to get one. After all, it's a life-long commitment!
So, for those of you who would still like to have a tattoo, ear tattoos are your best bet. They are delicate, they are elegant, and best of all you can always conceal them with your hair if you are not confident enough to show it off. Ear tattoos have endless possibilities. You can get an inner ear tattoo or you can have behind the ear tattoos too! It just depends on what you are comfortable with.
[Also Read: Zodiac Sign Tattoos]
[sc:mediad]
In this article we will give you tons of ideas about what kind of ear tattoos you should be getting. Remember- it is something you will live rest of your life with and it's always better if you put in some thought before committing for cute behind the ear tattoos. Who knows when you are sixty that behind the ear tattoo might not be extra cute then!
For The Music Lover In You:
Those musical notes and your ears have such a connection. And for a music lover, there is no better way to commemorate your love than having a musical note printed on your ears! There are many combinations of musical notes on ears. Here are the ones we loved the most.
The tiny little note behind your bare ear looks classy and elegant at the same time:
Or you can have a full tone:
A common design if you are not feeling too adventurous:
For The Nature Lover In You:
Nature and mother earth make beautiful tattoo props and you can have gorgeous designs with the help of butterflies and flowers and even leaves. Take a look at some of them.
Fluttering feathers:
A cute pansy to inspire your behind ear tattoo ideas:
[Also Read: Small Tattoos With Meaning]
A fern:
Give your inner ear tattoo a sparkly twist by overlapping the tattoo with your earring. Wear a small stud and place it strategically to go over your ears. The perfect addition to your floral collection!
[Also Read: Tounge Tattoo]
Dedicate Your Tattoo To Your Pet:
Most of us have a pet we can't live without. The little furry ball of fur has been the reason of your smiles and a tattoo dedicated to the cuddleball is something you can cherish for the rest of your life. Here are some ideas:
[Also Read: Celebrity Tattoos With Meanings]
Paw prints dedicated to your dog:
A bigger paw if you are feeling feisty enough?
For The Food Lover In You:
Most of you will stifle a laugh when it comes to dedicating a tattoo too food, but trust us, some of us love food so much that we can actually have a tattoo for the love of food or pizza or our favourite dish! Don't believe us? Here are some living and inked proofs!
[Also Read: Tattoos for Girls]
When you can't give up on your cupcakes, you go and get a cupcake tattoo:
When Pizza is love, you ought to get a tattoo for that love:
For The Couples:
For couples who share same interests and want to commemorate their love, they can always do so with couple ear tattoos. They are subtle and elegant, and hopefully you will never regret getting them done!
Some Tips For Ear Tattoos:
Ear tattoos are extremely sensitive and you have to take special care of them. You may also experience pain in case you get your tattoo done by an inexperienced tattoo artist. Always do your research first before getting it done.