If you thought gorgeous outfits, flashy danglers, and classy shoes are just about enough to rock the red carpet, you have got to change your mind.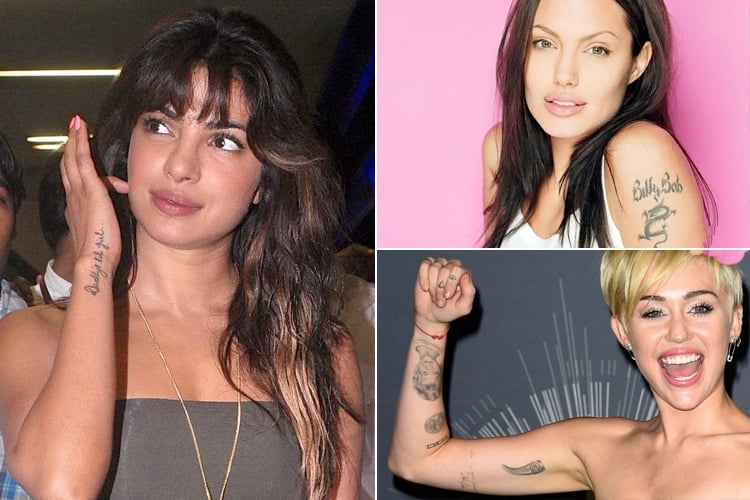 Nothing can stop the dynamite effect of Celebrity Tattoos. And if you know celebrity tattoos with meanings, then it is double excitement.
Whether it is female music stars or up-and-coming artistes from various performing fields, celebrity tattoos with secret meanings is stealing the limelight.
[Also Read: Gold Tattoos Ideas Are Making Waves Across The World]
Celebrity Tattoos With Meanings:
Get some munchies as I take you through Celebrity Tattoos. There will be some best celebrity tattoos with meaning too.
Megan Fox Tattoo:
Is it just the amazing black and white dress that makes Megan Fox look hot as thunder or her hollywood celebrities tattoos?
With the inked message reading "And those who were seen dancing were thought to be insane by those who could not hear the music", it could be the best celebrity tattoos with meaning. What say?
Other than this, Megan has also sported tattoos on other parts of her body such as ankle, wrist, shoulder blade and side back. This makes her not just one of the boldest celebrities, but the most adventure seeking when it comes to showing celebrity tattoos with secret meanings.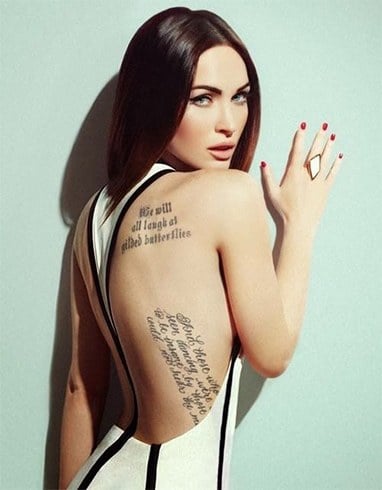 Katy Perry Tattoo:
She has the voice that has earned her several awards and millions of fans all over the world. But what makes Katy Perry more popular is her celebrity tattoos featuring on her arm, wrist and ankle.
Angelina Jolie Tattoos:
The gorgeous bombshell that she is, Angelina Jolie has always been in the limelight – whether it is her marriage or her award-winning roles. Let us not forget her as a legendary example of Hollywood celebrities tattoos which amply shows on every inch of her body. You can jolly well address Angelina as the ultimate tattoo queen.
[sc:mediad]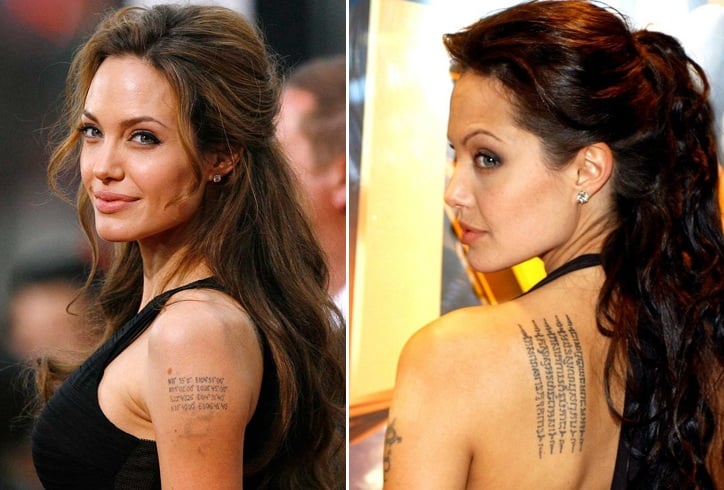 Miley Cyrus Tattoo:
Love for tattoos shows like anything on American-singer-and-actress Miley Cyrus. Goes to show her true fascination for inking!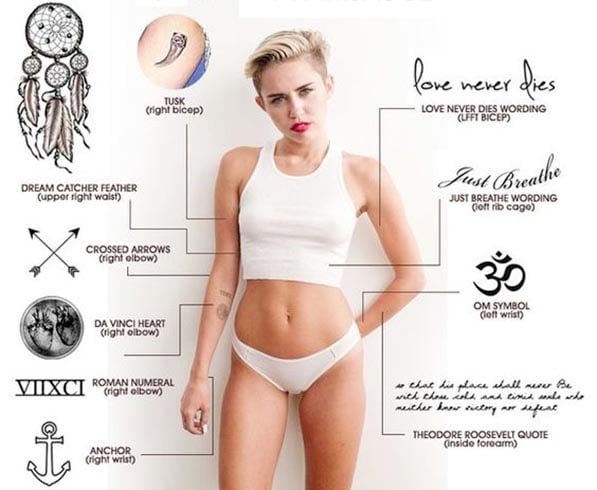 Evan Rachel Wood Tattoo:
As an American singer and actress, Evan Rachel Wood has left no stone unturned in flaunting Hollywood celebrities tattoos, whether it is on her upper thigh or ankle. But the one tattoo of hers that stands out aloud has been inscribed on her neck. Even her thigh tattoos are pretty commendable.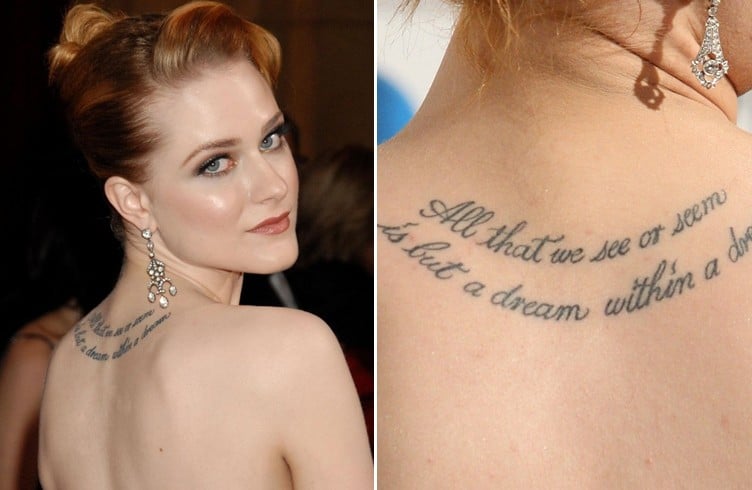 Leighton Meester Tattoo:
She is a popular American TV serial actress. Though she gained popularity for 'Gossip Girl', she got all the more attention for her wrist tattoo which she carries with confidence.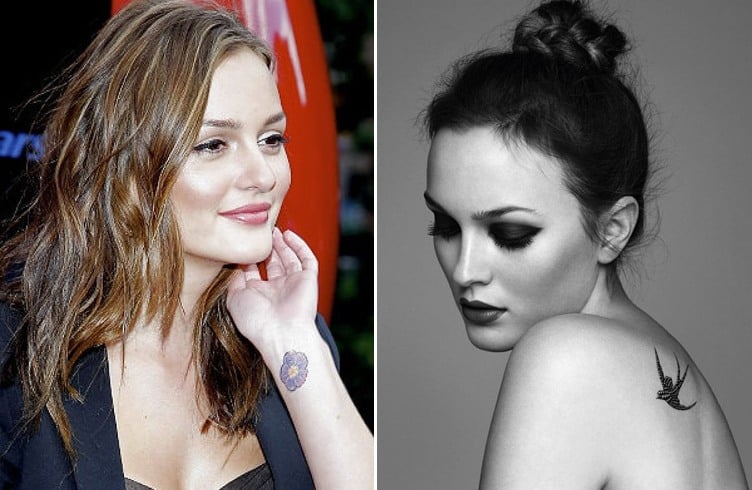 Audrina Patridge Tattoo:
Being a reality superstar doesn't stop Audrina from displaying her Hollywood celebrities tattoos on her neck which looks hot and attractive.
[Also Read: Finger Tattoos You Would Love To Flaunt]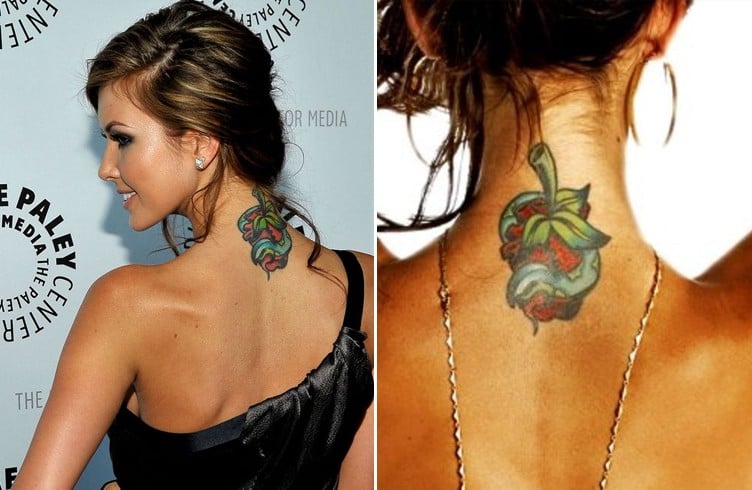 Deepika Padukone Tattoo:
When our bombshell DP was dating Ranbir Kapoor, she was seen sporting a tattoo which said "RK" on her back.
That was then. With Ranveer Singh being seen as her new love interest as of today, we will have to see a new sign of Bollywood celebrities tattoos on her back, neck or whatever.
[Also Read: Deepika Padukone Tattoo]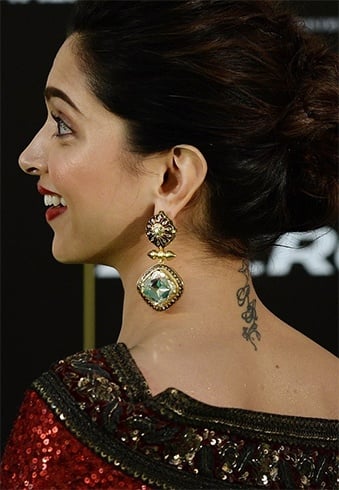 Sushmita Sen Tattoo:
Now this Bollywood celebrities tattoos sported by our dear Sush is truly unique. It's in Latin "Aut Viam inveniam aut faciam", which when translated means "I shall either find a way or make my own". Didn't she when she won the Miss Universe crown in 1994?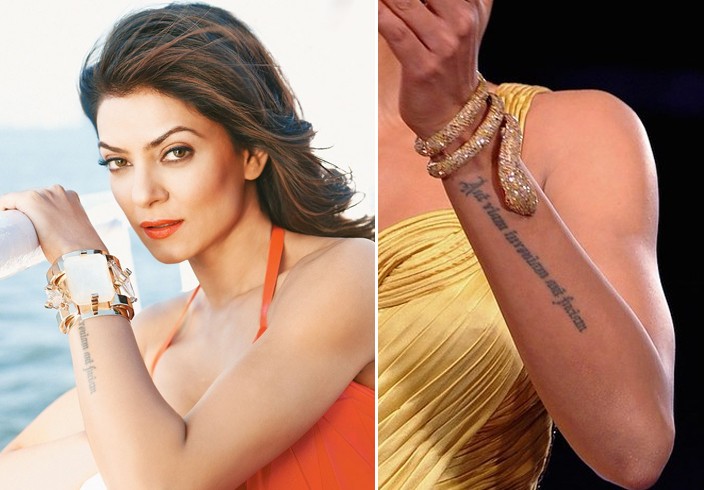 Alia Bhatt Tattoo:
Is she a firecracker or her Bollywood celebrities tattoos are one? That is a mystery you have to solve from the word 'Pataka' inked on the nape of her neck.
Later on it was revealed that this particular word tattoo symbolised her film Humpty Sharma Ki Dulhania, in which she plays a Punjabi kudi.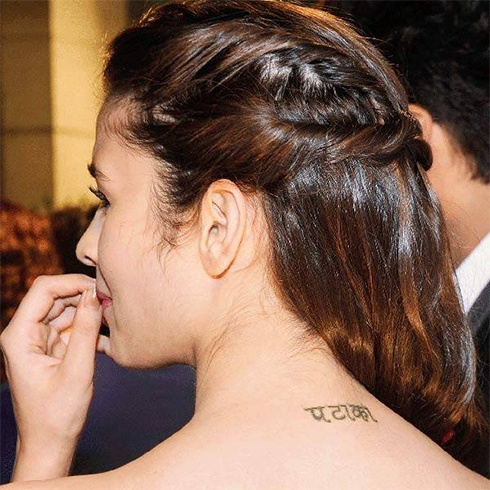 Priyanka Chopra Tattoo:
Our PeeCee was pretty close to her father. Which is why this Bollywood celebrities tattoos reading "Daddy's lil girl" is packed with emotions. Hats off to her parental love!
So I hope you got charmed and besotted with celebrity tattoos. Tell us which celebrity tattoos with meanings made you love the most?
Images Source: Official social profiles of the celebrities mentioned with in the article.