Beyonce showed us how to flaunt gold tattoos whilst she holidayed with her hubby on a tropical beach, and on the backdrop of her sultry skin, the gold tattoos ideas she showed were super cool and trendy. Here are more celebrities showing off the gold tattoos ideas in super chic style that we should think of wearing too, what say? Are you ready to flaunt one of these gold tattoos ideas?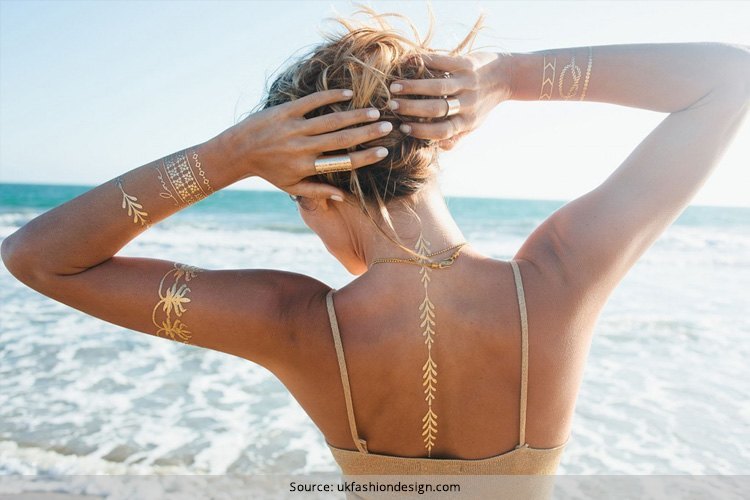 Celebrities Sporting Gold Temporary Tattoo
1. Is that a chunky thick gold necklace with a bikini top and sexy slit skirt worn by singer Beyonce, under the hot tropical sun? Look carefully and be amazed at the sensual gold temporary tattoo the diva sports; apart from her hunky loving hubby around her at all times.
[Also Read: Flash Tattoos: From the Likes of Beyonce]
2. Katie Holmes shows us how the nape of the neck can be dolled up with a gold temporary tattoo. We think the same can be done wearing Indian motifs and logos or designs and along with trendy haute Indian wear too. Perfect for the college parties too.
3. Don't want to wear a head accessory, a maang tikka or a heavy makeup for the evening party? Don't wear them! You could instead opt for trendy gold tattoos on the forehead and to doll up the eyes like an Arabian princess- Ariana Grande shows us how!
4. Supermodel Jourdan Dunn for a mobile phone promotion flashed the swanky techno gadget and in style showed off the chunky gold metallic temporary tattoo as well. One can customize the gold tattoo for a complimentary effect to wear with backless cholis and low back tops!
5. Miranda Burnet, brainchild of Flash Tattoos shows us how to strike a fashionable pose and stance in temporary tattoos flaunting the good old gold hue. And that is what we call high fashion, where you don't have to ruin your skin with permanent ink and yet can wear these customized designs anywhere you wish to.
6. If you thought tattoos were for the skin alone, you certainly weren't following what Kylie Jenner was doing. Kylie got an olive wreath tattoo in gold on her hair! Yes you read that right – she wore the olive wreath in gold like a princess on her hair!
7. While expecting her first child, Bond girl Halle Berry was seen sporting a flashy temporary gold tattoo as a neckpiece pendant. Expectant mothers can wear this look, but we would first advise you to consult your doctor whether tattoos are safe for you or not!
We've shown you seven celebrities flaunting their blingy gold tattoos. Now let us show you a couple of options in gold tattoos on a temporary basis that you can wear to college or to a party. Take a look at these customizable options and use your imagination to create your own designs too.
[Also Read: All That Glitters… A New Tattoo Trend]
1. For the wrist, the back and the nape of the neck, you could emulate nature, temple jewelry, fashion jewelry and maybe the celestial bodies too.
2. To shine out as a bride on your big day, and instead of wearing the traditional red henna mehendi on your hands, you could opt for gold tattoo designs on the sleeved and the cuff portions of the hands.
3. Doll up the arms, the ankles and the wrists emulating kangans and chic gold bangles in temporary gold tattoos for fun sake. The look can go well with Indian wear and indo-western fusion wear too.
[sc:mediad]
4. Spice up the pool parties with your presence and make heads turn while flashing and flaunting the sensual designs in gold! Be the diva under the sun when you splash around the pools!
5. Gold temporary tattoos as nail art and as a maang tikka would be the next big trend to hit our streets soon. The look comes as bohemian and especially chic with geometrical designs thrown in!
If you are want to make a splash and a fashion statement, with a lot of pizzazz and oomph, we've shown you how to do that. Do let us know how this post on ideas about gold tattoos spoke to your soul!