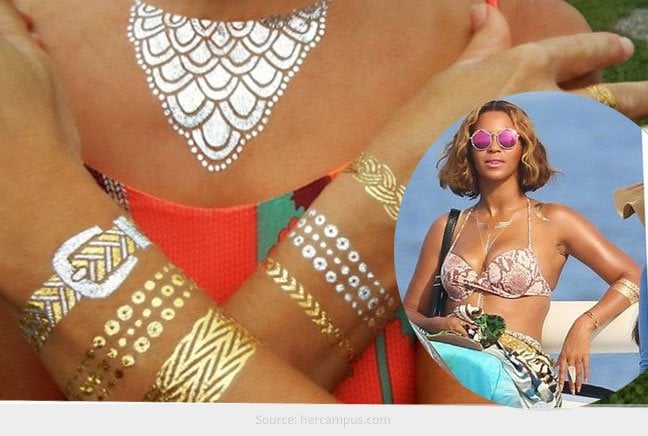 When Beyonce single handedly flaunted flash tattoos on several occasions, it was pretty evident that this metallic temporary tattoo is surely going to be in trend for years now. The pop icon, who is also one of the world's most influential trendsetters, has made a serious fashion statement lately by flaunting the metallic body stickers as she boarded a flight with her family for Paris. And after Sephora hugely promoted them, the flash tattoos have now become a huge rage.
Beyonce's love for flash tattoos
The 33-year old pop icon showed off her newest fashion element as she boarded the flight for Paris with her husband Jay Z and daughter Blue Ivy in Nice.
Beyonce had paired her short skirt, oversized T-shirt and pair of reptile print Kurt Geiger London Bond high heels with a chunk of metallic temporary jewellery designed tattoos all over her hands and on the left leg below the knee.
[Also Read: Arm Tattoo Designs ]
Beyonce had also flaunted the flash tattoos earlier when she was holidaying in Europe. She was flashing an array of linked black circles, tick marks, teardrops and all from the Zahra brand. In another occasion, Beyonce was seen flaunting angel wings and crescent moons from the Nikki collection on her shoulder blades and clavicle.
She was also flaunting triangles from the Dakota set on her forearm, sternum, and under her belly button, and several rows of triangles from the Lena on her knee as she posed for the camera in a bikini wear in a private yacht.
[sc:mediad]
She had also promoted hugely her fondness for these metallic stickers, when she sported these gold armbands at Made in America with her little sister Solange.
Not only Beyonce, but flash tattoos are also adored by other Hollywood celebs as well including Katie Holmes and Vanessa Hudgens. Katie Holmes was seen having a flash tattoo in gold design applied to the back of her neck at a New York Fashion Week event sponsored by Old Navy, while flaunting a band-like design on her wrist.
Now that being said, many of you may not be aware of this trending body art. Here's a quick introduction –
What are flash tattoos?
Flash tattoos are metallic tattoos that are removable and are basically inspired by mehndi and jewellery designs. While they are available in gold, silver and bronze shades; they are now hugely popular in the chains, bracelets, wrist cuffs and belly chain designs.
[Also Read: Tattoo Artists in Mumbai]
If you are a 90's born girl like me then you would surely adore these temporary tattoos. As earlier you used to apply the temporary tattoo by pressing hard the sticker and removing the plastic sheet; this tattoo is somewhat similar to wear upon.
[Also Read: Eyebrow Tattoo Trend ]
Flash Tattoos have quickly emerged as one of the favorite accessories amongst celebs, stylists, editors and fashion bloggers. They're also a huge hit with the beach and surfing crowds, US, America and Australia, as well as with fashionista living in more land-locked regions across the planet like India.
As the flash tattoos are now available widely across the web, you too can pull off this fashion statement as Beyonce and Katie Holmes and can rock any outfit you wear.