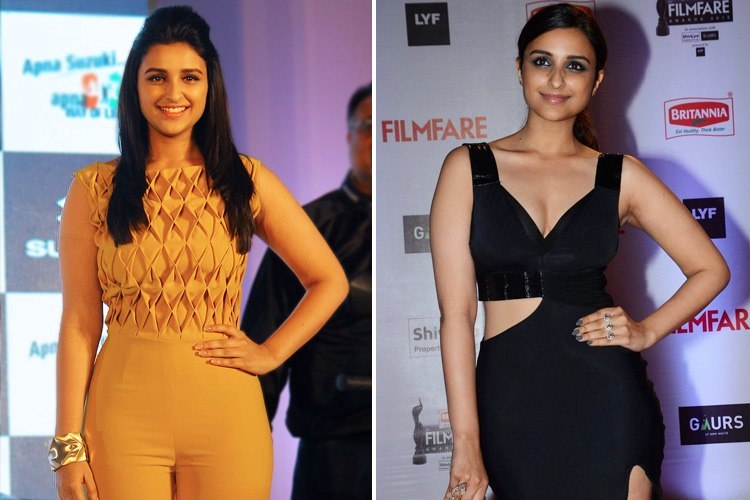 Known as the 'Bubbly Girl' of Bollywood, Parineeti Chopra was in the news of late and not for any hook ups, fashion disasters or links with someone but for her weight loss and chic fashion sense which spread over the social media like wildfire. While the boys went drooling over Parineeti Chopra's new avatar, feminists and most girls envied the diva for her amazing transformation from flab to fab!
Parineeti Chopra's Weight Loss Journey
Parineeti has been strong and determined too, and today we see Parineeti Chopra's fashion and her weight loss spoken off with high regards. Yes, we do chant "all body frames and shapes are gorgeous", but one needs to be healthy too in whatever shape you are blessed with- exactly what Parineeti Chopra fashion is all about. And thanks to the dedicated Parineeti Chopra's weight loss secrets revealed by leading daily tabloids in our country, PYTs have taken the decision to look fab and fit for life! This is what we call inspiration.
"However hard I try, I shall never be able to reach the size zero figure! I will only try to be in shape and to be as fit as possible. Size Zero will be unhealthy for me and I do not want to reach there," asserts the actress who has lost weight recently." Parineeti Chopra, Bollywood actor.
Parineeti – From Flab To Fit!
The amazing flab to fit journey undertaken by Parineeti has made us go bonkers over the diva. She is perhaps one of the very few starlets that have beaten the odds to make it weight wise to where she wants to be and isn't striving for size zero.
No wonder, whether she wears salwars, sarees, anarkalis, lehengas, western suits, crop tops with jeans and more, Parineeti Chopra dresses like a glam doll in this day and age. To be honest, she looks stunning in just about anything she wears, and has managed to shut up all her critics who cry hoarse about the actress demeaning body shapes and types; for she is not doing that!
[Also Read: Parineeti Chopra Weight Loss Workout Is Our New Year Resolution!]
Celebrity Designers Endorsed By Parineeti
It is her confidence and self-esteem which helped her in capturing the attention of eminent designers. From Rohit Gandhi to Rahul Khanna to JJ Valaya, if you look at the fashion weeks, it is proof that Parineeti Chopra's diets and workouts have paid out immensely. Why the fuss?
Parineeti hasn't starved herself but has worked out well, and her trainer keeping in mind Parineeti Chopra's height, has ensured that she doesn't overdo with the healthy weight loss regime. The proof is right here for you and all of us to drool over with.
[sc:mediad]
The best part about the actress is that she doesn't like being compared with other Bollywood divas and instead loves being who she actually is. She is a fashionista in her own right and has evolved time and again to prove it to herself, and not to others that she is the best in her own ways.
Her Style Statements
Here are couple of her style statements like Parineeti Chopra in salwar suit, Parineeti Chopra in designer suits and in western wear too that leave us speechless. Take a look and emulate the fashion sense or be inspired by the determination this girl has put in to be one of the best in the Bollywood fashion circles.
Very soon we may be looking at Parineeti for inspiration- fashion wise, because others are being overpowered by her in more ways than one. The actress when flabby also showed us how to dress to look tall and lean, and without a hitch didn't mind wearing plus size clothing on the Indian screen too.
We hope you get inspired from Parineeti's fashion diaries – of the days gone by when she was all chubby to where she is now! Fashion is meant to adorn for sure, and you can customize the looks as per your needs.
Do let us know your thoughts about this determined lass who has broken all domains in body frames owing to the mass mentality of glam sham!