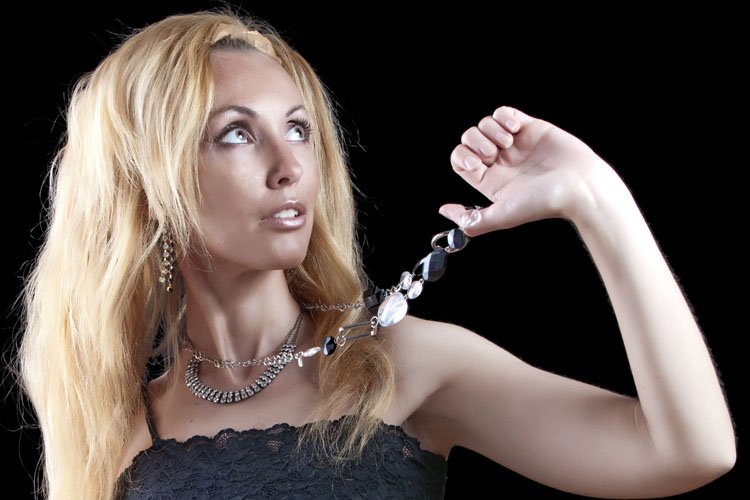 Body chains are not new, they've been around for quite sometime, however it is only in the recent past, with the likes of Rihanna, Jennifer Aniston and other celebs that the chunky accessory has found its fame. Here's a look on how to doll up and rock the body chain fashion, for any occasion and event, and all year round that too!And mind you, body chains are one of the most trendy Jewellery for Summer 2015.
[Also Read: Body Jewellery]
High tea party
Summers are here, and the lasses love their high tea. Meeting up with the girlies seems like a fun thing to do, over mint and lemon iced teas. Dressing up for the evening should be chic and summer like. With a body chain for company, you need no more embellishments to shine and shimmer!
Hello summers
The summer months are here and the beaches are calling, where are you? Makes a lot of sense to us when you can doll up in a sexy two-piece bikini or swimsuit and embellish the body with temporary tattoos or body chains for that matter! Sizzling hot we say!
[Also Read: Tribal Jewellery – Chic and Rustic]
With low cut tops, bare backs and bustiers
And while the summer is on, you could still dress to impress no matter what the event or the occasion would be. Body chains follow no rules and commandments as such, they stand-alone and make an impression.
Empowering the weather
While autumn makes her way into the year and the chill is felt with the falling leaves around, drop all the inhibitions and make your own style statement pronounced. Bring on a sense of excitement, a little sneak-peak or a peek-a-boo now and then didn't kill anyone in the past.
While clubbing out tonight
[sc:mediad]
Pubbing and clubbing would happen anytime, however, dressing up right and making an impression in the arms of darkness is a must-do. Dapper and chic, bringing out a bold-statement for sure, body-chains wouldn't allow the lurkers to mess with you!
For the plus-sized beauty
You got it, you flaunt it! Body perfect and sexy with curves, the big girl now can flaunt her hips and sexiness like never before. With a sexy crisp black number and a white crop jacket, she wears her chains to bind more love.
For a night out being wild
A leopard printed one-piece number with backlaces or a bodychain tonight, would be an attention grabber for sure. Bringing back sexy for sure, let the hair not obstruct the heavenly view.
Putting your best foot forward
With confidence and high self-esteem, she walks her way through the crowd and being all nonchalant about the cat-calls. No one dares mess with her; she knows how to strut for sure.
With so many more ways to doll up and wear body chains, all year round, we would like to hear from you on your style quotient! Drop in a line and let us share the love for body chains!
Oh, and yes, you can DIY body chains as well. Just google how to make a body chains, and you can keep yourself engaged during the weekend.