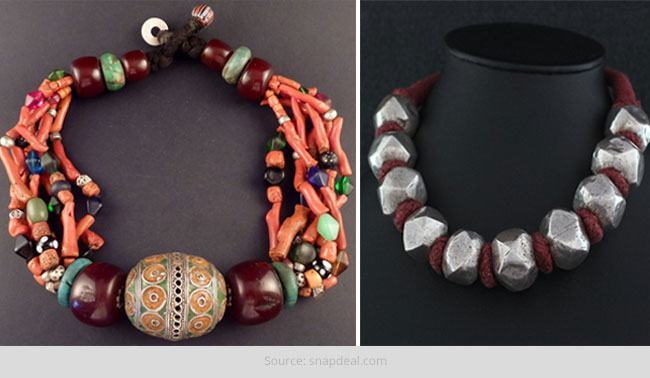 Well, you can safely call it eclectic, earthy, funky and 'unrefined'. If there is any indigenous craft that has fast caught up with savvy socialites, chic fashionistas to working women with unconventional tastes, it is Tribal Jewellery.
A piece of art that knows no boundaries, Tribal Jewellery is increasingly being worn as a wardrobe must. Whether it is evening celebrations or casual afternoons, this intricate jewellery is a classic example of how fashion recycles over a period of time, making it fresh and new each time it is worn.
Various states in India have their own distinctive form of Tribal Jewellery. From Bastar tribe of Madhya Pradesh (popular for grass, cane and beads), Banjaras of Rajasthan (metals, shells, coins, beads), Karko Gallong of Arunachal Pradesh (bamboo and cane), Bhutia of Sikkim (silver, gold, turquoise) or Khasia, Jaintia and Garo of Meghalaya (red coral beads), tribal jewellery is gaining its unique signature style in India. Joining this ethnic fever are also the states of Tibet, Nepal and on an international scale Africa and other nations where Tribal Jewellery is the main form of ornamentation.
[Also Read: Body Chain Jewellery]
Made of crude metal, wood, shells, beads and even bone by indigenous tribal artisans, Tribal Jewellery is rarely uniform in shape. Perhaps it is the irregularities that contribute to making them a part of heritage and hip-hop cult.
Well-cut and well-defined, tribal jewelry is not very expensive. Since it is worn by the young generation to get that hippie and ethnic look, it is ideal for daily wear. There are so many options for the young and sassy girls in Tribal Jewellery such as antique shell mirror necklace, small dainty trinkets, colored beads and more that add an extra flair to your dressing style. Though silver is the metal of choice, gold is used too in, but sparingly. Check out some of the boho creations that will look apt with your black dress for evening parties. Go have a blast with tradition that's contemporary and spicy.
Tribal Jewelry of Kashmir
Put around your neck the lovely and fancy silver necklace from Kashmir. Noted for its big central pendant carrying embossed decoration, it has four cylindrical silver amulet boxes carrying unique levels of decoration.
Tribal Jewelry of Ladakh
Go vintage with this silver and stone pendant-cum-chinese dragon from Chang Tang, a plateau situated in Tibet that extends to Ladakh. Probably an amulet, the back of this pendant features a cow on it nicely carved.
Tribal Jewelry of Rajasthan
High grade silver pendant from Rajasthan that has nicely embossed decoration on the front side. The pendant being struck by a black cotton cord weighs a good 31 gram.
[Also Read: Paper Quilling Jewellery]
Tribal Jewelry of Nagaland
Grace your neck with this 8-strand yellow necklace from Naga tribe that has orange, black and blue glass old Naga beads with bone spacers. Fastened with a coin, the composition of this collar is asymmetrical. Ceremonially worn by men to recognize the hierarchical status.
Tribal Jewelry of Orissa
Dhokra is a well-known tribal form art from Orissa that brings to the art aficionados a terrific range of artefacts. Here comes the Dhokra Coin necklace which is a form of 5000 year old lost wax technique being revived.
Tribal Jewelry of Banjara
Banjaras of Rajasthan are known for their colorful jewelry as much as their costumes. What gives them the unique element of distinction is the use of shells, beads, chains and metal mesh that make amulets, anklets, bangles, bracelets look rustic and earthy. Here comes a set of handmade bracelets from the Gypsies of Rajasthan decorated with bells.
Tribal Jewelry of Tibet
Size will not disappoint you for sure when it comes to checking out tribal jewelry of the Tibetans in flea markets. Heavy and at times oversized, the Tibetan ethnic ornaments come with gemstones such as red coral, turquoise and beads. Check out this spiral double-sided pendant necklace. On one side you will see, a circular spiral. On the other side, there is amber bead and turquoise suspended by thin strands of steel cords neckband.
[sc:mediad]
Tribal Jewelry of Kutchi
The Kutchi region in Central Asia is known for its craftsmanship, exuberance and creativity in clothing and jewellery. Here comes another addition to its fame with this colorfully beaded cuff bracelet that has clattering bell dangles. There is a pin clasp to ensure secure fit too.
Tribal Jewelry of Turkey
A feminine wrist has so much to offer – elegance, beauty and charm. That is what you get in good measure in this ethnic silver-plated stretch bracelet that has been crafted in Istanbul.
Tribal Jewelry of Africa
African-inspired jewelry in the form of pea-sized snail shells dates back to 75,000 years. Over a period of time, animal teeth and hair, egg shells and sea shells, carved stone, wood, ivory, amber, glass and beads started being used as unique and stunning inspirations in jewelry. Catch this tribal ring from Sahel in Africa that has a beautiful patina.
Tribal Jewelry of Ethiopia
The Oromo people of Ethiopia have to their credit a necklace called 'mergaf' that has talismanic objects. A kind of amulet pendant, it is strung with metal beads of varying size.
Tribal Jewelry of Morocco
Spectacular is the word for this Moroccan necklace that has loads of amazonite beads, silver beads and two authentic coral beads. Valued for antiquity in Northern Africa, the amazonite bead has a diameter of 3cm.
Tribal Jewelry of Yemen (Middle East)
What is the beauty quotient in this 45 cm long necklace from the first half of the 20th Century? Well, this hirz amulet featuring silver patina comes with old and granulated silver beads, and red coral cylindrical beads. For academic purpose, hirz pendants are of great use in the Middle Eastern region where Quran phrases are stored inside for protection value.
Hope you really enjoyed this article on Tribal Jewellery. We have tried to show you all the different Tribal Jewelries worn by Women across the Globe. If you have anything that we may have missed, please do share it with us.