Jump into the wilderness and bring out the animal seated inside of you by animal tattoos. Extremely popular in the western culture and seeping its way into the Asian culture as well, these wildlife tattoos exhibit the love for animal kingdom and the love for pets. Animal kingdom encompasses all species like mammals, reptiles, birds, insects, etc. so let us not dive into the numerous collections and feel overwhelmed by it.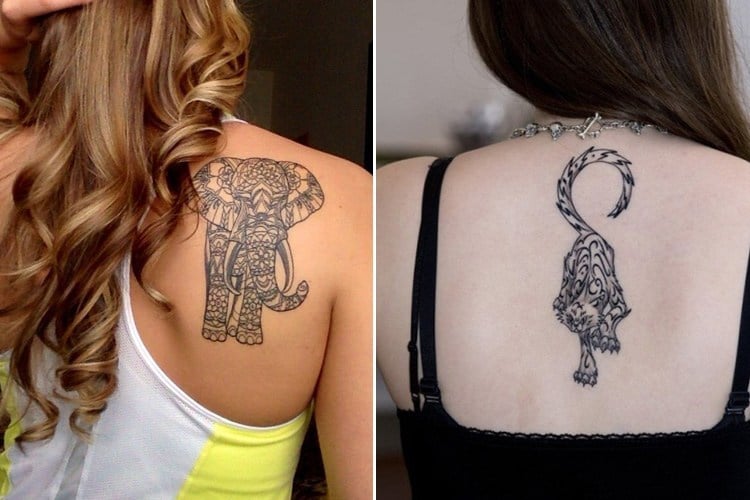 We have taken an interest to display the most popular choices suitable for women portraying the wilderness in them, our choices ranging from the huge animals like Giraffe, and Elephant to the small animal tattoos featuring owls, cats and frogs.
[Also Read: Fly Along With These Cool Bird Tattoos]
GIRAFFE TATTOO DESIGNS
It's a very unusual animal tattoo as not many people identify themselves with this graceful animal. Giraffe's are those which show grace and elegance with their awkwardly long legs and neck.
Their long neck signifies strong bonds with family, community, etc. suggesting us to broaden our vision and reach out as far as possible.
Here are a few interesting giraffe tattoo designs. Let's strut through them and test our appetite.
1. Normally the giraffe tattoos are designed comical by blending them with cartoon artwork. Here are a few to give you an idea.
2. If you are not into intricate designs and colors, try the silhouette patterns. They look simple, elegant, small and can be carved anywhere. We like the idea of it on the finger.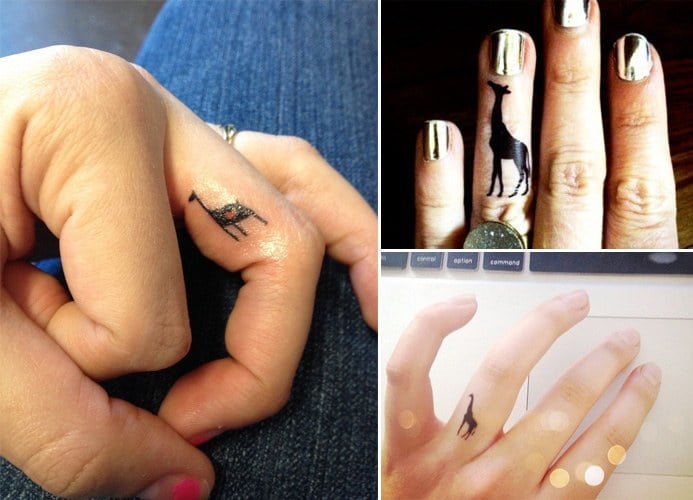 [Also Read: Finger Tattoos You Would Love To Flaunt]
3. Another design feature is the tribal style. It is a giraffe pattern tattoo worth investing energy on.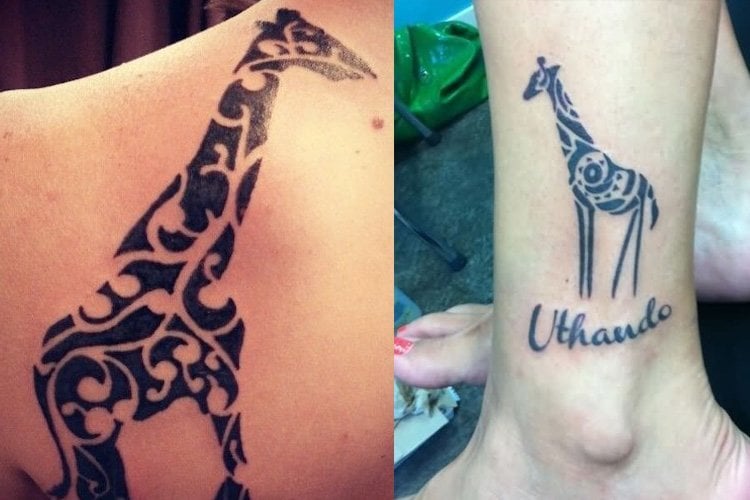 4. The most innovative design that we have come across so far is the 'Stand Tall' giraffe tattoo. It's a carefully thought design which signifies that giraffe's stand tall and have a foresight.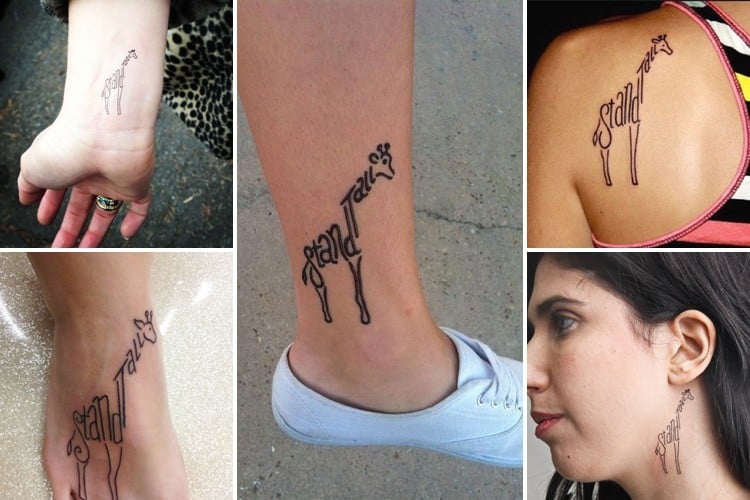 5. Don't forget the all new geometric tattoo designs.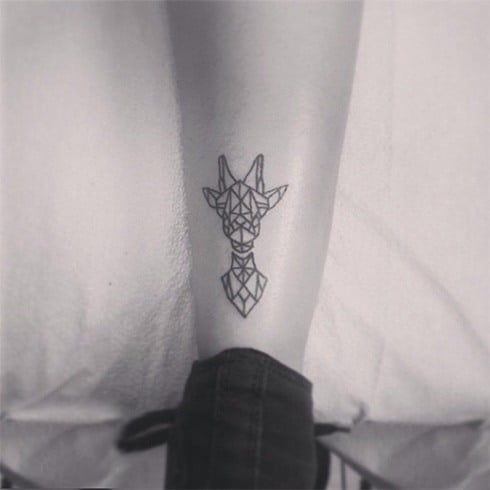 The most favorite one of ours is below. We simply loved the location and the theme of the design.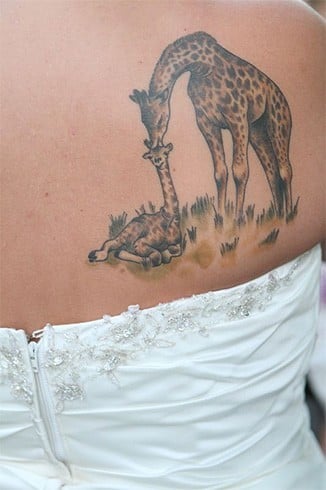 ELEPHANT TATTOO DESIGNS
Elephants the huge animals of wildlife signify strength and power. They are the most tuned down animals and maintain tranquility within them. Symbolizing highly protective instinct for family, these elephant tattoo designs have become quite popular.
[Also Read: Geometric Tattoo Designs]
It is so admirable how these enormous mammals carry their weight with such grace and beauty.
Let's check out the different elephant tattoo designs
Simple Elephant Tattoo Designs
For small and discreet tattoo designs it would be suitable to opt for the simple outlined elephant tattoos. They have an aura of innocence.
Here are some cute little baby elephant tattoos which have a Disney like look to them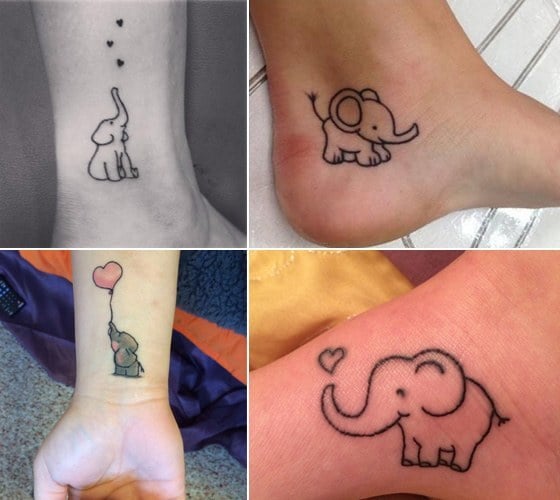 The cutest so far are the ones below. While the pink blush on the cheeks and feet with a blue flower looks very endearing in one design, the elephant reading a book in another design brings a smile on your face.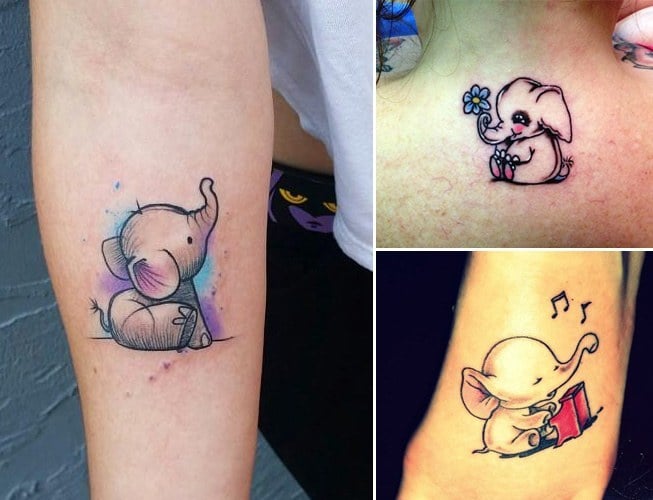 Elephants are the strongly bonded animals and depict compassion, love and loyalty. The elephant outlines with the baby elephant emphasize this ideology.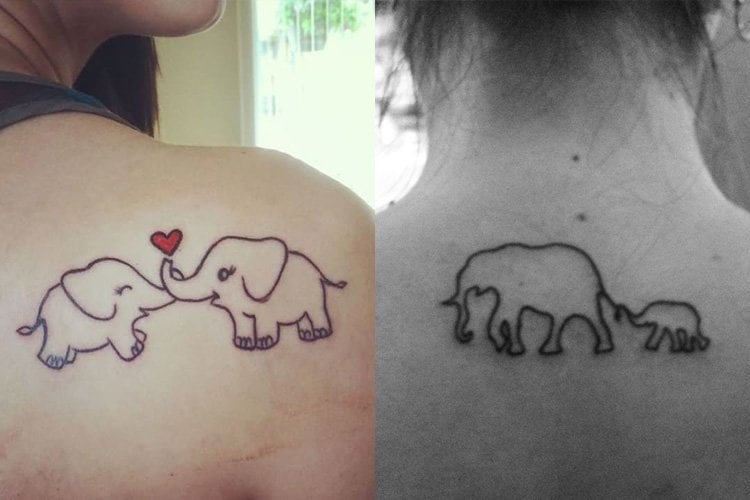 Tribal Elephant Tattoo Designs
Tribal designs portray the link to nature and are very detailed design patterns.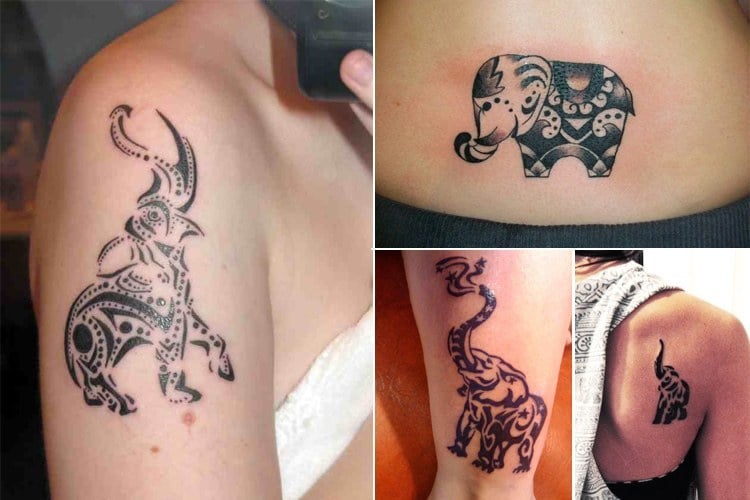 Trunk Up Elephant Tattoos
These designs are an abode for good luck. Be it a simple outline or an intricate design, pick one which suits your palette.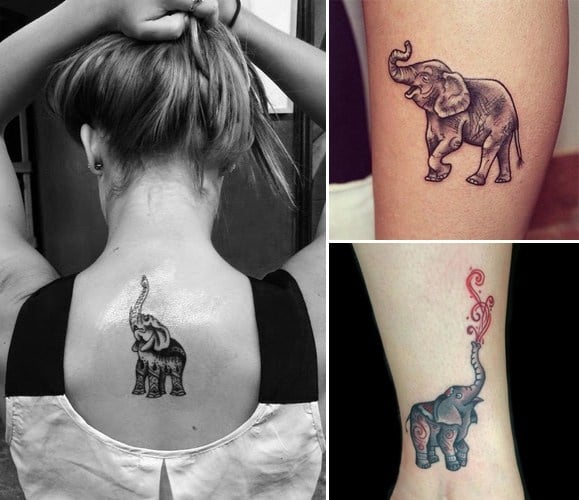 Large Elephant Tattoo Designs
Go wild with these large tattoo designs with beautifully orchestrated details.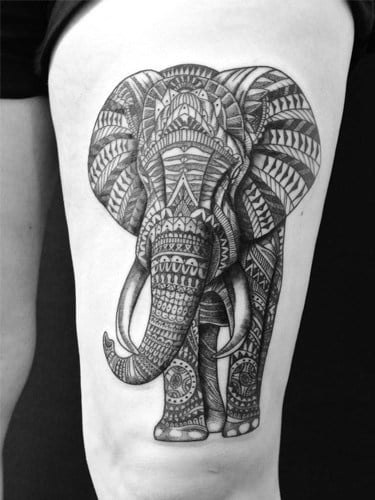 Ganesha, a hindu deity has the head of an elephant. He is the symbol of wisdom, luck and faith. People wear this lord as a significance of their belief.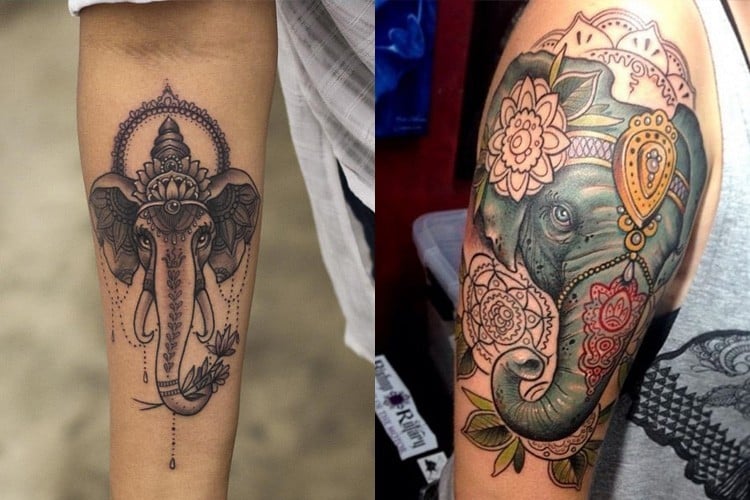 Silhouette Designs
Get a small elephant tattoo which is more realistic, less cartoonish by opting for the silhouette pattern.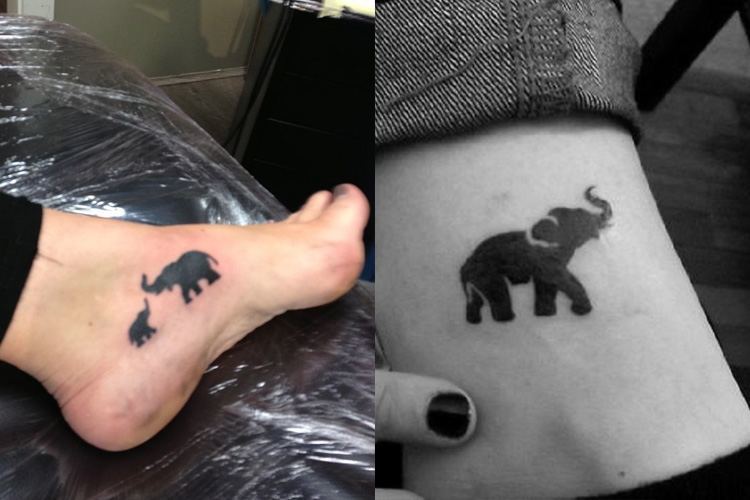 Elephant holding an umbrella – simply awe struck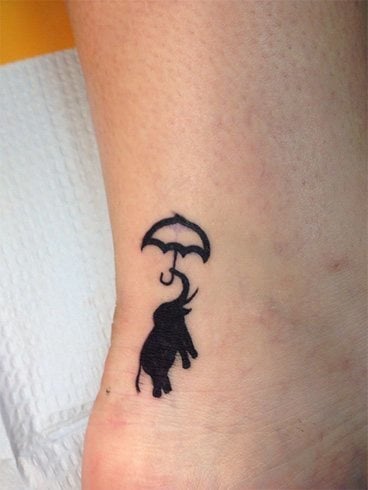 [Also Read: Small Cute Tattoos For Those Who Like To Keep It Small And Tiny]
OWL TATTOO DESIGNS
Are you nocturnal? If you are an appreciator of the magic of the night and the mysterious darkness, the owl tattoo designs are the right way to express it.
It's the veil of shadow that frightens most of us. Owl sees a ray of hope in such darkest hours. So open your view to this thought with an owl tattoo.
Owls are also associated with wisdom, intuition, guidance, protection, clarity and dreams. If you are a harry potter fan, you would also associate owls with magic. Let your imagination soar and make the tattoo magical and mysterious.
Come fall in love with these mystical owls. The colorful owls are usually opted by women and they have a great essence of femininity. The docile eyes create a feel of dreamy hazy look.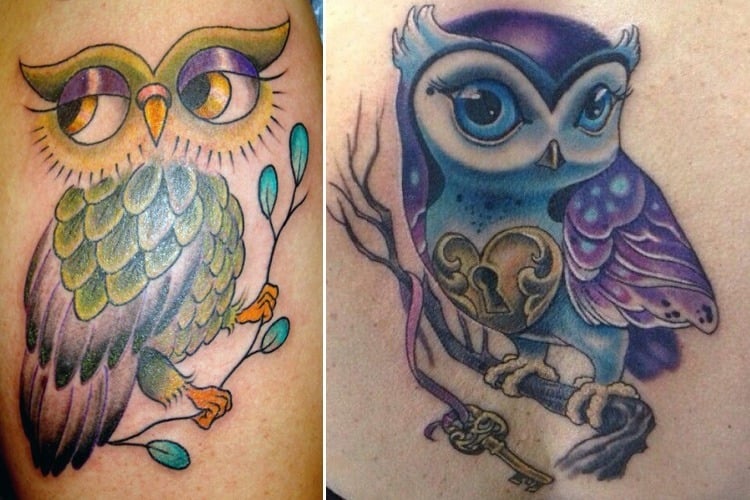 Top it off with a pair of spectacles to bring more of a wise and intellect look. It gives an impression that there is clarity in your vision.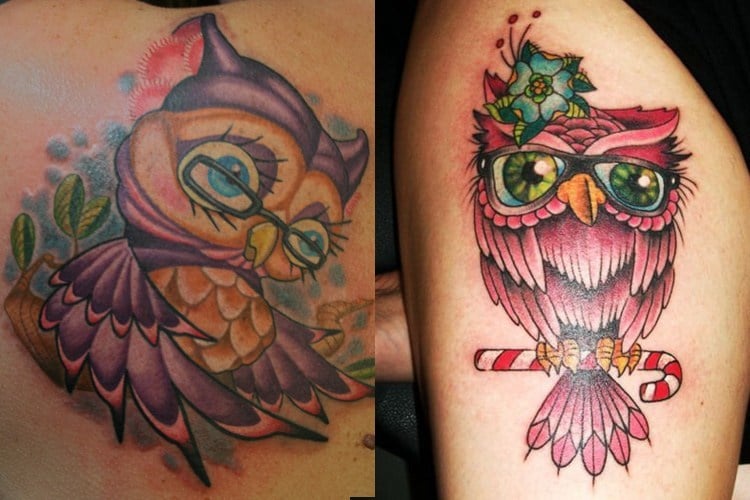 If you hate to reveal the mystery behind the eyes, choose a passive owl with its eyes closed.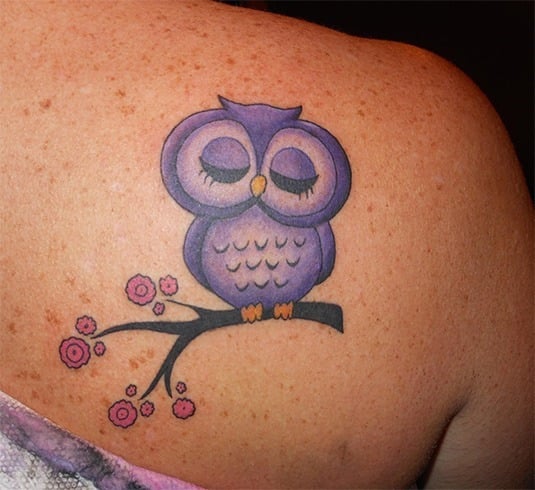 Simple Small Owl Tattoos In Single Tone
The owl is known for its quiet and silent nature. So avoid colors and keep it monotone and minuscule to hide it from all the attention the tattoos get these days. Here are a few to give you an idea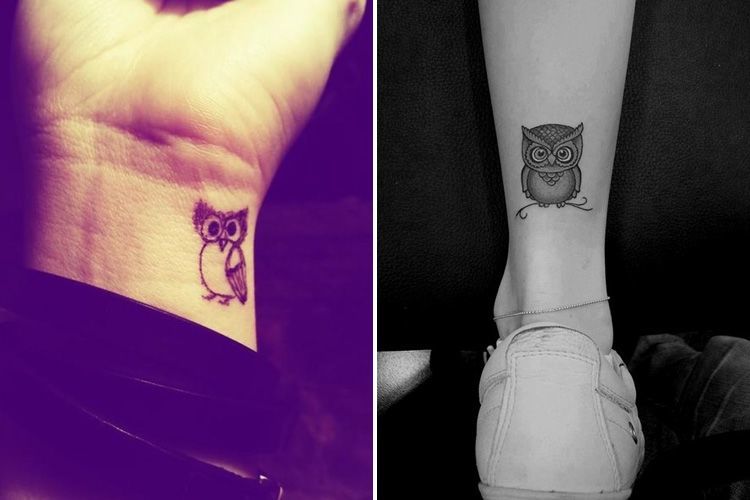 Wear it like a ring as if it's watching over the actions you do.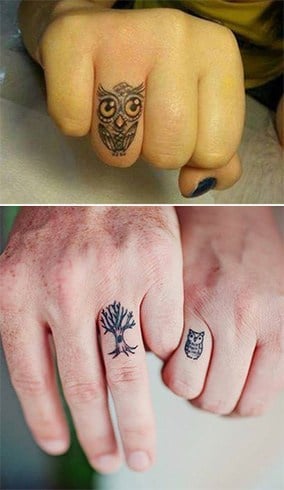 The following tattoo patterns might find its relevance with people who work best at night or people who value the importance of time.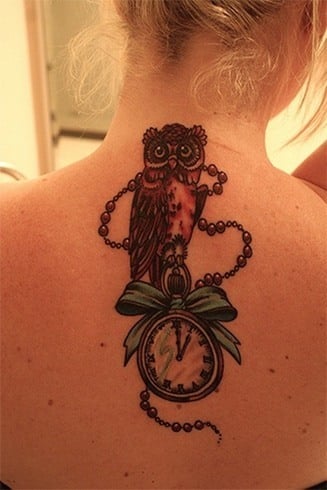 An owl with clock and key is even more appalling.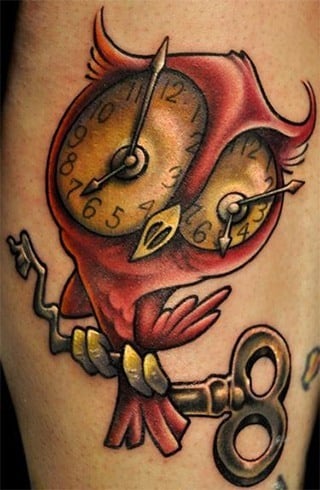 Two Toned Owl Tattoos
An owl intricately designed in black ink with a colored heart is very catchy. The interesting bit here is the emphasis on heart suggesting something very personal to the wearer.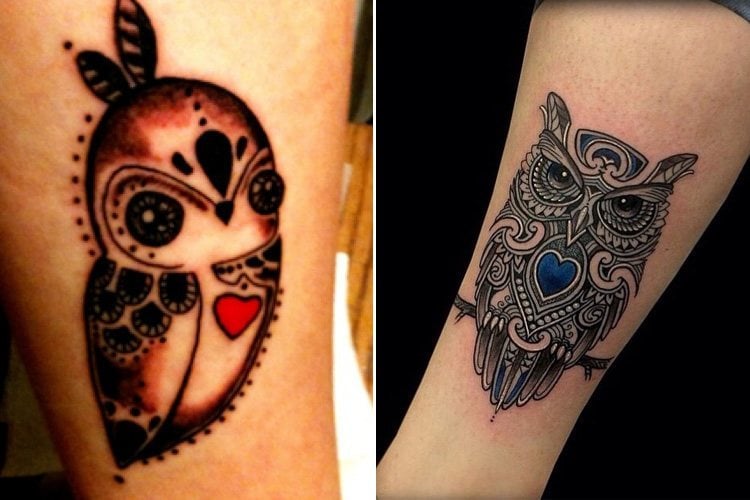 Large Owl Tattoos
Some communities consider owl as a sign of sanctity and would like it to be huge circling the best part of their body. It means, the wearer is connected in spirit with what is holy and will abide by it.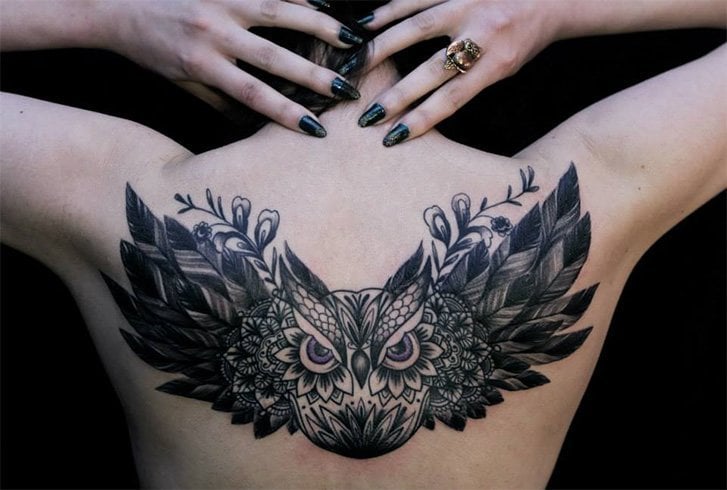 How about a designer owl? Confused? Check out the super cool designer, geometric owl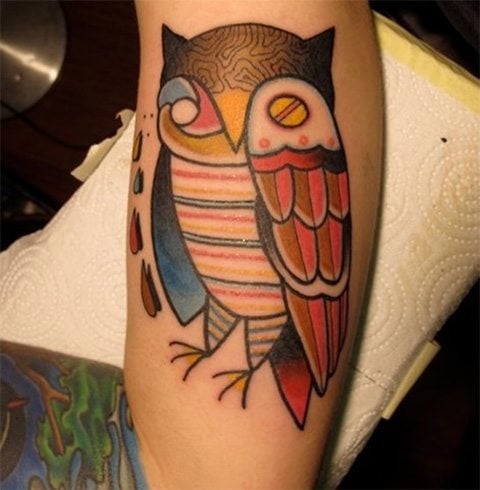 Finally if you are Harry Potter fan, pick these fun tattoos and prove you are a fanatic.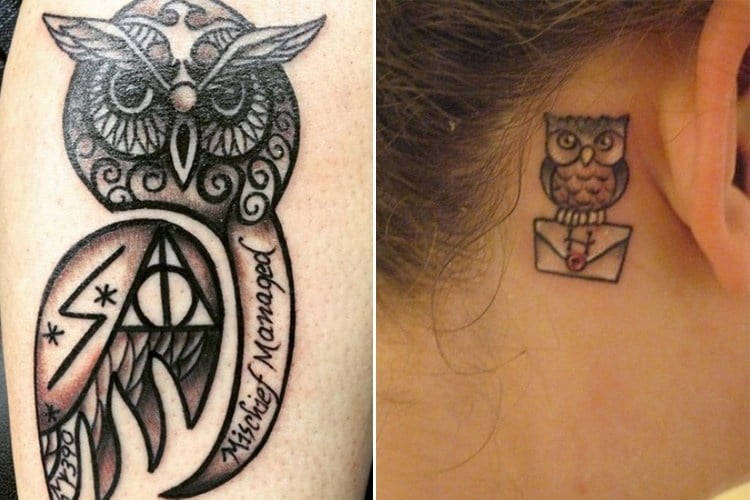 FROG TATTOO DESIGNS
The first thing that pops into my mind when I hear the word frog is the fairy tale 'The Frog Prince'. We never bothered to dig deeper into the meaning of it but now that there is this hype about these frog tattoos, we started exploring and here is what we found.
Frog tattoo designs symbolize good luck and since they are water interactive beings, they also suggest bon voyage. In Celtic tradition, frog was seen as a healer.
Let's begin the frog hunt
The comic version of frog is adorable, especially the one with a cigar in hand.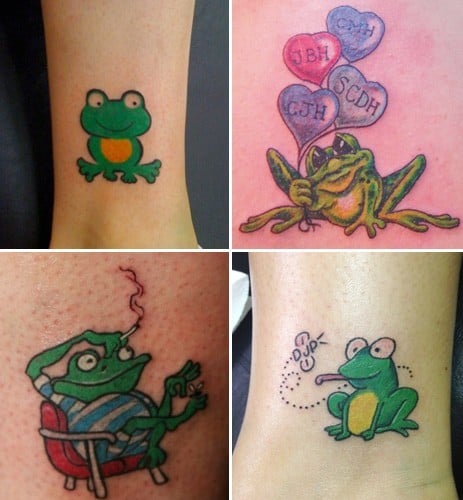 The typical frog prince tattoo is here, check it out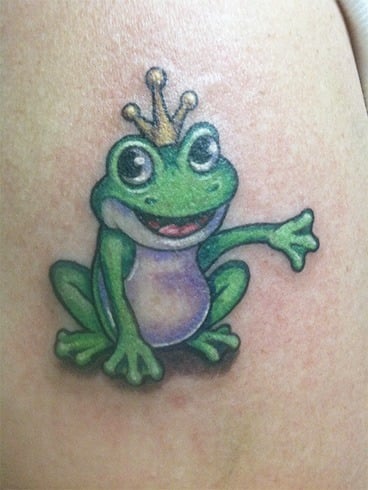 If you want to add a feminine essence to the animal tattoo, blend it with flowers, fairies, plants, dragonflies and butterflies. The more colorful you design it, the more it looks glorious with an element of nature in it.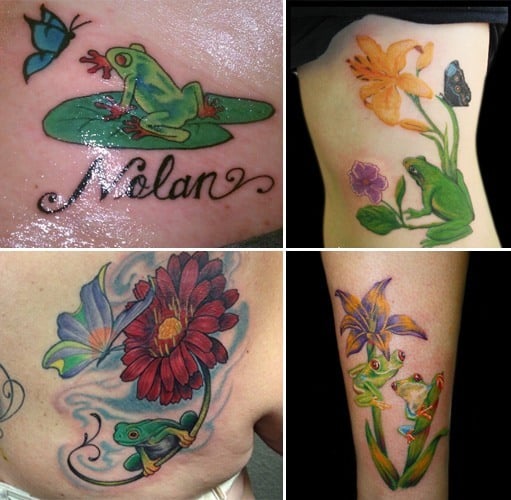 Japanese Frog Tattoo
Famous among the plethora of designs is the Japanese frog tattoo exemplifying the energy and tolerance of the wearer.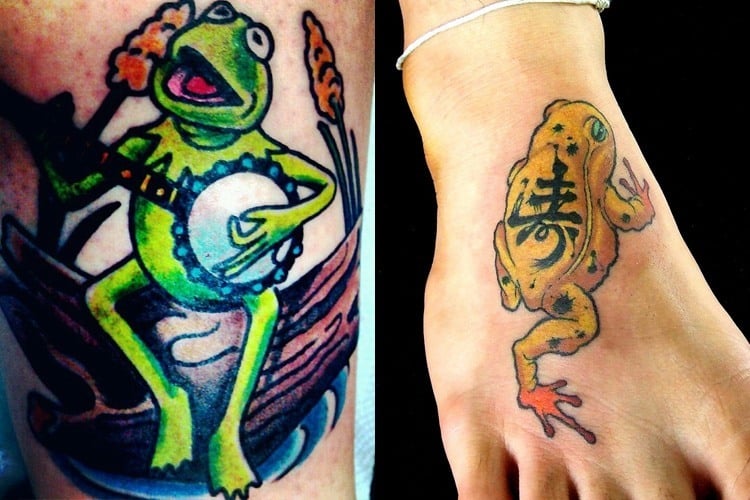 Frog Tattoos On Wrist
One of the cutesy and delightful tattoos is the two frogs representing a couple with an expression of their wandering thoughts.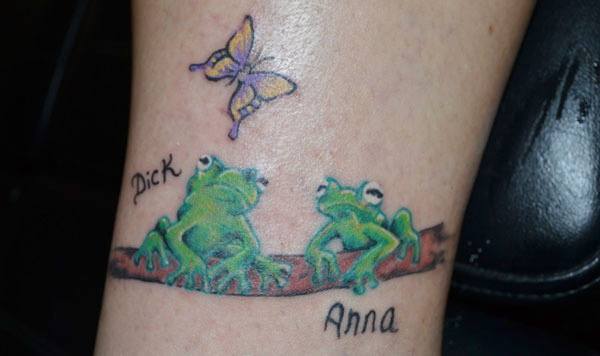 The blue tree frog with black dots looks radiant on the wrist.
Quirky tree frog determined to crawl its way up and high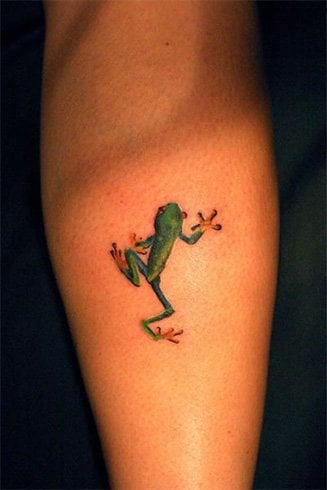 [Also Read: Cool Wrist Tattoos For Girls]
CAT TATTOO DESIGNS
Cats we all know make wonderful pets. The interesting fact about the cats is, no matter how hard you try, you can't tame them. They are the most free-spirited species of animal kingdom.
Feel a strong affinity to that spirit of independence, stay rooted to this cat tattoo designs.
Black Cat Tattoo
The black cats are usually associated with bad luck and considered messengers of bad luck. If you don't believe in it, the black color is enchanting and creates an air of mystery.
Trust me, these cat tattoos are worth the pain.
Love the look of a cat on the moon. More interesting is the flowers near the moon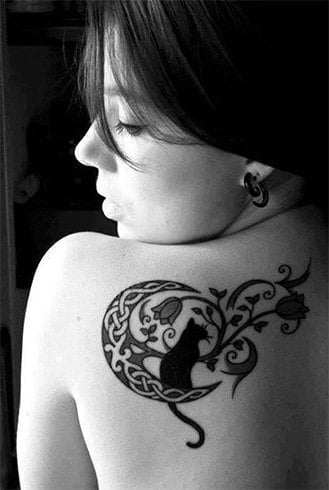 Cool Victorian frame around the cat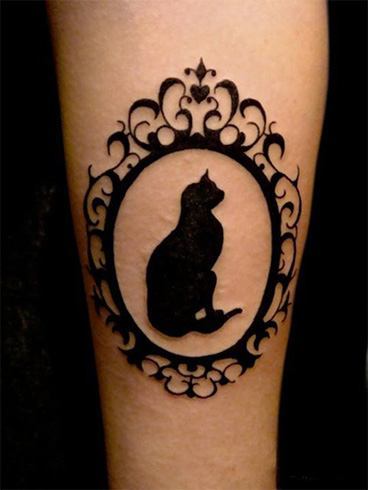 Small, sweet cat on the wrist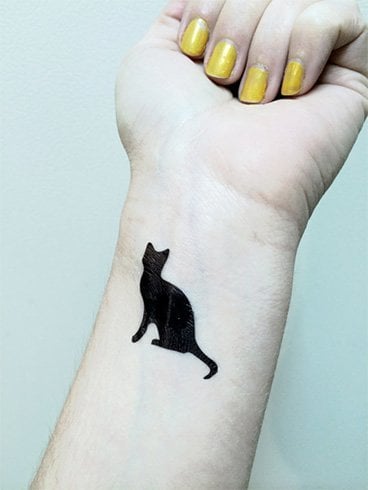 Two cats kissing, simply lovable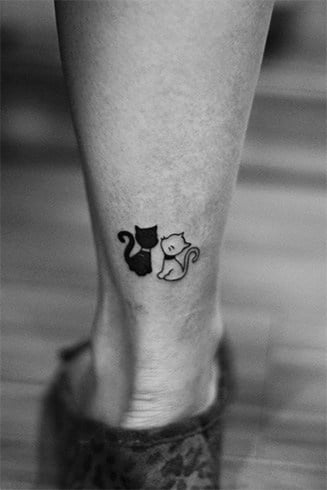 Lazy stretch in the morning is what this tattoo purrrs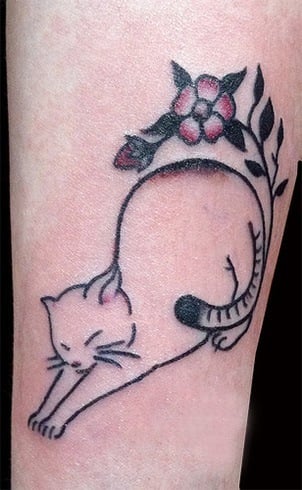 [sc:mediad]
Cheshire Cat Tattoo
Sounds familiar? 'Alice in Wonderland' is where you must have heard it. Remember now, the cat whose smile is like a crescent. That's a Cheshire cat which has a masculine nature, totally mysterious and dark as the night and very shrewd.
In the Cheshire cat tattoo designs mentioned below, if you notice, the eyes are designed to give a feel of secrets, attentiveness and cunning attitude.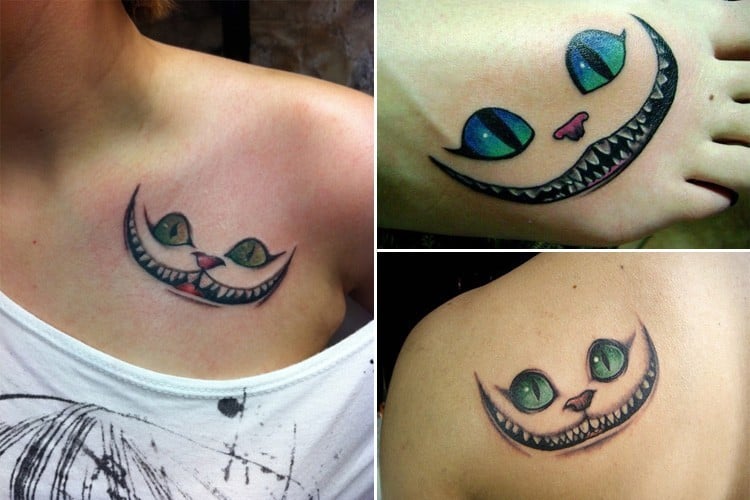 Kitty Tattoo Designs
Hello Kitty is the all-time favorite feline figure for most of us. Check out these really pinky Kitty tattoo designs and fall in love with them.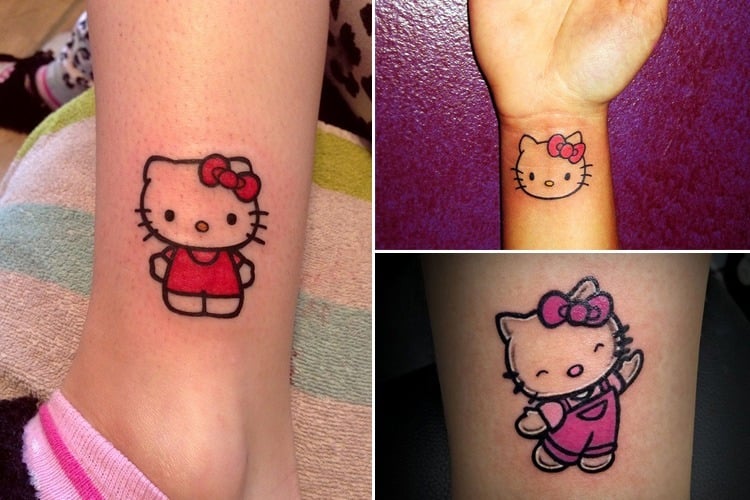 Lucky Cat Tattoo Designs
Enough with the black cat and bad luck. Let's move onto the lucky cat tattoo designs. They look very close to the 'talking tom' application that women love to play. These designs are the most colorful ones that you can find in the course of cat tattoo designs. The wink and the hand wave look quite humorous.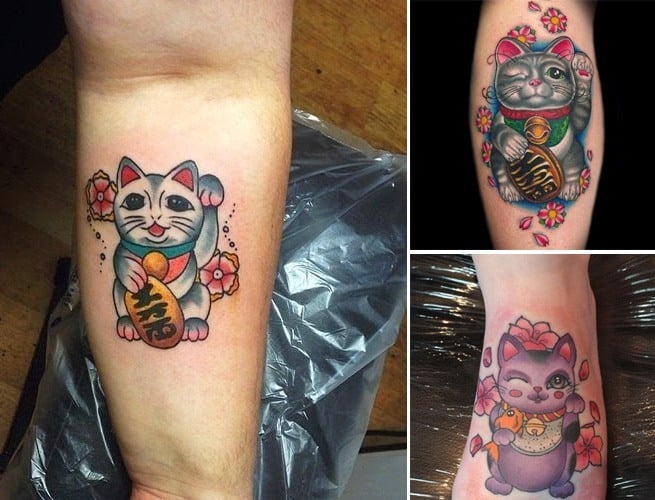 Hope you enjoyed this collection. Share your cat tattoo pictures and also your thoughts. We will be waiting!!!!!!!!
Stay tuned….the collection will constantly be extended.
Images Source: pinterest.com