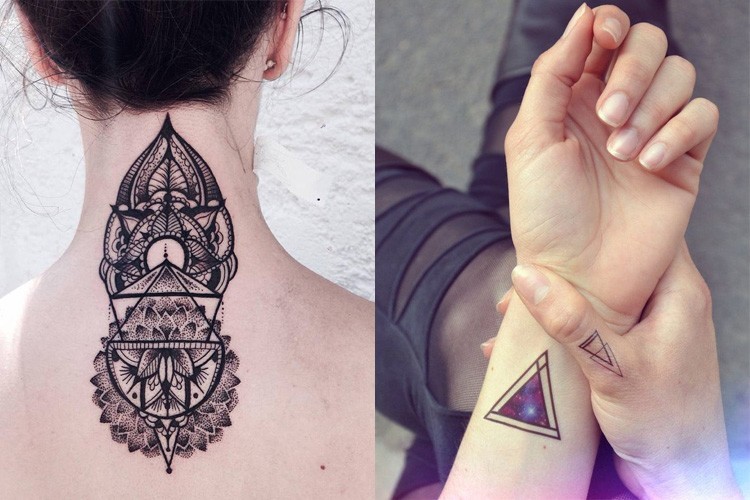 Tattoos are now-a-days the style icon bouncing off attitude and belief. The effort to look unique is seen among the tattoo lovers. And when everyone got exhausted with the regular, common and traditional designs, came the new geometric tattoo designs creating a totally funky perceptive.
[Also Read: Animal Tattoos]
Yeah Geometry! That Maths based topic which I guess many of us hated. We know that it's all about perfection and symmetry which when related to life is all about balance and harmony.
The tattoo's look depends solely on your choice of colors, thickness and size. If you want a much stronger tattoo pattern then opt for a 3D design.
Best Geometric Tattoo Ideas
Relish these crazy geometric shape tattoos and their intense meaning shared below.
Sacred Geometry Tattoos
With all the dot work tattoos getting the lime light, in combination with it loomed another tattoo craze I.e. the sacred geometry tattoo pattern.These sacred tattoos are strongly associated with the spiritual world and are linked with holistic healing therapies.
When inked over a scar or special places will restore good health and harmony.
Without any further ado, heal yourself with these sacred geometry tattoos like the dangling in the design below
Flower Geometric Tattoos
It's another geometric design tattoos popular among women. It is a perfect blend of ink and bright colors.
Geometric Animal Tattoos
The animal tattoos in geometric patterns have become more popular. These angular tattoos are perfectly measured and well thought before being done on the body. The focus of a geometric tattoo will mostly be on the shapes and patterns rather than the colours. There are a variety of animals that are most sought after in this section.
Geometric wolf tattoos
The wolf artwork in geometric designs has particularly become creative over the years, with more and more artists mastering the majestic animal. It represents a peaceful nature yet provoking.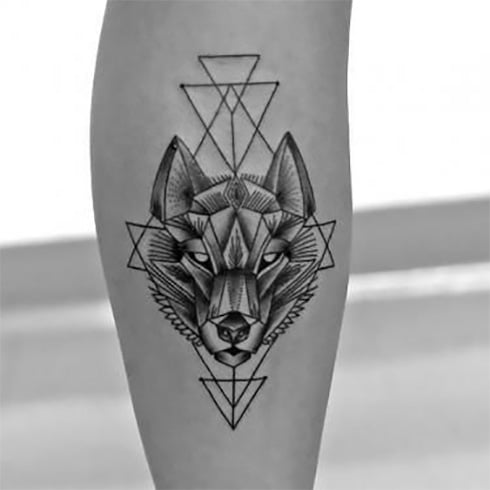 Geometric Elephant Tattoos
Elephant tattoos artwork leaves so much space for the artist to pour out his ideas and hence has become the most incredible tattoo artwork. The geometric tattoo shapes fit in together to give the familiar elephant picture.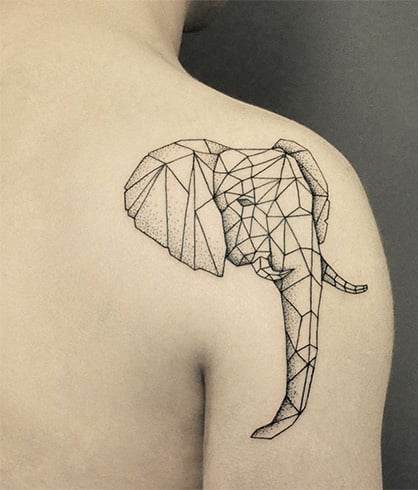 Geometric Turtle Tattoos
Come out of the shell and get inspired to get a geometric turtle tattoo. This turtle tattoo shows volumes of grace and fanciness rather than a boring regular one.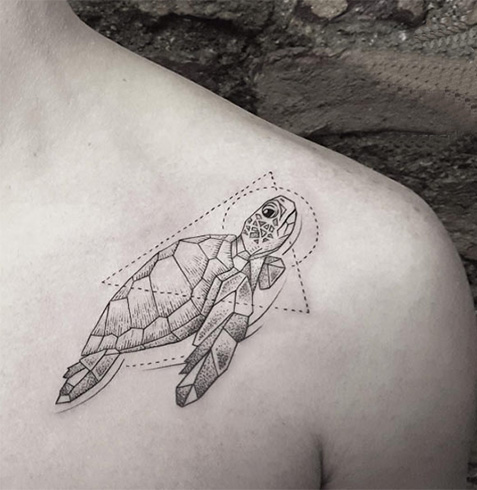 Geometric Lion Tattoo
Standing for strength, pride and loyalty, the lion is the most sought after tattoo. Having come in geometric shapes now, the mane look a lot more gorgeous, and more reason to get the tattoo.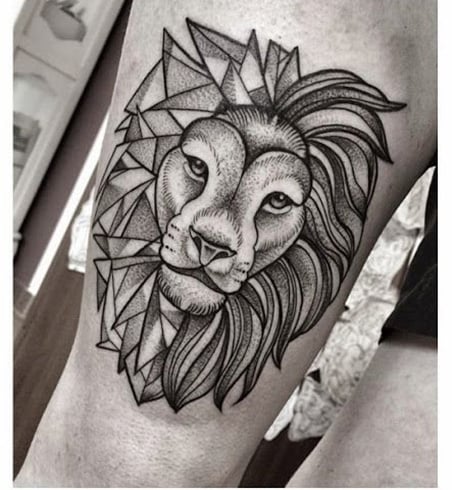 Geometric Deer Tattoo
A deer is a naturally pleasant looking animal and would be great for a tattoo. This amazing deer geometric tattoo says a lot about the persons self confidence and calmness.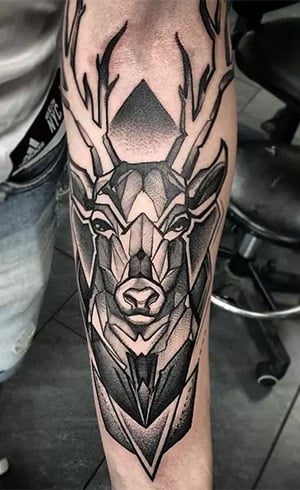 Gordian Knot Sacred Geometry Tattoo
The Gordian knot finds its root in ancient times and is named in remembrance of Gordia, a poor peasant who became a king riding an OX and tying it to a column with an intricate knot in the end.
[Also Read: Womens Hair Tattoo Designs]
This knot can be made with a Torus Tube also known as perfect shape in Physics. Hence the entry into sacred geometry tattoo ideas. It looks more like an infinity symbol with no beginning and no end.
Geometric Arrow Tattoos
Real Geometry
Of circles and mathematical models, this tattoo has been curated with so much accuracy. Looking so utterly subtle and attractive., this tattoo depicts a lot more than just being a tattoo.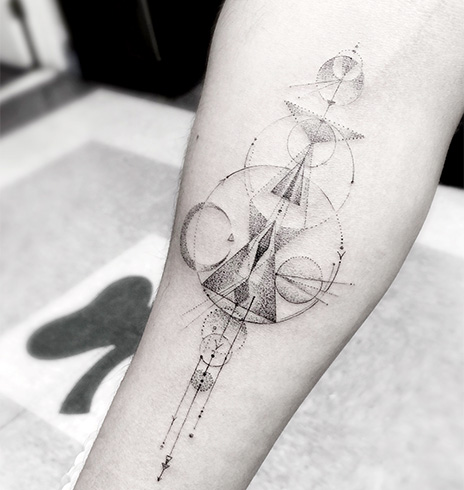 Geometrical Hearts
Making hearts seem so mathematical might not sound too good, but the outcome of the design will definitely be mind-blowing. Filling each triangle in the heart with different shades, sure the best way to brighten up every day.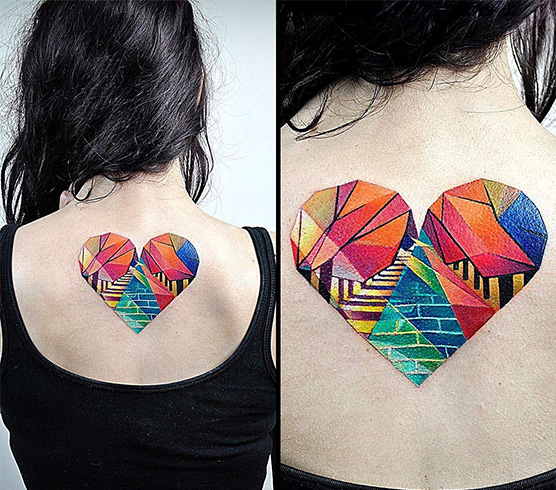 The Dotted Path
Who could think of doing so much creativity with plain dots? This tattoo looks likes so much fun to have on ourselves and relish.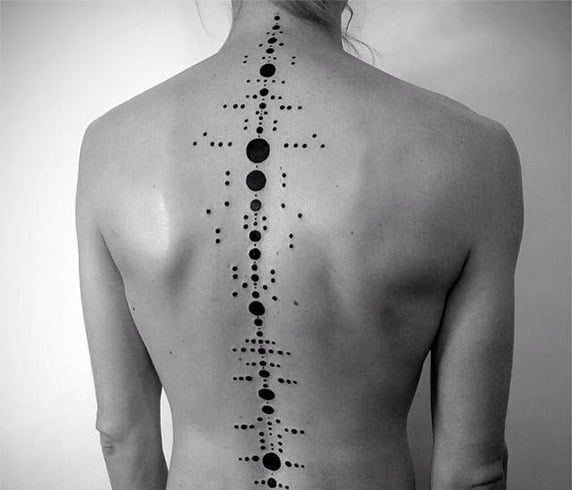 Faces Of Geometry
How cute is this? An animal face carved with chiseled features into a geometrical pattern and up above, sits an eye looking so fierce. A beauty, all in all.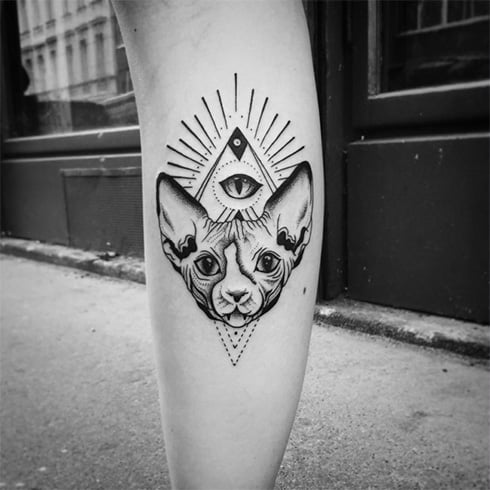 Out Of The Box Tattoo
How striking is this tattoo with the tree branching out of the constricted triangle? Get hooked onto such creativity and astonishing tattoos, that deserve nothing less than being inked on our bodies.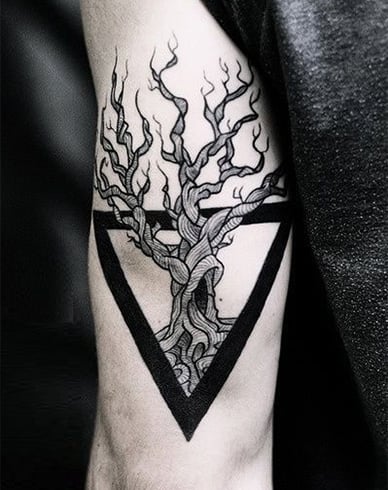 Simple Geometric Tattoos
Who thought that the the simple geometric shape tattoos can become a striking adornment and hide a story behind them.
The circle revert to the relationships and community. In simple terms, it emphasizes on the circle of life
[Also Read: Small Cute Tattoos]
This circle is more like a blazing sun giving a strong vibe when set eyes on it
Combine the circle with triangle or square and it is meant to depict the balance between them
Square based designs are meant to portray stability. So a circle with square can be deciphered as stability in relationships
Intricately designed triangle and their combinations
This combination with triangles, the tetrahedron symbolizes 'FIRE'
Go crazy over this diamond geometric pattern tattoo placed close to heart
[sc:mediad]
If you are skeptical about the size, try a small geometric tattoo like this
When small in size, they give a versatility in the idea of placement
Pair up in getting tattooed with a best friend or soul mate and get this cool one suggesting that one of you is solid strong and the other is a dreamer
[Also Read: Watercolor Tattoo]
Be a little creative and add faint and kaleidoscopic colors
No halting at these simple geometric pattern tattoos, there are much more complex designs like representing the elements of nature and their complexity in the world around us.
[Also Read: Fly Along With These Cool Bird Tattoos]
Something like a cube or hexahedron represents the 'Earth', an octahedron is 'Air', dodecahedron meaning 'Spirit', icosahedron meaning 'Water' etc.
Hope you liked them and feel free to share your thoughts.