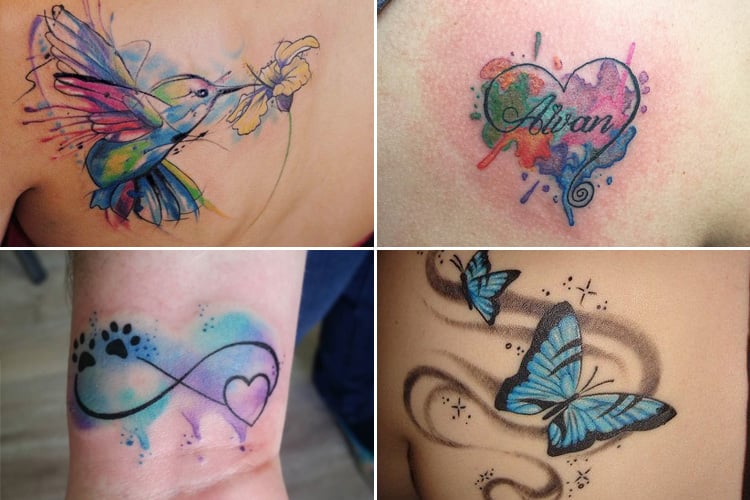 Tattoos have created quite a stir by now, with everyone getting inked. Here are watercolor tattoos cropping up creating the buzz and trend in the tattoos section. Deviating from the traditional tattoos, the soft colors that a watercolor tattoo comprises of is more attractive.
What is Watercolor Tattoo?
A water color tattoo is one of different hues of colour, that being the only difference from normal tattoos. Otherwise, the same tools go behind the making or traditional as well as water color tattoos.
Best Watercolor Tattoo Ideas:
1. Watercolor Flower Tattoo:
Florals have always been in style and will always be in style. Having gained popularity in the apparels, footwear and mehendi field, it has now spread the fever to the tattoo side.
Sophisticated Magic
What is so great about this tattoo you may think? But the 'less is more' theory applies everywhere.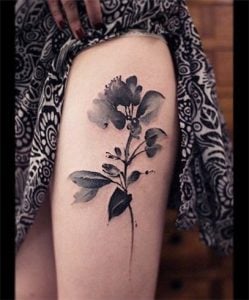 Sexy Back
Cannot stop staring, will not stop staring. This drool worthy tattoo is worth the pain.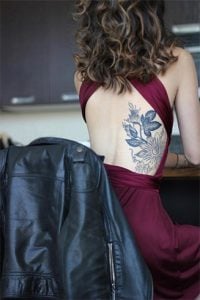 A Beautiful Palette
A spalsh of beautiful colours can make a palette, does it necessarily have to a multitude of colours?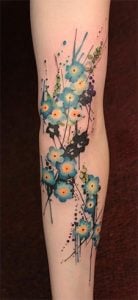 All Shades Of Black
One colour that never goes wrong is black, and a floral black is something to look out for.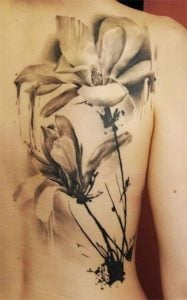 Undefined
These undefined with a subtle outlined sunflowers are all you need to get going.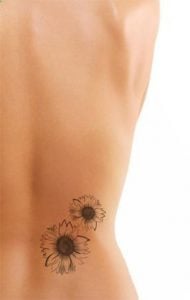 Sexiest Floral Backs
Look right out a movie, isn't it? So perfect and so sophisticated.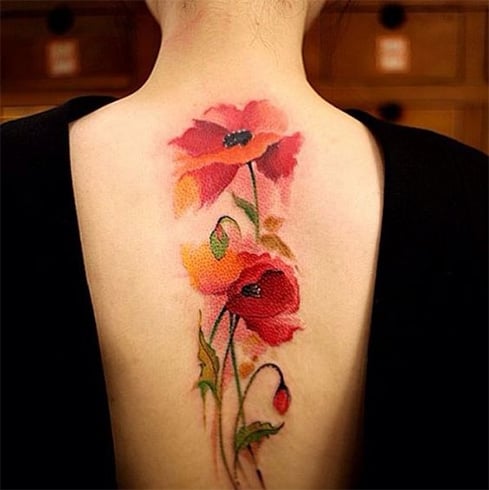 Bleeding colour
This subtle flower on the wrist is a vague depiction of beauty.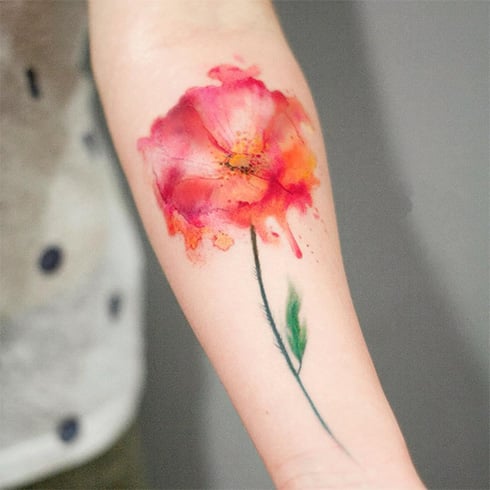 A Rainbow Trial
How beautiful is this splash of colours tuning into a colourful bouquet?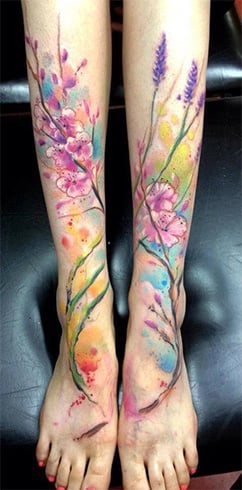 2. Watercolor Rose Tattoo:
Oh, it's no wonder, the rose is the most flower of the lot. With its beautiful petals branching out into a specific shape, it can look just as beautiful on the skin too.
A Soul Connection
Notice how the tattoo is camouflaging into the body as if the tattoo is a result of emotions within. Just so lovely a piece!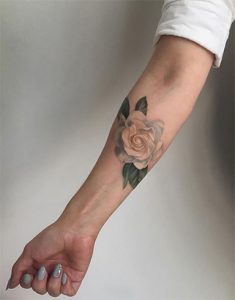 Budding Beauty
Notice how the bud inside is highlighted making the tattoo look all the more attractive, and of course the colour is sure its strongest point.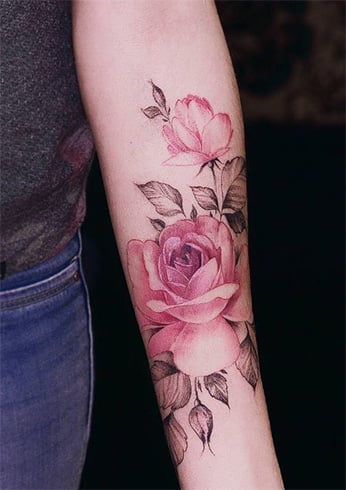 Fly Away
It requires a lot of detail and creativity to bring a meaning out of a tattoo and to make it adhere to the meaning.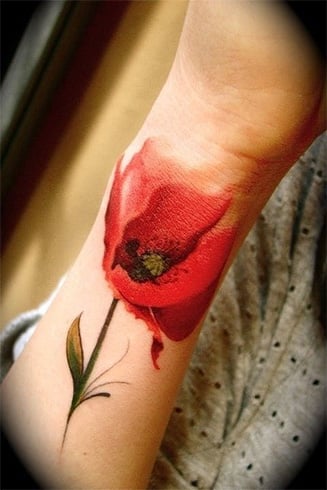 3. Watercolor Feather Tattoo:
Kings and ancestors have used feathers for various reasons. It sure holds a feeling of royalty to it. What better than having to embrace it permanently on ourselves?
Splendid Feather
Notice how regal this tattoo can make one look. The beauty of it is unmatched.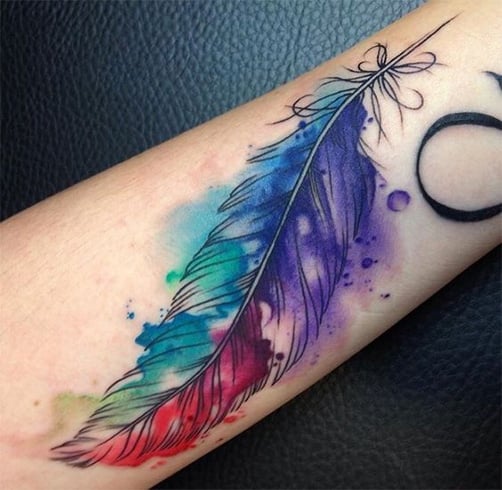 4. Watercolor Butterfly Tattoo:
Butterfly tattoos are known to depict a breath into life. So there's no surprise why people go gaga over these tattoos after the deep meaning.
Life As We Know It
The beauty of this tattoo is the simplicity that comes along with it.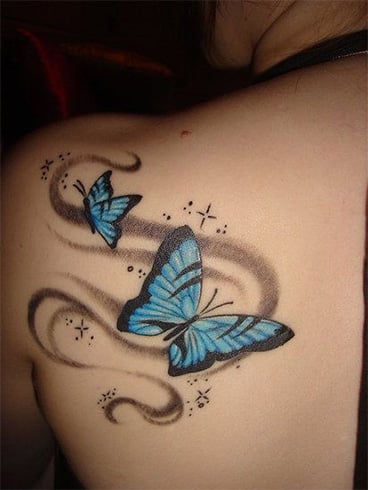 5. Watercolor Bird Tattoo:
Birds and animals are the favourites of many. If you are in the same segment, these are tattoos you will adore all day.
A Magnificent Cycle
The absolutely mind blowing colours narrowing down on the bird and the flower is marvelous work.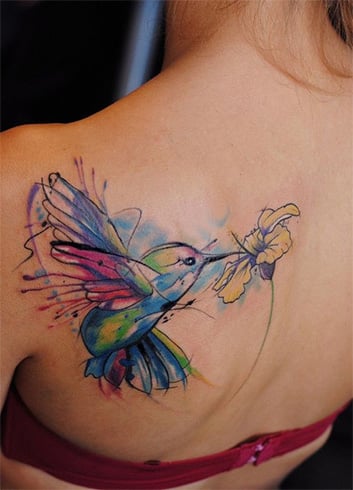 6. Watercolor Tree Tattoo:
The Tree of Life, being the most popular among the tree tattoos has gained wide recognition. But this tattoo below would be your new craze now.
Back To The Roots
The portrayal of roots around the wrist, holding onto it so tight is beyond beautiful.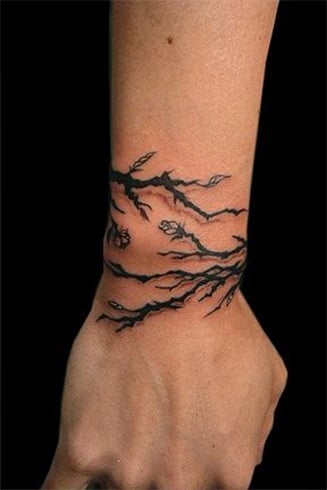 7. Watercolor Heart Tattoo:
It is mistaken that heart tattoos are only for those in love, No. A heart is a symbol of love and peace in any form.
[sc:mediad]
When Two Worlds Collide
Each heart tattoo within it or just outside it has a picture of the interest of each. The first being a world map kind for a travel lover and the second being fire for the rebel.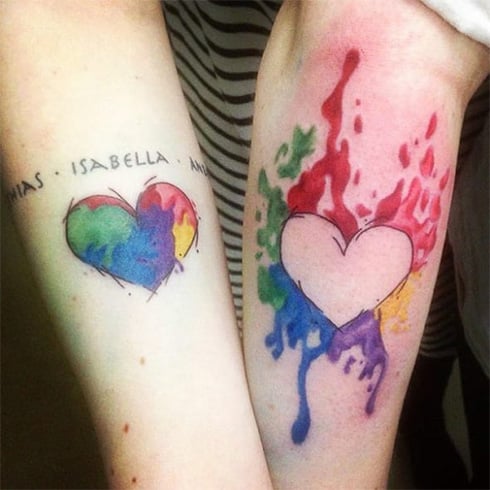 A Loved One Tattoo
Getting inked with the name of your loved ones is an over-whelming feeling. A must-do.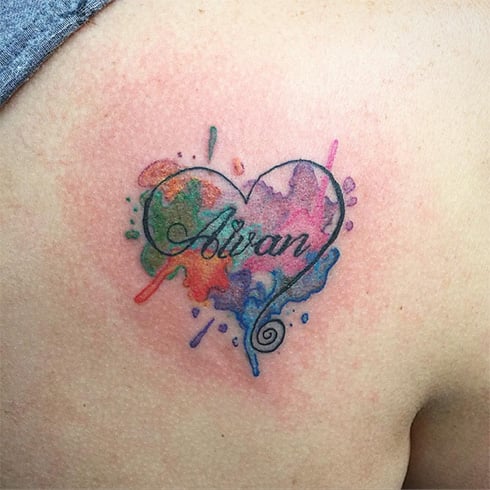 8. Watercolor Dragon Tattoo:
Dragons, dragons breathing out fire etc – How many times have you'll thought of getting a 'cool' tattoo like this since a young age?
Wisdom Dragon
Dragons are the synonyms of wisdom, strength, and power. It tries to show that all are inter-related and only with wisdom comes strength and power.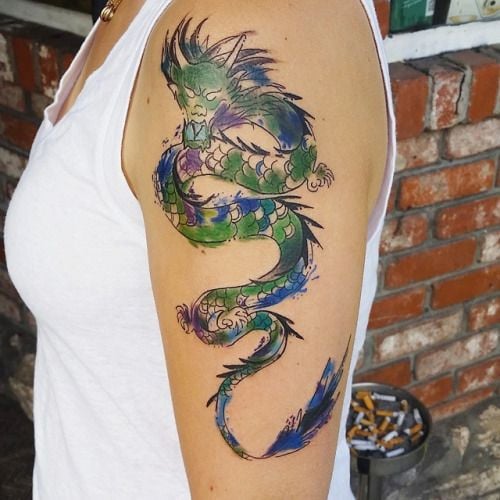 9. Watercolor Sunflower Tattoo:
The brightest and happiest of the lot is the sunflower. Giving us a reason to be bright and smiling all day.
Picture Perfect
This watercolor tattoo has all the perfect hues making it look like it was just plucked and pasted onto the skin. Wow.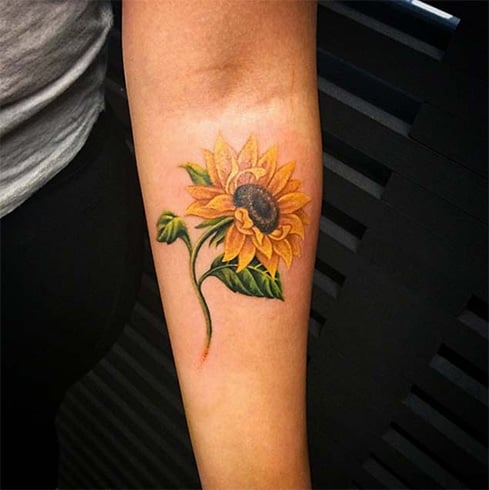 10. Watercolor animal tattoos:
A man's best friend they say, well not just dogs, animals in general. Their loyalty when tamed is unattainable in walks of life.
A Tribe
Elephants are a symbol of dignity and longevity, which are essential positive notes to always go ahead in life.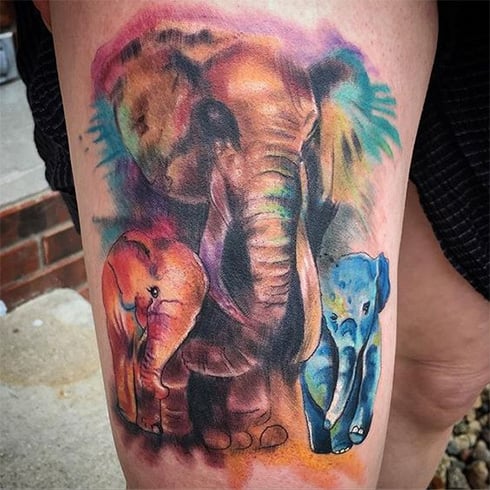 Purr-fect
The random throw of colour has still resulted in the formation of a cute little cat that deserves all the attention.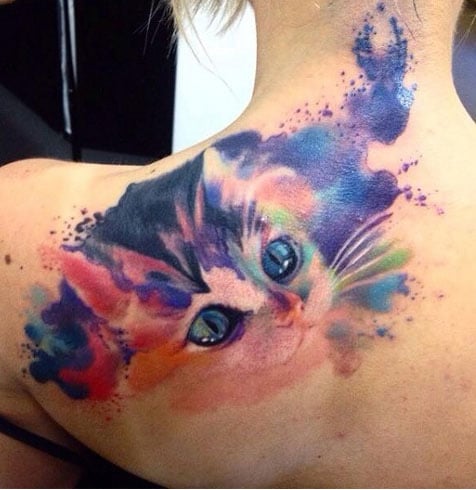 Tips for Water Color Tattoos:
In the initial week, make sure the tattoo doesn't come in contact with any substance except water. (Limit the water usage too)
While getting the tattoo, if you focus on defined lines, the tattoo is less likely to fade.
Watercolor tattoos are the most attractive lot. Preserving their contrast, colors and texture can make you increase the charm of it with every passing day.
Get inked in the most beautiful way!