Summer months in India can be harrowing, and that would just be an understatement if we have to put it straight and honest. With the winds blowing harsh and hot, the humidity factor and the need to dress cool and comfy too, one has to create and strike a balance in quirky ways.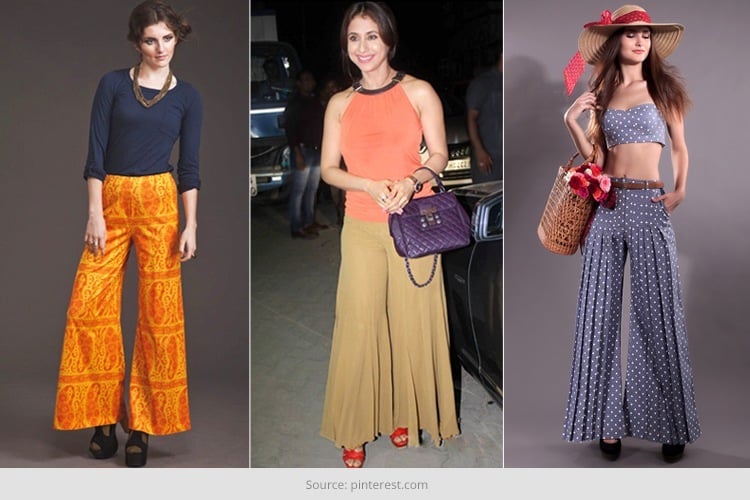 Today we would keeping in mind the summer climes tell you more about how to wear palazzo pants in summer; at work or anywhere you think you would want to wear them to. Please read on and check out the styles, the mix and match saga and also the way many have worn and learnt how to wear palazzo pants in summer.
[Also Read: How to Wear Palazzo Pants]
1. How To Wear Palazzos In Summer
Our famous models on the Indian ramps and fashion weeks, and our leading ladies have shown us already how cool one would look wearing long kurtas and kurtas with palazzos, so what's stopping you on the same? While choosing a palazzo can be done in seconds, what top to wear with palazzo can be quite a task. We have curated a list of tops that can be paired with palazzos, making fashion choices all the more easier for you.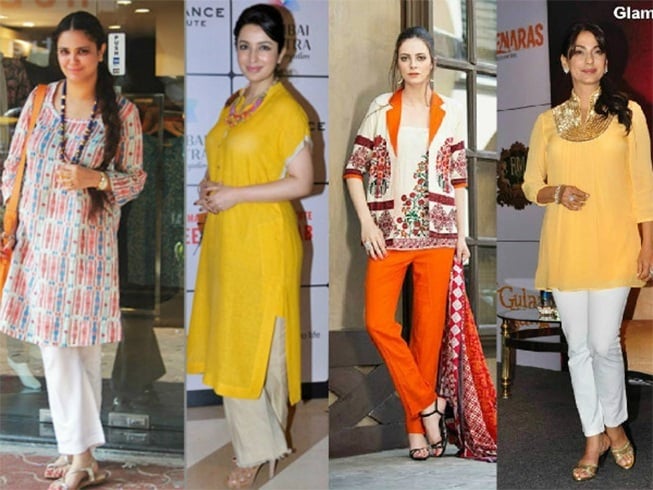 Simple ways to wear palazzos would be to pair them up with cute tank tops and a flowing coat in flimsy fabrics; can be worn for parties and college events, at work for Friday dressing too.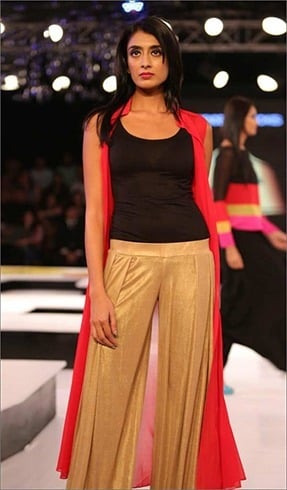 You could stun the onlookers and colleagues at work and wear palazzos like they did in the good old days of the seventies with cropped shirts, frilled collared tops, and sleek tees too. Take a look at these lovely five ways to wear your palazzo pants.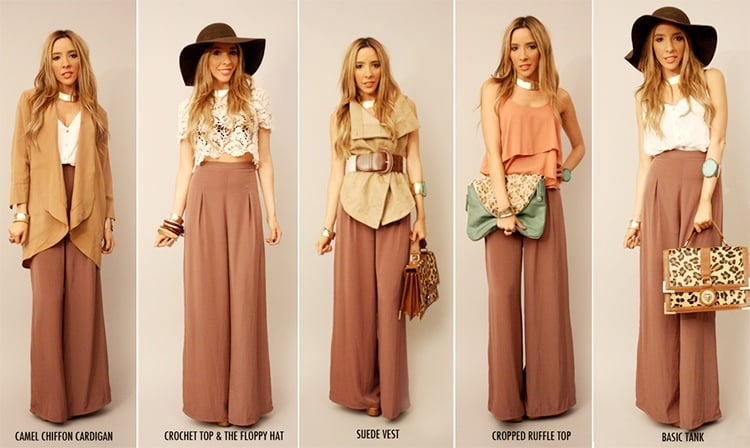 Three more ways to wear your palazzos and style up trendy for the coffee date with him, and he surely would be impressed with the cool looking style you are already willing to flaunt. Go with a sense of attitude and he'd be on his knees!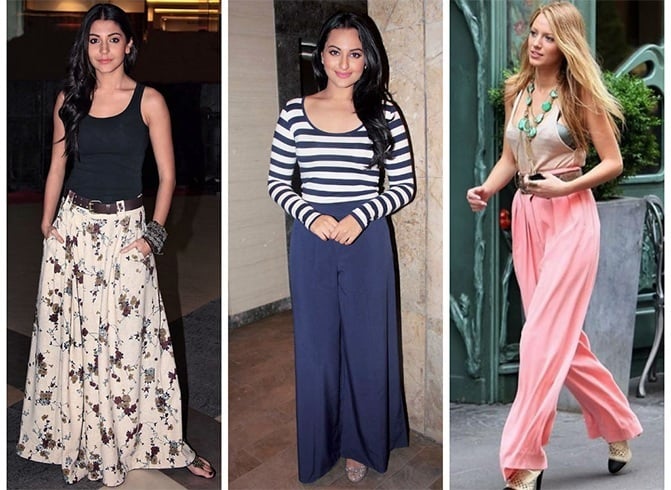 Just out with the girls for coffee? Wear something comfortable on top with your neon shaded palazzos below!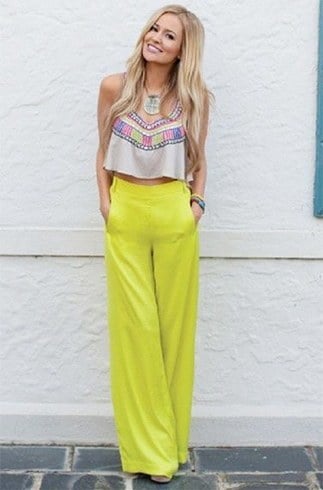 Cute in grays and polka dotted sagas, the palazzo prints are sexy and sensual when worn right at the late evening parties.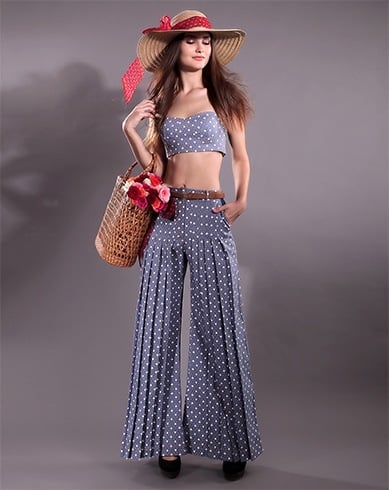 2. HOW TO WEAR PALAZZOS IN WINTER
The cold season is here, but palazzos aren't going out of style yet. A number of warm ways to team the palazzo trousers are your only necessary information to get through this winter.
If the climes are nippy where you stay, you could wear floral palazzos for the spring touch and effect, combined with a white jacket and a chic neutral toned pair of heels and a bag.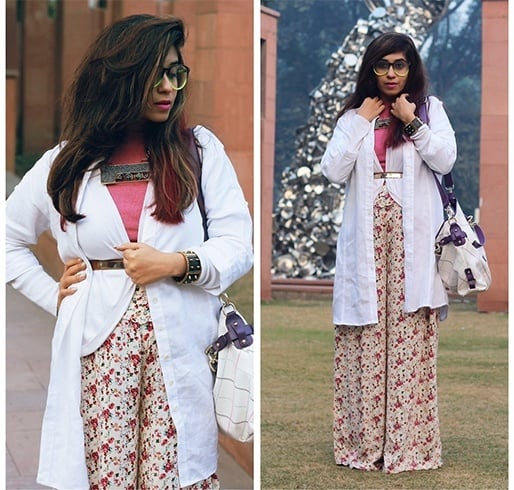 Going monochromatic for a special event with minimal makeup and accessories worn on a plum top and palazzo pants makes an haute impression.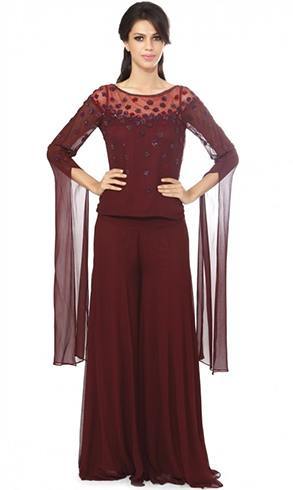 Vibrant and bright, radiant and nice, bold prints on palazzo pants are going to be the norm for summers this time, with crisp white shirts for the company.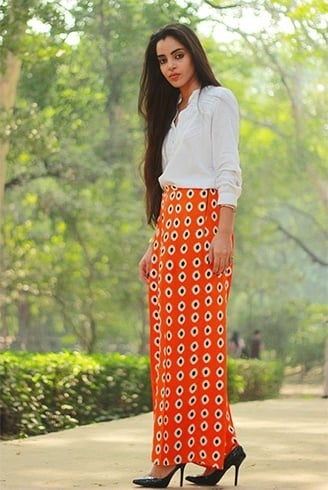 Incredibly desi and very bohemian too, printed palazzo pants can be worn for the late night parties with a chunky top to flaunt your sassy fashion sense.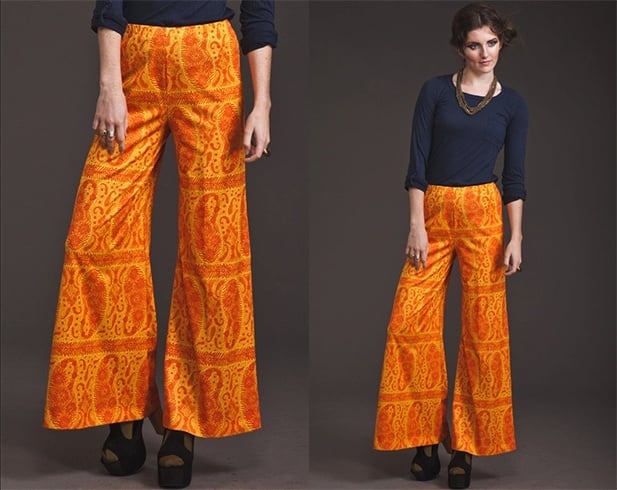 Ethnically yours; palazzos with Indian and desi motifs, embroidery and designs on them are going to be fashion statements this summer to keep an eye on!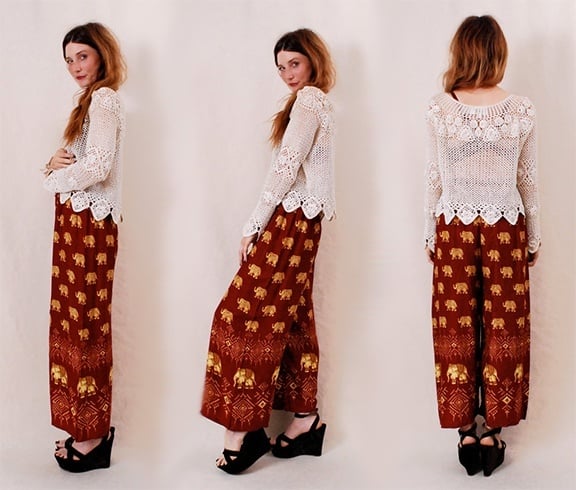 High waisted palazzo pants with solid colored tops and a summer coat, brings on the seventies look yet again and this time with a bombing effect to hit the roads with!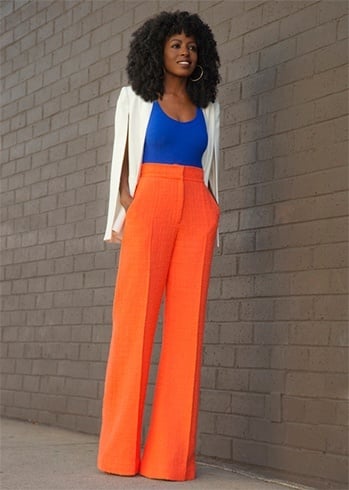 When out with MIL and you don't want to make her eyebrows rise too much with your quirky sense of fashion, wearing palazzos with sleeveless tops can be an haute way to create an impression!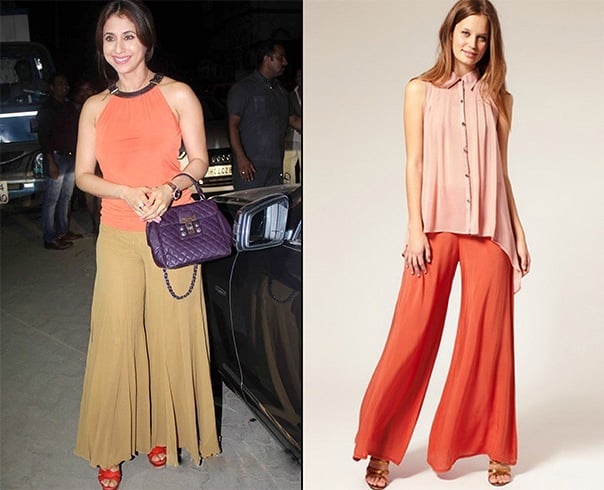 Just at home and chilling out, you need to be haute and trendy there too, here are three ways to combine the palazzo look with style!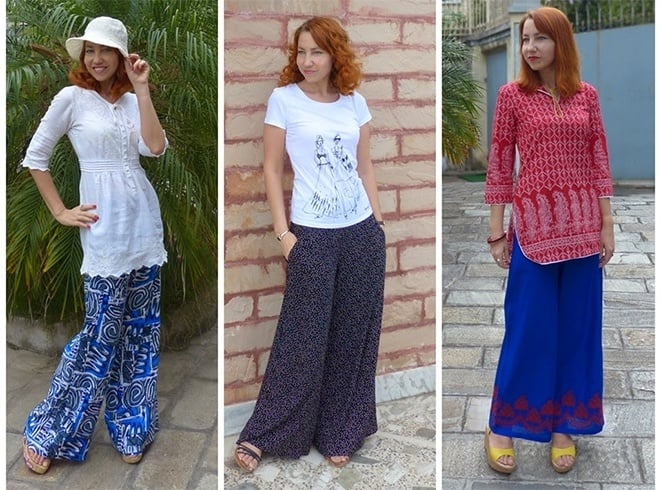 So, we have covered the two main seasons that force us to change from one extreme outfit to another. While that makes our wardrobe choices easier, don't you think a traditional touch to palazzos could possibly brighten your day too. Let's see how.
3. HOW TO WEAR PALAZZOS WITH TRADITIONAL WEAR.
As comfortable as we think leggings to be, nothing can beat the comfort of a palazzo and that is the universal truth. Regardless of the season, there comes a point where occasions demand an ethnic outfit or it's our muse to be donned in one to deviate from the western clothes for a bit. So, use your palazzos to its maximum.
Embellished zardozi and chikankari tops paired with palazzo pants for the summer formal parties are the hautest ways to make eyes pop out!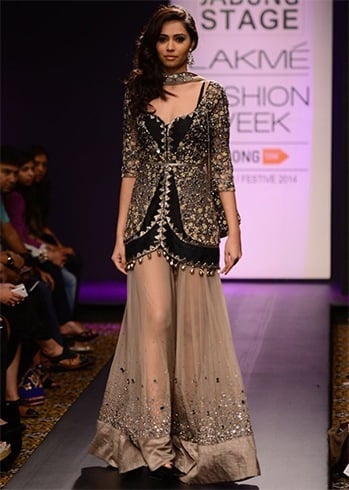 Slit salwar and kurta with worked palazzo pants are haute trends, and if the women across the border can flaunt them like fashionistas while the heat and mercury levels rise, so can we PYTs on this side too.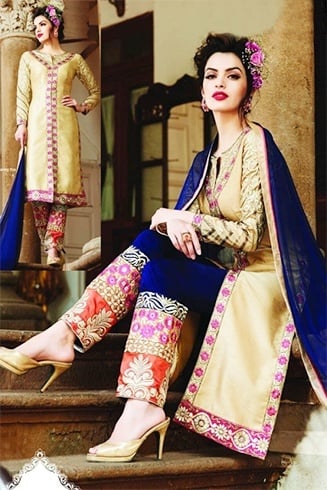 You could wear palazzo pants with embroidered Anarkali tops for shaadis, sangeets, and mehndi or for a special occasion where you need to make a statement, without sweating it out in conventional formal wear.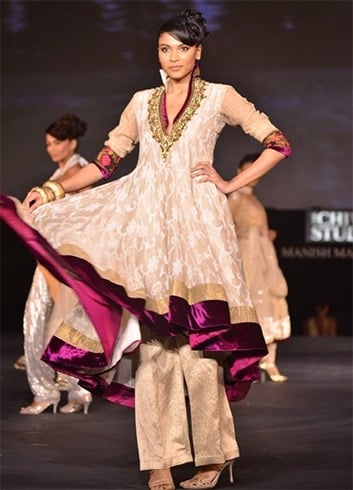 Easy Breezy daily ethnic wear that looks smart and is sure to keep all eyes glued on you. What other perfect outfit than this to be completely relaxed and look oh-so-stylish?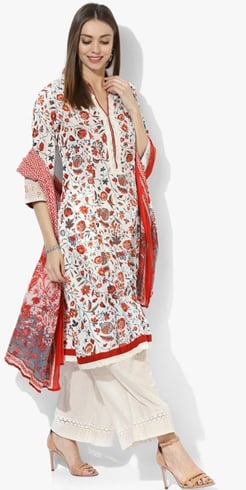 What Shoes To Wear With Palazzo Pants?
No outfit is complete without the right footwear and we know that. Seeing the myriad of palazzo outfits that exist, does each outfit need footwear shopping now? The answer is no, not really, you don't need to burn a hole in your pocket buying so many. There are a few staples that will suit your every outfit on the go.
1. City Brunch Look
Preference: Stiletto Heels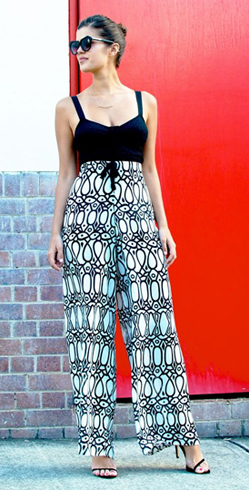 2. Winter Woes
Preference: Peep Toe Heels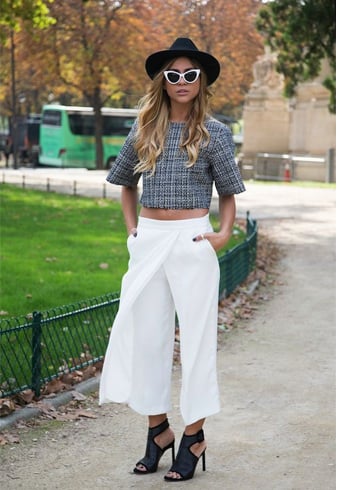 3. Casual Day Out
Preference: Wedges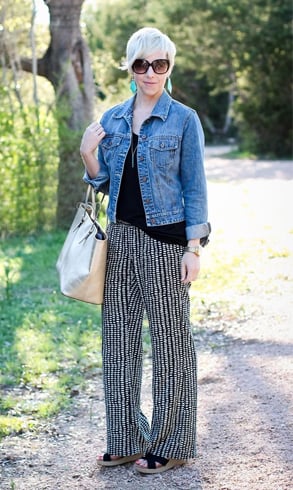 4. Evening Walk
Preference: Flats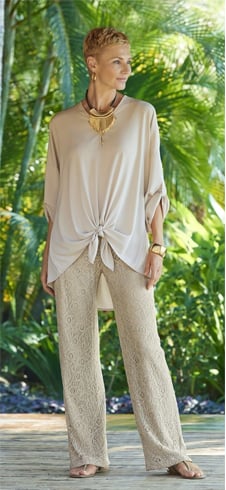 5. Formal Look
Preference: Gladiator Sandals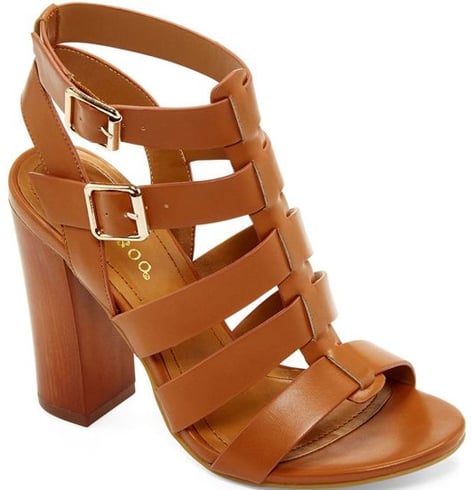 We've shown you how to team your palazzo trousers, so go ahead and become the trendsetter.
Images Source: Pinterest
Recommended Articles:
Most Expensive Celebrity Wedding Dresses
How To Wear A Blanket Scarf
Ways to Wear Ankle Pants
What Shoes To Wear With Jeans