Ankle-length pants – well-fitting pair with a touch of Lycra in a basic color and cropped just above the ankle are currently the trending look. But the million dollar question is how to wear ankle length pants.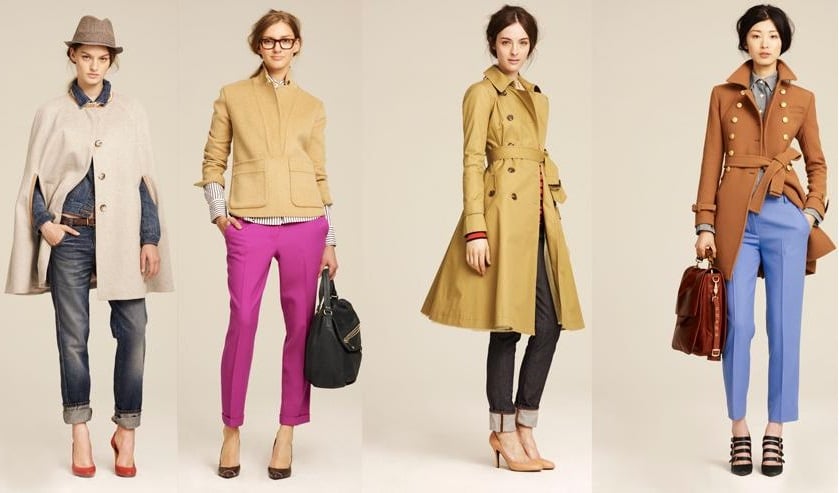 Even though ankle length pants look trendy, it's not actually that easy to pull it off. You can only make your cropped pants work, provided you know how to style them appropriately. The ankle length pants and capri are figure-flattering and can be worn by both tall and petite women.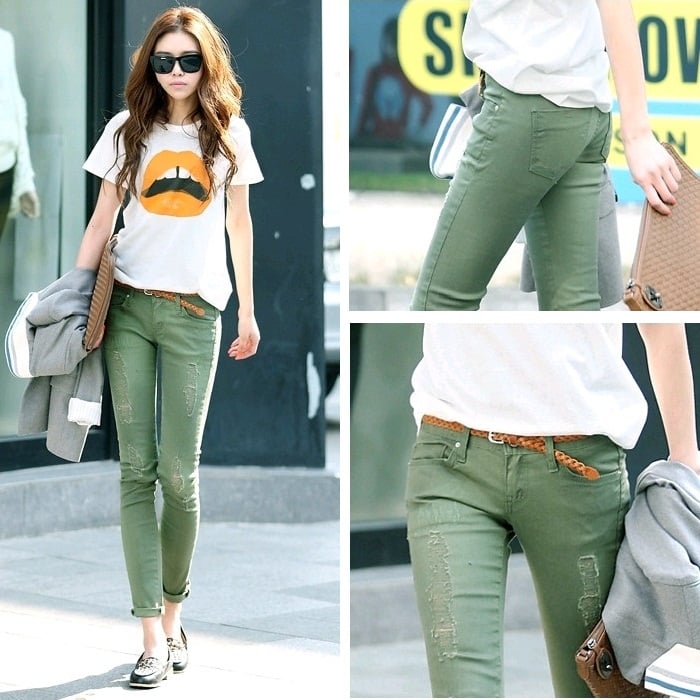 The taller women are usually skeptical of wearing them as they are not sure whether the shorter hem lines would complement their slender limbs and if they would look even more taller.
The good news is these pants are extremely versatile effortlessly blending with any body type. While petite women can look taller, the taller one will look balanced. Even these pants can make you look graceful even when styled casually.
In this edition I offer you three different styles for the most commonly worn capri or ankle length pants. Do have a look and get some cues to appear smartly next time!
1. High Waisted Cropped Pants
To get this look, I have picked straight legged ankle pants in fuchsia by Lanvin. While the high waist sits at the navel, the slim legs fall straight. You can pair your red pants with a white crepe top. The Miu Miu embellished collar crepe top will make a perfect pairing. The pearl and crystal beads on the collar gives a rich feel to the outfit.
If you are tall or have average height then ballerina flats can be a great choice. The Sam Edelman Isabella – Nude flats come along-with beige and golden toe with glossy black at the back.
If you have knack for branded stuff then do accessorize your look with Michael Kors Grayson Monogram Medium Satchel. This satchel will instantly glamorize your regular wear. Now complete your look with Mari Rosa Bangle Set. The sparkling brown gemstone-studded bangles of 15 in golden and brown shades complements your sleeveless top.
Ankle length pants – Lanvin
Top – Miu Miu
Flats – Sam Edelman Isabella
Satchel – Michael Kors
Bangle Set – Mari Rosa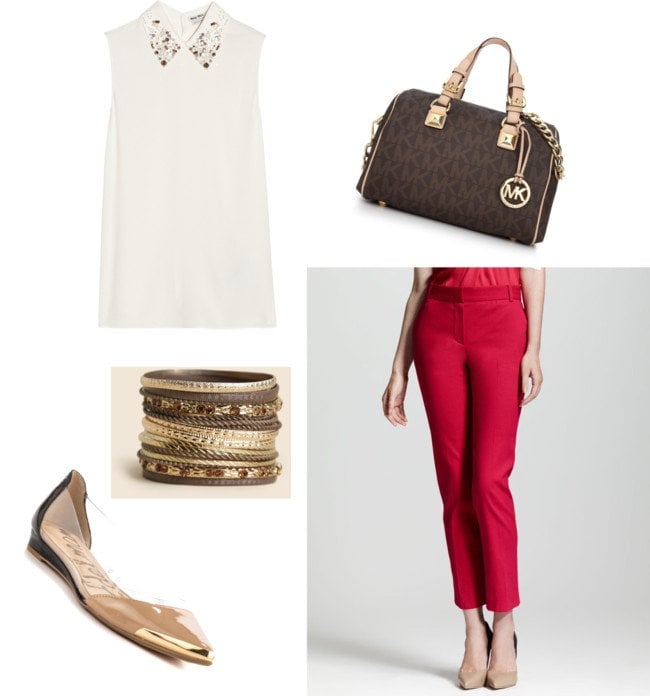 2. Formal Cropped Pants
This is the perfect office wear. To get this look, I have picked the ANGLOMANIA Veteran twist pant by Viviennne Westwood in gray. The slim-fit straight-cut pants come with ankle button plackets, which offer an edge to this vintage-inspired pants. Plus, the draped front pockets add some unique elements. Be warned if you are heavy at the bottom then avoid these pants, as the protruding pockets will make you look even more heavier at the waist area.
I have paired this trouser with a cute red top with short sleeves and plunging neckline. The basic idea was to create a mix of formal and semi-formal look. I have picked Christian Louboutin heels for this outfit. The Christian Louboutin Pigalle is named after one of Christian's favorite neighborhood i.e. Pigalle. The stiletto heels will define your serious fashion statement.
Now to accessorize this overall outfit, I have picked Boohoo Darcy Block Colour Ostrich Effect Grab Bag and completed the look with ALEXIS BITTAR Crystal Pendant Earrings.
Since it's office wear, we will go for minimal yet statement-making accessories.
Pants – Vivienne Westwood
Top – Coast Antoinetta
Shoes – Christian Louboutin
Bag – Darcy
Earrings – ALEXIS BITTAR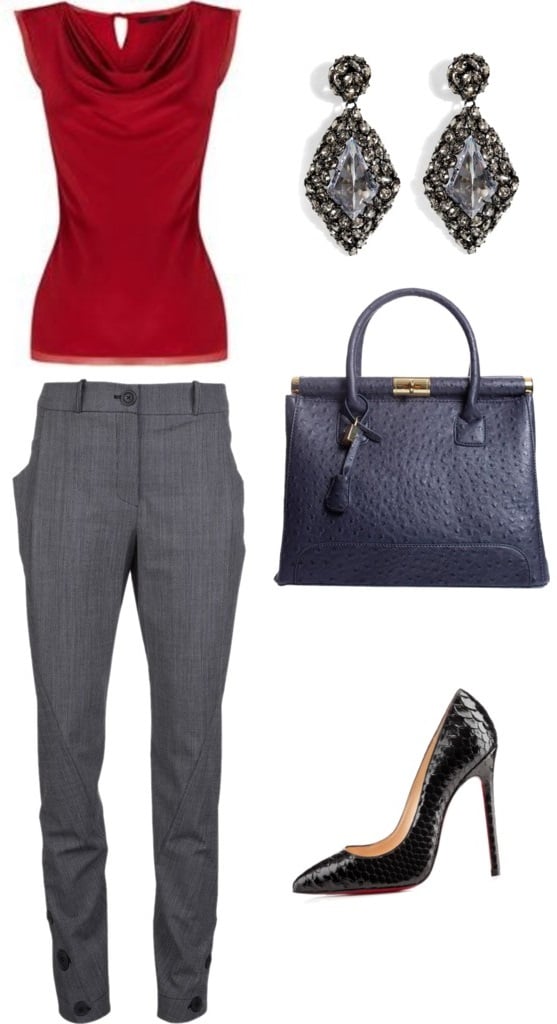 3. Ankle Length Jeans or Capri
This is undoubtedly the most commonly worn ankle length bottoms as compared to other fabrics. From teenagers and graduates to busy moms and homemakers, almost every having a knack for fashion has this pair in her wardrobe. They are the trendiest and most comfortable outfit from traveling to shopping and even hangouts. If worn properly, they will even become your fashion statement.
Since we Indians chose comfort over fashion, so this can be your ultimate travel outfit in winter. To get this look, I have picked a pair of H&M ankle length jeans. This capri is available in washed denim with slim fit legs and quilted patches at the knees, thereby adding some fashion elements to your outfit.
[sc:mediad]
I have paired this capri with a sophisticated cashmere cardigan by Marc Jacobs. The sweater is embellished with rhinestone and beaded detailing, which adds elegance to your outfit. Since it's winter, you can pull off a Cocoa Walnut Cashmere and Silk Shadow Dyed Scarf, which not only complements your look but saves you from cold as well.
For footwear, I have chosen Not Rated Drumroll Oxford Flat, which is a match to your sweater. Now complete your look with a statement watch, just as I have paired this look with TOY2FLY Orologi watch.
Ankle length jeans – H&M
Sweater – Marc Jacobs
Shoes – Not Rated
Bag – MADEWELL
Scarf – Chan Luu
Watch – TOY2FLY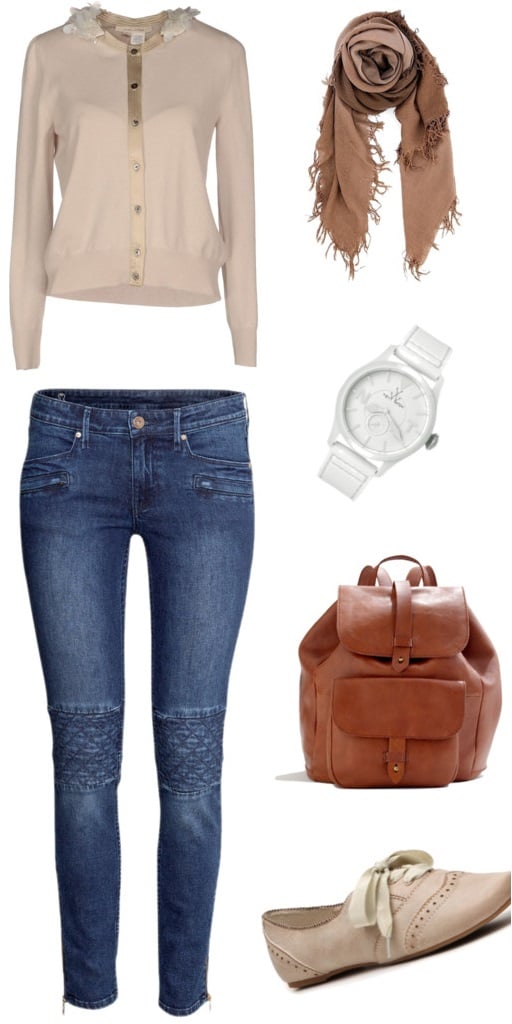 Moving forward though we don't have brand suggestions here for you, we do have excellent collection of ankle length pant styles that you can indulge yourself in.
4. Party Pants
We have seen loads of smart choices when it comes to ankle pants, but has it ever occurred to you to put on shimmer pants? No! then you surely are missing out on something unique and interesting. Go pant style with shimmer and rock the party all night. While a contrast pair of shoes will spice up the look, a solid colored tee would balance the shimmer.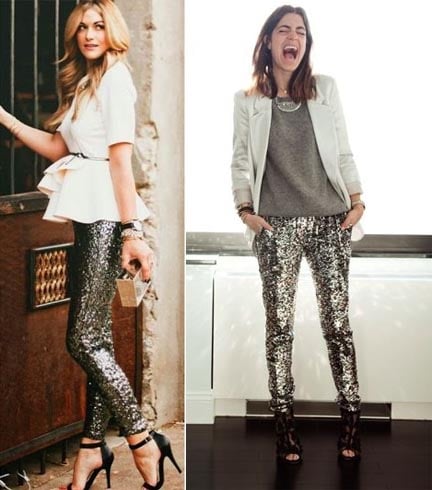 5. Printed Pants
Chic and totally happening are the printed pant styles. Be it an official meeting or a casual brunch, a pair of ankle length printed pants and a classy top will get you all the attention. Ankle strap heels and an envelope clutch add an elegant notch to the look.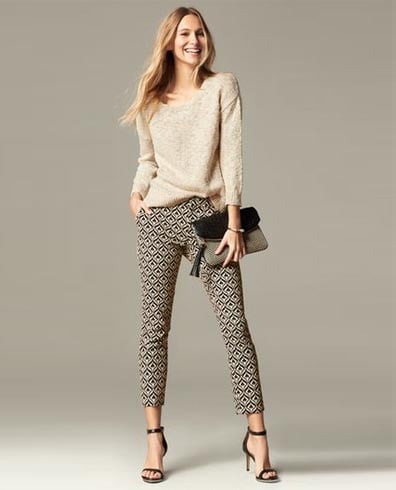 6. Straight Fit Pants
Let us wipe off the notion that the ankle length pants ought to be slim fit with these cool, pastel-ey straight fit pants. Tapered right above the ankle and wrapped high on the waist, these pants give a retro vibe to your style. An easy-breezy lace top, a pair of loafers and an uber-cool handbag will help nail the style.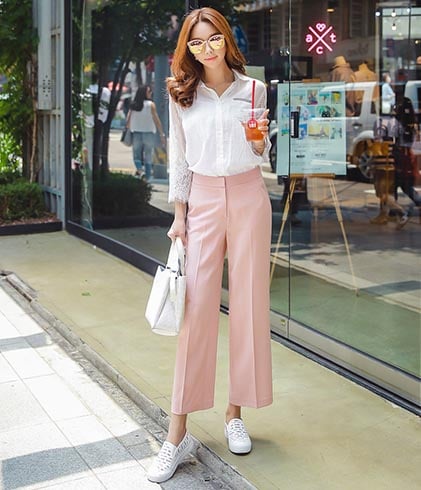 7. Baggy Ankle Length Pants
Let the air flow in and keep your body breathable in these soft fabric baggy ankle length pants. The pleated fit pants, a casual easy-breezy anti-fit top give an ultra-cool feel. Catch up with friends or hang out by yourself feeling utterly comfortable and smart.
It is important to note that sneakers can ruin this style. Hence opt for a classy pair of loafers or a pair of stilettos. And ladies don't forget to accessorize!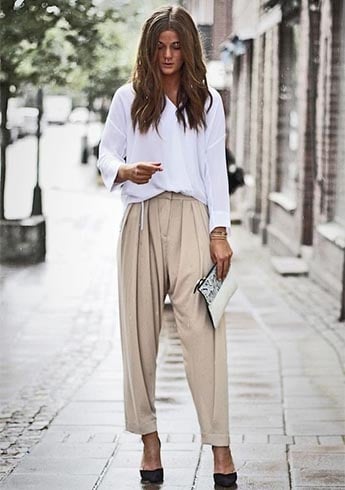 8. Leather Ankle Length Pants
Leather or waxed jeans are raging in the current fashion trends. Don't fall behind in experimenting with this style. Pick the best-looking ankle length leather pants and tuck your denim shirt messily in giving a casual touch. A sling bag in neutral shade and pumps will help pull this style effortlessly.
9. Distressed Ankle Length Jeans
Frayed and slight ripped, the jeans are the most comfortable choice any day. This season, cut you jeans to till the ankle point and give it a frayed look. Enjoy flaunting the ankle length pant style with fun on mind and grace in your style.
If you wish to play it safe, top it with a black tee and tan colored accessories. This will win you too many compliments to handle.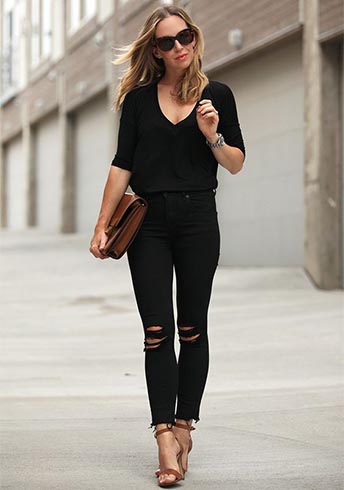 10. Bossy Ankle Pants Style
Lastly step out looking like a conqueror in a well-compiled look that includes ankle length pants, a tan belt, crisp or ruffled shirt and a blazer. Walk in those heels and win the hearts of your on-lookers. Step out in this style and win command over your look, attitude and persona.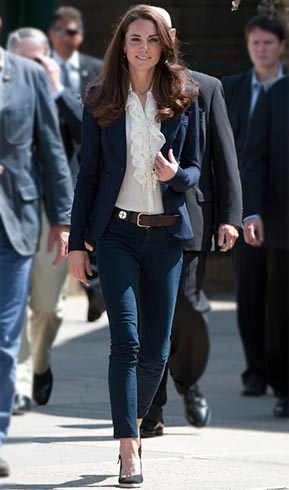 Hope this helps! Do let me know which style appeals to your personality!
Images Source: pinterest
Recommended Articles:
Most Expensive Celebrity Wedding Dresses
How To Wear A Blanket Scarf
How To Wear Palazzo Pants
What Shoes To Wear With Jeans