Denims and jeans are never going to stop being in vogue; that's the cardinal truth. However, repeating the same look every time you zip up a pair could get boring. Did you know you can work wonders with different pairs of shoes for unique appearance each time?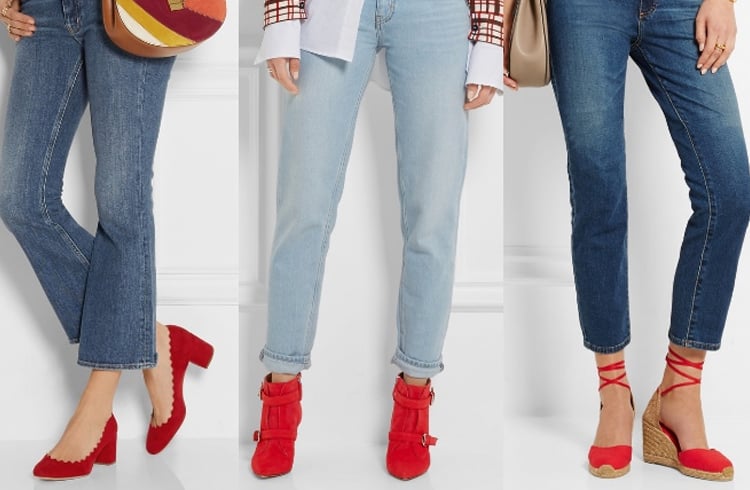 Here we share with you everything you need to know about what shoes to wear with jeans:
Types of Shoes to Wear With Jeans:
Just as you wouldn't be able to wear colors that don't compliment one another, unless you want to intentionally be a fashion disaster; same is the case with shoes and a pair of jeans. Not knowing which type of jeans can be worn with which pair of shoes could cause a catastrophe. With this mini guide on shoes with jeans, you will know which are the best shoes to wear with jeans. Which of the following do you own?
If you have one or more than one of them, chances are that you've made mistakes in pairing them with your jeans. But that's okay, we all have been through disastrous fashion phases, hence we won't judge. Read on carefully as we unveil what you should know- this will save you from embarrassment henceforth.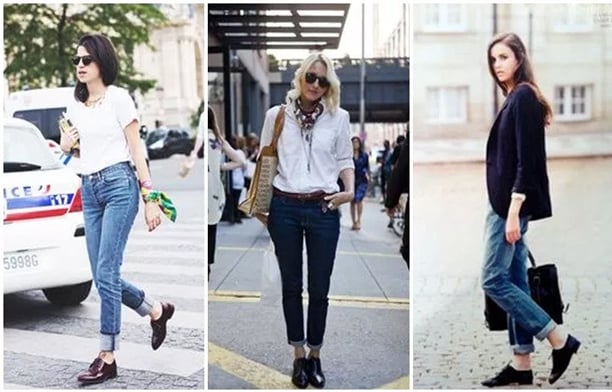 [Also Read: Shoes To Wear For Women Over 50 ]
Ways To Wear Boots With Jeans:
So you bought a new pair of shoes, and you want to try them on with a pair of jeans. You wear them and stand in front of your mirror, and they clash. What do you do now? Let's take a look at the thumb rules of which pair should be worn with what, for example, can you wear straight cut jeans with boots? Or which boot with jeans would make a smashing appeal? Take a look at the styles and ideas, and learn how to wear them like a diva.
1. Boots To Wear With Skinny Jeans:
A sexy combination would be to wear your boots with a pair of skinnies, and if you can carry that with elegance, the world would be at your feet. A very chic fashion statement to make for the summers would be to wear a pair of denims with your boots, and a striped round neck or a boat neck top. Complete the look with a pair of dark sunglasses and hair tied up in a knot- raise the heat ladies!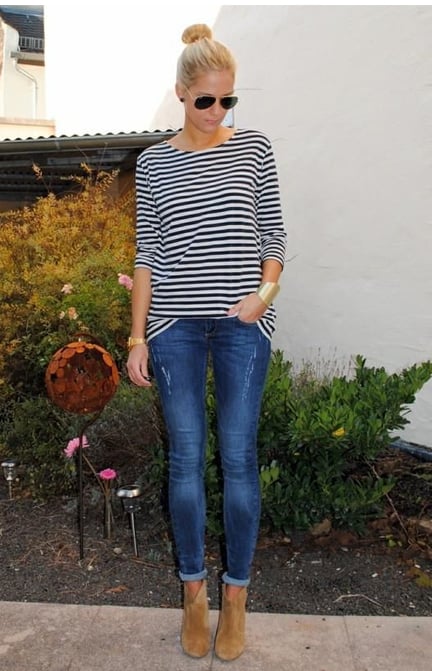 2. Flat Ankle Boots With Jeans:
Denims and jeans needn't always be in shades of blue. This summer, pick pastel colors to wear with tan or black boots. This time though, instead of heels on your boots, opt for flat ones to stand out of the crowd. A simple top with a statement neck-piece and flat ankle boots can make a stunning daytime number to flaunt. If you want to make heads turn at work, a crisp white shirt and a pastel shaded pair of denims, with ankle boots would spin the magic. Use your imagination when combining flat ankle boots with jeans.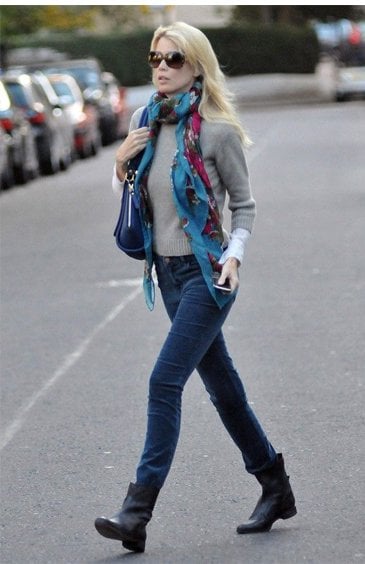 3. Boots With Bootcut Jeans:
Madonna wore this combination pretty often in the early 2000s, and the trend is coming back. Be the first one to wear your boots with bootcut jeans this time. Pair it with a summer coat or a sleeveless top when out with the girls. Try a cropped pastel white coat or a summer cardigan in prints.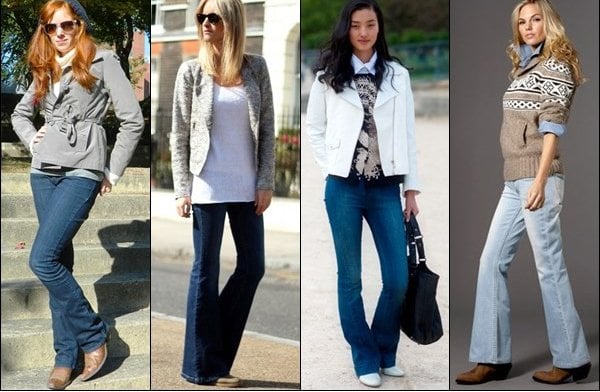 4. Black Boots With Jeans:
The old adage says "when you black there's no turning back"; we don't beg to differ. Black boots with jeans are super classy and perfect for semi-casual occasions. Wear the jeans high, low rise or mid length and complete the look with shirts or tops, tanks or summer coats- you couldn't go wrong on this one.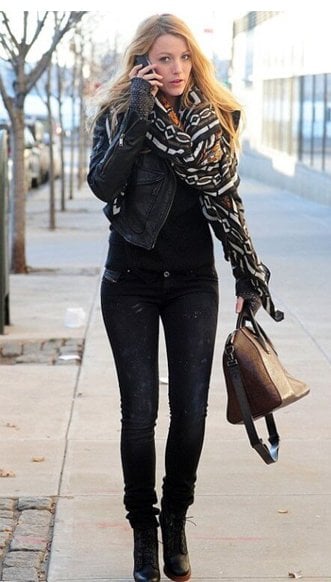 5. Brown Boots With Jeans:
For most of us that don't fancy a touch of black, we have browns. Brown boots with jeans are trendy to wear for casual and semi formal occasions. Instead of wearing them ankle length, go all the way to the knee with faded blue or ripped denims, a summer jacket and a sleek top inside, with or without a scarf.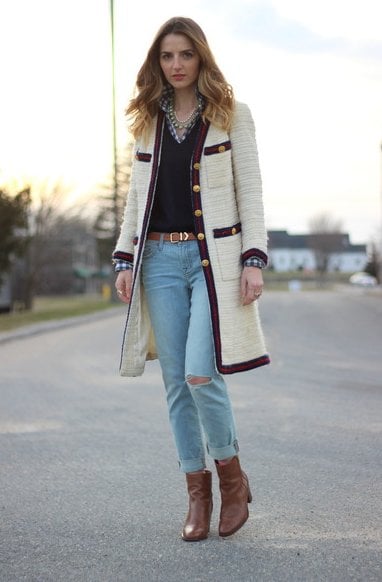 6. Grey Boots With Jeans:
Fancy a shade of grey this season? We have grey boots with jeans that would spell minimalism and class. Go monotone with a pair of grey denims and grey boots, and a white shirt or a top inside to balance the look. If that doesn't fit your style, a pastel printed flimsy top with grey boots and jeans would work like magic. The choice is now yours!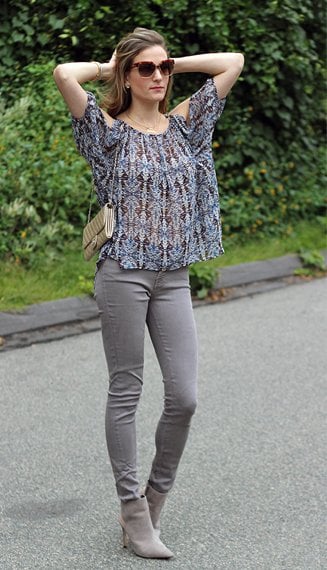 We now have given you varied options on wearing boots with denims and jeans, so let's take a look at what sneakers and a pair of jeans can do for you!
Ways To Wear Sneakers With Jeans:
Throw your hair loose and allow yourself a cool chic look, learning about which sneakers to wear with jeans. Not all of us fancy boots/booties to wear with our precious denims, and that's okay. This is why there are sneakers for women, and we are here to tell you how to wear sneakers with jeans. Take a look: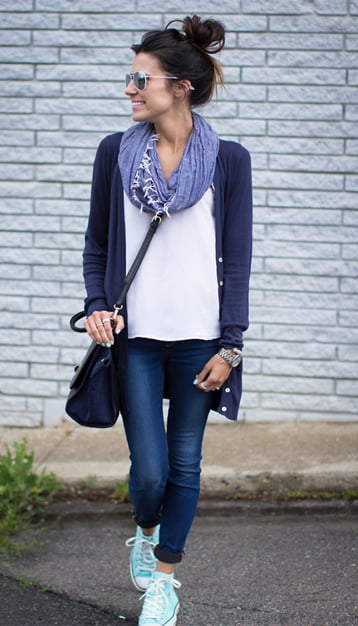 1. Slip On Sneakers With Jeans:
We are often in a rush each morning to head out to work or to college, and tying up a pair of sneakers takes a good precious minute or two. With slip on sneakers with jeans, you kill two birds in one shot- dress like a diva and save your time too. For work, you could have a striped summer coat, matching the hue of your sneakers and a white top inside to complete the look, with a pair of black jeans. Ditch the summer coat if you are heading to college.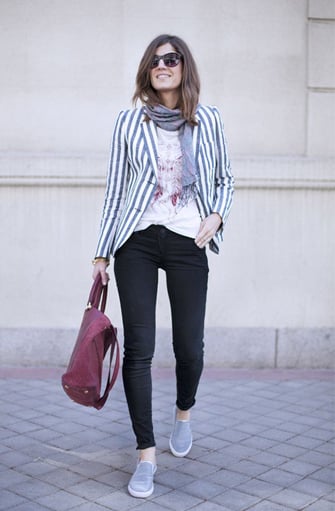 2. Athletic Sneakers With Jeans:
Look every bit the street style diva by wearing your denim shirt and a pair of athletic sneakers with jeans. Monotone and minimalistic, this is a fashion statement that ruled the late 80s and the 90s, and is here to make waves once again. Bring back the retro fashion statement. Don't forget to fold up the denims to the ankles!
3. High Top Sneakers With Jeans:
So how does one wear high top sneakers with a pair of jeans? Simple, you need to have a pair of skinny jeans and a nice round neck top – go minimal with the accessories since your high top sneakers and the skinnies would do the talking. Flash your dark shades and tie your hair into a low bun!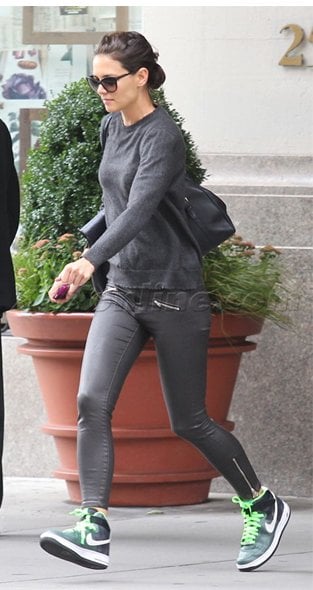 4. Black Sneakers With Jeans:
Wear it wicked or wear it somber, black sneakers with jeans are the ultimate in combinations to try out this summer. This combination can be worn for many events, smart casual gatherings and for a night out with the girls too, or for when you wish to dress low-key. For work, with a summer coat and a bag, the look is great for Friday dressing. Ditch the coat and you are ready to hit the streets with the rustic look!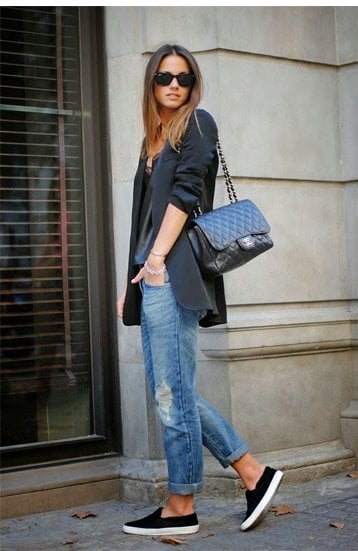 5. White Sneakers With Jeans:
Chill out with your girlies wearing a pair of white sneakers with jeans, completing the look with loose open hair, a topknot or maybe a scrunched bun- your choice. Accessorize the look with a plain solid hued tan summer coat and a crispy shirt inside or a crop top. Can be worn for casual evenings or for a girls day out at the movies.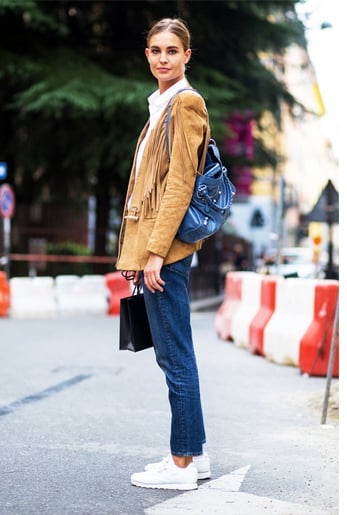 6. Grey Sneakers With Jeans:
A simple minimalistic way to make heads turn with a pair of grey sneakers with jeans, would be to fold up the ankle hems upwards and carry a tote bag. This is a chic way to dress for college. For work, wear the classic denims with grey sneakers and make a fashion statement completing the look with a chunky neck-piece and a white shirt.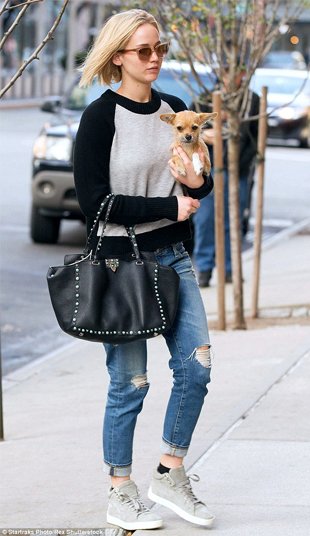 This was all about how to wear your sneakers with denims and we hope you caught the drift! Let us now take a look at combination of jeans with flats:
Ways To Wear Jeans With Flats:
Please ignore when someone tells you only the aged wear flats with jeans. There are chunky and plain flats for women to choose and we are here to show you how to wear jeans with flats so you make no mistakes when pairing the same.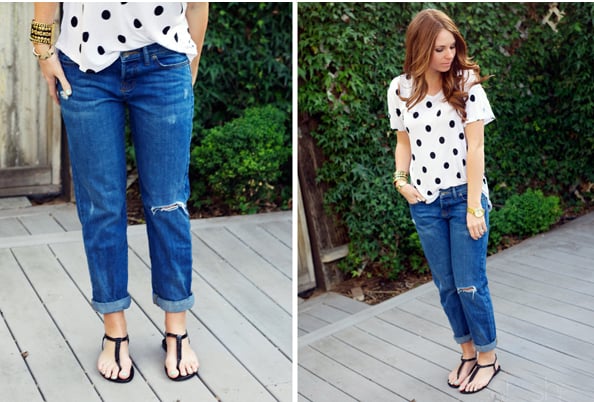 1. Ballet Flats With Jeans:
To wear a pair of bow ballet flats with jeans, we can think of playing with prints and patterns on a summer coat coupled with a shirt. Let your hair loose and the shades would make a scintillating effect! A statement bag for company is a must.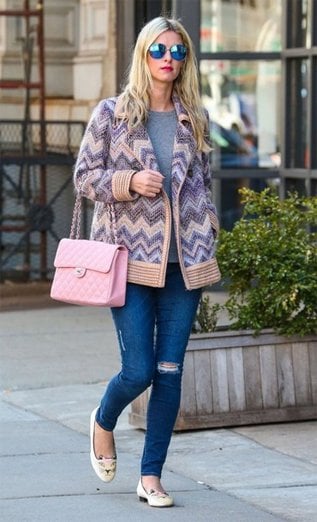 2. Brogues With Jeans:
Brogues with jeans are a hot combo! Pair the stone washed/ripped/worn in jeans with a pair of brogues and wear a shirt with it, a loose top or a shirt with a summer coat for company.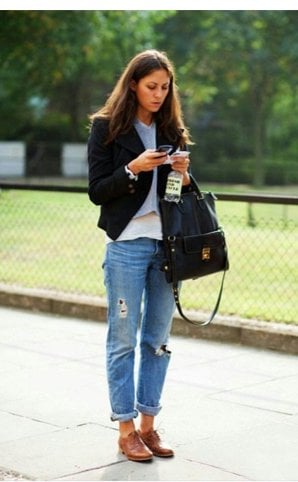 3. Loafers With Jeans:
For a cool, relaxed fashion statement to portray and make, a fashionista doesn't have to try too hard. For Friday dressing or for a party to attend at your bestie's place, wear a dark shaded summer coat with a pair of straight fit or slim fit denims, and couple the same with your tanned loafers- the darker the better.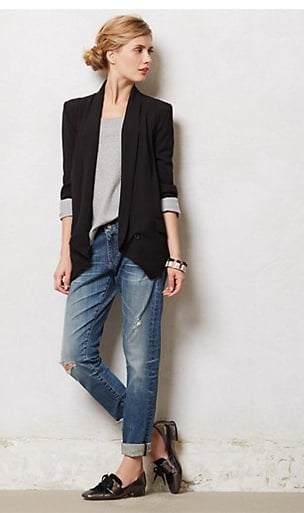 4. Sandals With Jeans:
Can anyone pull off the Sandals with jeans look? Yes, they can and so can you. If you are heading to work and want the Sandals with jeans to do justice, wear it with a simple top and a pair of shades, carry a tote or a clutch in hand. If you are headed to college or to meet a friend, a loose tank top or a cropped top with a pair of skinnies and sandals can rock the scene for you. Always, always fold up the jeans at the ankles to flaunt the sandals.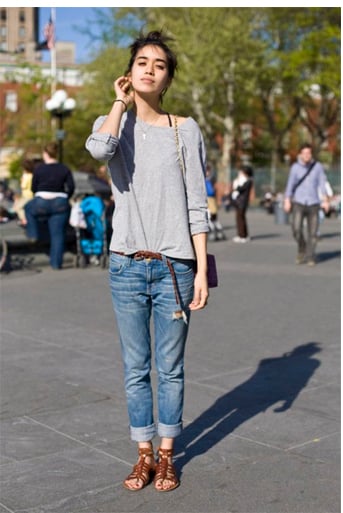 We hope this download on how to wear flats, ballerinas and sandals with your favorite jeans gives you all the ideas to incorporate. We now shall talk about heels and jeans- a sexy combination that makes most men drool!
Ways To Wear High Heels With Jeans:
From Hollywood to Bollywood celebrities, high heels with jeans has been a hit. This is why we would like to share ideas on how to wear jeans and heels for women. Take a look at the different ways to wear jeans with heels, and get inspired: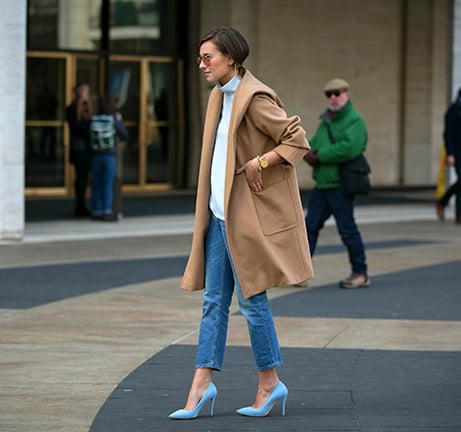 1. Ankle Strap Heels With Jeans:
Throw in pop of colors with the tops that you wear, and make a fashion statement wearing a chunky pair of ankle strap heels with jeans this summer. Your feet remains open and cool, and the look comes through as chic too. What else would you want in the bargain? Don't forget to wear skinny jeans though.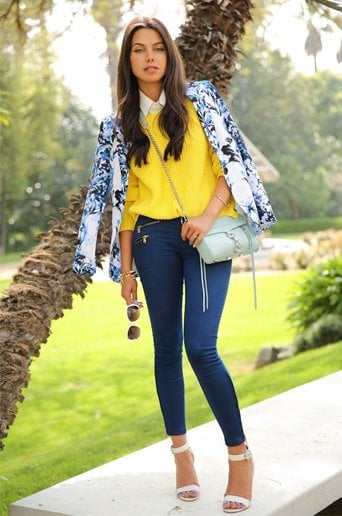 2. Wedge Heels With Jeans:
Bringing back the sixties and the seventies sexy look of the wedge heels with jeans, we are here once again to remind you that fashion comes around in ways more than one. This time, you could pair up and complete the look of wedge heels with jeans, wearing a white top and a rustic denim. Make a splash and get the attention you deserve as a fashionista.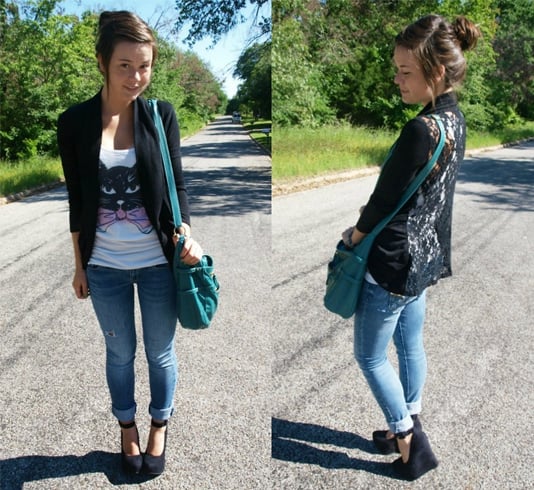 3. Peep Toe Heels With Jeans:
From Bollywood actor Deepika Padukone to Priyanka Chopra, Hollywood socialite Kim Kardashian to actor Jennifer Anniston – we have noticed these beautiful fashion icons wear peep toe heels with jeans with such elegance and grace. Here's how you can rock it in peep toe heels with jeans too- nude or dark solid shaded heels, stone washed or worn in jeans and a sleeveless top, with or without a summer coat- depends on where you are headed to. A chunky neck-piece for sure can also add more glam, but it is optional.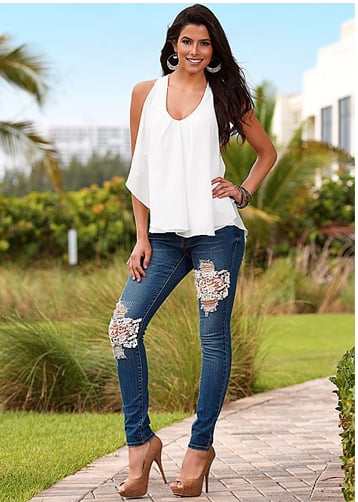 What about running shoes and jeans? Don't worry, we have a list of ideas on them too- take a look:
Ways To Wear Jeans With Running Shoes:
Running shoes aren't for running alone, or for the gym rat! With that being said, you can wear your puppies to anywhere you go, judging the occasion obviously. Remember to keep stinky shoes at bay! When you wear sneakers/ running shoes, you don't want to flaunt the socks; the attention should be on the jeans and the shoes, and what you wear above- invest in low rider socks.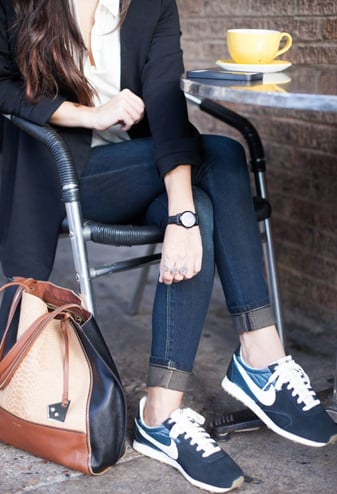 1. Solid Colored Running Shoes With Jeans:
Solid colored running shoes would be a great combination for your jeans because they work well for any semi-formal occasions. They wouldn't look over the top and fancy to say the least, and would do justice to the occasion you are decking up for as well.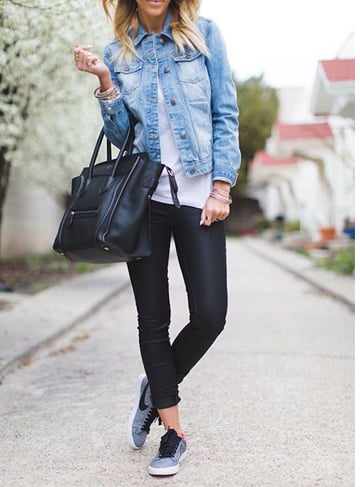 2. Slip On Running Shoes With Jeans:
It is best to wear ankle length jeans over a pair of slip on running shoes. One could try cuffing too as it helps show the ankle bone and makes a statement right away. Remember, a fashionista doesn't have to try too hard to impress or to make a point.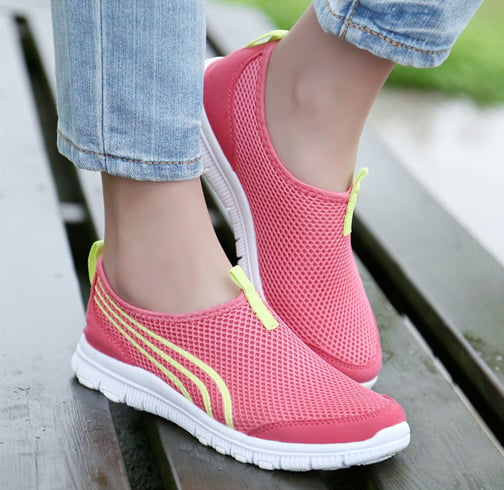 4. High Top Running Shoes With Jeans:
An over-sized T-shirt tucked in with a belt, cuffed straight fit jeans, a messy top bun, cool wayfarers or circular glasses and bare minimum accessories- try this and you can never go wrong with wearing high top running shoes with jeans.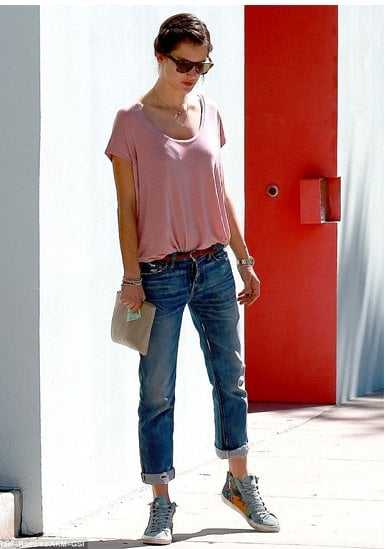 What Mistakes To Avoid Wearing Shoes With Jeans:
At some point in time, we do end up making fashion errors, not knowing what jeans to pair with which shoes. So here is a short list and FAQs answered:
When do I wear suede shoes with my jeans?
Suede speaks of versatility, which is why they team up best with casual outfits for women. You can wear them with chinos or jeans, lycra jeans and jeggings or skinnies and bootcuts too. The look comes about as cute and clean, and very chic as well.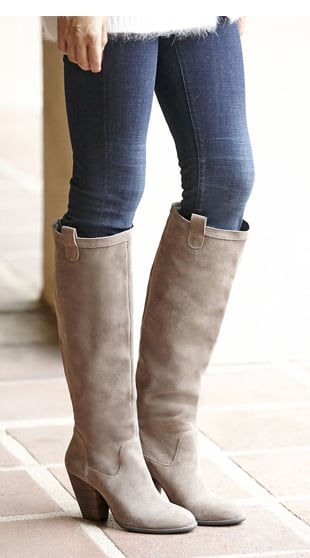 Can I wear high gloss patented leather shoes with my jeans?
In all probabilities, we would say this is a fashion statement best avoided. Unless you are very sure of pulling the look, wearing anything glossy on your feet wouldn't look and feel classy. Your aim is to get the right balance, without dis-balancing the fashion statement you want to make. For formal events, look at brogues to wear with your jeans instead.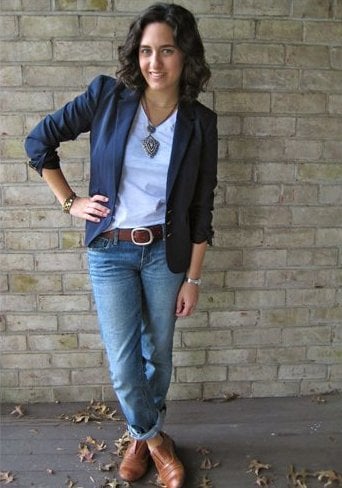 Can I wear bootcut jeans with loafers or sleek dressy shoes?
Once again, the balance here wouldn't be right and hence not advisable at all. The wide opening at the ankle would steal the show and the shoes would not be noticed. Are you trying to cover the shoes from the view of the onlookers? If the answer is NO, you then should think of sleek sexy heels and pumps, booties too. Sneakers are not advisable to wear either.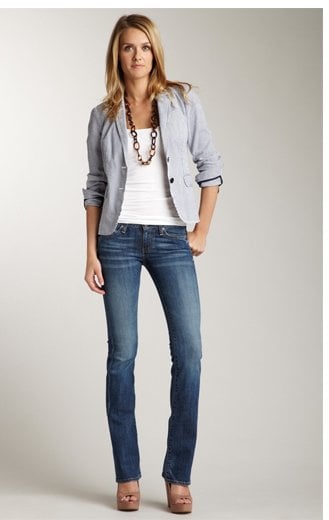 Low cut sneakers and skinny jeans? Are they good?
No, the combo spells for disaster; avoiding the same at all costs would be advised. Wearing skinnies and sneakers as it is would be a fashion faux pas and you don't want to be caught dead in that too; unless you want your feet to look really monstrous and big! Take a look below, and notice the two mistakes- socks worn with the open toed sneakers, and the feet look huge!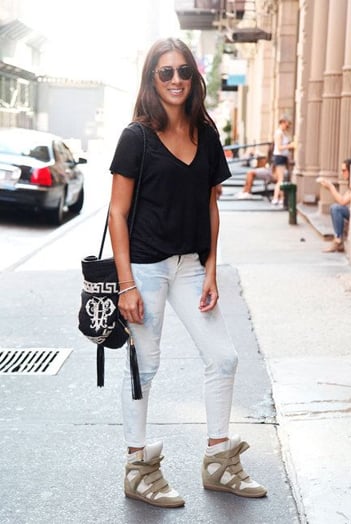 What do I wear with boyfriend jeans?
If you have a pair of boyfriend jeans, it calls for relaxation. But to make it look sexy and nice, wearing them with classy heels for a semi-formal event and with girly ballerinas for the evening out with friends would be nice. At all costs, do not wear them with wedges!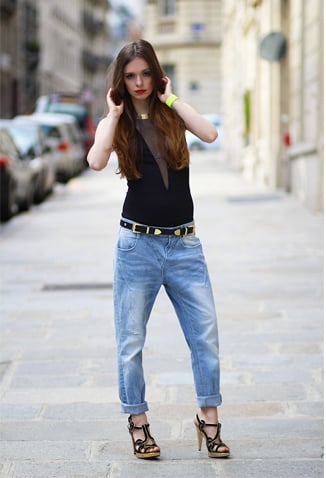 What kind of shoes to wear with skinny jeans?
If you have a pair of classy pumps, or ankle straps, flats or strappy stilelletoes; go for them. For semi casual moments, you can pair skinnies with wedges and strappy sandals, and for a girls night out, it would be chunky heels and boots all the way.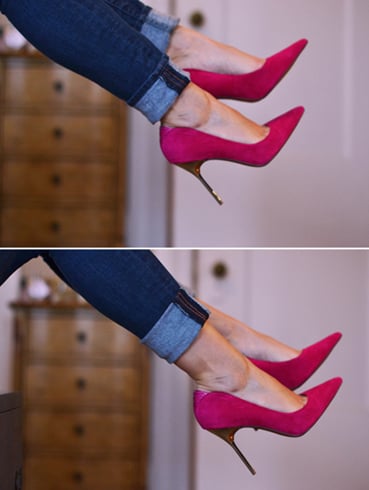 Can you wear black dress shoes with jeans?
Only for very formal events or semi-formal events, black dress shoes can be worn with a pair of jeans. Wearing them otherwise wouldn't be of any harm as such, but it wouldn't be as strong then as it would be when worn at the right place and at the right time.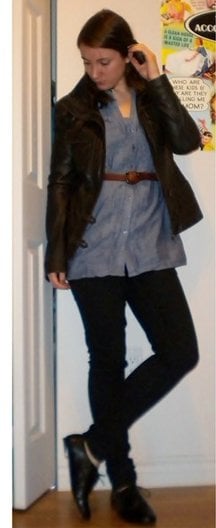 What shoes to wear with straight leg jeans?
Of the many styles of jeans we have spoken about, most women are stumped about the choice of shoes to wear with straight leg jeans. Since the style of the jeans is casual and unflattering, what you need to do is invest in a pair of very stylish shoes. Mule sandals with embellishments for example, loafers that have a little chunky touches on them, sexy heels, ballerina flats and classic buckle brogues too. Don't go OTT with the chunky look though.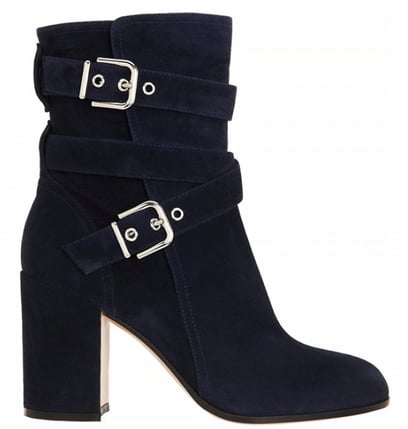 Do you tuck your jeans into ankle boots?
The aim here is to show off the ankle boots, and not to hide it. If you would like to do a messy roll with straight jeans and slim fits, do the same with the cuffing.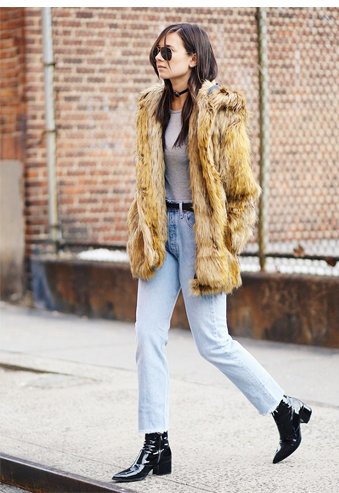 With skinnies though, it should be rolled into the ankle length boots.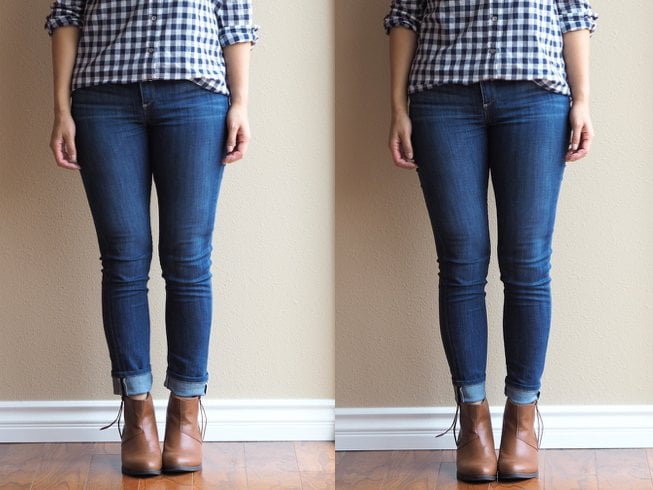 With trouser or boot cut denims, let them cover the mouth of the ankle length boots.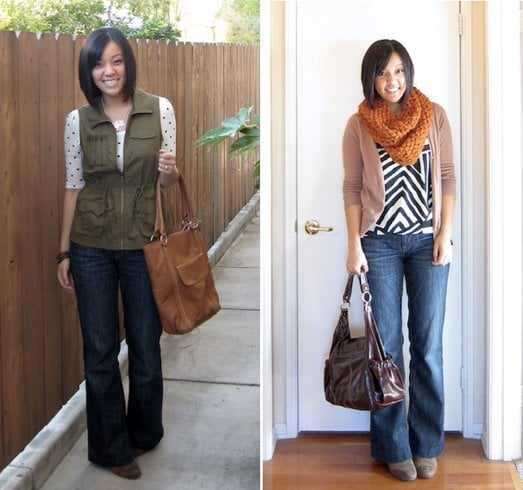 So here we end this comprehensive and exhaustive mini guide on what shoes to wear with jeans, and how to wear and style them too. Should you have any further queries, we are more than happy to hear from you. Stay stylish and stay gorgeous, and avoid the mistakes we spoke about as well!
Images Source: pinterest
Recommended Articles:
Most Expensive Celebrity Wedding Dresses
How To Wear A Blanket Scarf
How To Wear Palazzo Pants
Ways to Wear Ankle Pants