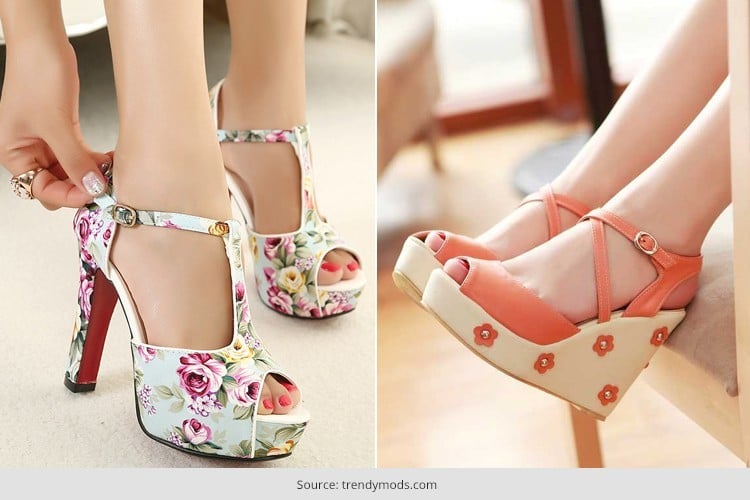 Whether it is the season of Valentine's or not, jewellery and cosmetics is the first love for any and every girl. But there is no way you can live without including shoes in the wish list.
[Also Read: How To Wear Cowgirl Boots]
No matter the types of shoes for women, shoes never hurt us (barring shoe bites) and neither do they bitch about you. Saw how humble and life-time is a girl's association with shoes? But with the changing season and taste, shoes are customised much the same way as lingerie or apparels.
Just like there are names of shoe brands, similarly there are names of women's shoe styles.
So, here I get you some fashionable shoes for ladies that I bet you would love every minute and sole of it, laces or no laces. Enjoy looking at your feet!
Statement Black Pumps
The best part about Black Pumps is that they can be worn with just about any attire. That's because they complement every fashion ensemble and bring flair and sophistication instantly.
Nude Heels
Like the black pumps, nude heels are a no-brainer. It means they go along with any outfit of yours and even add length to your sexy legs. If elegance is your first love, then nude heels won't disappoint you. You can easily place it in the bracket of fashionable shoes for ladies.
[Also Read: Boldest Trending Heels]
Booties
If you are the types who want a fashion edge to your looks, then booties is the perfect answer. Go wear booties with all the girly dresses, if you want your feet to be in the limelight.
Ballet Flats
In the heart of heart, every girl wants a go-to anywhere flats. Ballet Flats are types of shoes for women that help you run around to any part of the world with durability and style. You can call them handy shoes which you can count on, just like your Man-Friday.
[Also Read: How To Wear Flats]
Wedges
If you wanna go out with your BFF(s) for a brunch or plan to spend a day with your girlies, then pick wedges. This is a pair of cutesy shoes every woman should own that will add height to your frame and give you a stylish thumbs-up.
Short-stacked Heels
Talk of different names of shoes and you can't miss out on short-stacked heels. This is the '90s style that has made a comeback. What is in it that makes it a part of a woman's' preference? The stacked heel gives the ladies a bit of height (women with short height would love it for sure) without sacrificing on comfort.
[Also Read: Ugg Boots With Leggings]
Casual Sneakers
When you talk of names of women's shoe styles how can you miss out on simple, comfy and sporty casual sneakers, particularly when you have a marathon or a morning walk to be a part of?
[sc:mediad]
That's why they say, a pair of sneakers gives you all the style and fun without pinching your pocket.
Platform Heels
They might look a bit stocky but platform heels are almost a fashion rage in themselves. Spotted anywhere between campus and flea markets, platform heels is yet another fashion shoes for womens.
[Also Read: Shoes for Women Over 50 ]
Oxford Shoes
Talk of class and style and a pair of Oxfords elevates you almost instantly. They are smart looking, casual and super fun. Call it a life-saver to the one that adds sassiness to your outfit.
Statement Heels
Guess what. The name says it all. Whether it is a pair of neon yellow pumps or hither heels, you are bound to make statement.
Now which of these types of shoes for women have been able to excite you for a purchase and which of them are essential to stock? Drop us a line.