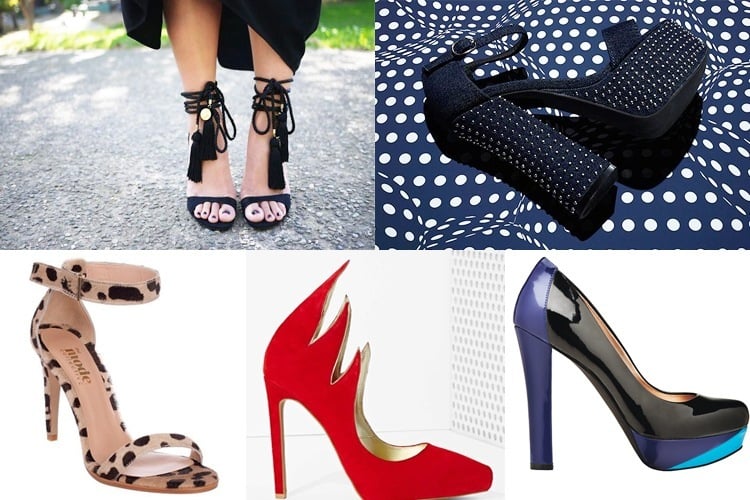 Pumps, prints, points. The flash of a heel can get quite hot and effortlessly snobbish, if you know what we mean. Footwear style has always been a hottie on the ramps and in the social corridors, so there is no denying their oomph value. We have heard of Kim Kardashian fetish for extravagant and bold heels and pumps, don't we? That's what drives us perhaps in trying out the same on us.
Perfect fashion styling is all about how you put your best foot (oops, heels) forward. They can be shapely, 5 inch long or whatever, heels can be the next statement in bold fashion. Heels reveal your character in the best possible way, more than what your palms say.
[Also Read: Summer Sandals that are in Trends Now]
So get ready to explore the bold and the better in trending heels if you want your good self to be on the cover of fashion glossies.
Paisley Print Silk Mule Sandals
Bold white polka dots on reverse black could not get better than this. It is cheekily retro and a cult in the fashion radar, what say?
Shoe Cult Wicked Heel
Shout out your wicked streak in this black charismatic sexy looking shoe. The single toe strap is what fashion statements are made of. The snake skin shield is nude and the buckle strap is adjustable. Wear this piece with your boyfriend jeans and see how insanely wicked you look.
[Also Read: Most Expensive Shoes in the World]
Mathca By I Desire The Things That Will Destroy Me
What a square heel it is! It will make you fall of the ground with joy. The suede strap in blue is as much a wow element as are the green tiles made in patent leather and man-made sole. Frankly speaking, it's material enough to wear or cart it to an arty show and late night office party.
Schutz Davynn Lace Up Pumps
Get befriended with quilted leather pumps that have a lace-up closure in straps and polished metal trim. Made of cowhide leather, all you need is to pump up your spirits to get dressed in the same.
[Also Read: Types Of Heels To Wear]
Calvin Klein
And you thought CK was all about attire and accessories and nothing beyond? Check out these lucite heels from Calvin Klein that are sure to leave everyone asking for more.
Badgley Mischka
Check out these ladylike stilettos from BM. It's perfect for the runway and as chic as it can be.
Metallic Pumps
Slip into the metallic magic with this uber cool pair of metallic pumps. They are a must wear if you wanna brighten up your day looks and create a virtual fire in your evening looks.
Fancy Ivory/Fuchsia Silk
Slip into this pointed toe pump that comes in floral printed silk. Handmade in Italy, it has polished leather sole to weave magic on your feet.
[Also Read: What Do Your Shoes Say About You?]
[sc:mediad]
Blue Tropical Floral Heels
In sizes 5 to 8, go explore the platform heels in blue colour blocks on a sunny afternoon. It would make everyone go blue in their knees.
Cheetah Print Heels
Go wild and hot in your looks and shoe attire by sporting wild animal printed pumps. Check out this cheetah print if you want to announce your love for experimenting with fashion.
So give into the pleasure and fun of wearing trendy looking boldest trending heels before your fashion competitor goes ahead and steals the limelight.