Ever wondered which colored shoes will suit your royal blue dress? We've collected a quick, easy guide for wearing every colored shoe with your favorite blue dress. It is taken that you know the basic rule of thumb. For instance, if you are wearing a royal blue dress, your footwear should be any shade of that color. From black to whites, and metallic, there are plenty of shoe ideas to wear with a royal blue dress.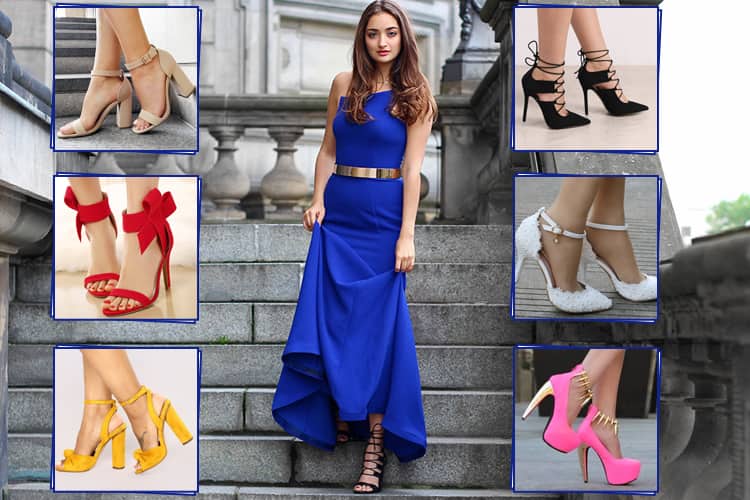 Before getting into royal blue dress shoes to match, find out few tips to wear your favorite shade of blue here:
Keep things simple: Pair your lighter shade of blue with darker shade of blue if you wish to keep it simple. Do not create visual delusion of prints and stick to block colors instead. For example, a pair of royal blue dress can be paired well with a light-colored shoe. Similarly, a pair of blue dress can look good with nudes.
Accessorize: It is fairly simple to walk around with a blue bag or blue heels but not when your dress is blue, too. You need to tone down the ensemble a little bit and stick with neutral accessories. Make use of accessories in nudes, blacks, and whites to bring the best out of your outfit. You can add watches, earrings, bracelets, head chains, rings, and even makeup in contrasting colors for a fun look.
Keep scrolling down to see what color shoes to wear with royal blue cocktail dress on online stylist UK:
Nude shoes
Nude shoes are one of the safest bet for a royal blue dress. Moreover, nudes never go out of trend, but different shade emerges in and out of popularity. So, why is nude totally suitable for a blue dress? It complements the color well and looks great on all skin tones. In addition, both these tones are trendy and wearable. You can also alter your nudes- you can go for neutral to hints of gold or ash and have the same result, yet a different look altogether. If you're looking for a style switch-up, then you can for this one here.
White shoes
White shoes are no stranger to our shoe closet. We don't know where our shoe collection would be completed with this washed-out discovery. And lately, it's the royal blue outfits with white shoes we've often spotted on celebs that have piqued our interest. White shoes are a fixture on all runway shows and continue to be prominent in retailer stores too. But we have our reservations about donning the trend ourselves. After all, white is pretty much a single color palette. But you can easily gussy up in a pretty blue cocktail dress and white dress for a classy girls' night out. Then, for work, you can grab a long, oversized trench for a HR approved look. You can scroll above and prepare yourself for a wardrobe whiteout.
Black shoes
Let's be honest. No matter how many multi-colored pair of shoes or heels you own, it is the black shoes that we most often reach out to complete a look. Naturally, pairing a royal blue dress with your look requires a bit of thought and effort than simply throwing it off with off-matched shoes. The beauty of simple black shoes is that it allows to really making it your own. Whether you go for modern edgy look in a short blue dress with black strappy heels or demure glamour in a below-the-knee blue dress, a black dress can suit any look. Dare to go bare in a plunging neckline blue dress or opt for a dress with unique cuts outs. For a pop of color, add fun accessories or bright makeup to brighten things up. All in all, be sure to contrast pieces to keep the look fresh. Whichever look you do, don't be afraid to mix it all up. Basic black shoes don't have to mean boring!
Yellow shoes
While scrolling at all the amazing royal blue dress look, we noticed an array of bright shades, like yellow that takes the center stage. This unexpected color is seen popping up everywhere. The versatile shade has made its way into several wardrobes too. And what a great match it can make with your royal blue dress! We've already seen the look appear on some of our favorite street style bloggers. See the images to have a look at how everyone is wearing the color both on and off fashion runways.
Pink shoes
Based on suitability, pink shoes can go well with a blue colored dress. Seen on what's been happening on recent runway shows and street styles, pink shoes have been taking trends to new heights. We are quite sure, for many girls, this is an especially delightful trend because it is an easy favorite. You can shift your focus from baby pink hued shoes to lighter versions of rose, neon, or blush colored shoes. However you choose to wear the pink shoes with the blue dress, it's on your terms. You can check out few of these images for major inspiration.
Green shoes
Picking a green shade may ideally not be your first thought. But for pulling off a fun look, you may need to go green-literally. And by green we meant every verdant hue right from seafoam to forest. The mash of green and blue are incredibly wearable and elevated. Because there are such a variety of green shades, this combination can suit everyone's personal taste. But sometimes you need a little bit of direction, and for that reason we're here. For the best green that works for your skin tone, here is what you need to do: if your skin has cool undertones look for green-blue based shoes, or if your skin has warm undertones, look up for moss shades with yellow undertones. Now that you know all about this awesome combination, check out the images for best green-hued shoes suitable for your royal blue dress.
[sc:mediad]
Silver shoes
If you are wondering how to wear your royal blue dress with silver shoes then here is how: this edgy colored shoes no longer freaks people out. Instead, many are going for silver shoes. The trend has slowly been picking up on runaway, celebs, and Instagram. All the more, it can beautifully blend with the royal blue dress and tone down its rich color. Carry this look for a night out of dinner with your favorite girls.
Tan shoes
You may feel neutral colors like tan or light brown shoes can get tricky to style. But you are wrong! In fact, you can sport these hues in several colors and fashionable ways. For example, while a combination of brown and blue maybe frowned upon if you thought about it, but after careful reviewing of changes in fashion tide, you will notice the startling result. One of the more successful ways to carry off these shades is to try them with several tones and textures.
Red shoes
You cannot fail to notice a woman in red. This is the color of magnificence and seduction. And you can wear all nuances of red-purple, pompeian, carmine, Venetian, cardinal, brick, cherry, and maroon. Elegant women in red shoes can wear high-wear blue dress with ease. This complete look is feminine, royal, and strong.
Head to toe
Similar with black, white, and tan colored shoes that look great when worn with blue dress, a blue tone colored shoes can complement the blue dress if done right. For instance, dress your dark blue shoes with lighter shades of your blue dress.
So these were few of our favorite ideas of royal blue dress with shoes. With so many options for your blue dress, which one of them intrigued you the most? Do tell us of your favorite in the comment section below.