Ethical shoe brands, if you are not aware of the term yet, are the latest sensation in the fashion world. With everyone getting more aware of the environment and factors that may disrupt the ecosystem, ethical shoes or fair-trade is becoming more popular with the consumers of the fashion industries.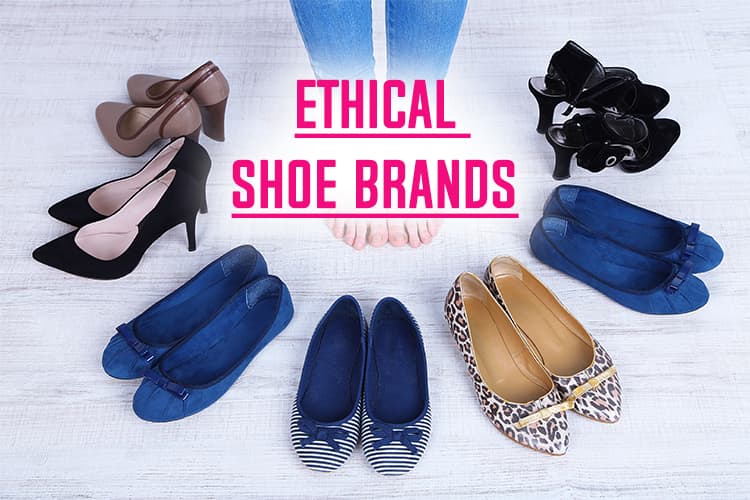 This is the reason more labels are moving towards more sustainable options when it comes to shoes, handbags, and clothes, and doing away with cruelty and any other equally condemnable practices that leave the environment stripped.
We applaud the big labels that are resorting to sustainable shoes than just leather. This is an end-to-end process that ascertains that the natural resources of any kind are not exploited in the process just so someone gets one's dream shoes.
Now, for the ones who are aware of this concept and have been looking for ethical shoes, you have come to the right place.
Best Ethical Shoe Brands In The Market:
Coclico:
As the very manifestation of slow fashion, the brand has created an ecosystem surrounding minimalism, neutral palette, muted undertones, sustainability, fair production values, renewable and recyclable wood, and locally sourced leather. The owners of this family-run business are from Spain, but as the business boomed, they have set up their headquarters in New York.
The designing and production still happen in their country of origin, Spain. An honest business that they have set up, gives you a sense of pride in being their customer, no less than what a luxury brand can offer.
Stella McCartney:
This luxury brand turned towards sustainability even before it became a thing when it wasn't even a priority for big brands that could shape the market accordingly. Luckily, Stella McCartney grew up as the much-needed pioneers that other brands could look up to. Being a renowned brand, Stella McCartney never compromised on its style or quality for resorting to sustainability.
It is quite amusing that though most of its customers turn toward Stella McCartney for its sustainability, most of the loyal customers of the brand are totally ignorant of the fact that these designer shoes, bags, and apparel are not made of real leather, fur or wool.
[Also Read: Most Expensive Women Shoe Brands]
Veja:
Veja understands that the world needs to embrace sustainable, environmental, and eco-friendly fashion. The label thinks that the world of fashion has always been more talk than action, and disheartened by this attitude, it was compelled to contribute its bit. All the shoes are manufactured in their Brazil and France industries, and compliant with International Labour Laws of respective countries.
It procures its rubber at premium prices directly from the Amazonian forest and ensures a sustainable livelihood for families that depend on this as their only source of income; Veja also cultivates its cotton from organic co-operative groups. And hence it helps all the causes related to the environment but doesn't compromise on style.
Nisolo:
Another brand that highly depends on sustainability is Nisholo. While most labels are focused on opening one store after another in lightning speed, Nisolo is focused on coming up with attractive designs in exceptional qualities, and this is how the company tried to save the planet one shoe at a time. They hold that our personal styling should be aimed at being more than just cheap and inexpensive.
Nisolo doesn't involve any middlemen in their operations and every penny of the payments reaches the real makers at Peru. Along with fair pay, they also maintain safe working spaces for their workers and provides healthcare facilities.
Mamahuhu:
Luis Moreno was moved when he found that small shoemaking artisan suffered greatly when a unit of mass production was moved from Bagota to Asia. She found these artisans to be immensely talented and to not utilize this talent pool would be a shame. She worked with these shoemakers to produce some handmade shoes which were crafted to perfection, and hence encouraged her to open a production unit here. Every pair of these shoes are made ethically, and the artisans are signed up for workshops so they can hone up their skills.
Toms:
The fashion company was started by Blake Mycoskie, when it realized that people, even children in Argentina, couldn't afford shoes to wear. They initiated their effort to manufacture comfortable shoes, combat boots and loafers, by adopting ethical methods. The operation of Toms follows a thorough one-on-one business model, which assures that every purchase from the brand provided a child a pair of shoes to wear.
The label, to date, has given over 60 million pairs of shoes to the needy so far, and is set on their mission to help uplift underprivileged communities stuck in poverty in Africa and other countries. If you can, do grab a pair of Toms' fair trade shoes.
Sseko Designs:
Based in Uganda, this clothing company is missioned to help the college dropouts who were forced to quit education because of lack of resources. All products of Sseko are manufactured using ethical leather. Through the sales of their product, the company helps send girls to college. They also employ women from poor backgrounds so they can become more independent and capable of rearing a family. Even American women can sell their products through Sseko and the profit of it is used for the upliftment of women in East Africa. So wherever you buy a product from this label, know you are helping a girl go to school.
Indosole:
Kyle Parsons from California started this company with the aim of addressing a major problem that was leading to increased pollution all over the world since centuries, tires. We all know that decomposing tires a huge problem and the very thought that the first ever manufacture tire is still around happened to bother Kype.
Though the third world countries use tires as a combustible fuel, the burning of it causes immense pollution and released toxic waste. And hence, the shoemaker came out with the idea of making shoes with recycles tires. He purchased his first pair from Bali and felt drawn towards this country for its beauty. And then he went back and started one of the best sustainable shoe brands that manufactured shoes from tires.
Veerah:
'Veerah' the Sanskrit word means 'warrior'. True to its name, the brand started by a group of women who had a strong belief that sustainability and ethics is production in its truest sense, was what the world needed is more of at these times. Veerah sourced its materials absolutely from cruelty-free resources. There are not many brands that make shoes with interchange or reusable souls, but Veerah does exactly that. This means a pair of shoes can be used, fixed and reused several times, thereby reducing the carbon footprints we leave on this planet.
Matt & Nat:
The label Matt and Natt got its name from 'Materials and Nature'. The company takes inspiration from nature and other natural material that surrounds us and finds inspiration in the understated beauty of hidden nature. They believe in protecting and nurturing Mother Nature and all their products are manufactured keeping this motive in mind and its collection is a manifestation of it. Matt & Nat is always aiming for the next notch and learning new ways to recycle waste products and make new designs out of them.
If you too are inspired to move to fair trade shoes, or anything form of ethical, and sustainable fashion etc., this is the way to go and you better start from today. It's one pair at a time, one shirt at a time. What you purchase from these ethical shoe brands will go back to nature or help someone at lack of fate to have a better life. I personally own a pair of ethical running shoes and can't describe in words what amazing comfort I feel when I have them put on. Have you tried one of them? Let us know in the comments box.