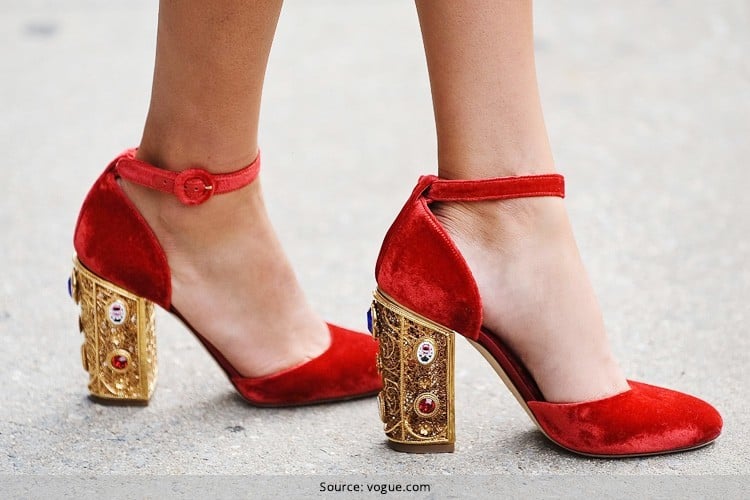 Dear PYTs,
We know how important it is for you to have shoes, winter party wear shoes especially when you would be going out there to party. Imagine wearing a lovely dress and not having the right shoes? You see the boys out there wouldn't understand our world and our love for shoes, but, it's only us women who understand why winter party wear shoes are a must-have. So before the men condemn you on buying a new pair, we would say "brace up and ignore their whines".
[Also Read: 5 Shoes Hacks That'll Keep Your Feet Happy]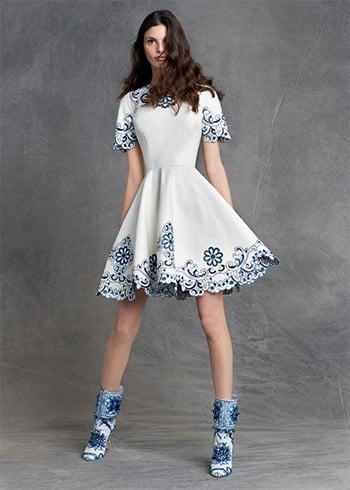 Sizzling Numbers You Could Wear With Your Winter Party Outfits
"I have too many shoes" said no self-respecting girl ever!
With that being said, here are fifteen tantalizing sexy winter party wear shoes that you must pair up with your winter party outfit for sure!
1. Purple Boots For The Woman Who Has Her Confident Feet
Sizzle away maybe in a short skirt or a mini dress, pairing the ensemble with purple lace up boots. Quite feminine, girly and very powerful as a fashion statement too, these purple boots are an impressive pair to play with.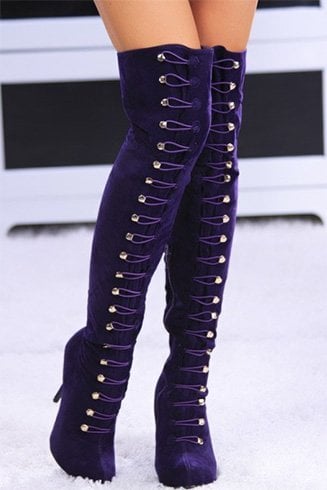 2. For a Casual Friends Get Together
If you would like to grab eyeballs and make a powerful fashion statement too, and don't want to wear heels at a friendly bash, you could think of the active LED sneakers. They glow in the dark and there would be many eyes on your feet- one way to have the world at your feet would be this way!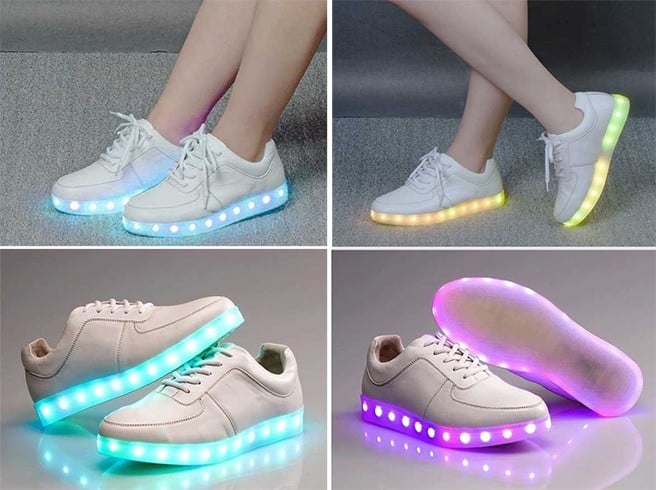 3. Pretty Bow Shoes In Black
Slingbacks in black and with sexy bows to its beauty, why not? You could wear these precious puppies with just about anything that hits above your mid ankles. Cute aren't they?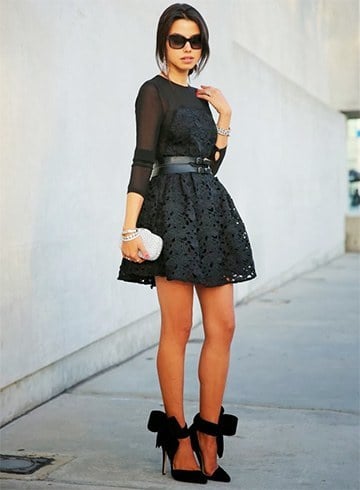 4. Sergio Rossi Sandals
Quite sexy and with peacock tones to its name, the Sergio Rossi Sandals are the ultimate lot when it comes to dressing your feet in chic styles. You could wear them with ethnic wear, indo-western numbers or plain elegant western formal outfits too.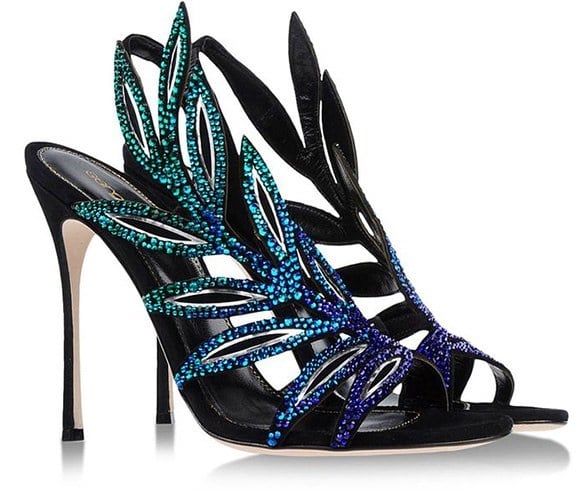 5. Dolce & Gabbana Fall Winter 2015-2016
We love the pretty ice-blue gem embossed Dolce & Gabbana Fall Winter 2015-2016 shoes. Need we say why and anything more?
[sc:mediad]
6. Rockstud Leather Pumps
Sassy and blunt, chunky and yet with a wild touch, the Rockstud Leather Pumps are a must-have which can be worn at semi-formal dos and the very formal church weddings too.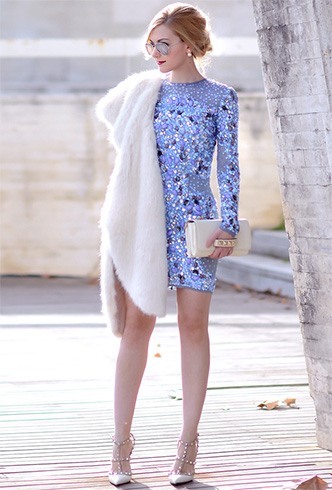 7. Christian Louboutins Shoes
Before you go OMG, let us tell you that these pretty babies are up for grabs- check around and you would find a pair in pink with a chunky strap to buy!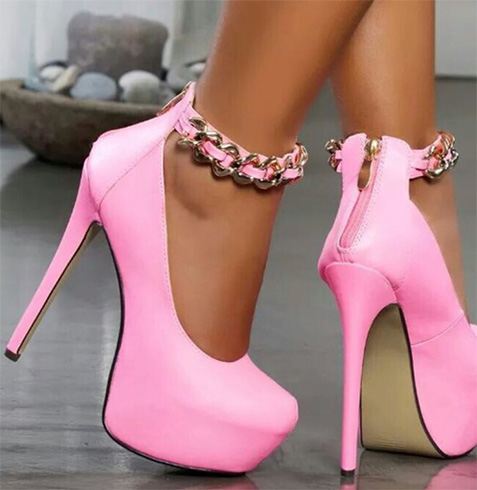 8. Stardust Heels In Champagne From Bhldn
For the starry diva that's you, we would want you to flaunt your legs in style. Put the best foot forward on the floor with the sexiest Stardust Heels in champagne from BHLDN you could have ever imagined!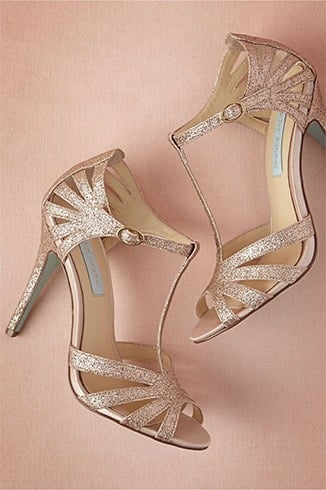 9. Printed Pumps
Don't want to wear prints or wild animal touches on your ensemble this season? No problem with that! You could opt for printed pumps that work like magic and balance the look!
[Also Read: Floral Shoes in Every Styles We Absolutely Love]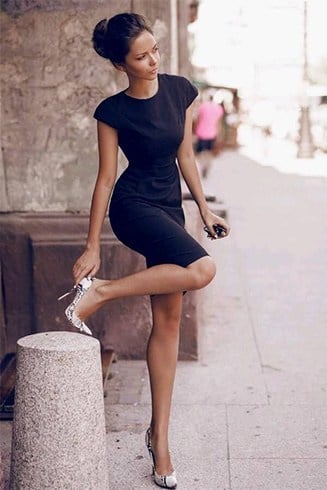 10. Black Winter Shoes
Seductive, transforming, mystical and sexy- black as a shade when paired with touches of steel gray brings about a bombing effect. Make that your signature style with the sexy sandalia salto alto number.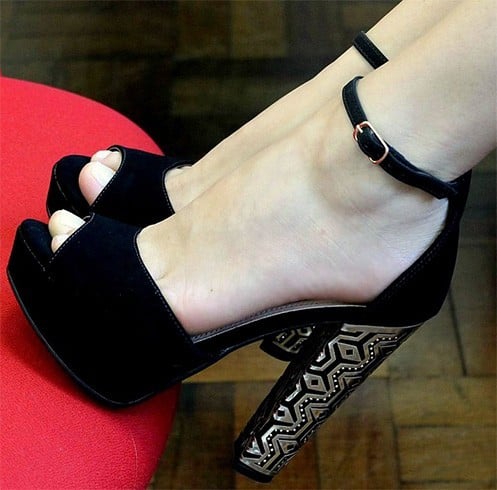 11. Mauve Platform Sandals
For a very subdued yet an elegant touch to the feet, the mauve platform sandals would go with any shade on your ensemble!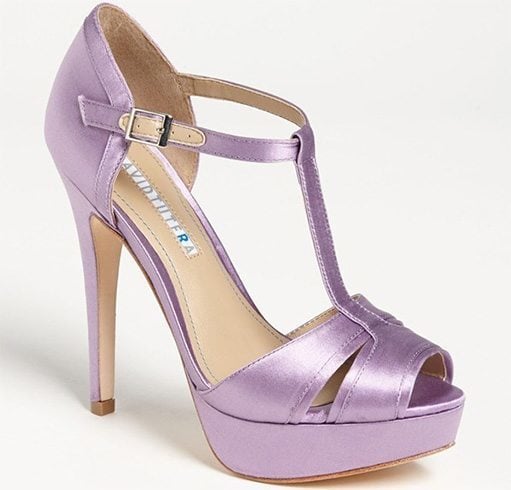 12. Dsquared² Spring 2015
We love the strappy encore the Dsquared² Spring 2015 brings about. You would be party ready in no time and without any effort that too!
13. Tassel Sandals
Cute and very feminine, the Tassel Sandals are going to be a rage this season and if you check around, you could either DIY them or pick them up for cheap!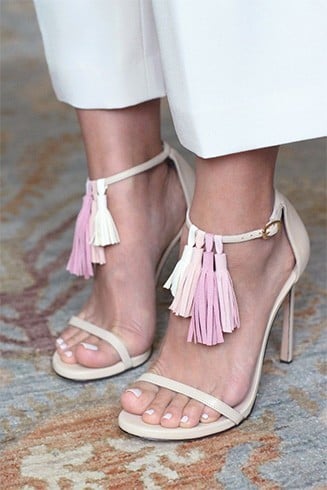 14. Elegant Mixing Color Strap High-heeled Shoes
Gorgeous neutral tones with a chunky touch, we simply said WOW when the Elegant Mixing Color Strap High-heeled Shoes were shown!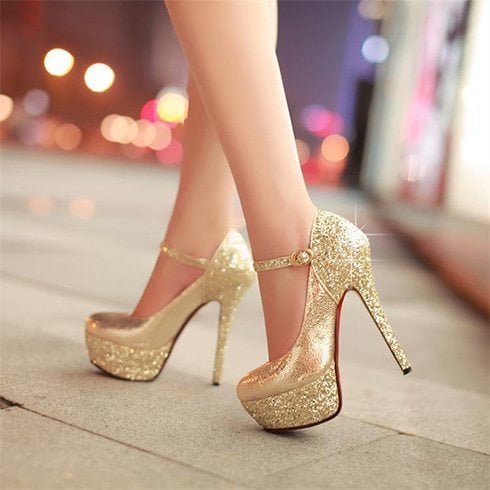 15. Let's Not Forget To Paint The Town Red
Red heels or pumps are a must have too, and Queen Letizia of Spain shows us how to wear them right!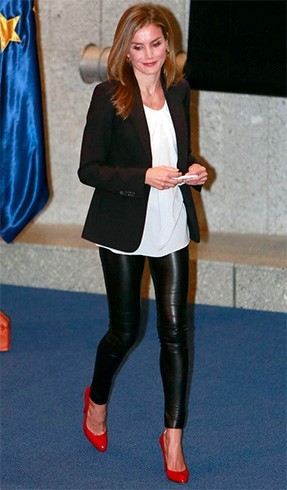 Did you love these fifteen footwear numbers? If you have ideas or party wear shoes for ladies tips of your own to share; write in!
Images Source: pinterest.com