Take it from us: your shoes for office don't need to be drab. But it does need to be practical and chic, both. That's why we've suggested 10 flats for women below to give your seasonal corporate wear a major refresh. Not only are they Boss and HR-approved, but they are aligned with the latest shoe style allowing you to take the shoes from office to happy hours. Whether you're in the mood for following the business or casual atmosphere, there is one for everyone ahead.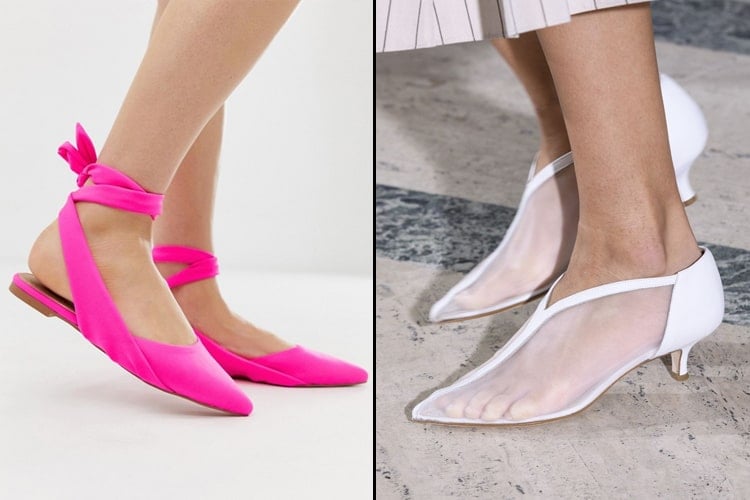 10 Trendy Flat Shoe Styles Ideal For Workplaces:
Below, we've rounded up ten flat shoe styles that are ideal for workplaces. Keep scrolling to learn about them:
1. Braided Slides:
It's time we hold the unusual, braided slides, available in several prints. The innovated flats are basically wearable for workplaces allowing you to incorporate a sense of chic and drama into your 9-6 scenario outfits.
2. Sling Backs:
Ease into the drama of the sling-backs mostly available in half-patterned and half-solid hues. Keep your work outfit simple with pleated or camel striped trousers, keeping the on-lookers charmed with your footwear.
3. Embroidered Mules:
If you're not up to have your feet completely caged in, then a simpler option like mules can work for you. Pro tip: If you are going for mules, then select embroidered ones, to give you that edge and style bonus at work.
4. Brogues:
Or simply lace up these casuals for the perfect finishing to your work outfit. This one-of-a-kind-shoe brings artistry with a power suit. This season you'll be seeing chunky brogues in patent, snake skin prints, braided designs, and leather.
5. Sneakers:
Sneakers have become a fixture everywhere, and its slowly cropping up at workplaces. And by sneakers we mean-dad sneakers in neon, sea-foam, and coral hues! Style yours with a clashing hued skirt or dress for the ultimate color-approved combo. This is one trend your feet will thank you for.
6. Mesh Sandals:
Mesh sandals don't have to mean sky high heels. It can mean flats for business too. Don't underestimate the appeal of these shoes. This can easily steal the spotlight from the rest of your corporate wear.
7. Feathered Loafers:
Feathered loafers and flats are ideal for workplaces. You can easily flutter this footwear, and in a second make an impression. This season you can find flats with added feather designs in heels or on the straps. All the designs look stunning.
8. Pointed Pumps:
Combine one of the hottest shoe designs of the seasons with one of the trendiest material- leather. Walking around the office in these pointy pumps will elevate your work wear look in seconds.
9. Fringe Sandals:
Else you can add a lot of fringe to your work footwear. Simply wear a sensible work shoe design with fringe details. If you do not wish to take sandals to the office, then you can opt for loafers or flat foots with fringe cuts.
10. Neon Flats:
Last but not the least is neon flats for women. Need we say, neons are the hottest color trends at the moment and so it makes sense to add the same to your shoe collection! They can literally brighten up your day.
There is nothing that can beat these 10 formal flats for women at workplace. Don't you agree?