From first dates to long-run relationships, we all have freak-out moments of what to do with our hair (leaving aside the thoughts on which outfit to wear). While it is advisable to stay calm and not over-think, we still understand things are easier said than done. We all want to look presentable on a date. For this reason, we have rounded up 10 stunning date night hairdos that are easy to pull off, and yet keep the attention on you.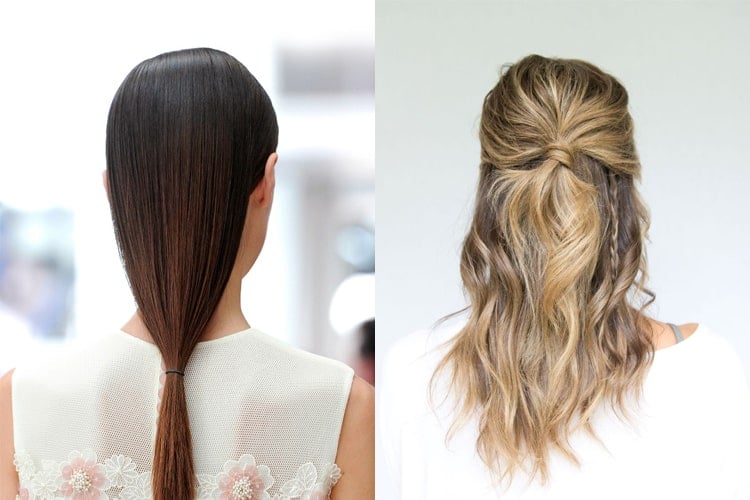 10 Date-Night Hair Inspiration Right Here:
Keep scrolling for inspiration and how to recreate the same look:
1. Sleek and Straight:
Slick strands are graphically appealing, but they're also easy to make. For a similar look like this, it is important to give hair a high-shine finish. When your hair is wet, use a shine spray and then apply a dry oil finishing spray. This is also suitable for dry hair, but it works best on damp tresses.
2. Braids with Ribbon:
Your daily braids can be totally date-worthy by adding on a ribbon as demonstrated in the image below.
3. Low Ponytail:
The low or falling out ponytail is ideal for those of you who habitually push hair behind their ears. While tucked hair isn't the most appealing for a date night, you can play it up with this trick. Make a side parting; secure a low-ponytail in the bottom hair inches. Your hair will be off your face but will still look like its down.
4. Long, Loose Waves:
Should you save these tumbling tendrils as one of your best bets for last minute plans? 100%, yes! The only rule for this one is to keep it neither too light nor too messy-which means you need to break the curls using your fingertips.
5. Pinned-back Waves:
The pin-up look leaves an illusion of extra volume. Leave few wisps of hair around the sides to bring attention to the right place.
6. Wispy Topknot:
A wispy topknot can be ideal for dressier dates or if you're particularly having a bad hair day. For an elegant yet slightly cool look, pull off few tendrils like the one here.
7. Half-up, Half-down:
Half-up, half-down hairdo works pretty well with all hair texture, and adds an instant dreamy feel. For making the same, try using a hair clip in replacement of hair tie for a slight update.
8. Spikes:
This look is ideal for those with short hair. You can recreate this 90s while giving it a spin and volume. Look to the image below for inspiration, and make sure to use a product to maintain the style.
9. Messy Knot:
Or create a messy knot, without smoothing out that wisps of hair falling from the front. This can allow your natural hair texture to shine through.
10. The Flip:
You know the drill to prep yourself up for a date. But what if it's a last minute date? How do you fix your hair for this one? For such a situation, may we suggest the effortless flip? Even though this is a quick fix, it can up your style by about a million. To create this look, simply brush your hair and set it upside. Flip it over, but to the opposite side to where it normally falls. There you have it-the perfect flip hairdo.
Hope these date night hairdos helped you to draw out all the inspiration you needed. We will be back with more such reviews so stay tuned.