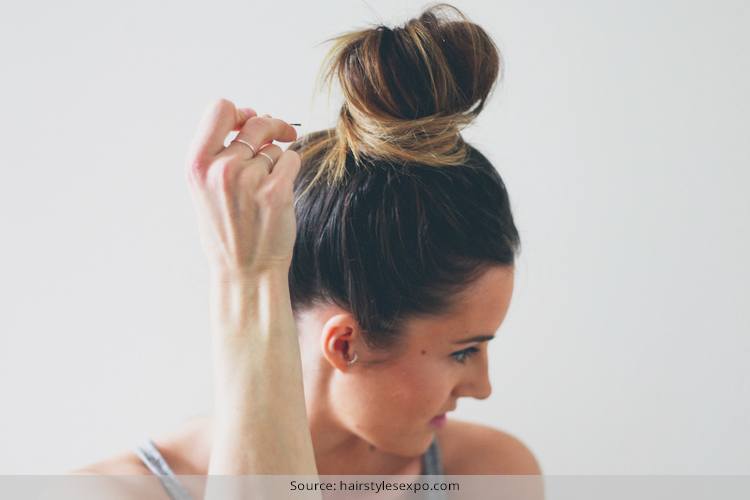 If you haven't seen the fashion magazines lately, top knots are in a rage today. It maybe because they're cute and easy and it keeps your hair off your neck and is a little different from the usual ponytail. Maybe there are a lot of reasons, but either way, they look perfect and chic on anybody, college going girls or working professionals.
The top knot buns are a little difficult to make in short hair, but who cares? What you have to remember with short hair or slippery fine hair, is that you probably will have hair strands escaping and it might create a messier look. But that's ok! It just adds to chic quotient and adds an aura of carefree style. The messy look is the in thing today in the world of fashion. Here are 5 messy top knot for short hair:
Messy Top Knot For Short Hair
Tie a ponytail at the top of your head. If your hair isn't curled at all, start by adding some curls to the ponytail. You don't need any perfect curls, but, just some messy ones. Now when you have some curl, just start pinning the curls down to your head with bobby pins. You can pin them however you want, but for the messy look, make them a little random. Secure the leftover short hair strands by twisting and tucking them with bobby pins so you don't have it hanging down. Spray some hairspray over top knot bun for short hair so that it remains secure for a long time.
Bouffant Bun
Firstly tie a ponytail at the back of your head quite high and leave a portion of the hair in front loose without tying them into the ponytail. Now start taking strands of this loose hair and start wrapping the hair around the pony tail to make a bun until all the hair has been wrapped and secured with pins. Your bouffant bun is ready.
Messy Bun Up Do
Separate the front pieces of your hair. Next, part the rest of your hair into two parts and then tie into a knot. Continue to repeat knotting your hair until you've reached the ends. Secure the knot in place with several bobby pins and leave the ends out. Now, take the front pieces of your hair and bring them to the back, tying them under the knot you have in place. Continue to tie the hair until you've reached the end. Now, secure that knot in place with several bobby pins. Gently pull at pieces of the braid to loosen the knot slightly. Just spray it with some hairspray to keep hair in place and it is ready.
Simple Messy Bun For Shoulder Length Hair
Pull your hair up into a high, small bun. Tug loose ends up and around ponytail holder, making the bun bigger and adding fun, adding some curls too. Twist & tuck strands of hair that fall out of bun. To enhance some volume, pull & tug the crown of your short limp hair and look like a diva. This is the most simplest of the hairstyle for people who have really short hair. It is easy to make and goes well with any dress style.
[sc:mediad]
Simple Messy Hair Up Do For Music Festival
In this hairstyle use your fingers to comb your hair up into a high ponytail. Then use two fingers to loosen the hair around the forehead and pull free some escaping hair for a more careless and genuine look. Holding the ponytail in your right hand, pull a hair-tie over the hair with your left hand. With your right pull the hair almost three fourth of it through the hair-tie, but leaving a few inches in. Twist the hair-tie once with your left hand, and use your right to shove all the hair into a ball into your left hand. Pull the hair-tie over the knot with your right hand and release, and voilà! Now use a couple bobby pins to secure the ends of it if you want to, and spray it with a little hairspray to finish up! You can also wear flowers around it to make it look more elegant. Some even wear a bandana in front to make it look stylish. This is another simple yet chic hairstyle for people with short hair. So, what are you waiting for?
[Also Read: Bandana Hairstyles]
With these messy hair buns carry yourself with suaveness and confidence. No wonder these short hair hairstyles will make you look like a diva. Try them today and share your reviews with us here at FashionLady.