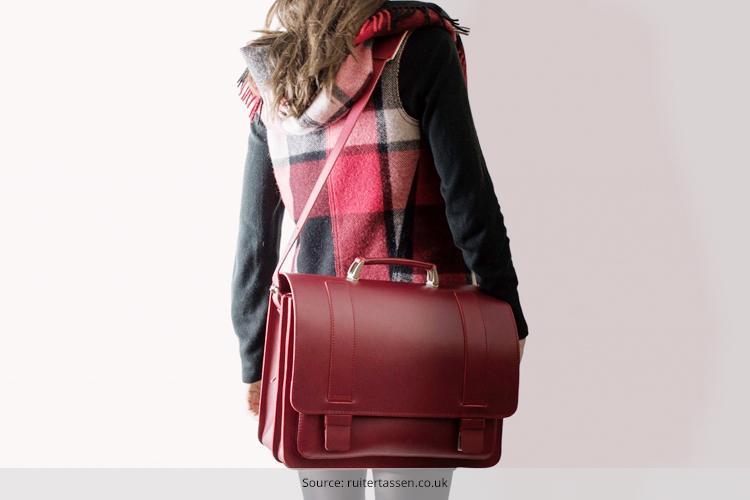 Despise carrying traditional laptop drone-looking cases? The boring black backpacks were never meant for fashionable divas, the makers had not assumed that beauty and brains can go in one package, so all they devised were the "black", "black-grey", "black-brown" and other mundane humdrum black coloured bags to carry your laptop to and from office. Why not make this ordeal a little more stylish and womanly with stowing the laptops right in our designer totes! Wouldn't that be so much wonderful? Stylish, functional and presentable – these designer laptop bags can sure save you from the fashion suicide. No more don a chic ensemble eclipsed with a black backpack – Irks!
LADIES LEATHER LAPTOP BAGS TO TOTE YOUR WORKSTATION IN
1. Tory Burch Block-T Large Tote
Sturdy minimalistic design, this large Block-T tote from Tory Burch is sure to add a chic appeal to your office ensemble with its raw-meets-refined look. Spacious interiors allow you to carry your 15" laptop along with one or two 1-inch office folders, along with an extra pair of shoes and make-up essentials too, isn't that a little too good? Wait, we have more to disclose!
This stylish leather laptop bag comes with a removable mini pouch that is just the right size to hold your mobile phone and other smaller accessories, and it comes zipped. Gold toggle closure further enhances the convenience and versatility of this designer tote.
[Also Read: Office Bags For Working Woman]
2. Mansur Gavriel Large Tote
This large tote from Mansur Gravriel is a classic combination of classic and cool look. Fashioned from calf leather, add a street-style casual feel to your chic ensemble for a stylish look with this laptop leather bag pattern. Vegetable tanned tinted leather used to craft these bags lend it a suave touch in matte. Made in Italy, these designer totes are ideal to stow your laptop, lunch and other daily essentials in one place without looking all messed up or overloaded. With interiors in contrasting colours, it enhances its appeal further. Comes with a detachable wallet for you to store smaller accessories in a handier manner – such that you don't have to fish in the large tote for tiny essentials. Use it for working week days and weekends away!
3. Smythson Panama Large Tote
Crafted from soft and luxurious calfskin, the Panama tote is textured in cross-grain pattern. Complemented with a 4 inch top handle, the tote is easy and suave to carry. Suede lined interiors further enhances the richness of this handbag. Detachable zipped pouch attached with a lanyard in the interiors of the bag, make it easy to find and store small essentials keys, earrings, etc. This 16.25 x 13.5 inch bag is ideal to carry your laptop, work files, lunch box and other essentials with ease.
[Also Read: Fruity Fragrances For Office Hours]
4. Saint Laurent Classic Large Sac De Jour Bag in Powder Leather
With its understated beauty and elegance, this tote from Saint Laurent is ideal to carry to your office meetings and work place every day. Tubular handles make it easy to be carried with suaveness while lanyard attached zipped pouch allows you to locate your tiny keys in the large tote. Embossed Saint Laurent signature in gold lends a charismatic appeal while the accordion sides make it roomier from the inside while looking sleek from the facade.
[sc:mediad]
5. Mulberry Tessie Tote
Timeless and classic, this Mulberry Tessie Tote in white looks chic and high-end. Ideal to tote your laptop in, designed to cope with your demanding everyday need to carry things along. This ladies leather laptop bag is a must-have for its luxurious feel. Its understated shape and fine finish is what makes it ideal for the office-goers with heels. Exceptional leather quality makes it able to withstand any pressure except for the kitchen sink.
6. Madewell Transport Leather Tote
This cool carry-all comes with roomy interiors and smart chic appeal. Fashioned from genuine leather, the Madewell Transport Leather Tote comes with sturdy handle that rests comfortably on your shoulder. Unlined insides and rugged soft luxurious leather appeal lends it a casual chic aura. Ideal for city commuting and carrying your laptop to and fro, this ladies laptop bag allows voluminous storage compartments to carry some munchies, a small can, makeup bag along with your office essentials.
[Also Read: What To Wear To An Office Christmas Party]
7. Karl Lagerfeld School Leather Tote
Urbane and highly appealing, this iconic leather tote bag from Karl Lagerfeld School is sure to lend a cool-chic appearance to your office ensemble. Charismatic appeal and spacious interiors make this lustrous handbag in black an ideal choice for beauties-with-brains. Its signature lock not only adds to the designer element but keeps your stuff safe too. This shoulder bag will exude an effortless style statement and is designed to go with any ensemble.
With this tour from FashionLady in laptop leather bags that you can carry to exude a commanding, urbane yet feminine aura – you are now well aware of how to accessorize your office wear. Look dashing and daunting even when you step in your workspace with our trending fashion tips.