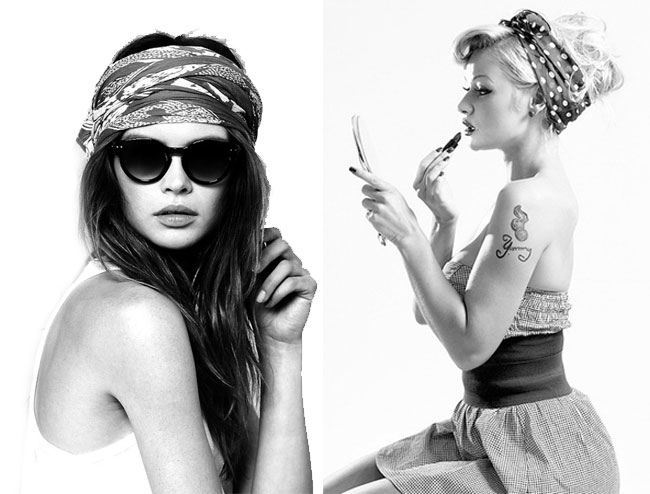 Women often mistake Bandana hair accessories to be an androgynous fashion element, whereas, they are quite versatile. I offer you 7 FUNtastic ways to wear a bandana. Go through these bandana hairstyles and give a makeover to yourself.
And, if you thought bandana was a street style then better have a look at the female celebs. Right from Rihanna and Miley Cyrus to Kareena Kapoor and Priyanka Chopra, every fashion icon has adopted this style.
So let's go through 20 funtastic bandana hairstyles that are super stylish and feminine alike.
1. Bandana as a headband
You can wear your head gear like a regular headband. All you need to do is to simply fold the bandana into a triangle shape and then wrap it around your head wherever you are comfortable. You can tie the knot under nape. This is one of the fastest DIY headbands that you can create. And it's a better idea when you are sitting on a speeding bike, on a roller coaster ride or when you are on the beach, as it stops the hair from falling on your face. This is one trick to styling with hair accessories and yet look cool and effortless.
2. Bandana as a bonnet
This is actually an androgynous look, when you wrap your bandana on your forehead. Take one edge of the head gear and fold it over the other edge and create a triangle shape and wrap it around your forehead and tie it at the back.
[Also Read: How To Wear A Bandana]
3. Bandana as head cover
This look is usually adopted when you are white washing, painting or washing your vehicle. This style can also be super fun when worn during hangouts and also work great for weekend getaways.
4. Bandana as a retro headband
To create this rockabilly vintage look, you'll have to wear the bandana as shown in the image and tie the ends on your head. Try to make a sweet knot to give it a 60's touch.
5. Bandana for ponytail
For this look, you can create your regular ponytail with elastic. Then you can roll the bandana as shown in the image and roll it over the elastic and create a bow.
We will leave you with some more bandana hairstyles. Some of these will also answer your questions on how to wear bandana or what are the different ways to wear bandanas.
[Also Read: Trending hairstyles for sarees]
6. Bandana With A Messy Updo
Try this simple and cool bandana hairstyles for a casual outing. Style your hair into a messy updo and just tie the bandana like a bow on top of your head.
7. Bandana With A Tousled Ponytail
Sporting a bandana headband with a tousled ponytail gives off a very playful vibe. Give your high ponytail a flirty and tousled look, tie a bandana and let some loose tendrils frame your face.
8. Bandana With A Retro Hairstyle
Knowing how to wear a bandana with a retro hairstyle is a sure shot way of making all the heads turn towards you at the next party.
9. Bandana With A Quiff Shaved Hairstyle
The below image will give some inspiration on how to wear a bandana with a quiff and shaved hairstyle.
10. Bandana With A Rolled Up Hairstyle
Take a look at the below image to figure out how to fold a bandana and tuck your hair into it for a cute rolled up hairstyle.
11. Turban Style Bandana Tutorial
There are different ways to wear a bandana and one of them isthe turban style. Follow this tutorial on turban style bandana to nail the look. This is one of the styles for short hair girls who want to flaunt their bandana style.
[Also Read: How To Tie A Turban]
12. Vintage Style Bandana Hairstyle
The vintage era, especially the 40's and 50's was all about rolls and tucks and bumper bangs. The below image will show you how to tie a bandana and rock the vintage hairstyle.
13. Bandana With A Braided Hairstyle
There are a number of bandana styles that you can pair up with your braided hairstyle. Bandana for girls with long braided hairstyle looks super chic and stylish.
14. Bandana Wrap With Pin Curls
This pinup bandana hair is one of the cute ways to wear a bandana. Just use bobby pins to secure all your curls and then wrap a bandana around your head.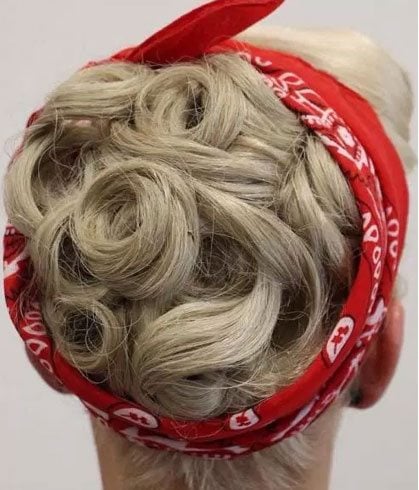 15. Bandana With A Fun Bun
Pick up some cool bandana designs, coordinate them with your dress or accessories, style your hair in a top bun and just wrap the bandana around it.
16. Bandana With A Crown Braided Hairstyle
To have a bandana around head, the best style would be to infuse the bandana in your crown braided hairstyle.
17. Bandana With A Braided Updo Hairstyle
Follow this tutorial on braided updo with bandana and impress your family and friends alike.
18. Bandana Hair Wrap
The below tutorial will show you how to do a bandana hair wrap in simple and easy steps.
19. Simple Bandana Headband Hairstyle
This simple bandana headband style can transform a boring look into a fun and playful look.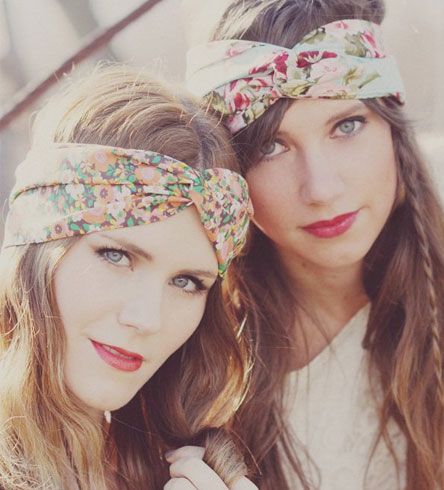 20. Pigtails Hairstyle With A Bandana Twist
This is one of the cutest bandana hairstyles that you can flaunt.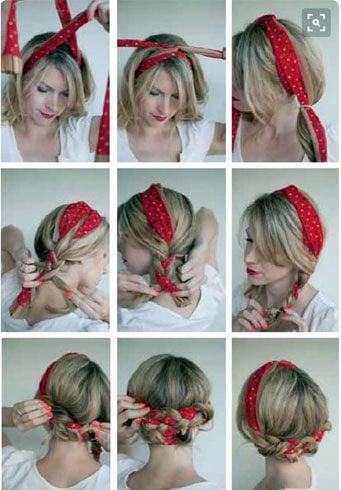 So those were my top picks on bandana hairstyles. Hope these funtastic bandana hairstyles give you some cues to change your look.