When in gym, all your focus is on burning cals, shaping your body and keeping it fit and healthy. Showing off latest fashion trends is perhaps last on your mind. At the same time, you need the right sportswear to help you achieve your fitness goals. Sporty Hairstyles is an important detail that needs as much attention as your throw or move.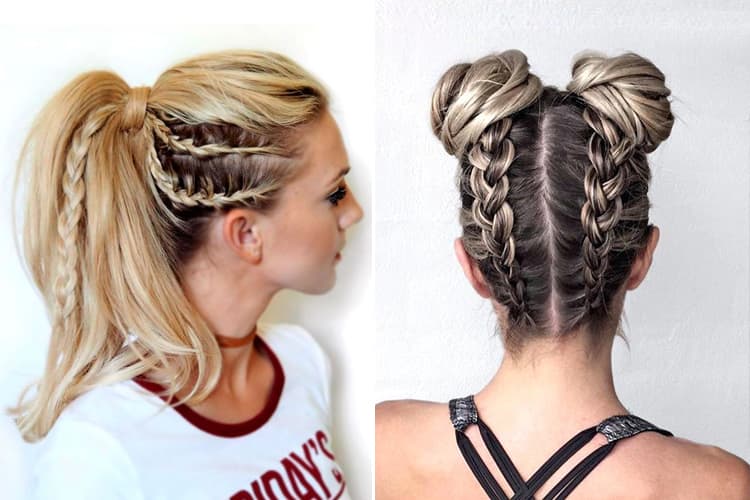 Here Is The List Of Best Sporty Hairstyles:
Look pretty but look roaring on field when you don these Hairstyles for athletes. You will be able to show your sense of style and one-upmanship through the wide range of options in sporty hairstyle. Be prepared to get a round of applause now for the way your hair will be leading the game.
1. Spiral Cascading Ponytail:
Ponytail is the most popular hairstyle that will grab your attention in the gym, park or workout. It might be a standard affair but it is comfortable to say the least. All you need to do is spice up this ordinary looking hairstyle.
To do that, spread your ponytail hair. Then start braiding from the top and keep some distance going between the hair band and the braid. Keep the braid slightly loose so that it can curl up at the end. Never allow it to give a firm look as it will look a heavy baggage on your head.
2. Balayage Hairstyle For Curly Babes:
Girls with curly hair go through such a struggle. Though workout hairstyles should never be an issue with curly-haired ladies, you can turn around the situation by going for temporary balayage hairstyles.
Go in for brighter colors if you are the imaginative sort. If you are of the adventurous or rebellious nature, then go in for boxer braids. This will give you a perfect badass look before out step out for game play.
3. Dutch Braids Into Small Buns:
This is a nice-looking and workable way to style your gym hair, particularly if you are of the fair to wheatish skin. It combines the concept of a Dutch braid with a small bun. So, might be an interesting hairstyle to pursue.
To get this Hairstyles for athletes, plaid two similar-looking side Dutch braids. Fix each end of the braid with an elastic and make two tight pigtails. Now you are ready with your cute-looking sporty hairstyle.
4. Two Braids With Y Fishtail:
How does this concept sound to you? Freshly baked, right? This sporty hair styles for long hair teaches you a thing or two about innovation. Firstly, this hairstyle has two French braids, not one. In fact, there are four braids. Two begin at the top of the head and stay connected in the form of Y shape. Then there are two larger braids – running parallel along the sides of the back.
Where does this workout hairstyle fit in? Any fitness routine you can think of such as jogging or running. Your hair stay focused and in place when you adopt this sporty hairstyle.
5. Athletic-Looking Fishtail Plaits:
Did low pigtails ever vanish off from the sporty fashion business? Never. They are an essential sporty hairstyle. And this braided version that you see in the pic below is a recall of the '90s era.
So if you are going with French plaits or waterfall braids, double twist the sections and leave the bottom half of your hair undone. This will give you a casual vibe next time you are running.
6. Side Bun:
If you don't want pins or hair ties to bother your hair nor pull on your scalp, then side bun is the go-to hairstyle especially if you have medium to long hair.
To get this hairstyle, part your hair on the left side and gather your hair underneath your right ear. Then twirl the hair into a bun underneath the ear. Secure them with a bobby pin attached close to your scalp. Repeat this with three more bobby pins put in each quarter of the bun, securing the hair down.
7. Braided Pigtails:
Pigtails are a no-fuss easy way to keep your hair out of your face, especially if you are wearing a cute hat. And creating this hairstyle is easy and non-fuss.
Make a side parting in your hair and get two ponytails. Braid each pony loosely until you have an inch of hair left. Now secure it with a hair tie. Braided pigtails is sports competition-ready and will never get in your focus provided you make it right.
8. Classic Bun:
To get this easy sports hairstyle, all you need is smoothening serum and/or hairspray. This is one of the easy hairstyles as far as swimmers and gymnasts go.
First, you need to tie up your hair in a ponytail below the crown. Then twist the remaining hair around the ponytail base and form a bun. Use pins to secure the hair. To get a messy bun pull out a few strands as in the image shown. Finally, use some hairspray to set the hair.
9. The Rope Braid:
As goes the name, your braid takes the shape of a rope – strong and sturdy which doesn't come in the way of your sports practice sessions.
To get this hairstyle, pull back your hair into a sleek ponytail and secure your ends with an elastic tie. Now take the ends of your hair, divide them into two sections, twist them around each other and secure them with a hair tie at a point most comfortable to you.
10. The Double-Twist Bun:
This hairstyle suits girls and women of all ages – whether in the field of sports or any other activity area or occasion. This hairdo looks wonderful for formal events, particularly when accessorized with flowers or hair jewelry.
Part your hair down to the middle of your head, then start twisting them. When you reach the nape of the neck, begin a rope twist using two strands. When you are done with the rope twist, secure it with an elastic.
11. Half Braid Half Ponytail:
This is an easy hairstyle tutorial for sports. And elegant too. It involves sectioning of the hair from the front and back. How to go about making this Hairstyles for athletes?
Firstly, pull out two sections and leave the one on bottom half as it is. This is to be braided later. Now start making a French braid from the top of the crown. Do not go all the way down while making the half braid half ponytail. Instead leave 5 to 6 inches of hair for the ponytail. Hold the hair with a rubber band. At this point, braid the lower left side. Once done, wrap it around the ponytail. Get hold of pins to secure the hair in place.
12. Ponytail With Hair Band:
Yet another easy sports hairstyle for ladies which is as easy as brewing tea. It just needs hair spray or hair wax. And of course good quality head bands.
To make this sports hairstyle, take a little hair wax on your hands and rub it through your hair. Pull back all the hair and tie them into a ponytail, but a high ponytail. Now get a hair band and add it to the front part of your hair. It should be positioned behind the hairline. For all you know, you can add two hair bands to hold the hair and add some color appeal. These days one large single head band straps with slots for ponytails is more noticeable.
13. Curly Workout Hairstyle:
Ever thought of and tried Sporty Hairstyles for curly hair? They look fab as much as your toned body. Keeping gorgeous curls is doable provided you do it with the right planning and hair products.
Gather your curls at the crown of your head and loosely secure them with an elastic. And how will you counter frizz? Wrap around a scarf, bandana or headband around your head while you exercise.
14. Patterned Head Wrap:
Sweating sessions take up all you extra energy. That's why you need your hair to flow freely after that bout of humidity during workout sessions. Why fuss over it when you can pull out a bold patterned head wrap over your hair and forehead?
This will solve your problem and make you look cool and hot as you sweat it out. It also lets you be you.
15. Tight Fishtail:
Sometimes loose braids can tend to fall out when you are working in a gym. When you wear a tight fishtail, it not only looks funkier, it lasts throughout your fitness training session smoothly and surely. So indulge in this sporty hair styles for long hair to medium hair.
Tips For Sporty Hairstyles:
Hairstyles for athletes doesn't mean you always need a new and innovative hairdo. You can make certain changes and variations depending on the nature of your hair – long, curly, medium or small, straight, wavy, bouncy, black, brown etc.
Want to spice up a boring ponytail? A simple headband will do. Try out a black headband or depending on your taste choose a colorful headband to jazz it up.
Wear sweatbands. This keeps the front of your hair intact. Protective headbands are the first crucial step that helps prevent your hair from sweating out.
A pH balance shampoo and conditioner is what you should definitely get for yourself. The ones with lower pH cause less frizzing and breakage.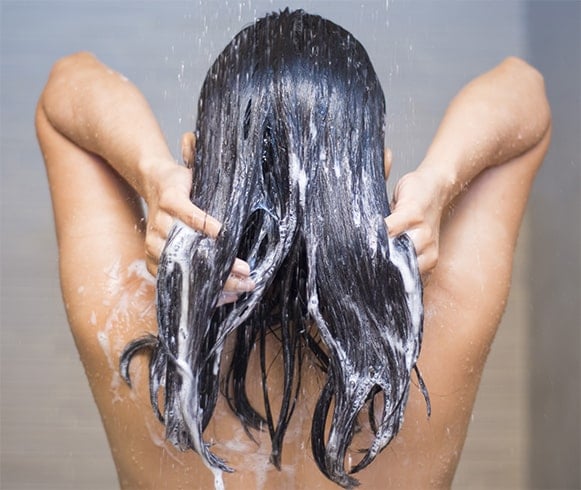 Buy and use Dry Shampoo before your train or during your sporting event. They prevent from sweating out your hair roots. They also decrease and absorb excess oils and moisture that encounters your scalp.
Buy Hair Wave and Extensions to compliment your everyday look.
FAQ's:
Q.1. How long do these hairstyles go with the tremendous amount of physical activity that usually happens?
A. It all depends on the type of sports activity being indulged in. A ponytail is a good option, but a tucked ponytail can be explored to jazz it up a bit.
Q.2. For medium length hair, which is a catchy and sporty hairstyle to go in for?
A. A fishtail braid is certainly a good idea. In fact, any braid style will do.
Q.3. What sporty hairstyle to go in for in case of short hair?
A. A semi-ponytail will be a good option, particularly if you are not keen to use any styling products.
So, fitness-conscious ladies, how did you find this blog on Sporty Hairstyles? Next time you are playing for the first time or the nth time, don't forget to try out these lovely sporty hairstyles to look gorgeous in the game. Do write back your comments and share it in your social network.