Move over bun, pony tails, bob cuts and braids. Here comes a sweet and not so fishy fishtail braids which you can spot on celebrities during parties, proms, weddings, and even dates.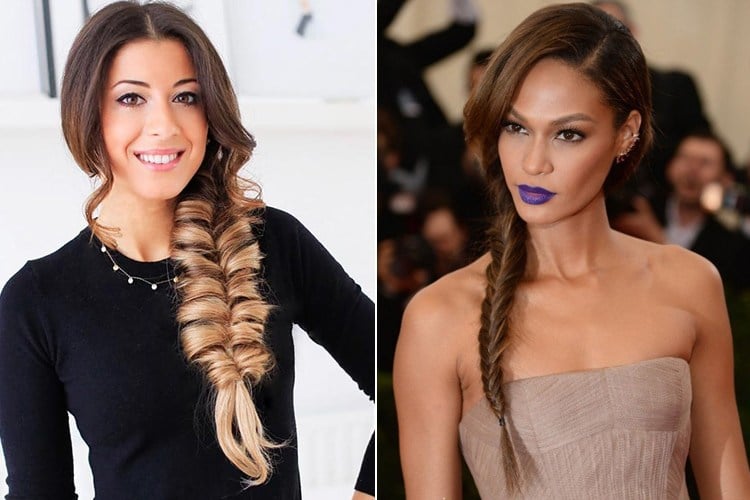 Okay, it's a tad bit difficult to create fishtail braid hairstyles but it isn't that tricky. Because once you get a hold on creating the fishtail braid then you can take the fishtail hairstyle to the next level by creating gorgeous hairstyles. To get a whole new look you can combine different braid styles such as Dutch braid, French braid, or inverted braid with fishtail braid.
Apart from gorgeous looking faces sporting fishtail braid ideas there are awesome tutorials which are easy to do. So here we go fishing and knowing more about fishtail braid, fishtail French braid, wedding fishtail braid, fishtail braid updo, fishtail braid from top of head, fishtail braid short hair, fishtail braid ponytail, 2 fishtail braids, fishtail braid black hair and fishtail ponytail.
How To Go About Making Fishtail Braid
Well, begin by making two sections of hair. Take a small tuft of hair from one strand and bring it to the inside part of the other strand. Keep doing that, and you will land up with a cute fishtail. No much sweat and toil needed, just a bit of patience and time.
Styling Tips For Fishtail Braids Hairstyles
Call it back of the envelope calculation but all you need to remember is the following thumb rules in order to make fishtail braid easy.
Loose and messy looking fishtails are cuter to look at and wear than polished ones.
Since messy fishtails are the trend, separate the hair strands once you are through with plaiting the braid.
A side fishtail braid is created on side ponytail which is fixed with a ribbon.
Thin hair can look thick in fishtail provided you first make it look curly using curling iron and thereafter creating the braid.
Let's take a look at some of the fishtail braids that you can try out with practice and patience!
1. Front Bang And Messy Fishtail
If you have simple looking long hair, then make it unique by adding front bangs. Then tie up a bow and hang loosely some hairs on the other side.
2. Pouf And Fishtail
Whenever you are out on a casual shopping spree or a cool day out, a messy pouf and fishtail braid is ideal. All you need to do is make a low pony and then tie a band. Then take a strand from the pony and get it around the elastic band and secure it with bobby pin at the end. Now follow it up by braiding.
[Also Read: Hairstyles for Big Foreheads ]
3. French Fishtail Braid
Look classy think classy when you choose fishtail French braid. The impact is far more when you know how to do French twist pony tails.
4. Inverted Fishtail
To get this cute fishtail braid, pull your hair towards one side after you have done inverted braid up to ears. Then continue doing the fishtail braid till the end. Now in order to get messy inverted fishtail braid, pull your hair apart as much as you want.
5. 2 Fishtail Braids
In this 2 fishtail braids hairstyle, you need to take one section of hair and split it further into two smaller sections.
6. Braided Style Fishtail
Got some thick medium length hair? Go for this side fishtail braid hairstyles. It would look perfect for your first date or a mushy-mushy candle light dinner.
[sc:mediad]
7. Fishtail Braid Ponytail
Get an awesome jazzed up look by going for a fishtail braid ponytail.
8. Braided Fishtail On Head
Love the head band look? Go for fishtail braid from top of head.
9. Dutch Fishtail Style Braid
Bring in major braid envy by going the Dutch way in fishtail braid hairstyles.
Whether you are a newbie with fishtail braid or looking to create an advanced hairdo, checking out the above tutorials are great to nail the all-season favorite hairstyle. The fishtail plaits are easier than it looks and if done the right way. Remember that fishtail braids are not the classic French braids so you needn't begin at the top of your head. Instead, focus on positioning the braids in the center of your head or doing it from the side.
Copy the tutorials shown above from vloggers and close-up images for securing the look. All the styles are subtle, yet create a clear statement. Which one is your favorite fishtail braid look? Write in to us in the comment section below.
Images Source: pinterest