It's difficult to keep your hair open in summer. All thanks to high temperatures which eventually starts making our hair oily and sticky, making it almost impossible to keep our hair open. Don't lose your hearts ladies as that's when the summer hairstyles can come into play. Yes, I know it takes an effort to do a hairstyle, but there are hairstyles that are super easy, and also take less time.
10 Effortless And Trending Summer Hairstyles
Here's the list of effortless summer hairstyles that anyone can do. I repeat anyone. Yes, there are some of us who cannot make a perfect hairdo but trust me these are the easiest.
So let's begin!!!
1. Upside-down hair bun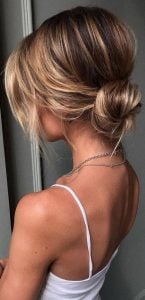 Pinterest – itakeyou wedding
This is an easy-to-do hair bun that anybody can pull off easily. Moreover, it will also help you to keep your hair off your face and you won't be sweating rigorously because of your hair. So, a win-win situation for you. To get this simple hairstyle follow these simple steps given below.
Steps
Firstly, flip your head upside down and pull your hair to make a ponytail.
You can make your ponytail as high or low as you like
Twist your hair and wrap it around the base of your ponytail continuing it till you reach the bottom of your hair.
Also, make sure you leave a tail out at the end.
Now, finally, secure your bun with an elastic rubber band or bobby pins.
2. Voluminous Bob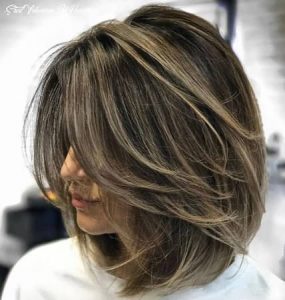 Pinterest – the right hairstyle
If you had a bob cut recently, you can create volume to your hair for a summer hairstyle to make yourself look different, chic, and elegant. Firstly, a bob haircut makes you look sophisticated and classy. So if you have a bob cut, congratulations you look classy already. Also, box cuts will never go out of trend any soon and also have been there for a long time. So to get your hands on voluminous bob, follow these steps
Steps
Comb your damp hair with a wide-tooth comb and muss it with your fingers.
Let your hair dry completely and apply sea salt hair spray for a natural texture.
3. Pony Tail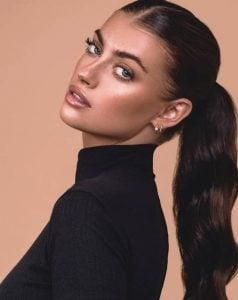 Instagram – qyqy_hairstore
Ponytails suit everyone no matter what. Hence if you want to do a little tweak in your pony hairstyle, you can go with a wrap-around ponytail. These ponytails work for every occasion be it formal or informal. Also, they are best in summers as well.
Steps
Firstly, comb your hair thoroughly so that you can easily make a ponytail.
If you want a sleek look just like the picture, part your hair into two sections and comb your hair to make a ponytail.
Tease your ponytail for a puffy look.
Now, take a small section of your hair from underneath your ponytail.
Using that section of hair, wrap it around your elastic band making sure to cover it completely.
Now, secure that hair section with a bobby pin underneath your pony.
4. Mermaid waves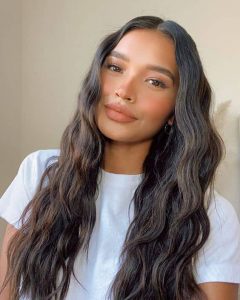 Pinterest – Kortein Stein
Mermaid waves have always been in fashion. Moreover, it went on to become Hollywood's favorite summer hairstyle. This wavy hairstyle is especially preferred for a beach party or a regular party because who don't like waves in their hair.So, to style your hair in mermaid waves you need a curling machine, a 'Curl hold spray' product, and 'Shine spray' if you want shiny glossy hair.
Steps
Spray the curl hold product on your hair
Dry the applied product using a hairdryer and brush
Separate crown to the back of the ear
Start taking horizontal section
Point the curling machine downwards and place it above the hair
Now twist and wrap your hair around the curling machine and hold it for 5-8 seconds.
Allow the curled hair to fall into the hand and cup it until cool to set the shape
When cooled, pull the end of the curl to create a wavy look
Repeat this technique for your entire hair.
5. French Braid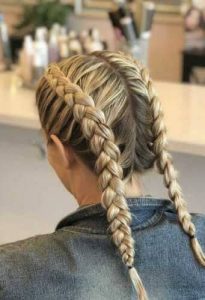 Pinterest – Holleewood Hair
French braids hairstyles are the best for summers because your hair often gets oily and greasy. And what is the better way to hide that greasy hair with french braids? Moreover, doing french braids keep your hair away from you which in turn prevents sweating. As we girls sweat more because of our open hair. So to get rid of hair coming in your way, here's how you can do french braid to yourself.
Steps
Firstly, part your hair from the middle of your entire head.
Now you have two partitions so tie one side of your hair with a rubber band.
Start at the crown of your head and take a small chunk of your hair. Now separate that chunk into three equal parts and start braiding.
Keep on adding chunks of hair and keep performing braid on it.
Now repeat the above steps all the way down your head.
Secure your pigtail with a rubber band and repeat the steps on the other side of your hair.
6. Greaser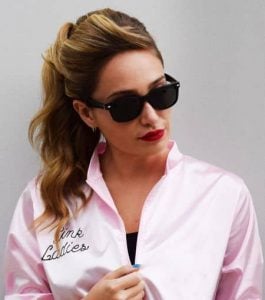 Pinterest – Sexyhair
A greaser hairstyle in summer is the best option you can ever opt for if you want a chic look. For those who don't like messy looks, this hairstyle is just for you. The only thing required to have a grease hairstyle is to have a huge amount of gel applied to your hair. The hair looks slick and shiny as if you have just got out of the pool.
Steps:
Comb your hair thoroughly and take a big chunk of your hair from the front and secure it with a hairclip.
Now apply the gel to the side portion from both sides.
Make a ponytail, excluding the middle chunk
Now take that middle chunk and roll it back while securing it with a bobby pin.
7. Beach Waves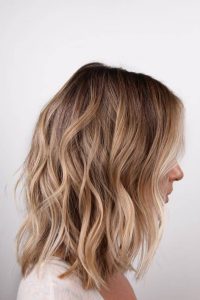 Pinterest – Johnny Ramirez
Beach waves have become a sudden rage recently. They make you look elegant and also they don't take much of your time and effort. Moreover, summers are dedicated to beaches so what better hairstyle than beach waves themselves. Beach waves can be obtained in various ways of which, braiding is one way and another way is to use the flat iron machine and a few sprays for volume and texture.
Steps
Firstly take a few drops of oil and rub them to your tips and sides.
Partition your hair from the middle
Take a little chunk of your hair from the front, place your hair on the iron, twist the iron from the middle and pull out your hair.
Now repeat it for the rest of your hair.
8. Serious side parts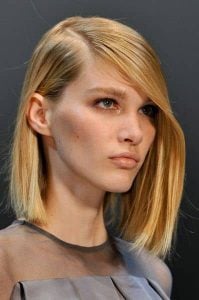 Pinterest – Stylebistro
If you are tired of opening your hair in the same way, go for the serious side parts. Yes, it won't help you in any way in summer to keep you cool but it would definitely make you look classy and chic. Just opt for either of the sides you like and dress up. Also, you can even curl your hair if you want to go for hollywood waves.
9. Rope braid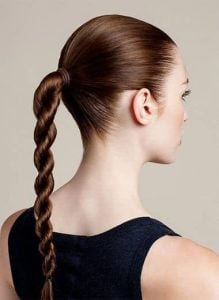 Pinterest – Bumble and Bumble
Rope braid is the summer's sporty hairstyle that you can pull off this season. It is super elegant, classy, and chic. Also, it will keep your hair packed so that you can easily enjoy your summer carefree without worrying about them. Moreover, it is also easy to make this rope braid without much of an effort. So lets begin.
Steps to make a Rope Braid
Firstly comb your hair and make a ponytail and secure it with an elastic rubber band
Now, take a strand of your hair from beneath and wrap it around that rubber band to hide it. Also, secure that strand with a bobby pin.
Divide the pony into two equal sections and hold one section in each hand.
Now tightly twist each individual section using a clockwise twirling motion
At last, twist the two individual sections against each other, moving in the opposite direction. Now secure it with an elastic rubber band.
6 Summer Braided Hairstyle
We always find it difficult to style our hair every day and then our only resort is to do a high knotted ponytail. That's quite boring and drab. Braids are an excellent choice when it comes to summer and when you cannot open your hair because of your 3rd-day hair. Hence, this is when you can rely on a classy yet incredible braided hairstyle. Braided hairstyles seem like a tough job but they aren't. In just a matter of minutes, you can be ready with your braid. Hence here are some summer braided hairstyles you should definitely check out this summer.
10. Fishtail braid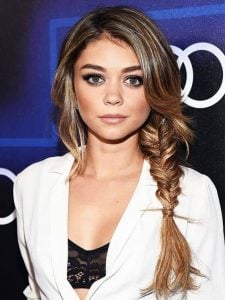 Pinterest – Byrdie
The fishtail braid is an evergreen hairstyle that can never go wrong. Also, it is one of the easiest braid hairstyles you can opt for as well. It is simple, cute, and elegant at the same time. Moreover, it is best in summers because your hair will be packed in a beautiful way that one cannot get their eyes off them. So get ready to inculcate a fishtail into your go-to hairstyle.
Steps to fishtail braid
Begin this hairstyle by combing your hair finely and making a side ponytail on either side.
Again brush the ponytail to eliminate any tangles
Now divide your ponytail into two equal sections
Take a small section of the hair from the outside of one of the two sections
The section should be about the diameter of a pencil
Cross this small section to the opposite side and incorporate it there.
Now take a small section from the other half
Repeat the above two steps for the opposite side
Keep on braiding until you reach at the bottom of your hair
Secure the braid with an elastic rubber band
11. Chinese staircase braid ponytail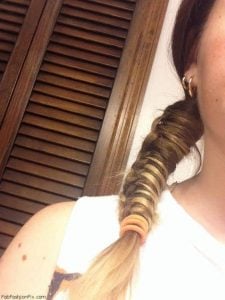 Pinterest – Fab Fashion Fix
Chinese staircase braid ponytail is relevantly new and looks amazingly elegant once done. If you are looking to experiment with your ponytail this summer, I guess this Chinese braid ponytail is a great start. Moreover, by incorporating this summer hairstyle, you'll stand apart from the crowd and make some heads turn. So let's begin.
Steps  to Chinese staircase braid ponytail:
Firstly gather your hair on one side
If you want to add volume, start backcombing and put on some hair spray for the same
When you are done with the volume, comb your hair from the surface
Now take a little section of hair closest to your face and tie the rest of your ponytail with a rubber band.
So now use the first strand that you separated to start the first knot
To create a Chinese staircase knot, you have to make a right to left knot
Hence place that strand across your ponytail and pull it through on the other side.
Now add some hair from the ponytail to the main strand
Place that strand across your ponytail and pull it through on the other side
Push the knot up to hide the gap
Now repeat the steps above given like take the strand from the pony and add it to the main strand and make a knot
You can repeat it until you reach the bottom or else you can leave it halfway.
12. Headband braid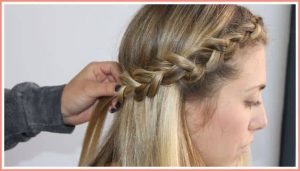 Pinterest – Poise & Purpose
If you love tiaras and headbands, then this hairstyle is for you. It is one of the easiest summer hairstyles for medium and long hair you can opt for. Also, it looks incredibly pretty.
Steps
Firstly comb your hair to remove any knots.
Now, pick up a section of your hair behind your ear
Split that section into three parts and create a braid out of it
Once you are done with the section, hold the end, and stretch out the sides.
Now, place the braid across your hair and pin the end behind the right ear.
13. French-Braid Tie back hairstyle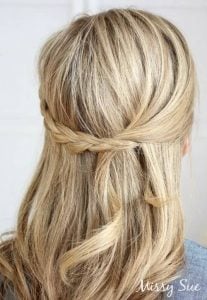 Pinterest – missy sue
French Braid tie back hairstyle is one of the prettiest hairstyles you'll ever encounter. It makes you look incredibly beautiful with minimal effort. So here we are with its steps so that you can embrace the beauty of it.
Steps to french braid
Take a chunk of your hair on the heavy side of the part and divide it into three sections.
Start a french braid in hair from both the sides
Continue French braiding until you reach the inch above an ear and then continue in a regular braid.
Wrap the braid across the back of the head and secure it with a bobby pin
Now take a section of hair on the right side of the head
Wrap the strand over the braid and tuck it down through the braid.
14. Short hair braid style (Double bang braid for short hair)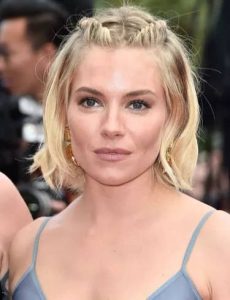 Pinterest – Allure
So whether you are heading out for lunch or dinner, these braided bangs make you look super elegant and a head-turner. They are super easy to implement even if you are braid-challenged just like me.
Steps to double bang braid
Firstly create a large center section at top of your head
Part that section into the middle to create two center sections
Now start creating one twist on each section, leaving the ends loose
Secure the twist with an elastic rubber band or a hairclip.
15. Side braid for short hair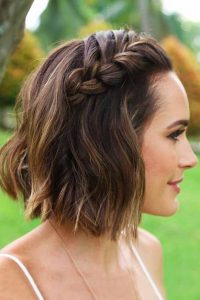 Pinterest – Love Hairstyles | Tutorials & Ideas
Having short hair during summer is one of the best things. But when it comes to hairstyle, we often get confused and end up opening our hair. But not any more ladies. We bring to you ane exceptional side braid for short hair that would look great on short hair.
Steps to side braid
To make this hairstyle extraordinary, start with loose wave hair. Either do loose waves on your hair or don't wash them for a day or two.
Now comb your hair over the deep side part
Take a bobby pin and clip back your hair leaving a small section in the front
Now take that small part and divide it into three parts
Start the process of french braiding it back
Keep braiding down until you can
Secure your braid and place it to the spot you want it to sit on your head
5 Wavy Hairstyle For Summer
Waves have become a rage among women and there is no looking back on this trend. Moreover, anyone can rock this trend if they have naturally wavy hair. And even if you don't, you can use a curler or iron machine and a hair product, you are just minutes away from this contemporary chic look.
16. Curly hairstyle for round face: Big curly bun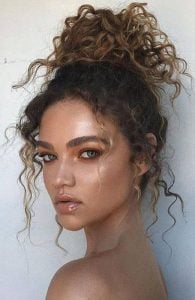 Pinterest – Great Lengths Canada
If you are blessed with a round face and curly hair, congratulations, you are lucky. Although, people find it hard to tame and style curly hair, especially in summer. But not anymore. You can never go wrong with a big curly bun that accentuates your round face as well as your curls. This hairstyle needs minimum effort and time. Also, it consequently makes you look stylish.
Steps to big curly bun
Grab your hair to make a ponytail and flip it over to your front
Now gather the strands to make a bun
Wrap your hair with an elastic leaving the ends out
Now start pinning the strands you don't want hanging at the back of your bun.
17. Hairstyle for long wavy hair: The scarf pineapple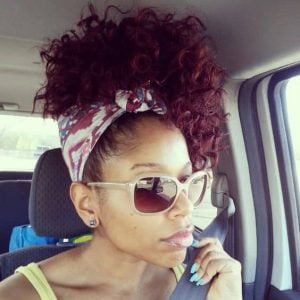 Pinterest – Mo knows Hair
The scarf pineapple is the new hairstyle in town that is making news around the world. Its super easy and great for summer as the hair is all packed up with a scarf. So no more hair touching at the back of your neck.
Steps to the scarf pineapple hairstyle
Tie a high ponytail at the crown of your head using an elastic rubber band
You'll see your curls falling all over the place
Now take a scarf and tie it at the top of your head, near the base of the ponytail
Take the loose ends of the scarf and tie them at the back while keeping the knot beneath the scarf
Let your hair fall all over the scarf
18. Medium curly hairstyle: Side part curls with hair accessory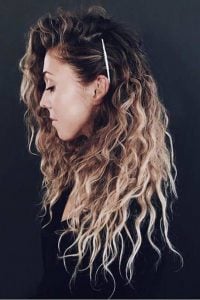 Pinterest – Southern Living
Curly hair has a different charm altogether. They look funky, playful, and charming. Coming to the side part hairstyle, it is one of the easiest hairstyles you can opt for. Moreover, the side part suits almost all face shapes. Plus it can be done on any texture or length of hair. Now, styling your hair with a bold accessory will elevate your look eventually. Using accessories is also like having fun with your hair.
Steps
Detangle your hair
Make a side part
Use bold accessories like flowers or big pins to your hair
5 Summer Wedding Hairstyle
Finding the perfect hairstyle for brides is a bit of a challenge. From updos to braids to buns, wedding hairstyles come in different hairstyles. So let's see some of the trendy wedding hairstyles brides should consider this season!!!
19. Braided bun hairstyle with a crown braid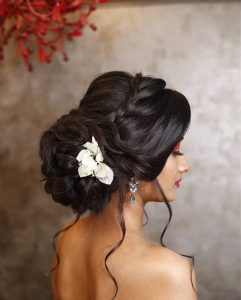 Instagram – Sejal Savaliya
If you are looking for a clean bun with braids, I guess this one's for you. This hairstyle can go with any gown you would be wearing to your reception. It's elegant and classy, and you can even accessorize with a flower matching your gown to elevate the overall look. Besides, this hairstyle suits almost everyone so you can not go wrong with this one.
20. Front bun hairstyle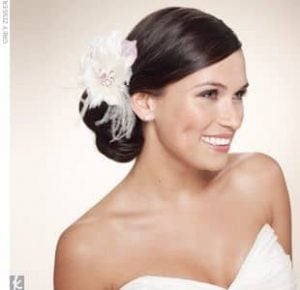 Pinterest – weddingbee
If your outfit is highly embellished and you want to go easy with your hairstyle, then a side fringe with a bun is perfect for you. It looks minimal, effortless, and classy in its way. Moreover, you can always accessorize it with flowers contrasting or matching your outfit or a big embellished hairpin.
21. Classic wrapped bun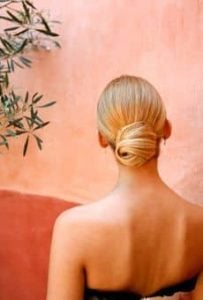 Pinterest – brides
The wrapped bun is a timeless hairstyle that can never go out of fashion. It's sleek, flawless, and effortless. You can rock this bun at the after-party or in reception when your outfit and makeup are over the top.
22. Multiple french-braid buns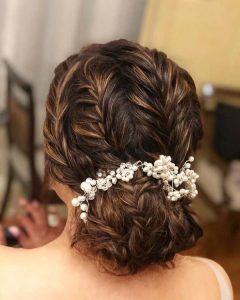 Pinterest – Venu Look : Venues, Event Party platform
This mesmerizing multiple french braids merged together to make a luscious bun is simply jaw-dropping. Besides, accessorized by a cute pearl bun accessory is simply top-notch.
23. Shiny waves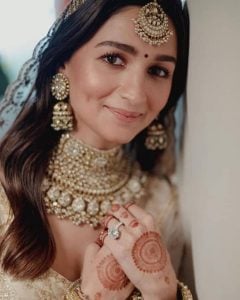 Instagram – Alia Bhatt
Shiny waves accessorized by a hair accessory is a contemporary hairstyle that is in trend these days and is followed by celebrities like Alia. It looks minimalistic, simple, yet elegant to catch enough eyeballs. A perfect example was Alia's wedding look that garnered a lot of praise.