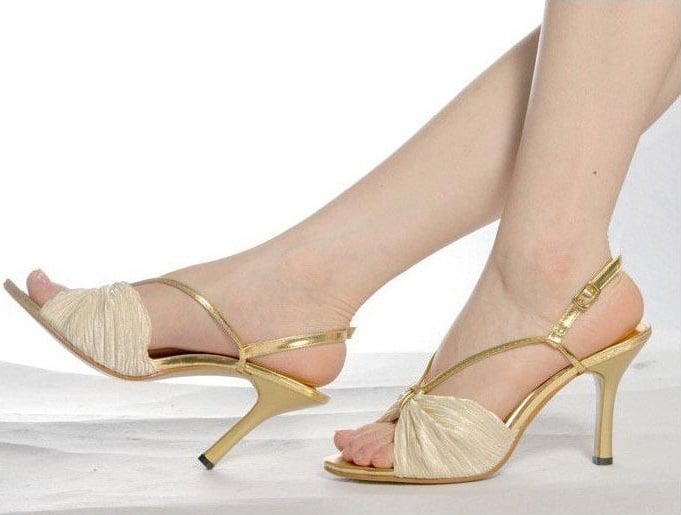 They say shoes say a lot about your personality and this is one of the style commandments we, at Fashionlady widely preach. While picking an appropriate pair of shoes is important, it's also necessary to go with the season.
When we have outfits as per the season, why can't we have shoes? While the wardrobes of the fashionista keep changing as per the season, let's take this initiative for every woman's wardrobe.
This summer, let's pick the right sandals and for this, we offer you summer's 6 hottest sandals that can instantly bring you under spotlight. Do have a look!
#1 The Floral Summer Sandal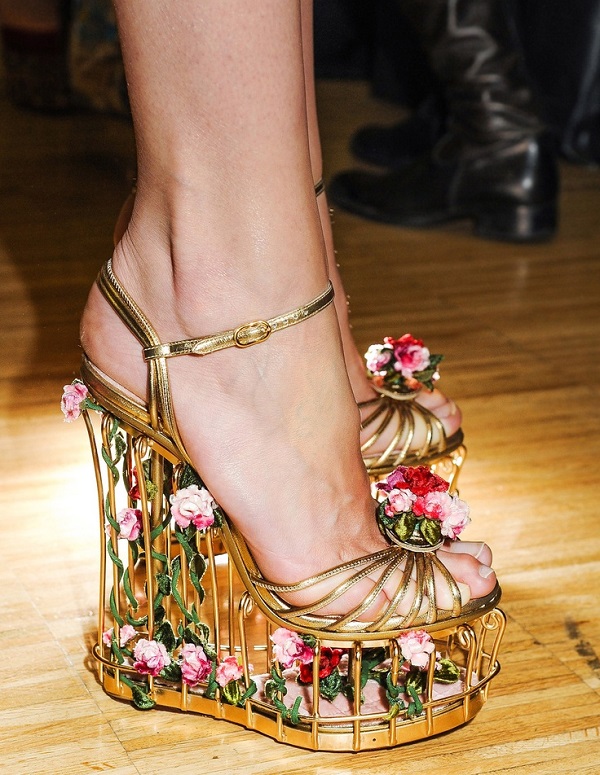 Spring may not actually exist in our Indian calendar, but we see floral everywhere. As West have their spring soon after their freezing winter; India feels spring through floral motifs. While you are going through the unconvincing hottest days of the year, try out some floral fashion to jazz up your mood.
You can easily find an array of designs in floral sandals in all styles from platform heels and kitten heels to flats and even pumps. You can pair your cute pair of sandals with a matching floral crop top or a lovely maxi dress with floral print, whatever that goes with your summer sandals. These days floral prints are back with a bang, especially after Dolce and Gabbana promoted it largely in their fashion shows.
[Also Read: How To Wear Gladiator Sandals]
You can even show up your creative side by going for an embellished pair of floral flats or you can also give an edge to your look by opting for the classy pair of Dolce & Gabbana floral cage wedges.
These wedges had instantly gone viral as soon as they were showcased in Milan Fall Winter 2013.
Go try for them and add some nature to your style statement.
#2 Gladiator Sandals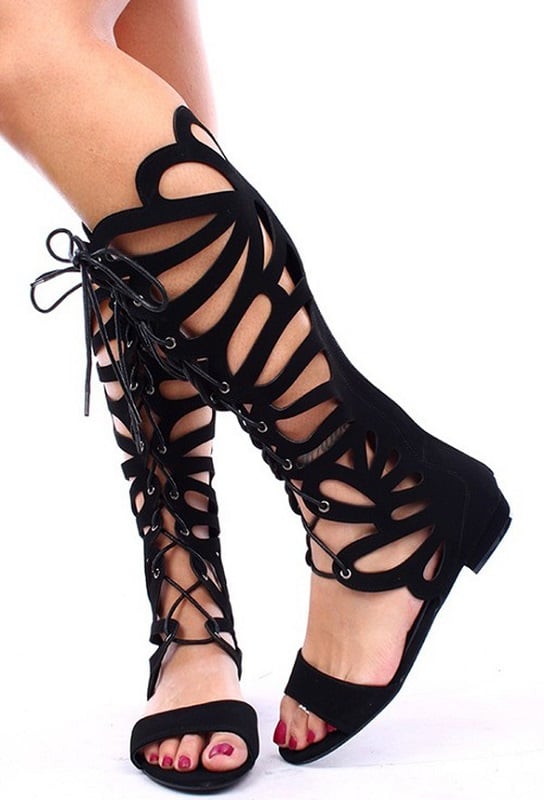 If all roads lead to Rome, then all summer shoe trends lead to the gladiator sandal
It seems apart from the spring elements, the summer sandals 2014 are induced with some classic Roman elements, from Zara's casual-golden take on the low silhouette and Stuart Weitzman's tall, studded version, to Jimmy Choo's warrior-ready stilettos.
[sc:mediad]
These highly stylish shoes are incredibly detailed and can look absolutely amazing on any body type. Whether you pick a pair of simple flat sandals with a couple of straps or prefer the outrageous gladiator that ends right below your knee, you're sure to look like a rockstar the entire evening.
#3 Chunky Heels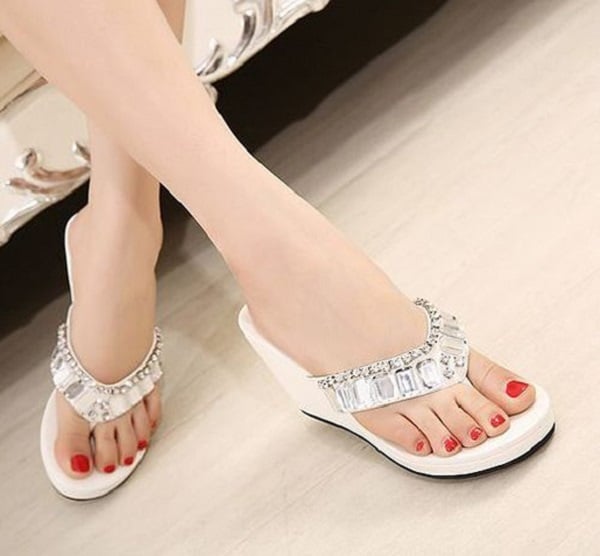 If you are much into the 'shoe thing' then you would probably know the chunky sandals were shown backdoors a few years ago, until they have returned with a bang this year.
These sandals are reputed to be extremely comfortable in every shape and form. Besides, they are cute and are now listed among the hottest summer sandals of 2014.
[Also Read: Lace up Sandals]
The design is so versatile that they can go with any outfit effortlessly.
Some of these are also available with embellishments to add some glamor to the overall look.
#4 Embellished Sandals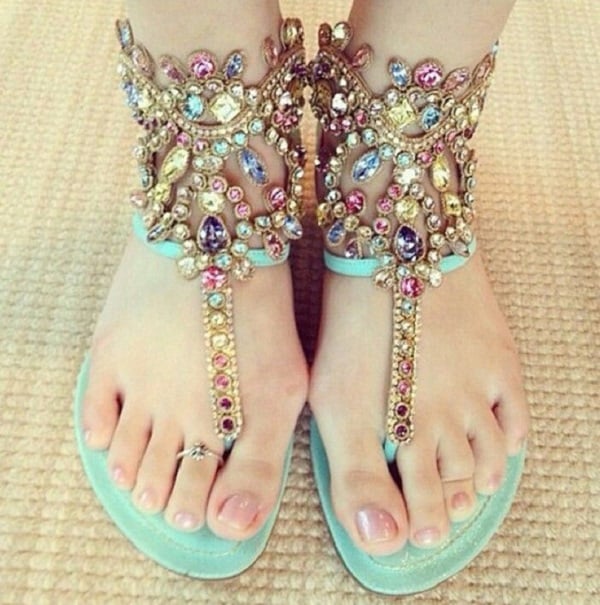 Have you ever dreamed of diamonds at your feet? Apparently, you can make your dream come true as summer 2014 offers you an array of embellished sandals, encrusted with vibrant crystals and sequin work.
With detailing of jewels all over the strap, these sandals are truly attention grabbing, give you a luxe feel whether you are attending a party or just relaxing at the beach.
[Also Read: Gladiator Style Sandals]
#5 Birkenstock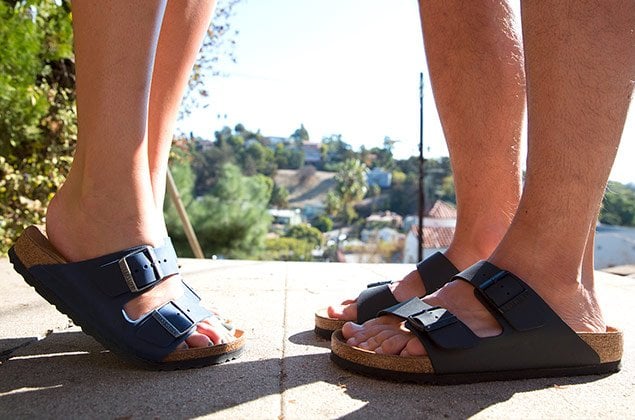 Believe it or not, the Birkenstock sandals are among the top 5 summer sandals of 2014. If you love the rugged look then you'll like these sandals. As celebs are now seen flaunting this sandal, it has indeed been upgraded to the luxe category of shoes. And if you're looking for style + comfort then this is again the ultimate option.
#6 Ankle Straps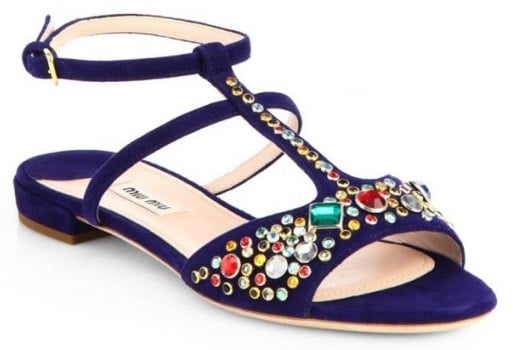 Ankle straps are a hit among the students and women in 30's at large. The design is so versatile, it is available in all styles from flats and chunky sandals to even the above mentioned Birkenstock.
Whatever you choose, you'll be sporting one of the most tantalizing and sensational trends for summer 2014.While it is a must-have in wardrobe of tall women, even petite ladies long for it because of its rich design.
[Also Read: Barefoot Sandals]
No matter whether you are picking the floral print or the embellished version, you are for sure going with the summer trend.
Happy shopping!!