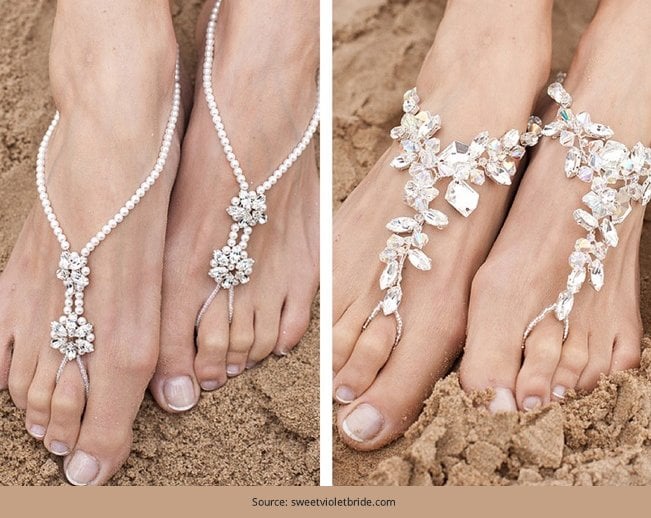 Extremely dainty and incredibly beautiful, barefoot sandals are an interesting addition to your feet. They are perfect for a walk in the beach or for a festive occasion. Barefoot sandals, which can also be called anklets or foot thongs are becoming increasingly popular in beach weddings, where the bride and the bridesmaid flaunt intricately made ones.
What are Barefoot Sandals?
The barefoot sandals are basically adornment for your feet. Instead of wearing anklets that go around your ankle, you can wear barefoot sandals that connect from your second toe to your ankle. While anklets are pretty, barefoot sandals are a little more captivating as they are more visually arresting.
[Also Read: How To Wear Gladiator Sandals]
Barefoot Sandals for Parties
You can wear them alone or you can even wear them with your favourite pair of heels. They jazz up your feet, instantly hiking up your trend quotient. You can make a pair with sparkly crystals and beads and wear them when you go out partying. How cool would that be?
Barefoot Sandals for Babies
If you're having a baby or know someone who's having a baby, you can make them a pair of cute crocheted barefoot sandals.
Check these out; have you seen anything as adorable as these tiny feet wearing barefoot sandals?
Barefoot sandals for Wedding and Festive Occasions
[sc:mediad]
There are different styles that you can make to suit the occasion. If it's for a wedding or a festive occasion, you can make a pair with gold beads and strings to add some much needed bling to your look.
Barefoot Sandals for the Beach
If you're going to the beach, then how about a pair of barefoot sandals made out of seashells?
There is no right or wrong way to go about it. Depending on your preference, you can make sandals any which way you want. You can go rustic, using shells and feathers or you can keep it simple and elegant with pearls and crystals.
[Also Read: Lace up Sandals]
The best part is that you can get really creative, using even your broken earrings or other accessories to make your barefoot sandals, thereby giving them a new lease of life. And you can make them work with both Indian and western attire.
There are also heavy metal barefoot sandals that have a very gypsy feel to them. If you are a free-spirited soul who likes to do new things and isn't afraid to go over-the-top, then these are for you.
How to make Barefoot Sandals?
You don't even have to buy these; you can just make them yourself. They are quite easy to make. Here's a tutorial on how to make your own pair of barefoot sandals. Once you know the basics of it, you can really go for it and get super creative with it.
Now that you know how simple they are to make, you can try them out this weekend. Invite your friends over and sit together and DIY. It'll be a lot of fun and you'll end up with pretty little trinkets that you made yourself. You can each personalize your pair with something that signifies you, like your sun sign or your favourite movie character. You can even add dream catchers or other such knick knacks to make your sandals ethereal and intriguing.
Just ensure your feet are manicured and well maintained as people will be eying your feet all the time. So paint your nails, wear your sandals and get out there and dazzle the world.