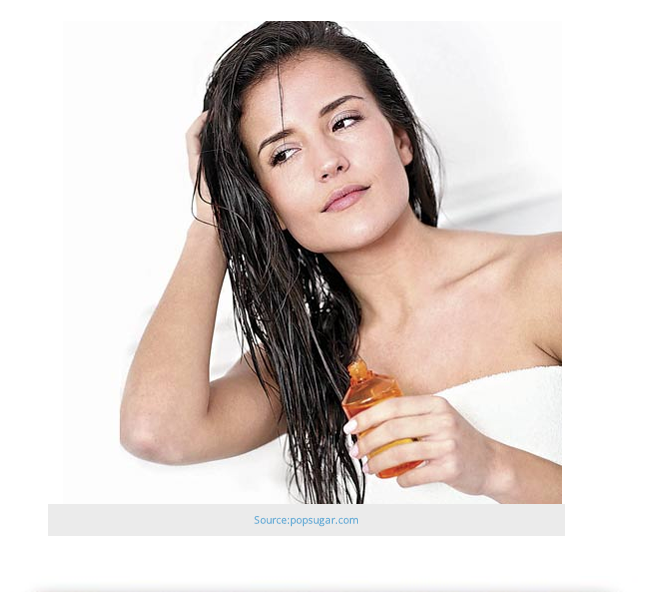 Oiling your hair is the best way to keep them healthy. Due to the external environment and pollution, our hair gets frizzy and damaged, resulting to hair loss, dandruff and scalp infections.
The beauty industry had not left any stone unturned in promoting various hair care products, targeting to all types hair problems. You have specific shampoos for dry hair, anti-dandruff shampoo, shampoos for oily hair, conditioners to deal with curly hair, after shampoo serum and what not. But, did we ever get the desired results? The answer is no. We end up spending thousands of bucks on hair care products, yet we aren't satisfied with the results and there is no end to the hair problems. We fail to understand that these chemical oriented products are not the only solution.
Our body needs to be cleansed properly to throw the toxins out. That is the first step to achieve healthy skin and hair. Secondly, we need to provide the body with ample amount of vitamins and nutrition. The most important thing is to stay hydrated i.e. the liquid intake should be higher to deal with all the body and hair related problems. Once these are attained, one needs to focus on the external care, such as cleaning the scalp properly, oiling, shampooing and conditioning the hair. One should avoid the usage of chemicals or atleast minimize the usage.
The following are some of the homemade hair oils which will guarantee you the results if used regularly:
1. Coconut Oil and Curry Leaves:
Yes, I am talking about the curry leaves which are an essential ingredient in most of the Indian dishes. It is just not a tasty spice, but also a miracle medicine for hair growth.
Method: Boil some coconut oil with fresh curry leaves. Let it boil till the green leaves starts turning brownish and a black residue is formed. Let it cool, stir it and store it in a glass bottle. Apply the oil on your scalp as well as the hair. Keep it for an hour or so and then wash it with mild shampoo. Follow this procedure twice a week and see the results gradually. It will help you to deal with grey hair and also hair loss. Hair growth can also be gradually noticed.
2. Castor Oil:
It is one of the best treatments for hair growth, right from your eyebrows to the eye lashes. The oil is greasy in nature; hence it has to be mixed with other oils or products to get it into liquid form.
Method: If you are comfortable with the application of only castor oil, you can just start massaging it in your scalp, cover it with a shower cap and leave it overnight. You can add drops of almond oil or olive oil, if you dislike the greasiness. Wash it the next morning with a mild shampoo. Apply it twice a week to see the results.
3. Coconut Oil with Avocado:
Method: Apply warm coconut oil to your scalp and hair. Let the warmth of the oil be absorbed by the hair roots. Mash up an avocado or blend it to a smooth paste. The consistency has to be set right so that rinsing becomes easier. Massage your hair tips with the paste and let it stay for 10-15 minutes. Rinse it with cold water and then wash it with a mild shampoo. The coconut and avocado mixture adds volume to your hair if it's dry. It also gets rid of flaking and dandruff, and it keeps your hair safe from the sun damage. Apply it twice a month to notice the change. Ensure that the avocado paste is completely removed from the hair while rinsing.
[sc:mediad]
4. Almond Oil:
Hair Care is incomplete without mentioning about Almond oil. Almond oil is rich with fatty acids, which helps in hair softening, strengthening and hair growth. It nourishes your hair.
Method: Take few drops of pure almond oil and massage the scalp and hair roots with your finger tips. Allow it to reside for an hour or so and wash it with a mild shampoo. Apply it thrice a week for best results.
5. Coconut Oil and lemon Juice:
Method: Heat the coconut oil on a stove or burner. Do not microwave it as it will result in loss of nutrients. Mix one part lemon juice with two parts coconut oil and massage it into your scalp. Leave it overnight and wash with cold water in the morning. This can be the best shampoo for dandruff treatment. Apply it twice a week for best results. Lemon has citric acid which also cleanses the scalp. It also helps in dealing with dandruff and itchiness. The coconut oil will moisturize your hair and will provide the necessary nourishment to the dry hair.
6. Olive Oil and Honey:
Olive oil and honey needs no introduction in hair care regimes.
Method: Pour about 5 teaspoons of olive oil into a small bowl. Add few drops of honey to it, whisk constantly and continue to add honey until the consistency of the mask is smooth and manageable. Massage the mask into damp hair. Cover it using a shower cap or a plastic bag so that the heat is retained. Let the oil be settled for 2 hours or so. Rinse it thoroughly and wash it with a mild shampoo. Apply twice a week.
7. Egg Yolk and Olive Oil:
Egg Yolk is rich in proteins, vitamins, and super-nurturing fatty acids which help in making hair softer, shinier and healthier. Olive Oil is ideal for any dry and damaged hair.
Method: Mix 2 egg yolks with 2 tablespoons of olive oil then dilute the mixture with about half a cup of water. Massage this oil into your scalp. Do not massage rigorously as it will lead to hair breakage. Allow it to reside on your tresses for 20 minutes and rinse it out with cold water. Shampoo if required. Repeat this procedure once in a month.
8. Coconut Oil and Hibiscus:
Method: Take some hibiscus petals and crush them. Add this with little coconut oil and boil them together. Cool it down. Use the oil to massage your scalp. Wrap your hair with a hotel towel and leave it for 20 minutes. Rinse it off with lukewarm water and shampoo it. Hibiscus will leave your hair soft and silky. It also helps in fighting with hair fall.
Do not expect miracles to happen immediately. The home made oils will take time to give you the desired results. Have enough patience before you start with any of the above treatments.
Follow these simple tips on how to oil your hair the right way:
1. Try using lukewarm oil as much as possible. Do not get lazy and ignore this ritual of heating your oil slightly. Like I mentioned earlier, avoid heating the oil in the microwave.
2. Avoid using a cotton ball to apply oil on the hair. Use your fingertips by dipping them in the lukewarm oil and applying the oil all over your scalp by dividing your hair into small portions.
3. Gently massage your hair for at least 10-15 minutes while applying oil.
4. DO NOT pour oil over your head. Use only as much as required. Too much oil will require too much shampoo leaving your very hair dry and fizzy.
5. Avoid rubbing your hair between the palms of your hands. This can cause breakage on medium or long length hair.
6. Once you have applied the oil, wrap a warm towel over your head to help the oil seep and get absorbed into the hair.
7. Let the hair sit on your hair and allow it to do its magic trick for a minimum of 12 hours but not more than 24 hours.
8. If you have oily hair, then oil your hair not more than once a week. But in case of dry hair, prefer oiling your hair at least twice.
9. For dry hair, please make sure you use a mild shampoo. Heavy chemical based shampoos may damage your hair.
Not only for hair oils and shampoos, remember that most beauty products have harmful chemicals in them. So be aware of these chemicals and stay away from these chemicals.
Hope you found this post useful.