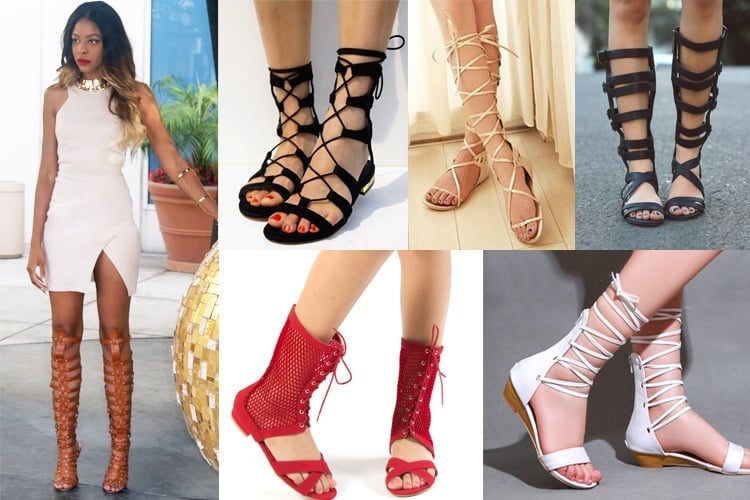 Keep those pumps, the slingbacks and the peep-toed heels safely tucked and inside the wardrobe, while the summer months and the lashing monsoons play truant! You really don't want these precious babies to suffer at the hands of the elements around which is why, smart footwear for the feet to take you places should be the aim. We aren't talking about the boring flip-flops, pfffft! Think fashion once again, and as PYTs making the world their fashionable oysters, you need to step out in style.
Here are a few hot pairs of gladiators; you wouldn't want to give a miss!
We are talking about lace-up gladiators and footwears, so versatile, chic and trendy, cooling to the feet and a pair that makes you look like a Greek Goddess too, step up and step out in style.
Nicholas Kirkwood for Erdem
Hot and in black with a twist and chic touch of its own, the Nicholas Kirkwood for Erdem gladiator lace-up trendy footwear is an eyeball grabber for sure. Walk out in style, rule the world and flaunt those legs in a short skirt or hot pants; we'd leave that dolling up sense to you!
Boho Street Style Inspired Gladiator Shoes
Fall in love with this look, or create your own on the same lines if you please. A style so chic and brought to you by designer Johnny Was with a tan suede mini vintage little dress for the Fall months ahead, and those hot gladiator lace-up shoes!
Thong Tie Gladiator Sandals
Metallic black, haute and hot! For the evening out with friends or a coffee date, wear these precious babies in metallic black tones and woo the world around. Get ready for the compliments, because you deserve them best!
[Also Read: Barefoot Sandals]
The Gladiator of Love Sandals
With a short tunic skirt and plenty of attitude, wear the Gladiator Of Love Sandals in brown or caramels and walk onto the roads with total oomph and aplomb. Quite the Lolita soiree with the look so complete, we say!
Berry Queen in Gold Gladiator Sandals
A touch of royalty for the feet of her majesty, that's you! Get treated with the emotions that befit a queen, wearing the Berry Queen lace up gladiators in gold for the party tonight. The best part is, you could wear it with a saree, a lehenga, anarkalis or a cocktail dress, and the heads would turn for sure!
[Also read: Look Stunning in Gladiators]
Kori Lace-up Leather Gladiator Sandals
Ancient and epic, the Kori Lace-up Leather Gladiator Sandals are classy and chic to wear and flaunt. Whatever the occasion might be, you can wear these leather precious cut-outs in black and shiny buckles, for that added sensual appeal!
Taupe Open Toe Lace Up Mid-Calf Gladiator Low Heel
If the world hates you for flaunting your uber-sexy fashion sense, give them another reason to do that more. Wear the Taupe Open Toe Lace Up Mid-Calf Gladiator Low Heel sandals at the party you have been invited tonight, with a cocktail dress or an Indian ensemble, and give the envy eyes another reason to BURN!
[Also Read: Monsoon Footwear Trends]
Delicious MELO / Breckelle's SOLO-15 Butterfly Lace Up Knee High Gladiator Footwear
Quite a dish to the footwear fetish we have, isn't it? Well here's another juicy ribbed serving to dish out, stepping into the Delicious MELO / Breckelle's SOLO-15 Butterfly Lace Up Knee High Gladiators, would make the accolades come through and in abundance that too!
[sc:mediad]
Summer Lace Up Knee High Boots Gladiator Thong Sandals
Genuine leather and knee-high gladiator thong sandals to put your best foot forward today! For the woman who believes in smart casuals on a happy Friday at work, she can wear these nasty babies with anything she desires!
The Naughty Nurse Look – White Gladiator Shoes
Need we say more? Wear them with hot pants, boyfriend shorts or ankle pants for the evening out to the movies, and all eyes wouldn't be on the screen, but on your feet!
Grab them one or grab them all. We cannot but help want to have a pair of each till the winter months come by!