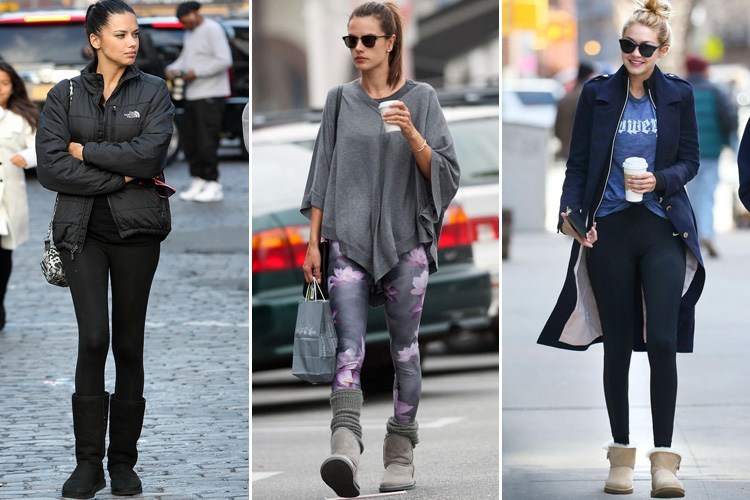 For those who are a trifle confused about uggs, they are basically boots made of sheep skin which are extremely warm and cozy to wear in winter. It even keeps the moisture away! Though they have been trendy and remained in style for over a decade, they were mostly for street fashion and predominantly clubbed with jeans. However, today, these clunky boots, oozing a lounged, comfy vibe, have found new pairing with leggings. What more, it has reached formal occasions with celebrities wearing ugg boots in different stylish reincarnations.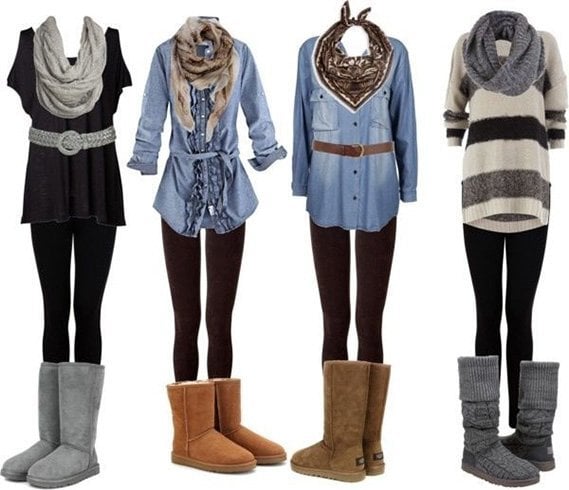 How to wear uggs like the celebrities
[Also Read: How To Wear Cowgirl Boots]
Let's draw some great stylish ideas of adorning ugg boots with leggings straight from our glamorous celebrities.
Adriana Lima
Check out Adriana Lima sporting the all black ensemble, looking super comfy and all stylish. With a simple slim black legging, the puffy jacket provided the perfect contrast to create a harmonious silhouette. A simple black ponytail, red bordered sunglasses and a matching sling complete the super comfy casual street look with clunky black ugg boots. The perfect casual way to wear boots with leggings! Be careful least it transcends to your everyday style. This style is definitely the one with a tall and slim silhouette.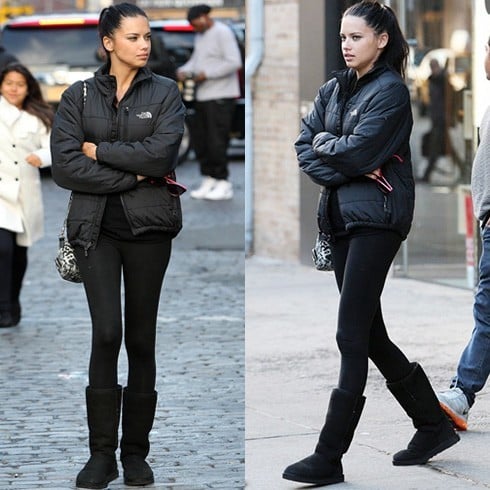 Ashley Greene
By now, you know oversized tops and leggings make a terrific pair. Those of you wanting to add a bit of glamour, go the Ashley Greene way and complete the outfit with an ugg matching with your leggings and its front artistically adorned with non-glittery bling bling. In a grey oversized top, black leggings and black blinged uggs, Ashley shows the perfect style of a celebrity wearing ugg boots while on a shopping spree-never mind if it's nothing more than a grocery shopping!
[Also Read: How To Wear Patterned Leggings]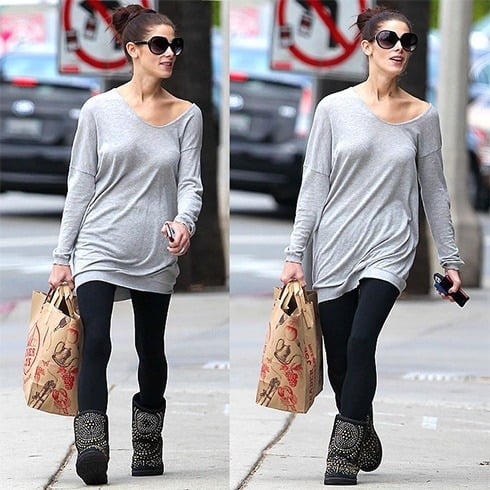 Jessica Alba
Plaid shirts are an eternal style statement and lend a complete look to any leggings with boot outfits. To beat the chill, throw in a leather hoodie and a scarf. Not only is one ready for any casual occasion but is also completely assured of staying snug and warm. Check out Jessica Alba in the picture getting the temperature soaring and the men-folk perspiring with her simple yet chic and stylish look. The outfit can easily be bracketed in the classic leggings with boots outfits.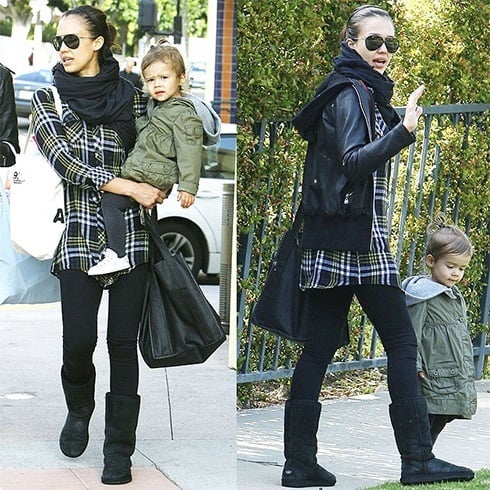 [Also Read: How to Pair High-Heeled Ankle Boots with Dresses]
Blake Lively
Blake Lively is definitely amongst those celebrities wearing boots and leggings whose innate sense of color harmony and blending can lead to a visual treat for all. Brown and black is considered a very tricky combination but Blake showed just how easy it can be. Throwing a grey long coat over black leggings with brown furry uggs, shriek a cool elegance. Predominantly, white with black traces knit long scarf wound around the neck not only lends the perfect color balance to the outfit but showcase a perfect harmonious balance of not-so-loud colors.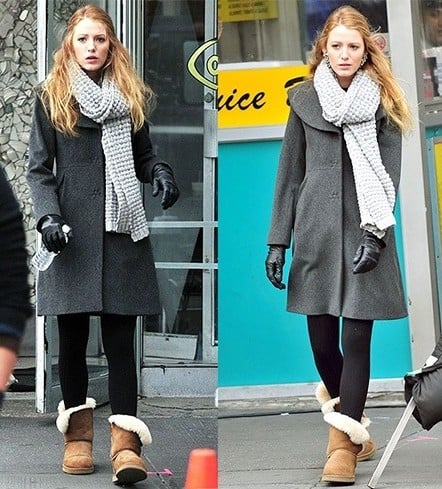 Kelly Brook
The picture shows Kelly brook not only getting the right color combination but also creating the right mix and harmony of various textured knits. Adorning a stylish coat over a dress and a knit long scarf wound round the neck oozes casual yet stylish demeanor. Kelly's loose top silhouette is balanced with the skin fitting black leggings. To lend a complete and flowing and harmonizing balance to tones and textures of black and white, a UGG 'Cardy' grey ugg boots is selected. With right, makeup, messy high bun and a small clutch in hand, we have a sophisticated and chic Kelly showing us the most innovative way of pairing ugg boots with leggings.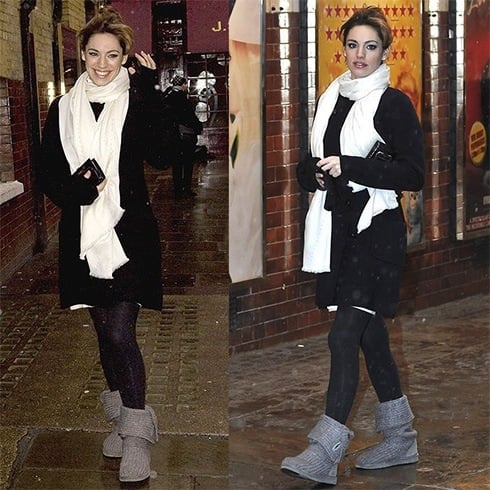 [sc:mediad]
Alessandra Ambrosio
Alessandra shows us how to wear uggs with a printed leggings having fair amount of shine with cool aplomb. In her 80s inspired "groutfit" her grey poncho is matched with shiny grey printed leggings and finished with leg warmers and ugg boots in perfect color co-ordination. Proper accessorization with sunglasses and bags makes it a glamorous outfit for any day party of casual meetings like a lunch date.
[Also Read: Plaid Shirt With Leggings]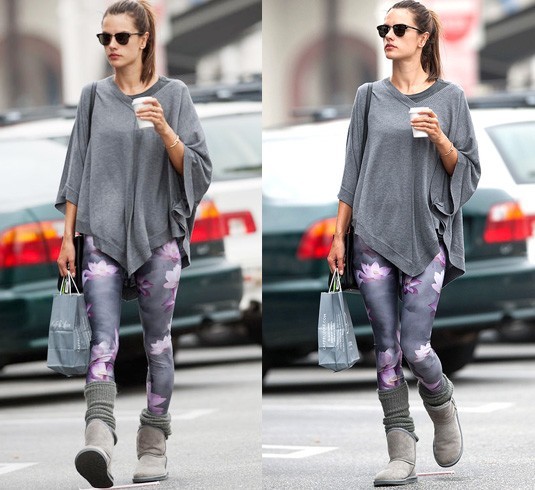 Ashley Tisdale
Ashley's photograph is truly inspirational in drawing tips on how to take a common enough outlook look really expensive and take it up to a whole new level. A stylish T-shirt, knitted legging, snapback cap and of course the uggs are well matched with an oversized designer hand bag. The large sized designer handbag takes this mix and match outfit to a completely different plane and lend it a really expensive look.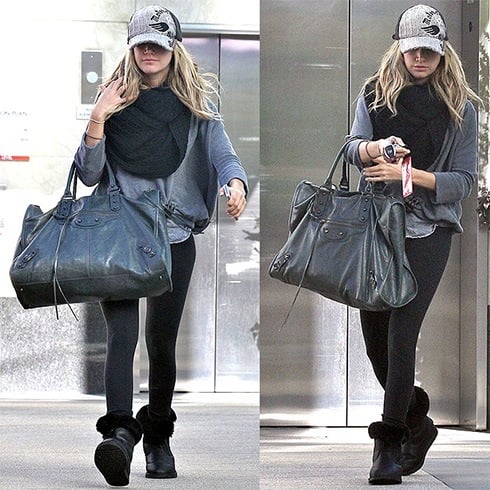 [Also Read: Here's How 30 Women Styled Their Over-The-Knee Boots]
Keeping in mind all ground rules associated with wearing leggings and boots combination, a number of stunning outfits can be assembled to get a classy and elegant look without any compromise in comfort. Have you come up with your own innovative ugg boots with leggings ensemble? Do share with us. In the meantime, do not forget to dress your uggs the celeb way!
Images Source: pinterest.com, yournextshoes.com