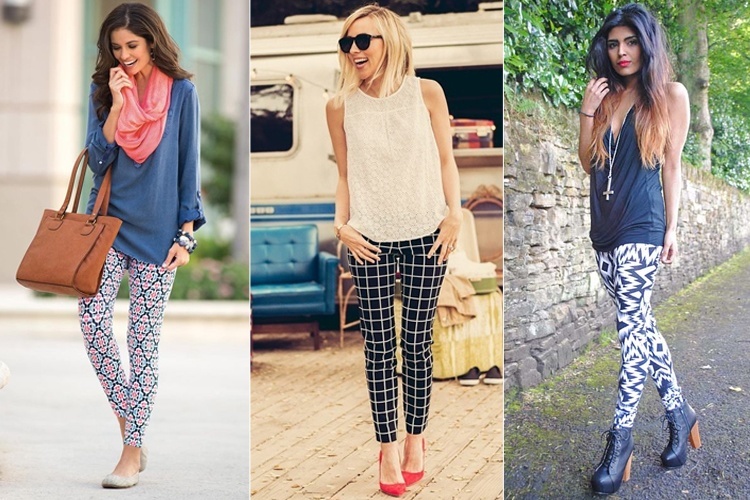 While leggings have been our wardrobe staple and a fashion trend for quite some time, it has hit the runway this season in a new avatar-the patterned leggings! Styling leggings have been challenging by themselves but the patterns have heightened the complexity. It can look seriously out of place if not adorned right! However, with patterned leggings spotted just about everywhere, let's get some tips and tricks up your sleeves on how to wear patterned leggings and pull off a super comfortable fashionable and trendy look. Read on: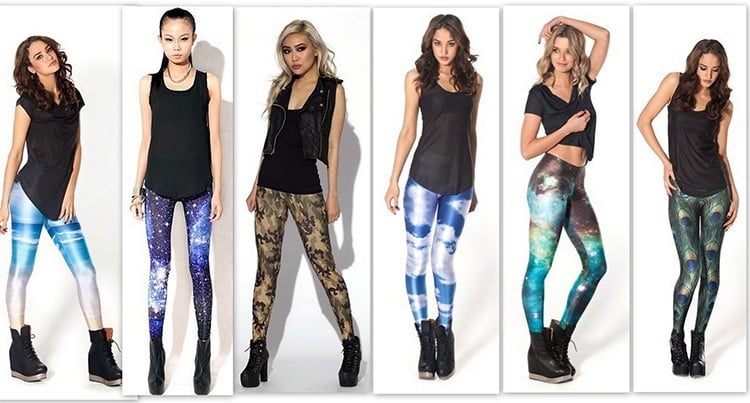 Some tips and tricks for right ways to wear patterned leggings
Patterned leggings if not worn right can look seriously tacky! Even with prints, they are not pants and should still be clubbed with tights. If you are just starting with patterned leggings fashion, try avoiding bold prints and stick to subtle details like polka dots or pin stripes or even very small floral prints till you get the hang of it. Moreover styling horizontal patterns is far trickier than vertical ones. Hence verticals are definitely to go for!
[Also Read: What To Wear With Black Leggings]
Try giving your legs extra height with heels or wedges. Ditch the flat ankle boots which may give a stumpy vibe!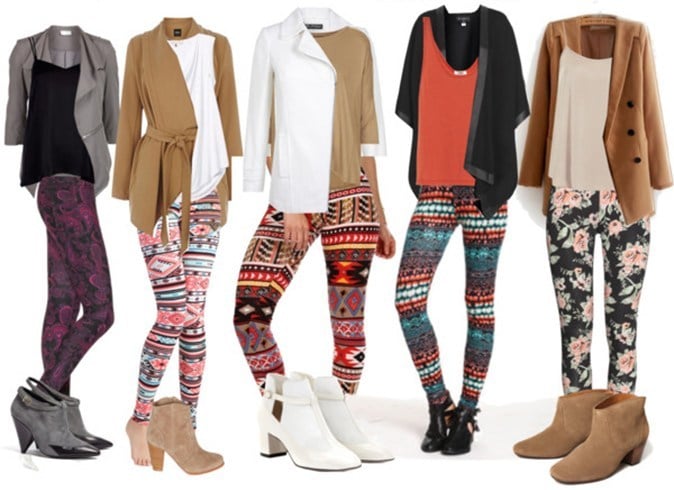 Since the leggings itself has plenty of patterns, the right way to wear leggings is to pair them off tops and shirts of solid colors and slimming silhouettes with feminine details that actually complement them terrifically and make them as your fashion statement.
[Also Read: How To Wear Booties]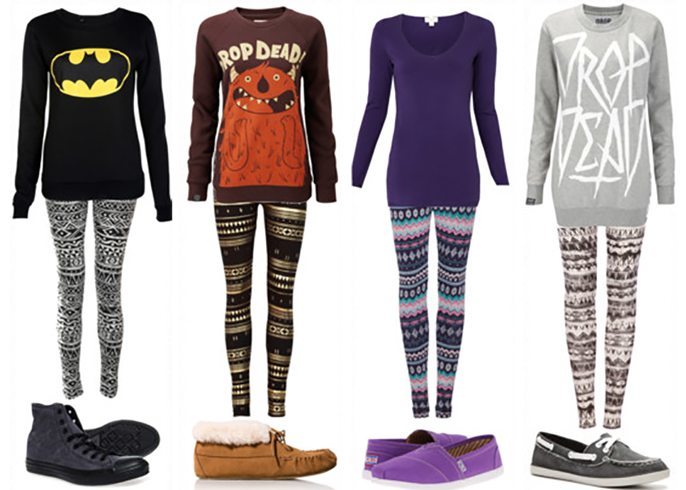 Finally, any outfit can only be pulled off and look swag if you carry it off with the right attitude, confidence and style! How comfortable are you in your outfit will actually inspire people to be bedazzled with your swagger look!
Inspirational Ideas On How To Wear Patterned Leggings
Patterned leggings can be quite a fun and versatile piece to style out varied outfits. Being a style statement in itself, they can look effortlessly cool if you keep it simple and not add too much element to it. This could be distracting and destroy the chic vibe! Let's check out some models and tips for getting the style bang on!
[Also Read: How To Wear Booties]
Tie And Dye Patterned Leggings
The tie and dye patterned leggings outfit look suave and polished without going over the top! Check out Nikki Minaj rocking the black and white patterned leggings with a simple feminine white top and edge added with the black leather bombers! She had pulled of the look effortlessly even with the dramatic pink stilettos. However you can opt for black or white heels for the elegant and classy vibe!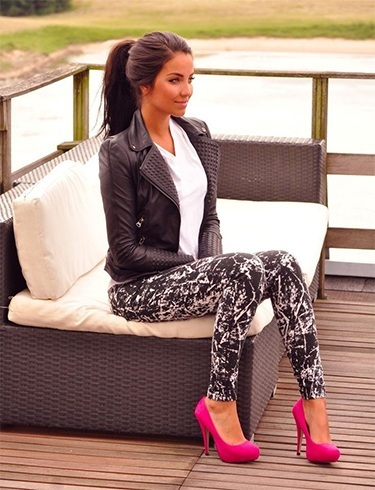 Geometric Patterned Leggings
Geometric patterns look terrific on all females irrespective of their shape, size or age. How revealing you would keep it would depend on your body shape and height! Try opting for base colors as they allow you oodles of styling options!
Gothic geometric leggings with bold black and white geometric prints is 80's inspired and ups your ante effortlessly! Make your style statement with a loose short tee, bangles and stilettos!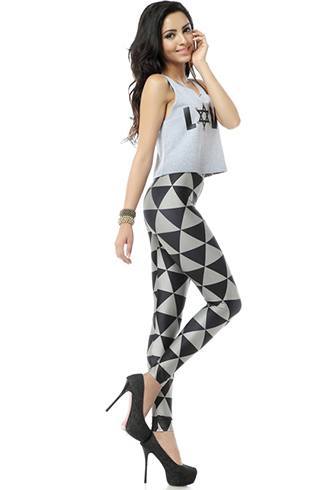 Denim Tops For Perfect Summer Look
Pair off a loose feminine denim top with printed patterned leggings. Throw in a contrasting piece of scarf like the pink scarf, blue bracelet and a matching bag. Even belly shoes look amazing with it!
[sc:mediad]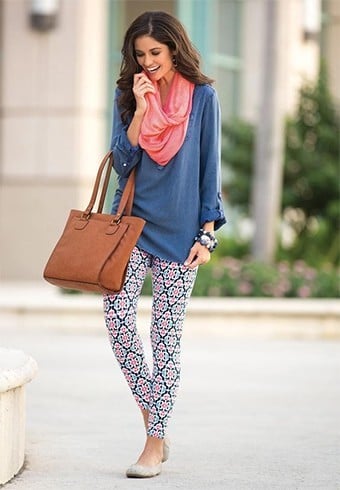 Check Prints Make A Great Statement
Simple checks take your black leggings to a whole new level. Style it with sheer tops or loose lace tops and contrasting color heels. With eyeglasses, the minimalistic look is sensuous and elegant enough for any day outing or even a party!
[Also Read: Tips for Your Leggings]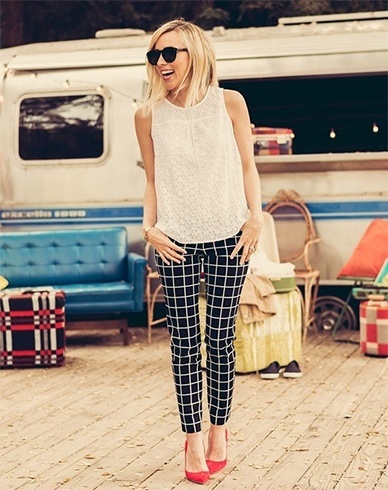 Adorn The Floral Style
With floral patterns becoming the vogue of the season, floral patterned leggings cannot be far away! Ensemble it with varied monochromatic loose tops to look classy and carefree!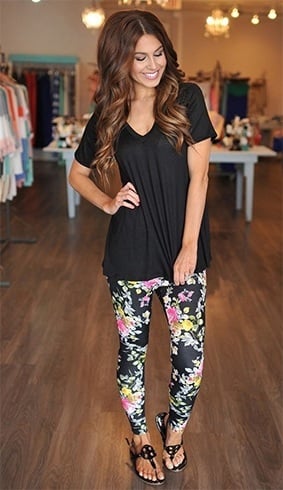 Match your patterned leggings with boots
Boots and leggings are a classic combo. Wear a stylish light color not so loose top which flaunts your curves just right. Match your knee length boot or low cut boots with the patterned leggings and finish off with a statement necklace. Ooze the elegant glamorous vibe perfect for any occasion!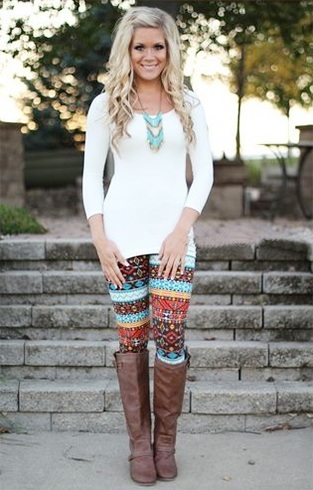 Polka Dots
Polka dots are quite trendy and are almost a fashion staple. Adorn the pattern in your leggings and team it up with stylish tops, tunics and even dresses. Boots, sandals, booties, pumps all look terrific with it. Flaunt your cool fashion sense with polka patterned leggings!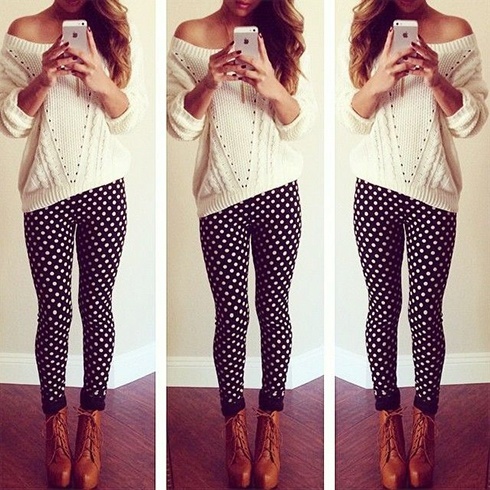 The Tribal Ikat Print
Adorn this print to make a bold statement without looking too busy. Team it up with extra long tees, cardigans, tunics and statement heels for a sophisticated polished vibe!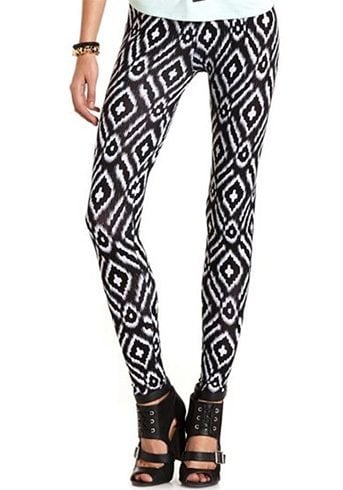 Once you get the knack of how to wear patterned leggings, the sky is the limit with its ensembles and accessorization. Have oodles of fun with it and be confident of always looking terrific! If you have any of your favorite way of adorning it, do share with us in the comments below. We can't wait to hear from you!
Images Source: outfittrends.com, polyvoreimg.com, pinterest.com