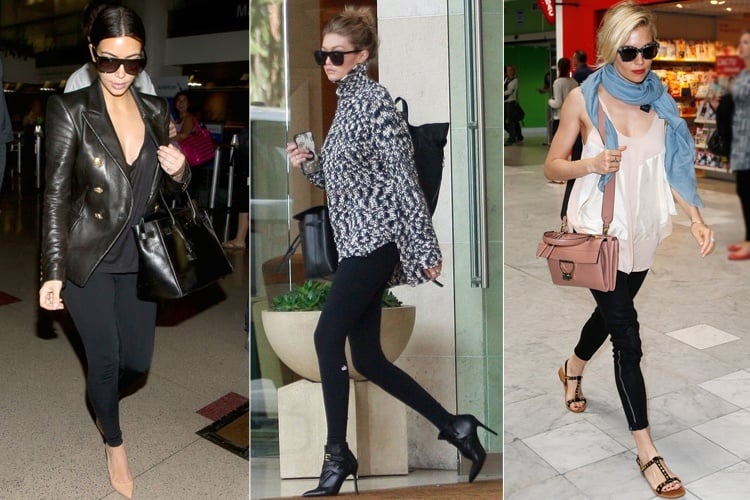 After doing the disappearing act, the black leggings, our comfy cocoon have raged the runaway trends once again. Of course, it brings with itself the same old controversy on when and how to adorn it. Celebs too like us have a weakness black legging. Why not steal some ideas and inspiration from them on what to wear with black leggings to make it look chic, sophisticated and all glam! Stay hooked!
[Also Read: How to Dress up The Boring Leggings]
Celebrities Who Glammed Up The Black Leggings Outfit
The black legging outfit is risky and a single wrong move can break your entire look. Like me, if you too are in the same boat, then let's ride it out together by taking the safest way- learning it from the celebs. Yes, c
Gigi Hadid
If you love to keep it uber-chic yet emit the it-girl vibes, keep it edgy with a monochrome ensemble like Gigi Hadid. Adorn an oversize turtleneck sweater in black and white as a tunic; team it up with your cozy black leggings. Learn it from Gigi and give your ensemble a sophisticated touch with a rectangular sunglass, lace-up ankle boots and a tote! Updo your hair in a messy bun; this is how to pair up leggings in a simple-chic starry manner.
Lily Aldrige
Keep it casual chic Aldrige way! Blend flexibility of the workout wear with comfort quotient of the street-style attire like Lily Aldrige. A cool graphic Mexican woolen coat, when paired with sneakers and aviators lend an effortlessly cool touch to your legging ensemble. A strong inspiration for you to come up with your own ideas on what to wear with black leggings!
[Also Read: How To Wear Patterned Leggings]
Hilary Duff
If you ever doubt that leggings cannot be worn outside, see this celeb-approved way of donning it. Hilary Duff nails the black leggings look with her devil-may-care attitude! Wearing a sheer black sleeveless top, she has broken the monochromatic look with brown ankle-length boots and a smart scarf around her neck. Chunky oxidised earrings, a low messy bun and a bright coloured bag- Whoa! Quite a cool and stylish lady on-the-go! A superb casual and stylish black leggings outfit idea for you to mirror with no difficulty.
[sc:mediad]
Miranda Kerr
Why not flaunt that sexy bare waist with a guise, the Miranda way! Wear your legging with a short tank top in white – the eternal classic color combination. Lend the outfit a statement with oversized coat, comfortable black and white loafers, sunglasses and a knitted scarf. Complete the look with a tidy bun and designer satchel. Looks like the right ways to wear leggings, the London street style! This style lends you both style, comfort as well as makes you weather ready while on the move.
Kendall Jenner
Kendall Jenner shows you the ultimate way to adorn the all-black look! With a dramatic David Koma top that flaunts a fitting arm which then blows off into the exaggerated bell sleeves Kendall looks suave. The sleeves not only lend a soft feminine touch to the outfit but also manage to subtly draw the attention away from the leggings. Accessorize it with matching shoes, bags and of course sunglasses! A stylish and sexy look for you to carry through the day!
[Also Read: Sweaters To Wear With Leggings]
Blake Lively
Blake lively, the trendsetter is just perfect to show you how to wear leggings under a dress. Pairing black leggings with black jacket, she has stylishly broken the monochromatic look by wearing the hot pink frilly dress. The black leather jacket on top not only provides the perfect colour balance but also helps her tone down the loud look. Metallic makeup with free flowing hair completes her stylish, sexy and the perfect glamorous look! The simplicity of the look yet the sensual appeal simply takes your breath away.
Sienna Miller
Sienna Miller too can't resist the attraction of this run-on-the mill yoga pants. However to lend it a sophisticated and elegant look, she selected the one showcasing zipped ankle detailing. The zippers' effect not only added a cool sophisticated shiny embellished look to this spandex clothing but also deftly drew the attention away from the figure hugging silhouette around the thighs and the waist. The sexy effect is enhanced with the lilac strapped top with terrific feminine cuts. Yet another colour element adds up with the blue scarf. Watch her complete the look with stylish flats, matching bag and sunglasses with casual side locks lending a soft sensual touch. Her look definitely shrieks style with comfort!
[Also Read: How to wear Black Leggings]
In spite of being a polarizing piece in fashion, black leggings holds an unyielding attraction to both celebs and common people like us. Hope we have given you enough inspiring ideas on what to wear with black leggings. Do let us know which look suited you the best or did you too get some inspiring ideas for us to follow! Do share your thoughts with us.