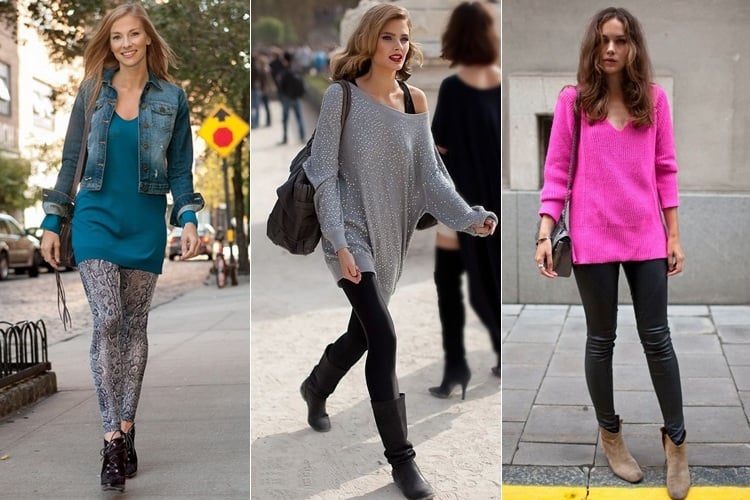 Winter can be a not-so-fun time for fashionistas. After all, who would love to bury themselves under layers of clothing? But all is not lost. With winter fashion becoming more and more stylish, fashionistas can now flaunt their sense of fashion even during the super cold winter months. One of our favorite winter looks that manages to balance style with comfort is the sweater with leggings look. It looks trendy, keeps you warm and is just THE ultimate winter look.
[Also Read: Different Ways to Style Sweaters this Winter]
Read on to know how to wear sweaters with leggings, The basic do's and don'ts, long sweaters to wear with leggings, and other aspects that go into nailing the sweater-with-leggings look.
Long Sweaters To Wear With Leggings
Oversized or long sweaters to wear with leggings is a combination that is as good as bread and butter. It is a trendy look that can be made to look as casual or as chic as you want. All it takes is a few little details to make your look worthy of being in a fashion magazine.
Since the basic idea is pretty straight forward, you can add a little more edge to the look by giving it your own cute little twist. For instance, how about a button back sweater instead of one with buttons at the front? Such a tiny little detail can do wonders for your look, taking it from laidback to dressy in an instant.
[Also Read: Pashmina Winter Wear]
Tunic Sweaters To Wear With Leggings
When it comes to sweaters to wear with leggings, tunic sweaters work great. A well-fitting tunic sweater paired with a legging can actually give you a nice shapely silhouette while still keeping you warm and cozy. That is a definite win-win scenario in our books.
[Also Read: How To Wear Leather Pants]
Some Basic Do's and Don'ts
Do experiment with patterns. It doesn't always have to be sweaters with prints paired with plain leggings. You can flip it around and wear plain sweaters with printed leggings or get even more edgy by pairing sweaters and legging with prints and letting them clash for an OTT look.
Don't play it safe. Sure, there's nothing wrong with pairing a maroon sweater with black leggings, but where's the fun in that? Move away from predictable color combinations and try out more interesting colors for a refreshing take on a classic look.
[sc:mediad]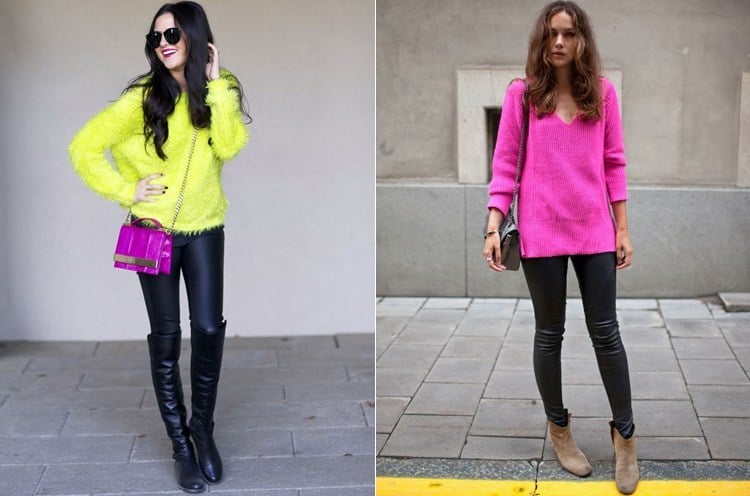 Don't forget the accessories! Accessorize right to complete your look. It is not just your clothes that make or break your look. Pay attention to your accessories as well. A knit scarf, a pair of stylish boots, and some minimal jewelry can go a long way in making your outfit runway-ready.
[Also Read: Ways To Style Skirts And Sweaters During Winter]
Do add some sparkle to your look. Hellllooo! It is Christmas season! And you know what that means, don't you? Yup. It is time to add some bling to your outfit. So sparkly sweater or jeggings, you take your pick.
[Also Read: How To Wear A Sweater Dress]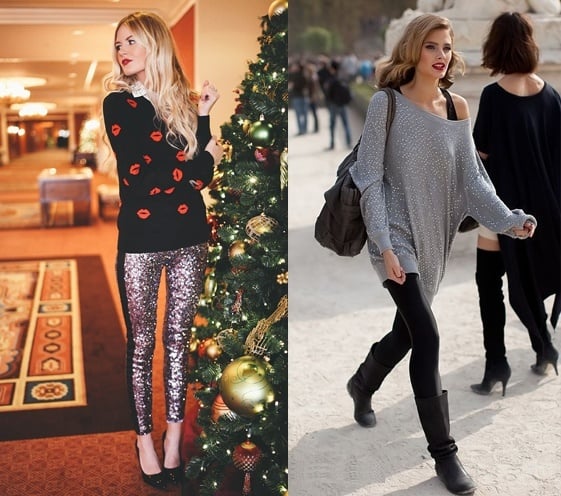 Do play with textures. Your leggings don't have to be spandex or cotton. How about a pair of hot leather pants? Pair that with a sweater and you've got your own version of the naughty and nice look. So don't shy away from experimenting with textures to give your look that extra oomph.
[Also Read: How To Wear A Sweater]
Apart from tunic sweaters to wear with leggings and long sweaters with leggings, there are other are other ways too to style sweaters to wear with leggings.
Long Cardigan Sweaters To Wear With Leggings
Check out this long cardigan sweater that you can wear over your leggings. Isn't it the perfect outfit to flaunt your love for Christmas?
Oversized Sweater With Leggings
Oversized sweater with leggings look absolutely comfy and adorable. To stand out in the crowd, you could wear a bright red oversized sweater with printed leggings and ankle length boots.
Black Sweater With Black Leggings
Fashion is all about making a statement, right? So how about you dress up in all black or all white outfit that will create the required fashion impact?
Sweater Dress With Leggings And Boots
A sweater dress with leggings and boots is not only a super stylish look, but it also works well as a work attire during those long winters. You could also accessorize your look by matching your belt with your handbag and boots.
The whole sweater-with-leggings combinations is just like wearing a t-shirt with your jeans. You can either wear a t-shirt with your jeans and be done with it. Or you can add some little details to give the classic look your own unique touch. We personally believe that what makes an outfit work is how the person's wearing it. So wear your sweater and leggings with oodles of attitude and the right accessories and it is sure to be a hit.