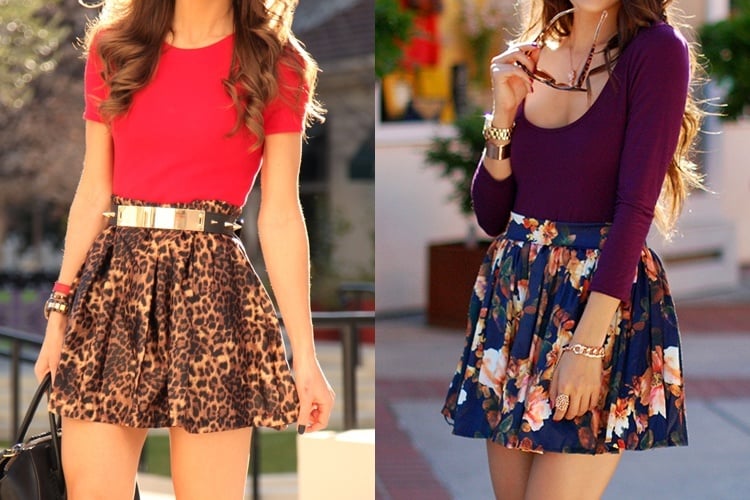 The best part about fashion is that you could get as creative and imaginative as possible, wearing just about any ensemble or statement piece. Just use your ideas and experiment solo, you never know what styles you would come up with and how you could create your own fashion trend too. The world needs inspiration, which is why we would want you to be the messiah of fashion, showing us how to doll up chic and trendy. Without much ado and on the same lines we discuss today, here are ten chic ways on how to wear a skater skirt! But before that, let's see what can be worn with a skater skirt.
[Also Read: Ways To Style Skirts And Sweaters During Winter]
What To Wear With a Skater Skirt In Winter
Should the climes be all nippy and dry, and you would want protection from the winds that blow harsh and cold, you could opt for a white cardigan top and a skater skirt. Complete the look with a pop of dark green on your coat, and a checkered stole in black and white. Boots or heels for the feet are a must, but don't forget to wear opaque black leggings to keep the legs warm! That answers your question on what to wear with a skater skirt in winter, doesn't it?
1. Floral Skater Skirts
A white round neck tee could be paired up with a stylish bright floral patterned skater skirt. Complete the look with a cropped denim jacket, boots for the feet and a statement neckpiece. You now are ready to head to the mall for shopping!
2. Colour Block
Play with colour blocks and go monochrome for the midnight service at church this time. You could opt for a skater skirt in black and grey hues, and throw a chunky stole or a shawl around for warmth, with leggings for the legs and heels for the feet!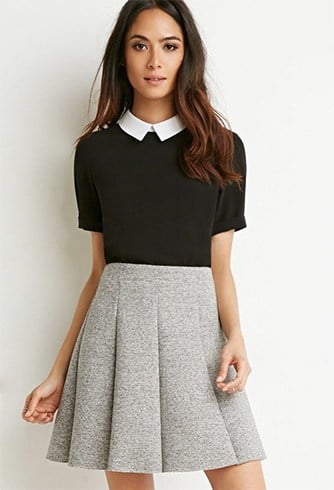 [sc:mediad]
3. Crop Tops And Skater Skirts
For the next season, you could think of pairing the humble skater skirt with a chic crop top. Leave your hair loose or tie it into a sleek top knot, we leave that choice to you.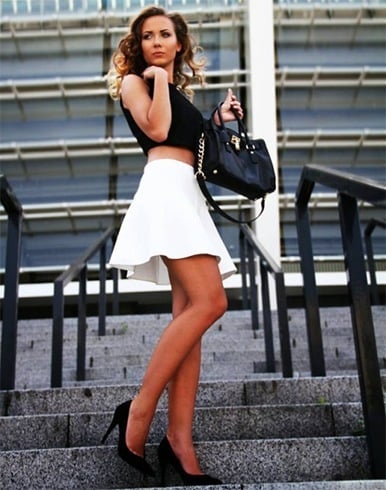 4. For The Biker Chick Look
Let's go all black and stun the boys around, shall we? A black crop top with a black skater skirt and a sexy black sinful shiny leather jacket with combat boots in black- the look is complete with such stylish ways to wear a skater skirt.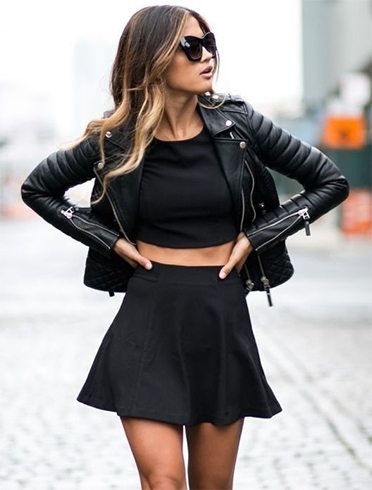 5. A One Piece Look
The Sleeve Dogtooth Belted Skater Dress as shown gives us an idea on how to dress minimal for a client meet or a formal occasion, wearing a not so formal ensemble, the skater skirt. A thin black belt at the waist makes the difference!
[Also Read: Cute Flared Skirts]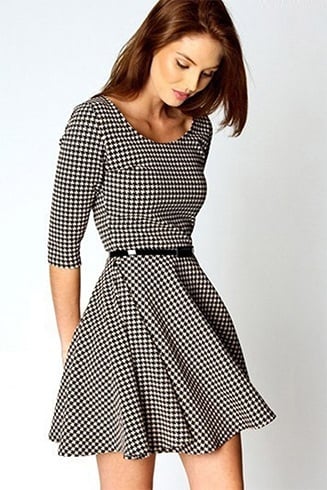 6. Many Ways To Wear It Wit Tights
Should you fancy wearing the skater skirt with tights, here are many ways to doll up in. from oversized jackets for company, to long flowing stoles falling on either side, you could use your imagination to doll up in the prettiest ways.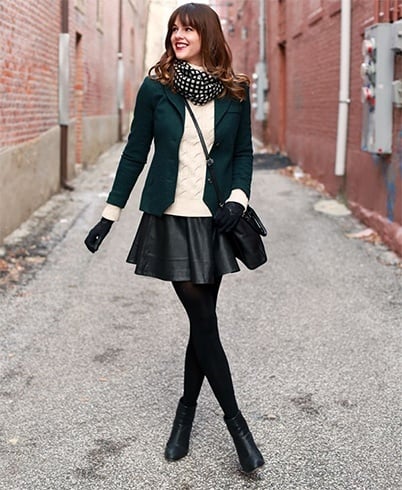 If you've been wondering where to wear the humble skater skirt, lets go ahead and take a look.
7. For Office
Oh yes, the humble skater skirt can be worn for Fridays at work too. The ensemble doesn't toe the line when worn right, and you could if need be, to keep warm wear it with leggings too. however, for the summer months, you could wear a nice collared top, heels for the feet and a skater skirt gracing your waist.
[Also Read: What To Wear To Church]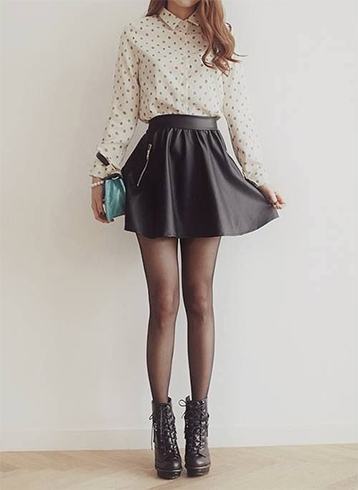 8. For Christmas This Time
While most PYTs would be dolled up in evening gowns and ethnic wear, break the rules here with learning how to wear a skater skirt the right way. Pick up a suede brown skater skirt and pair it with a grey top. For the legs, wear a pair of opaque grey leggings and throw around the shoulder for warmth a suede brown jacket!
9. For A Girls Night Out
Wearing a long oversized polo neck cardigan with your humble black skater skirt would make heads turn. Complete the look with long flowing hair, a large bag for company and boots for the feet!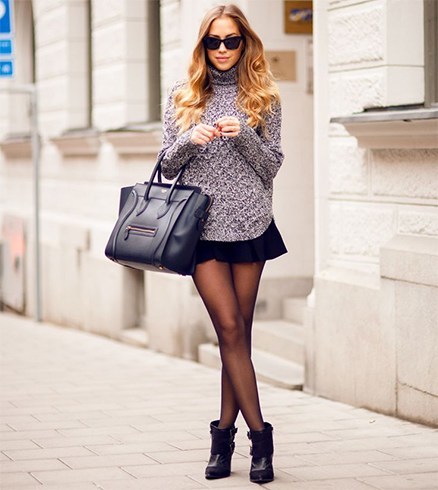 10. Get Creative
You just have to use your imagination dear fashionistas and a new look with the humble skater skirt would come through and through. Make it a little sexier than the usual, wearing netted stockings for the legs and a stylish black skater skirt to cover the waist. Complete the look with a thick leather jacket, a round tee inside and a thick blue stole!
[Also Read: Winter Office Wear]

11. For A Casual Outing
We all know what is a skater skirt but while pondering over what to wear with a skater outfit, especially what to wear with a black skater skirt, we came across a number of skater outfits. And the chambray shirt with black skater skirt was our favorite style.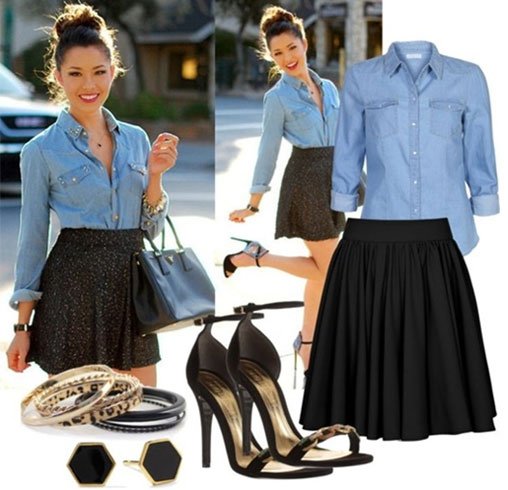 12. Crop It Up
You don't have to ditch your crop tops just because its winter. Here is a cool way for you to wear your crop top with a skater skirt. The best way to nail this look would be to wear a full-sleeved crop top with your skater skirt, add layers using a scarf, thigh-high stockings and ankle length boots. This skater skirt with crop top look is sure to add some heat to the chilly weather.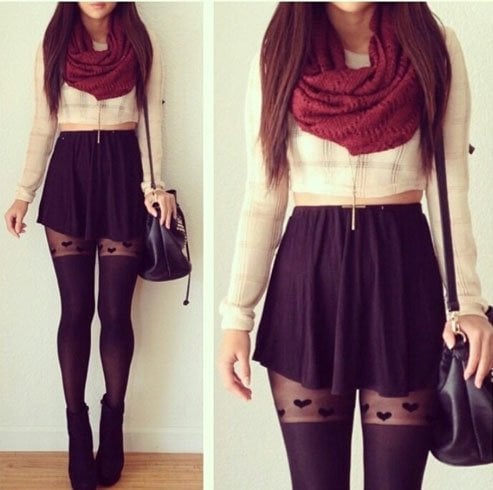 13. Oversized Sweaters
Come winter and we are all set to get comfy in our sweaters and cardigans. Add an extra swag to your winter style by wearing a turtleneck oversized sweater with a skater skirt, boots and polka dotted tights.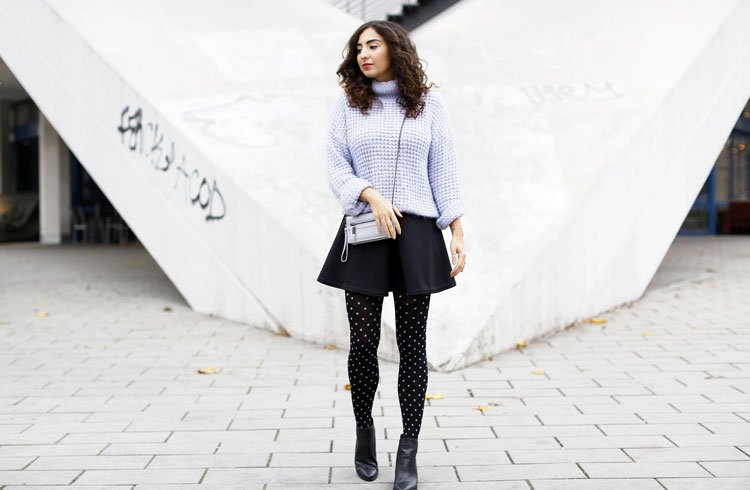 14. Dress With Skater Skirt
You can wear a skater skirt with straps and give your outfit the look and feel of a dress. Wear the skater skirt with a blouse and you are set.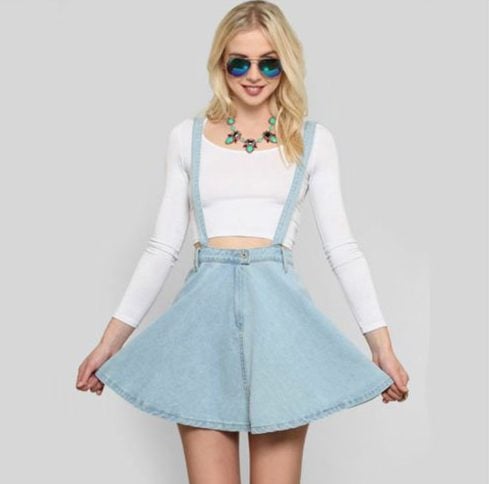 15. Skater Skirt With Knee High Socks
Wearing a skater skirt with knee high socks looks extremely cute and chic. What you can do is wear a chiffon shirt preferably in neon colors with a black skater skirt with zip, knee high socks and a leather jacket if required.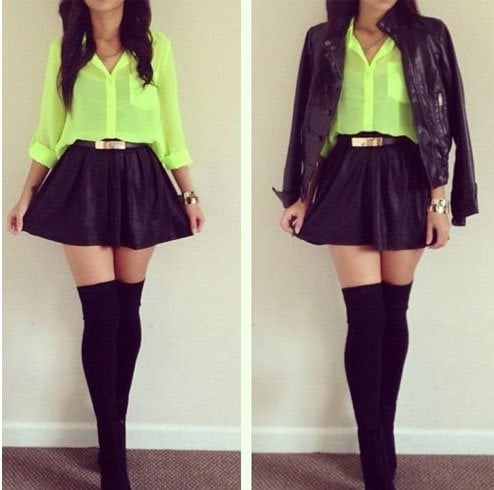 16. Leather Skater Skirt With Lace Top
One of the sexiest combinations that we have come across is wearing a leather skater skirt with a lace top. Check out the below image for some much needed inspiration. We are sure it would answer your query – what to wear with leather skater skirt.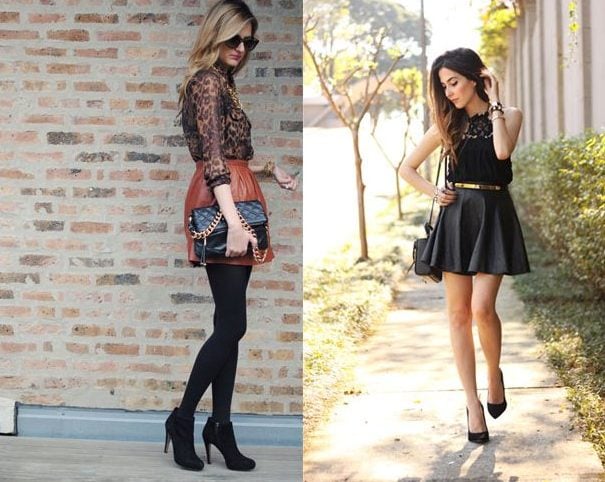 Have Fun with Skater Skirt Outfits!