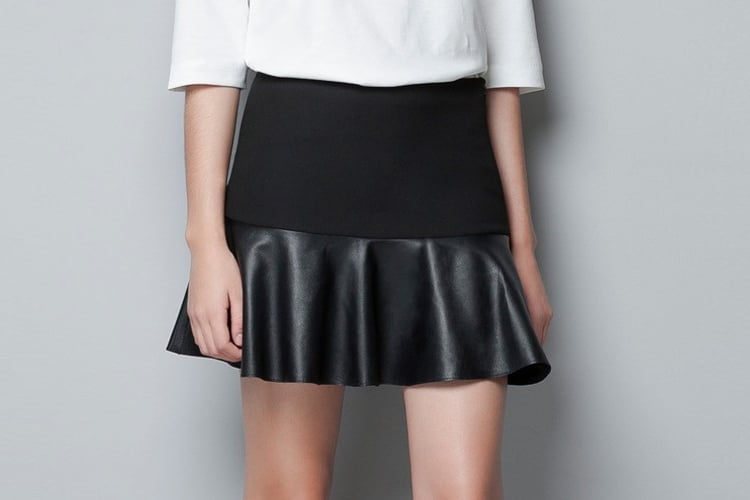 Dressing up needs the right fit and flare. And this is a logic that applies to all costumes. But when your heart is on a flared skirt, you are on a different wavelength.
[Also Read: How To Wear A Skater Skirt]
Flared skirt takes the usual skirt many steps high. Nobody would want to stare at the usual maxi or mid skirt when one is on a ramp trip. A flared skirt is one such cool wardrobe outfit that celebrities have made it as a hottest trend in catwalks and even real life.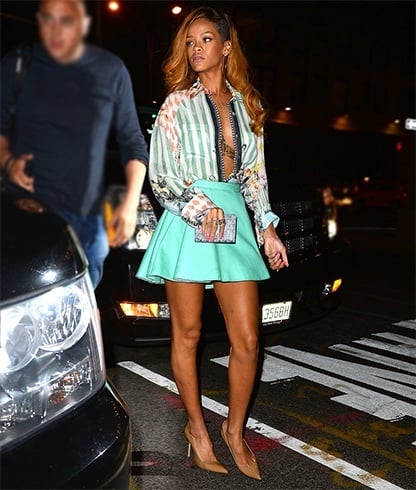 The Flared Skirt Pattern
Flared skirts come in varied designs but almost all of them have one similarity between them. They all flare out and flounce at the hem line in the form of a cute looking ruffle. Now it depends on what look you want as that can determine the size, height and volume of the flare. How about taking a cue from the patterns of flared skirts shown below? From the summer-centric to the leather style for fall, there is a flared skirt for every mood.
How To Wear Flared Skirts
From plain and humble to full flared, and trumpet style which has a fitted body and flared bottom, flared skirts have got a cool new flair in fashion statement. Oh yes there is a skater skirt too and other variations in a flared skirt. Now the trouble is how to wear flared skirt and look stunning in every walk. We go sharing some handy tips on flared skirts designs with you.
1. Flared Skirts With Belt
Flared skirts sometimes put you into an illusion – that you being a wearer of it have a tiny waist. That's because the skirt flares away from your body to the outward.
If you wish to maintain this illusion, then tuck in your top (rather than keeping it outside and falling on the skirt) and put on a belt to secure your flared skirt.
However, if you have a curvaceous waistline and want to hide it, then put on a longer top and let it remain un-tucked and loose. Then put on the belt around your waistline, over the tee.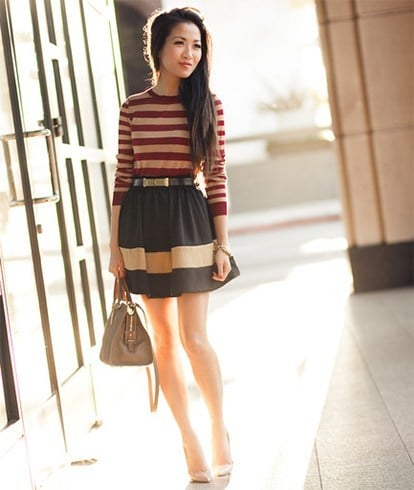 2. Flared Skirts For Evening Dates
You need not be extra flamboyant while wearing a flared skirt to dates in the evening hours. Use cool simple and sober floral prints to trumpet style flares in order to make an impression. This way you would look the cute girl next door to a budding fashion wannabe but with sophistication and class.
[Also Read: How To Wear Leather Skirts]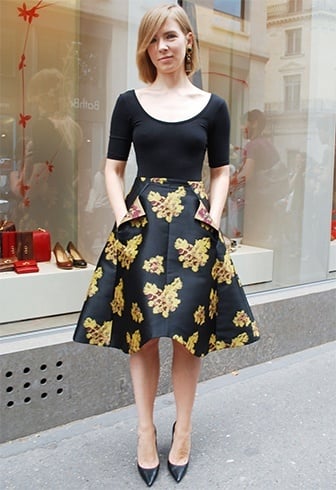 [sc:mediad]
3. Leather Flared Skirt
Come fall and winter and leather flared skirts up the fashion quotient by many yards. Plus they make you look warmer too as you brace the autumn chill. You can pair the leather flared skirt well with cardigans and boots.
No need to worry if you feel that extra chill going down your spine in winters. Wear a legging or even tights underneath if you feel the flared skirt insufficient to battle out the cold dip.
4. Business as Casual
If you want to give a subtle yet polished look, then try out wearing a flared skirt with a button down shirt and sleek looking chic heels. This would be best appropriate for a lunch meeting or for work.
[Also Read: Styling The Button Down Shirts]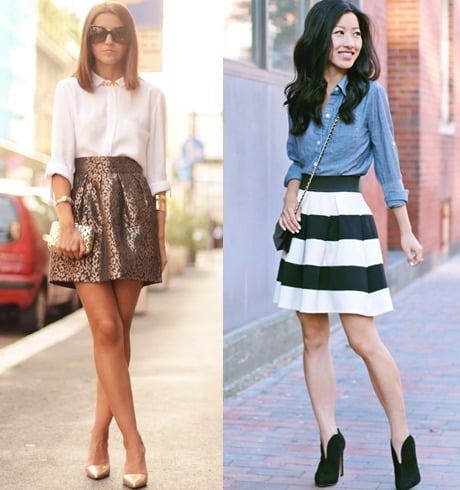 Now tell us the one flare skirt style that suits your personality the most. Happy choosing the one for you!
Hope this article on flared skirt style is helpful. If you have any comments, we will be glad to hear.
Images Source: pinterest