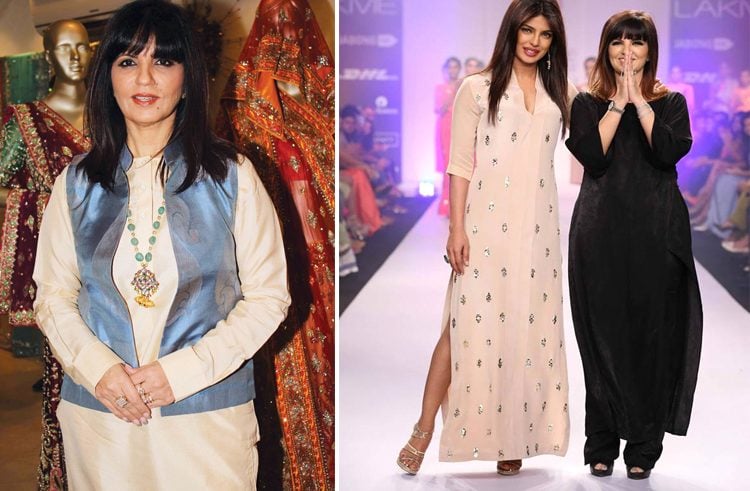 Did you know, she has been the pioneer of resort wear in India? Celluloid to red carpets, she has been hailed as the "Czarina of Indian Fashion". Her designs are not just a sensation in India but globally too. Her recognition in the field of glamour and fashion retail industry is decades old. Creativity, confidence and expertise drive her designs. Her clientele include the hot and sensational Aishwarya Rai Bachchan, Katrina Kaif, PeeCee (meaning Priyanka Chopra), Deepika Padukone, Rani Mukherji, Sridevi, Juhi Chawla, Sushmita Sen, Shilpa Shetty to name a few (she has designed bridal dresses also for some of these celebs).
If you thought you can only expect designer lehngas, anarkalis, sarees, gowns and resort wear from Neeta Lulla, you are so wrong. The designer kurtis by neeta lulla are an amazing feather in her cap. Whether it is designer long kurtis by neeta lulla, neeta lulla kurtis collection or designer cotton kurtis by neeta lulla, you can expect the same level of creativity and innovation in her designer portfolio as much as in sarees and lehngas.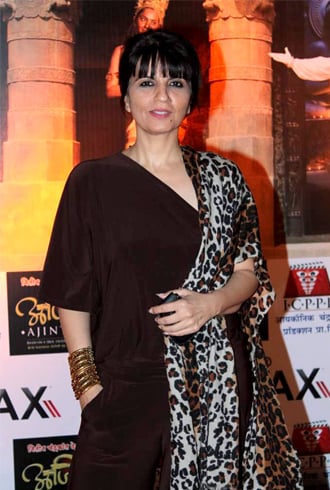 What makes neeta lulla kurtis collection so special? Popular dress ensembles they are which go with Indo-Western tunics, skirts and trousers. The kurtis designed by Neeta Lulla are elegant, sophisticated and so versatile they are the ideal dresses for any time and occasion.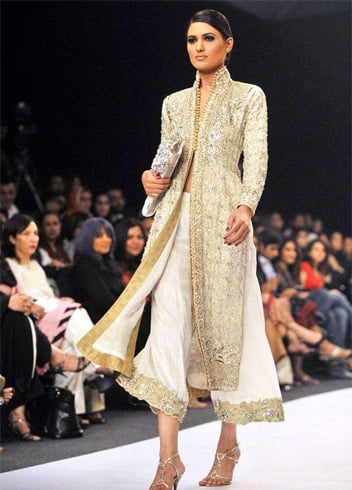 Let us browse through few of the designer kurtis by neeta lulla. It will certainly help you decide what to buy, given the festival season we are in.
Long Frock Style
Frocks are not just for the teenage girl, they are also for the grown-up divas. The workmanship of this designer long kurtis by neeta lulla is truly elaborate. The long frock style speaks through its golden colored wide border and printed work. The full-cut shaped sleeves add to the style and trend factor. The front part of the kurti stops your attention with its high-collar neck design. Call it formal or western, it has a style, look and appearance of its own. Make an impact during festivals by wearing this extravagant designer kurti from Neeta Lulla for evening parties and other occasions.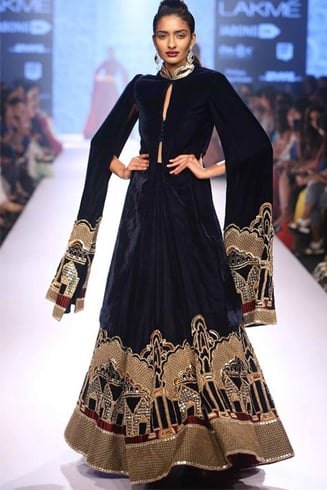 Asymmetrical Kurti
Notice the high collar neck kurti design of this neeta lulla kurtis collection which has some amount of embroidery work done on this sleeveless kurti? This asymmetrical kurti from the house of Neeta Lulla uses plain georgette fabrics (two color). Go ahead and feel easy in this asymmetrical kurti as a part of your regular wear. You will love it.
[sc:mediad]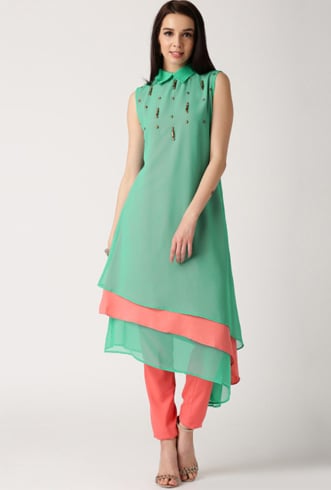 Patiala Salwar Kameez Kurti
No Patiala peg, but Patiala kurti. Get swaying to this redefined Patiala charm with this black patiala salwar kameez kurti. This quarter sleeveless kurti has red-golden color border and floral patch work throughout the front. The kurti uses net fabrics and golden border. The patiala salwar of white color will complement the black kurti. Wear this outstanding piece from neeta lulla kurtis collection for any occasion of your choice.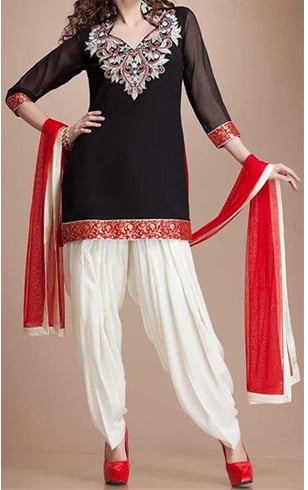 Teal Kurti Teamed With Saree
Walk elegantly in this beautiful teal kurti gorgeously embellished with kundan work and hand embroidery. The churidar is nude chantilly lace with a kundan and sequin border at the ankles. This designer kurtis by neeta lulla is teamed with a lovely nude net saree dutifully embellished with brasso and a kundan and sequin work border.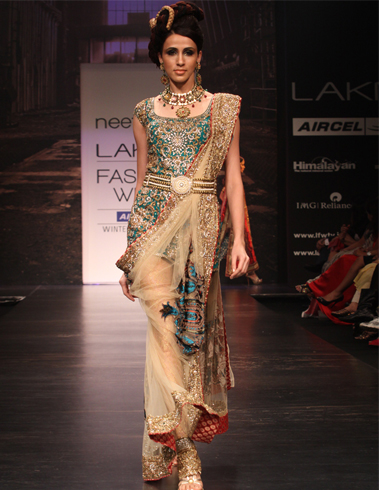 Ever heard of Neeta Lulla's social media campaign? Read.
#SheIsMe
Prior to the Lakme Fashion Week Summer/Resort 2016, Neeta Lulla kicked off a social media campaign. Guess the name? #SheIsMe.
What was the core message of this campaign? To tell women that irrespective of their flaws and limitations, they are not just beautiful but strong as well.
This show, in short, was a major tribute to the powerful women who rule the modern world. Kudos to the ace designer Neeta Lulla for having taken this initiative.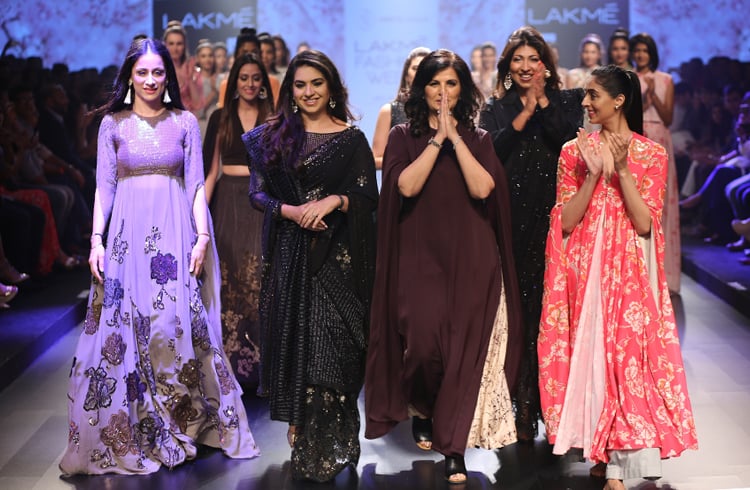 The Lady Speaks…
Here are excerpts from the interview designer Neeta Lulla gave to DECCAN Chronicle in June 2016: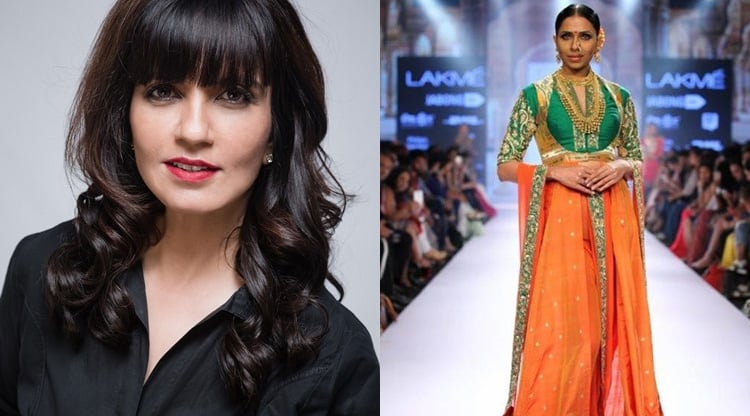 Q. When did you realise that you wanted to become a costume designer?
A. My foray into the fashion field was to become a fashion choreographer for the longest time. I did not realise this was my calling till almost 4 years later when a lot of films and bridal trousseau were a part of my career.
Q. Can you name one fabric that's your all time favourite and why?
A. Georgette, as I love its fluidity, drama and quality.
Q. You have designed costumes for more than 375 films and have won multiple president awards. Did you ever think you would become such a big name in the industry?
A. No I would never have dreamt of it. It all fell into place because of the support I got from my family and by the grace of God.
Q. You once said that the fashion industry is crazy. Has your idea of the same changed over the years?
A. It is like jigsaw puzzles with so many avenues and creative outlets and amazing sensibilities that are beyond ones imagination.
Q. You supported the Make In Maharashtra campaign and launched your Paithani line. Tell us more about it.
A. Make In Maharashtra campaign was a part of the Make in India initiative, and as a designer, I like to work with heritage fabrics and contemporize it to create an indo western statement that could reach a larger audience and be accepted globally.
Q. Why did you pick the theme #SheIsMe for Lakhme Fashion Week 2016?
A. Because I want every woman to identify and support her colleague or contemporary who could be going through abuse and trauma. I want to empower her to help fight this evil, as she would for herself.
Q. How do you think the fashion industry has evolved overtime?
A. Our industry is accepted and has evolved on a global platform with a reach that spans over various countries. Trends that come out of India, like kurtis, hand woven fabrics, and vibrant Indian colors are becoming a fashion trend. Technology and advances craft of design have come to the forefront in the fashion industry.
Q. Who do you think are best dressed actors in the industry at present?
A. Sonam Kapoor.
Q. Tell us about your next collection.
A. From India with love and a heart of Indian heritage that will appeal to the contemporary consumer.
This is Neeta Lulla for you – straight and with conviction. Hope you liked the snapshots of neeta lulla kurtis collection. Write in and tell us.
Images Source: pinterest