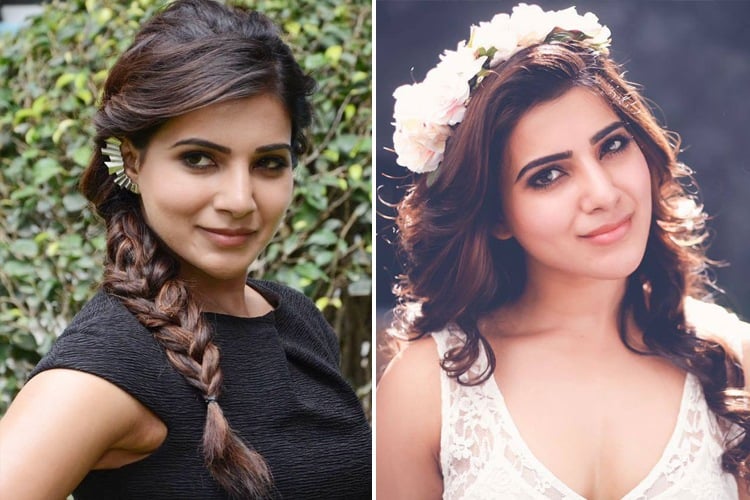 When celebs change their hairdo, they are sure to grab the fashion headlines and make the paparazzi go into a tizzy. Popular actress Samantha Ruth has luscious locks and we have seen her in many avatars thanks to her ever-changing hairstyle. Not one to shy away from experimental hairdos, Samantha rocks every single mane makeover. She's clocked time with varying hair lengths and styles-shall we go on? So, it's no surprise that Samantha is game for reinventing hairdos and she manages to make heads turn with her style statements.
Here is a complete style guide to tell you about the various hairdos Samantha has sported in the recent past.
1. Half-way Waves
Samantha is sporting a casual look with this hairdo. Nonetheless, she still looks amazing. Her soft, flat waves start from half-way down and are tucked behind her ears. This look is definitely innovative as it is a hybrid between spiral curls and messy beach waves. Want to get this Samantha haircut? Then check out our style tip.
Recreating the hairstyle:
If you are running late and yet you don't want to look like a fashion disaster then go for this hairstyle.The Half-way waves will save you some time and yet give you a smart look.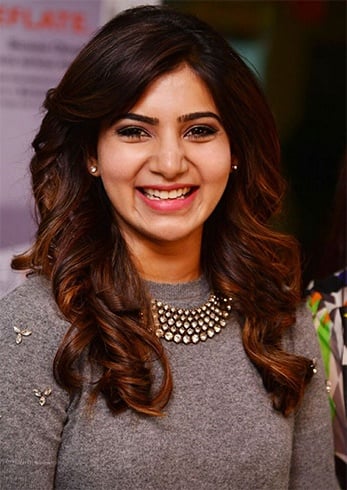 2. Retro Waves
A sleek vintage side parting makes Samantha's retro waves look work for all occasions. Like her, you too can embrace the cascading waves to metamorphose into a fashionista. She wore her shoulder-length tresses parted to the side, allowing them to fall over one shoulder. Samantha's floral print dress paired with statement studs gave her a classy look.
Recreating the hairstyle:
Apply volumizing spray from root to end before making waves using a curling iron. Begin by wrapping two-inch hair sections in both directions with the curling iron. Roll your hair to the scalp with each curl, and pin it in place for few minutes to set the curls. Brush the hair gently after it cools down, make a side parting and tuck the curls on one side. Swipe on your favorite lipstick and turn into a dream diva!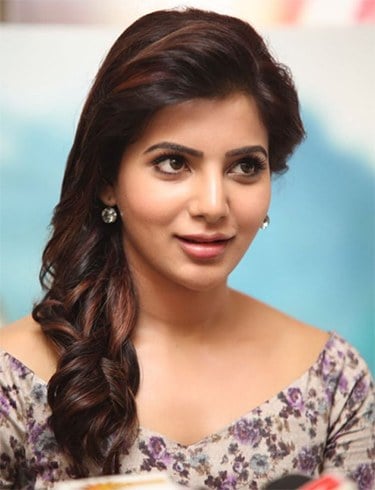 3. Loose Waves
When we are dying for inspiration on how to rock the loose waves look, we can turn to Samantha to show the way it's done right. From her slight off-middle parting to her perfect balayage, everything about her look is on point. And it is exactly the kind of result we would want to achieve when we use our curling wands.
Recreating the hairstyle:
To create the care-free look complete with loose waves, you need to first prep your damp hair with volumizing mousse. Then blow-dry your hair. Start curling your hair by clamping the curling rods near the hair ends leaving out an inch at the bottom. Continue to curl your mane by dividing them into two large sections. Finish off by using a hairspray and separating the curls for creating loose waves instantly.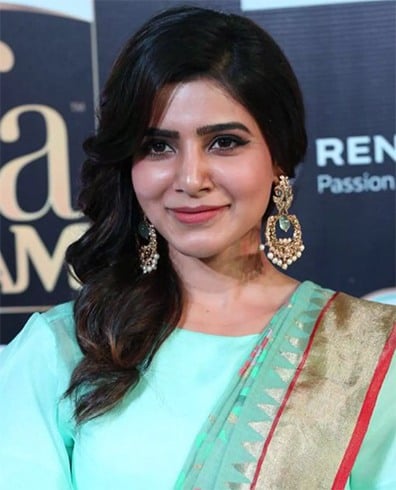 4. Old-School Loose Up-do
Samantha never goes overboard while making her style statement. She wears this old-school up-do hair trend along with a deep side parting and oodles of layers. To get an insight on how to don this subtle hairdo, follow the steps below:
Recreating the hairstyle:
Start by applying a lightweight styling gel on damp hair. Blow dry your hair using a brush to add some bounce and curls at the hair ends. Tease hair at the crown and then run a brush over your hair to smoothen it out. Twist your hair to tie a loose low knot and secure it with bobby pins.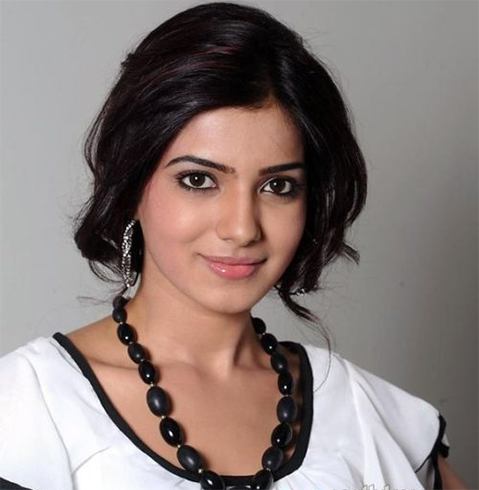 5. Chic Chignon
Samantha showed a whole new trick to hide curls in a stylish way with her voluminous chignon hairstyle. She created a cool shape, by styling her bangs in an arc shape right above her forehead, and pulling the rest of her hair in a bun. With a hairdo that adds a lot of volume at the crown, this hairstyle will definitely give you an ultra-chic look.
Recreating the hairstyle:
The voluminous chignon is great for your date night. Use a curling iron and a light sea salt spray to give your hair better texture. Divide your hair into three sections- centre, back, and behind the ears. Take two-inch sections of hair from the back. Backcomb this section and flip it over the front. Repeat the steps for your whole mane. Flip all the hair sections back over and form a ponytail at the base of your neck. Grab the ends of the ponytail and twist it around, to form a chignon. Secure it with the help of bobby pins.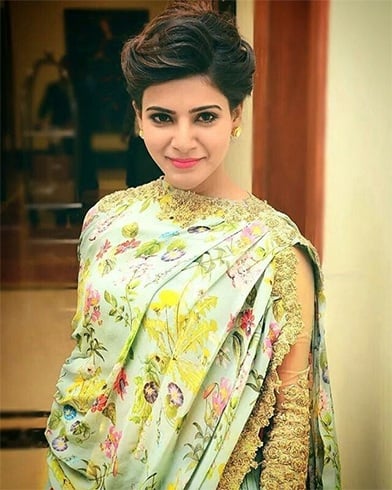 6. Teased Chignon
An elegant up-do can have wavy bangs, too. Samantha's carefully crafted casual style prevents the bangs from blinding her. Copying a Samantha hairstyle has never been so easy. Take a look:
[sc:mediad]
Recreating the hairstyle:
Lightly use a flexible hold hairspray on dry hair. Backcomb the front section. Divide your hair into two sections. Twist each section and secure it using bobby pins. Pull out a few strands for adding volume and completing this designer 'messy' look. Finish off this style using a soft hold hairspray.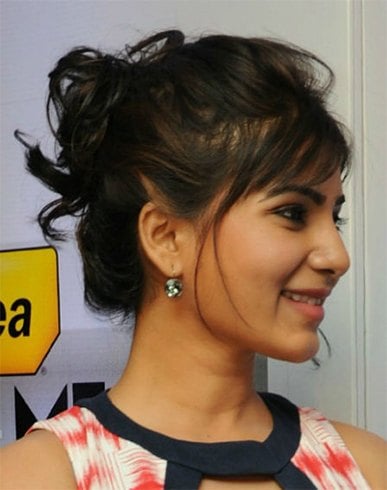 7. Bohemian Braids
Samantha showed up at an event wearing a loose bohemian side-swept braid. This hairstyle looks great both on and off the red carpet. Here is an easy way to recreate these loose braids and transform into a ramp-scorcher.
Recreating the hairstyle:
Start with using a texturizing spray on dry hair. Pull your bangs away from the crown to make a small puff. Create a loose fishtail braid with the rest of your hair. Gently pull your hair to loosen the braid. Add the finishing touch by using a hairspray.
8. Simply Pulled Back
Samantha upped the glam quotient at the audio launch of her film Lovers by wearing a fiery red Ridhi Mehra outfit paired with antique jewellery. With her half-way done waves and pulled back hairdo, the actress stole the show.
Recreating the hairstyle:
Prep hair using a hair protecting mist. Lightly curl the mid-lengths and hair ends using a curling iron. Backcomb your hair gently. Pull back the hair on your crown and sides and secure it with bobby pins. Leave the rest of your loose and gently finger comb it. Finish off with a dash of flexible hold hairspray.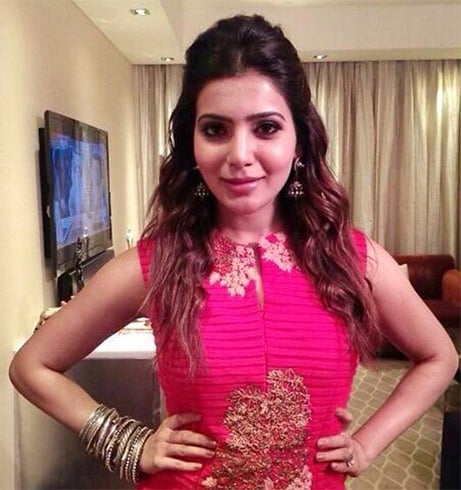 9. Simply Twisted
Samantha is looking dainty in her twisty hairstyle and its all thanks to her stylist Neeraja Kona. The side twists and bangs complement Samantha's hair colour perfectly.
Recreating the hairstyle:
Prep your hair using hot rollers. Allow your tresses to cool down then add a hint of texturizing spray. Create a side parting. Take one side of the hair to create a loose twist. Secure the section by using bobby pins at the back of your head. Repeat the same steps on the other side.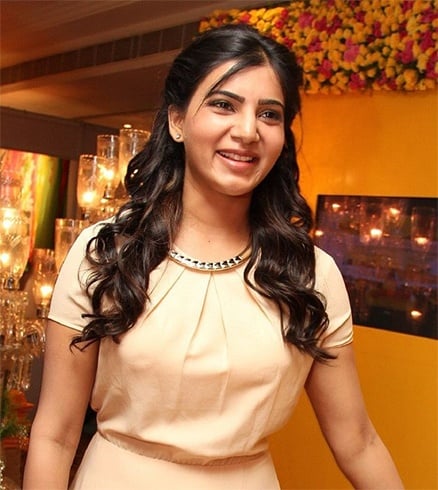 10. Sexy, Sleek Ponytail
This slick pulled-back ponytail look of Samantha is something you can wear from day-to-night, and look super chic. Her hair looks sleek and frizz-free here. Here is one way to score a sexy, sleek ponytail like Samantha.
Recreating the hairstyle:
Wash your hair and use a bristle brush to remove any tangles. Apply a quarter-sized quantity of hair gel serum to hold your hairstyle spread it over your hair for extra sheen. Use a finishing hairspray for extra hold. Secure the ponytail using a bungee hair tie. This allows you to pull your hair up better. After the ponytail is secure, take a small section of hair from underneath and wrap it around the bungee for a super cool look.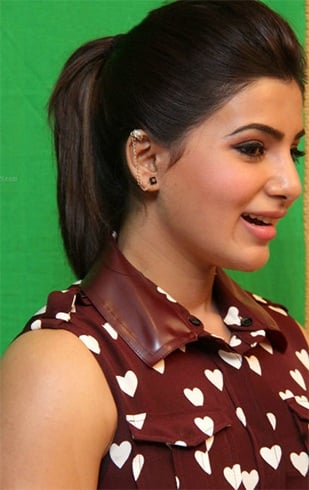 11. Sleek Chignon
Samantha showed up in a sleek braided chignon for the promotion of her Telugu film 'Manam'. As much as we love a trendy messy up-do, Samantha reminds us that some hairstyles have an evergreen appeal.
Recreating the hairstyle:
Make a middle parting using a tail comb. Smoothen out the hair, and gather it at the nape. Gently twist your hair from the nape to the hair ends, and then coil in a clockwise manner. Continue twisting your hair into a bun using your index finger. Secure the bun using bobby pins. Gently pull the edges of the bun to give a finishing touch. Use the tail comb to shape and bring volume to the bun. Add a hint of finishing spray to keep your look super neat.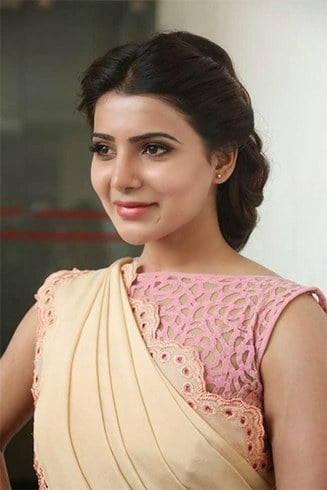 12. Barely-There Waves
Samantha's waves are so loose, that they are barely any. The actress is wearing 'the barely-there waves' quite well. This is the most relaxed hairdo. You barely need to make an effort to get these waves.
Recreating the hairstyle:
To get Samantha's look, you need to simply create large waves using a round brush while you blow dry your hair. This option gives your hair natural bounce and volume. Alternatively, use a curling wand for three or four seconds. Run your fingers through your hair and finish off the look with a texturizing spray.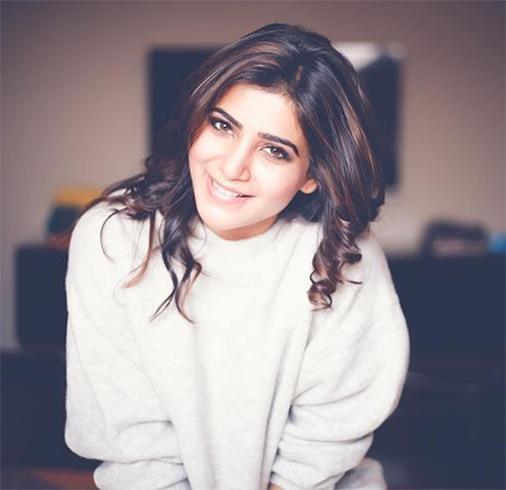 13. Faux Fishtail Braids
Samantha effortlessly wore a fishtail braid over an LBD. Her look was styled by Neeraja Kona. Her tightly interwoven fishtail braid works for numerous occasions. Like the actress, you can master her versatile style by following a few simple steps.
Recreating the hairstyle:
Sweep your hair over the shoulders and tie it into a ponytail. Now convert the ponytail into a fishtail braid. Secure the hair ends using a band. Gently loosen the braids to create a messy look. To add more feminine charm allow a few wisps of hair to fall lightly over your face.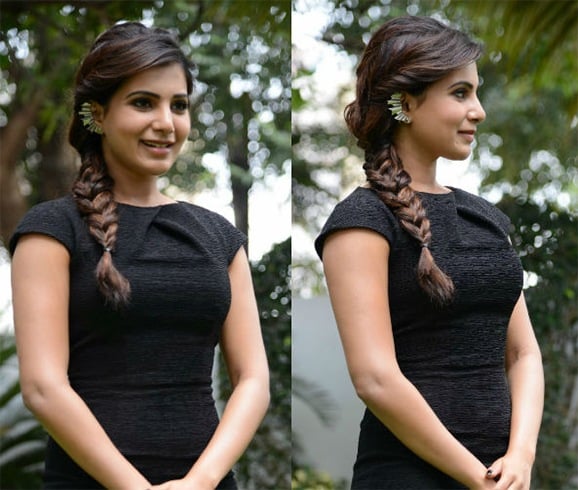 14. Twisted Side Fishtail Braid
Samantha must be keeping her hairstylist on her toes to come up with a trendy, innovative and fresh look every time she steps out. From wispy bangs to layers, loose waves, and fishtail braids; we are pretty sure you are dying to request your hairstylist to recreate her look. Now one look that has been creating a lot of buzz on social media is Samantha hairstyle in Theri. It is a twisted side fishtail braid, proving that Samantha can go to great lengths to make her roles both fashionable and memorable. Here are a few steps to achieve the same:
Recreating the hairstyle:
Begin by making a side partition using a teasing comb. Use your fingers to gather two inches of hair. Start twisting this hair section away from your face. Gather few pieces of hair from the back, and bring it to the front. Twist your hair until you reach the nape. Sweep all your hair into a side ponytail and secure with a hair tie. Wrap hair around the hair tie to conceal it, secure it with bobby pins. For the standard fishtail braid, take notes from above. Use a curling wand to twirl the loose strands framing your face. Use an extra flexible strong hold spray to keep the hair in place.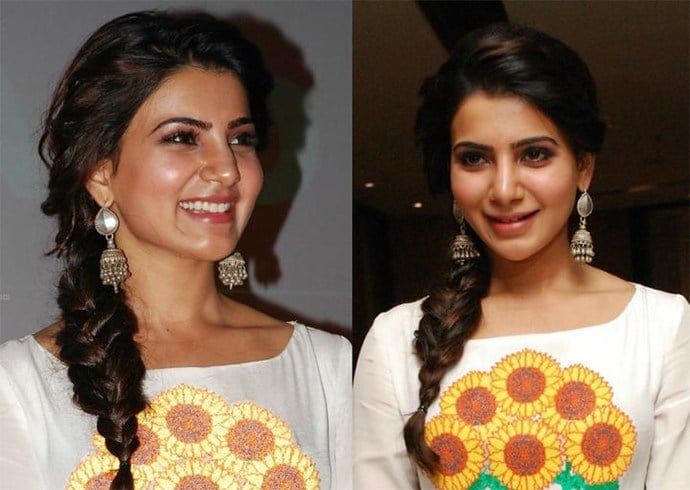 15. The Loose Sweep
Gorgeous hair accessories are nothing new, but Samantha's layered style is a fresh way of using multiple accessories. This is one of her looks from a press conference at the Filmfare Awards Event. She styled her side swayed loose swept bangs with hair accessories.
Recreating the hairstyle:
For a style like Samantha's simply part your hair down the centre. Allow some wispy strands to fall over your face and gather the rest to tie a low bun. You can adorn your hair with the accessories of your choice to make your look more dressy.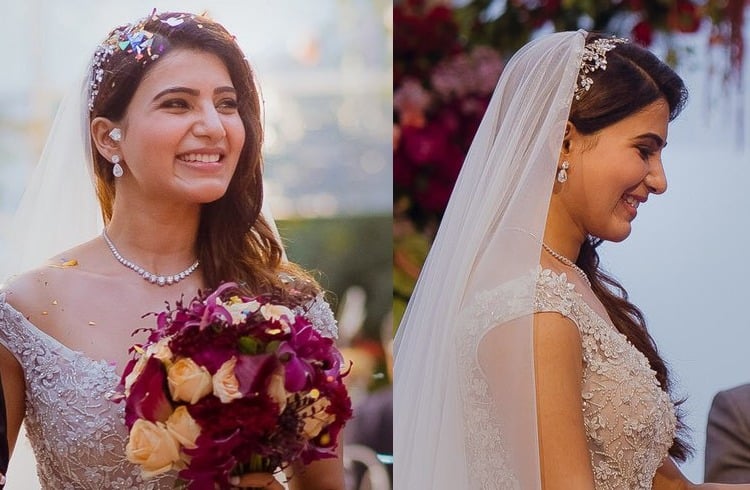 These are a few of the Samantha hairstyle name. Please let us know in the comments section below if you give any of her hairdos a try.
[Also Read: Deepika Padukone Hairstyles]
Images Source: pinterest