Gorgeous, talented and smart – Deepika Padukone is a complete package for the ideal heroine that Bollywood has been waiting for. It is no surprise to see this 'beauty with brains' rule as the most successful actress we have in the country now.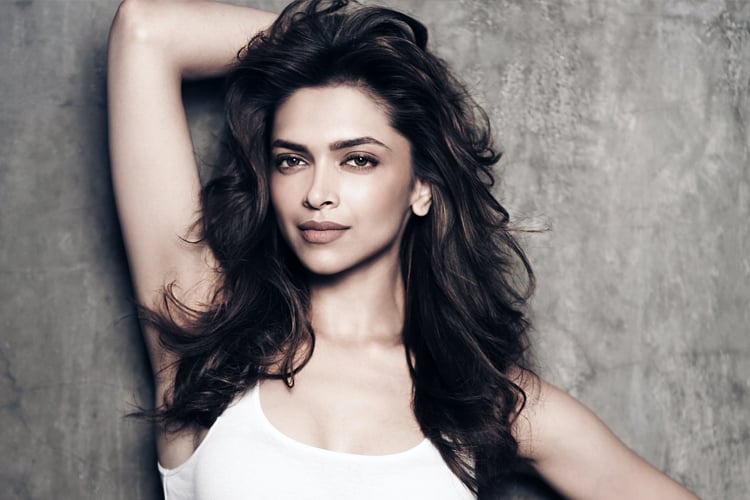 Her style is simply elegant, no matter what the occasion is. Even more commendable is her ability to carry herself with grace in any outfit. There has been a lot of talk about what she wears and how she looks in make-up or without.
Let's try and get inspired by her hairstyles now. And there's a lot to get inspired from.
1. Wavy Wonder
Start with something very simple but classy – Luscious wavy hair simply falling over her shoulders seems to be Deepika's favorite hairstyle. She has been spotted in this look on several occasions – from red carpet to promotional events, and why not? The simple but elegant hairstyle suits every outfit and mood. You can try this out too – just get your hair well-conditioned for a shiny look. However, for the best results you need thick medium to long layered hair. Blow-dry well to add more volume and get that bouncy look.
This  Deepika Padukone hairstyle is not only seen on screen but is also a part of her travel styles.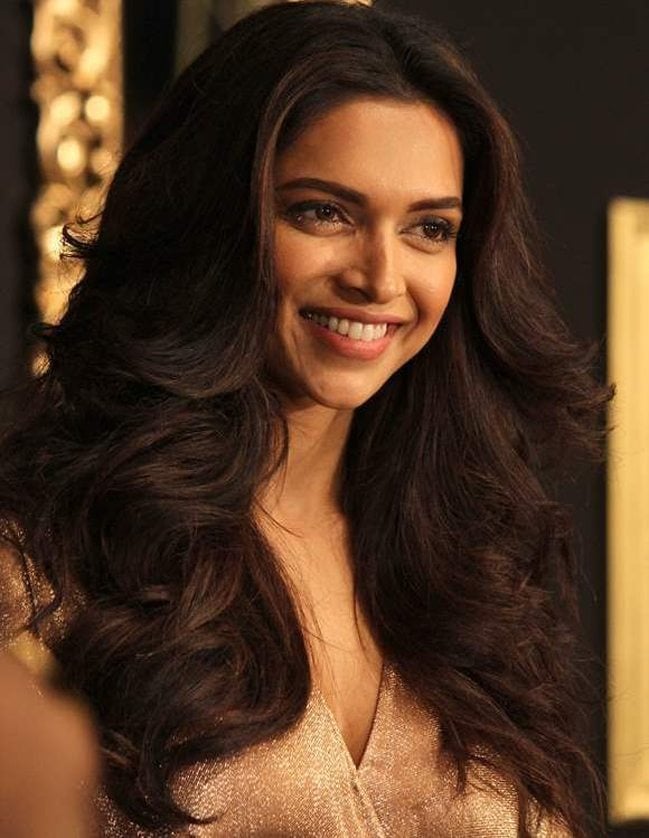 [Also Read: Hairscut for Big Foreheads]
2. Strictly Straight
Deepika rarely wears her hair straight. But thanks to her heart-shaped face, any hairstyle looks good on her. Here you can see her sporting sleek ironed hair loosely gathered at the back. This look is good for both Indian as well as western wear. But those with a round face could avoid this. Otherwise, it is a simple and neat hairstyle for anyone with high cheekbones and a defined jaw line.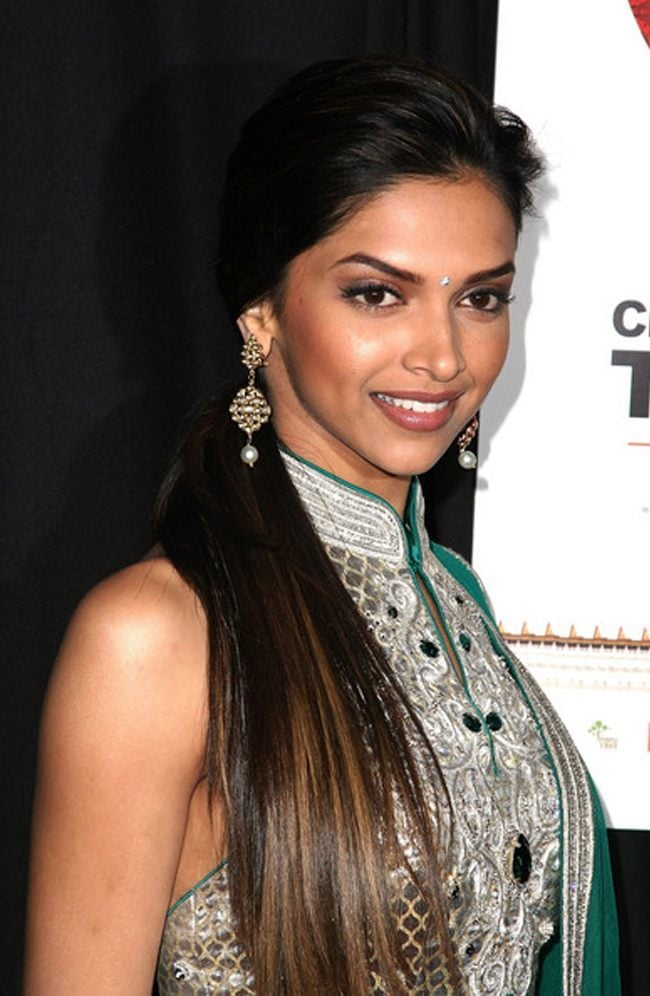 3. Braided Beauty
The fishtail braid is a favorite trend in casual hairstyles these days. The celebrities like Deepika have a lot to do with the popularity of this style. The messy look can be worked out for any face shape. The hairstyle looks good with casual tops and denims or shorts – though celebrities are bust sporting it on the red carpet as well. You could also try it out with a cocktail dress. The fishtail braid may look a bit complicated. But one you get the hang of it, it is as easy as the normal braid.
And if you have been struggling with getting a braided fishtail, try simple braided hairstyles.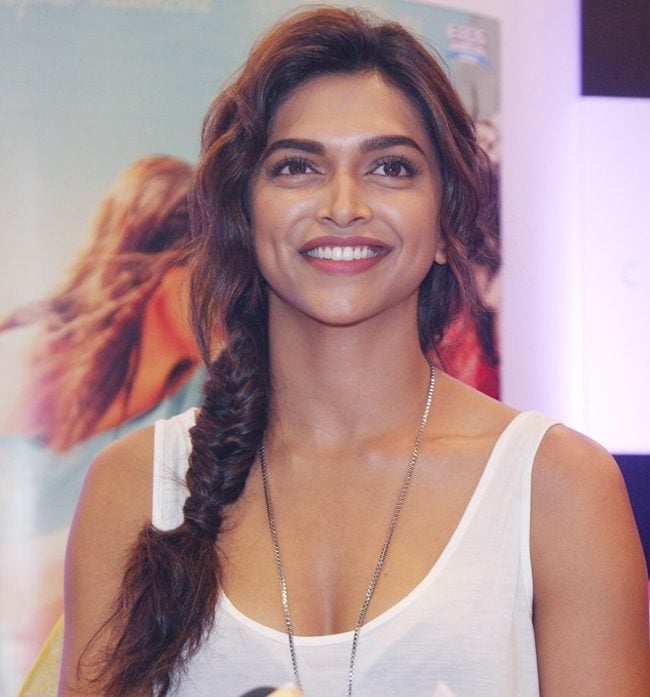 4. Puffed Pony
A puff in the front and a pony at the back – this trendy hairstyles highlights Deepika's high cheekbones and almond shaped eyes. The wavy ponytail looks perfect for that one shouldered dress. You can also try this with a strapless dress with ruffles. If you do not want the messy look, you can get the ironed look for the ponytail, but keep the puff natural. Try this is another one of the trendy hairstyles for an easy low-maintenance party look.
[ Also Read: Hairstyling Ideas with Feather Cut ]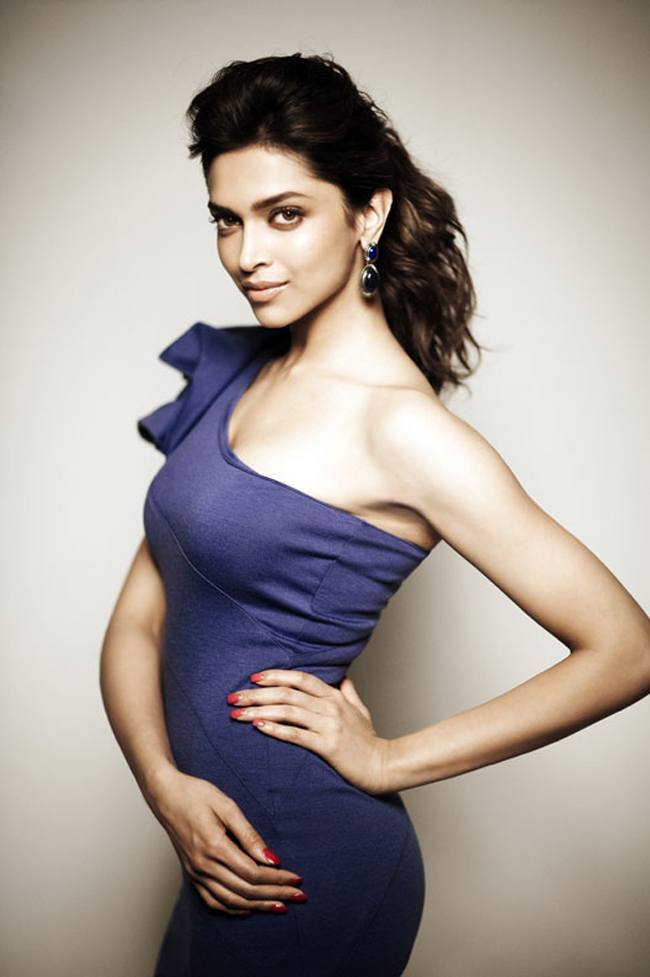 5. The Up Do
The next Deepika Padukone hairstyle is a trademark hairstyle she wears when it comes to Indian wears.
Thick wavy hair piled up at the back of her head – Deepika's red carpet hairstyle is not only good for haute couture gowns and flowy dresses, but also suited for ethnic Indian wear. Here you can see her looking charming in a sheer red saree. You can try this hairstyle with an elegant saree too. Accessorize with dangling chandelier earrings, a bindi and bright red lips. You could add more glamour with a jeweled hair comb or pin. This hairstyle can be perfected on both long and short hair.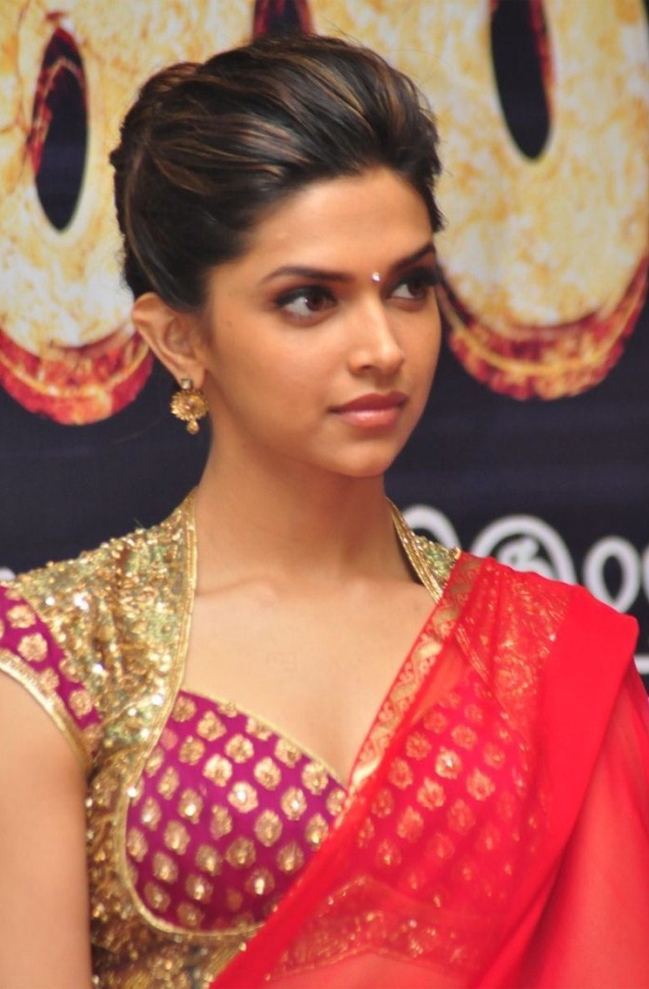 6. The Feather Cut Hairstyle
Most of Deepika Padukone hairstyles are either those that are left lose or tied in a pouf pony or in a bun. This hair style of Deepika Padukone is simple with the ends rolled out to flatter the feather cut.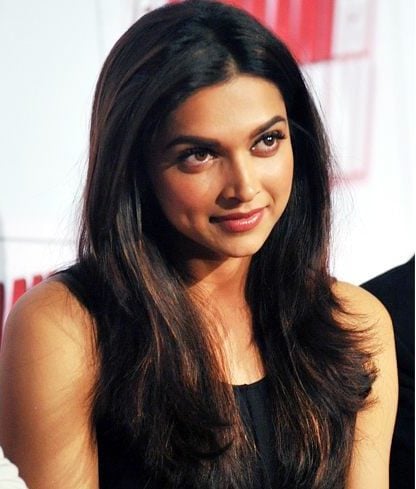 7. Deepika Padukone long hairstyle in Chennai Express
How can we forget Deepika's acting in the most – loved movie 'Chennai Express'? Playing a character of a south Indian woman, she wore plaited long hair with flowers.
[Also Read: How To Get Thicker Hair]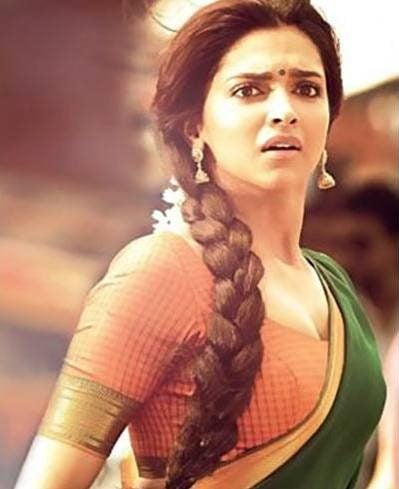 8. No fuss Hairstyle
Deepika Padukone haircut are extremely effortless. This hairstyle shows her in an un-kept hair with a fish tail braid. The bangs fall extremely beautifully on her. We are't sure if its the Deepika Padukone pic or her dimple or her style that we love more.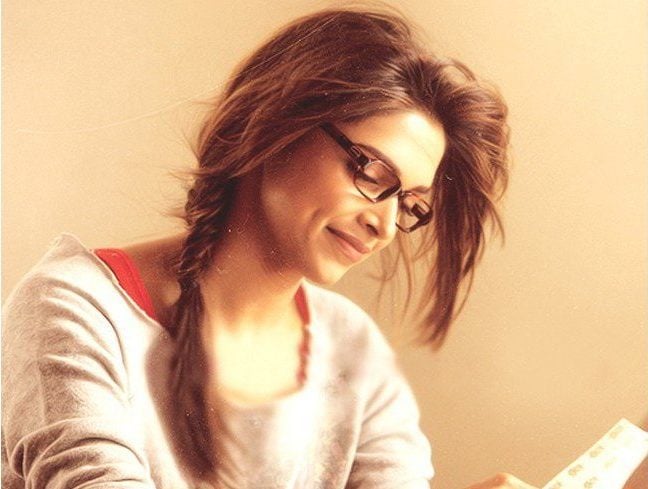 9. The Neat & Long Pony
Deepika Padukone is a woman who can haunt your every dream. This beauty pulled off this ponytail with ease, the perfect length at tying it up, the not-so-messy look. A marvelous hairstyle to try out even on a bad-hair-day. This works wonders on all hair below shoulder length.
[sc:mediad]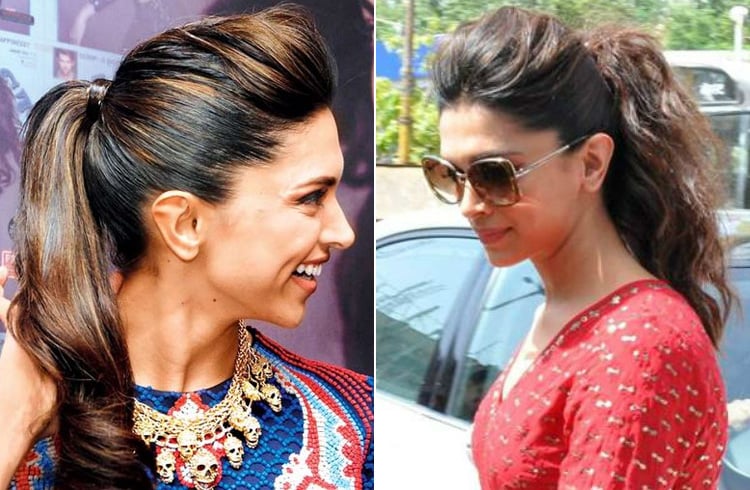 10. Braid with a Twist
Who doesn't love messy looks? This one sure tops the list of messy looks by a superior inch. A braid that is a mixture of a half fish tail and a half pony sure made Deepika feel like the queen that she is. This hairstyle can be paired with any outfit, be it western or ethnic.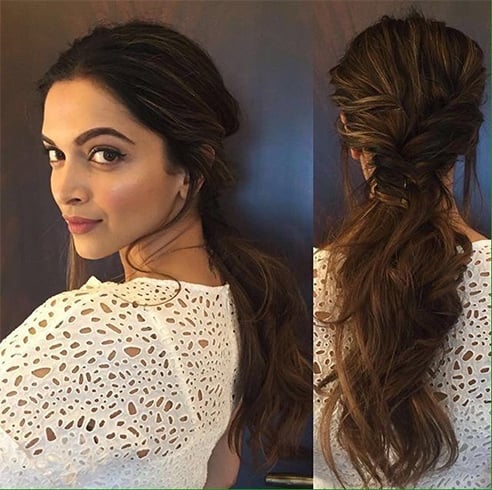 11. Nostalgic Middle Partings
When was the last time you saw such a straight middle parting on a common woman? It's considered to be too old style, right? But look at how Deepika Padukone pulls off this look in a gorgeous manner. Slight waves towards the end and a straight middle parting right through, keep this look intact.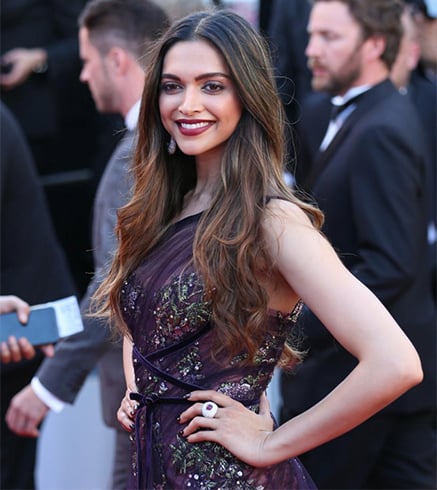 12. Soft Waves
Side parting, waves, brown streaks, smoky eyes – What a treat this lady is! Her hairdo is so retro, that we can't help love it. A sleek hairdo is Deepika's trademark and she definitely inspires us to do the same. Since the hair falls over the shoulders, a minimal accessory statement is what complements this look best.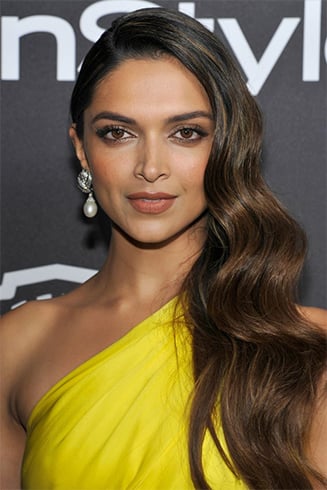 13. The Casual Puff
A day out with friends doesn't call for fancy hairdos, but something simple and classy right? Here's how to master that trick. A simple puff pinned to the back right on top. A casual hairstyle most common and popular, was Deepika the initial inspiration? I wonder.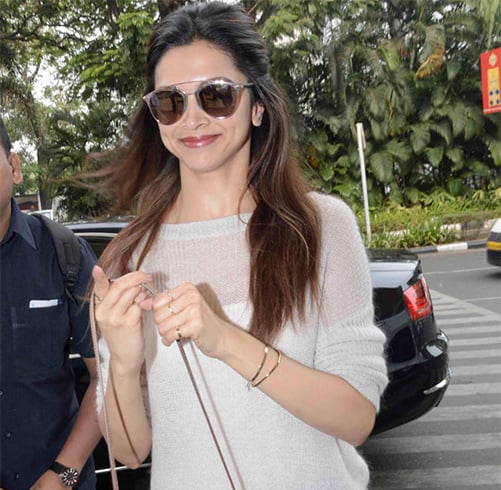 14. Upfront Braidy Waves
A normal hairdo, with just a set of flicks braided into the hair, makes a huge beautiful difference. A simple hairdo which doesn't require the assistance of an expert is what keeps it handy. Your gorgeous locks stay as they are, just two little braids in the front being pinned to the back.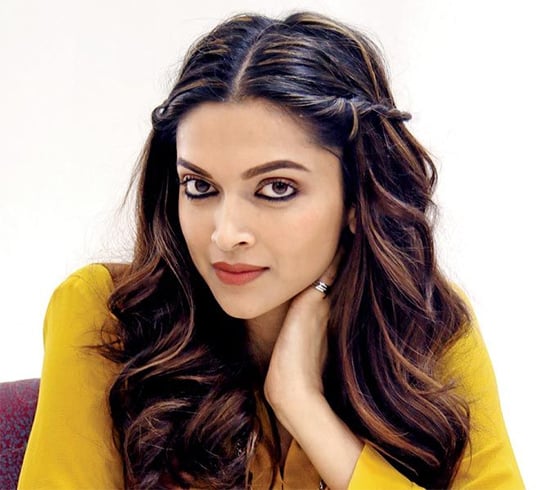 15. Fringes Effect
The fringe hairstyle has been a favorite when we were kids. Looks just as trendy and amazing even now if don't the right way. See how Deepika carries off the fringe hairstyle in the sexiest way possible. Always remember, thin hair calls for a side fringe whereas thick hair calls for upfront bangs.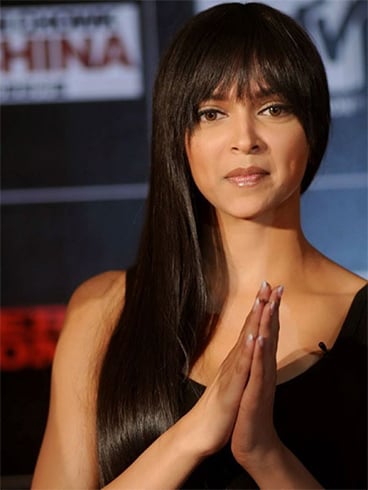 So, which one of these Deepika Padukone inspired trendy hairstyles are you going to try out first?
[Also Read: Deepika Padukone]
Images Source: pinterest