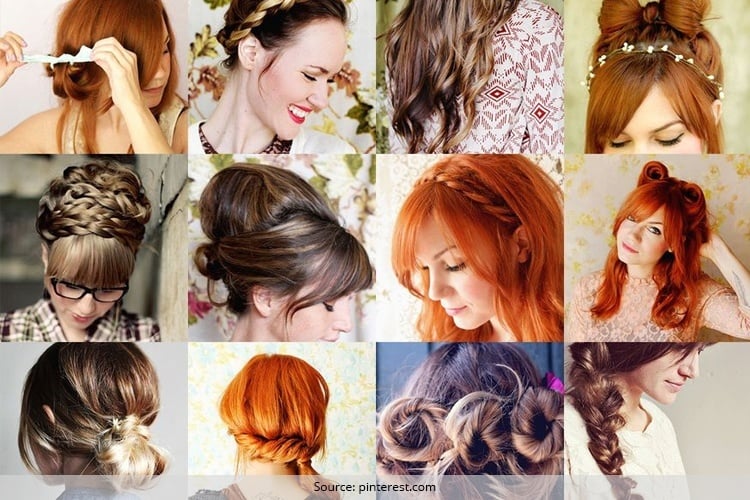 Life is good with all hair types. Like for instance – no matter the length of your hair, you can always add some extra definition to them. Presenting the feather cut.
Women with long bangs think the only two options they have to style their hair is to either braid or knot them into a bun. This is certainly not the case. Long hair is beautiful and looks ultra-feminine. Unlike short and medium length, you can create an array of amazing hairstyles with your long locks.
During warm and summer days, women generally tend to pull them up into a ponytail and top-knots. Lately, the messy buns have also invaded the trend. This may be considered the best way to beat the scorching sun. While, for the colder days and winter months, women hid them under their woolen caps and scarves to seal the body heat. Go through this edition and you would soon realize there are copious fun styling alternatives and great updo's for your bangs with feather cut.
Feather cut for long hair
It disappoints me to see women opting to cut off their hair to smaller lengths. You can definitely flaunt their beautiful locks every season if you have learnt how to style them right.
I have compiled a few of the top hairstyling ideas for your long feathercut locks. Pick any of these loose, lightweight cuts to feel as soft as cloud with your new feather cut hairstyle.
The "Long" Saga Works…
1. Layered and Outward Feather Cut Hairstyle
To get this look, you'll definitely have to go under the scissors, so as to obtain a stepped layered haircut. And if you already have the layers then you can create this style even at home. For this, you'll require large barrel curler or big velcro curlers and heat it enough to make the hair curly. When the curls are set, use a paddle brush to brush them giving outward strokes to create the feather cut look.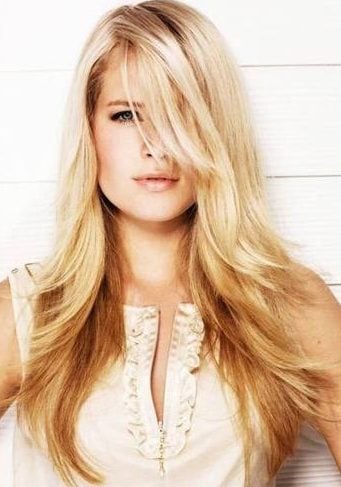 2. Graduated Cute Sleek Look with Sectioned Bangs with Feather Cut Hairstyle
This is another great feather hair cut to jazz up your winter look. For this, you'll definitely require patterned graduated locks from a good hairstylist. Use a styling comb to create section of the front bangs and spray them carefully so that they don't irritate your eyes and stay firm for longer time period. This is truly our favourite feather cut look.

3. The Crimped Look with Feather Cut
Once famous in the late 20th century, the crimped look is back once again with a bang! And this style only looks good with long locks. This is a DIY feather cut hairstyle which you can try at your home. For this, you'll need a crimper to crimp the entire length of your hair. Do confuse this style with perm as both the crimp and perm looks are completely different.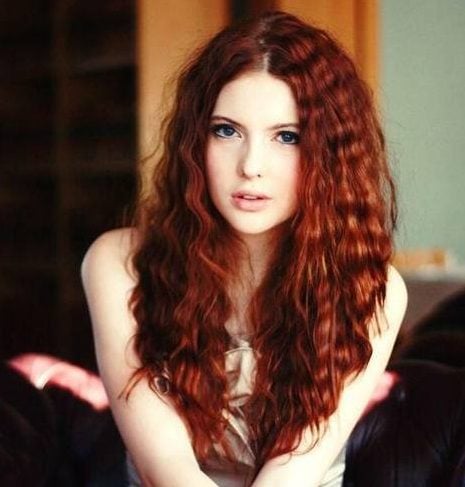 4. Rolled Curly Look with Feather Cut
[sc:mediad]
You can easily sport this cute hairstyle with thick bangs, which can be swept to one side. For this feather cut hairstyle, you'll need a medium-sized curler to create small curls. Loosen them from the hair and pull them downwards to get rolled curls. If you're preparing for a big event and you're skeptical of getting this style, you can always visit your hair stylist for this look.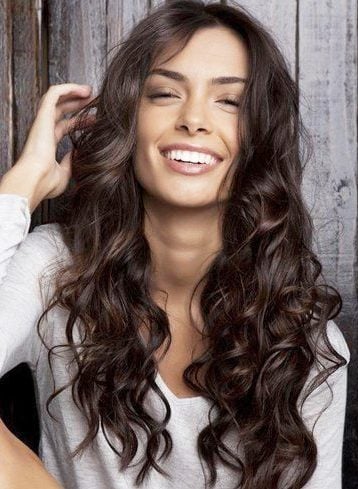 5. Top Braid with a Sleek Look with Feather Cut
You can take cue from Amy Adams, who prefers to play with her long strands with a different style every time she appears in public. You too can give some turns and twists to your usual hairstyle. While some tricks like this one, can make you look extremely stylish, it acts as a feel good factor from the usual mundane look. Try going for a cute frontal top braid with free-flowing locks.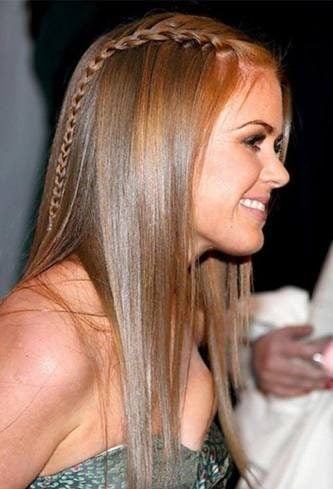 6. Running Braid Hairstyle with Feather Hair Cut
You have had a feather cut long time for now and now you're just bored of leaving them loose and flowing. You can give a dramatic change to your look with this hairstyle. Remember Amisha Patel in "Gadar" movie? She had also flaunted this kind of style for her long thick hair. Only if you're good at braids then try at home or else take the help of professional to get this style. Create a single cut side braid that runs through your head, being tucked to the other end.

7. Wavy and Curly Layered hairstyle with with Feather Cut  Bangs
How about going for a mix of curls and layers? Let me tell you this style is ultra-fun and attractive, giving you a show stopper look. I won't recommend you to try this at home. So, better fix an appointment with your hair stylist and you've a terrace step cut is a bonus or else ask him to give you one. That's because you should have several layers to get such tresses. Give a feathered style to the front bangs, which are brushed outwards and swept to one side. The lower end layered tresses are then give a smooth curling effect.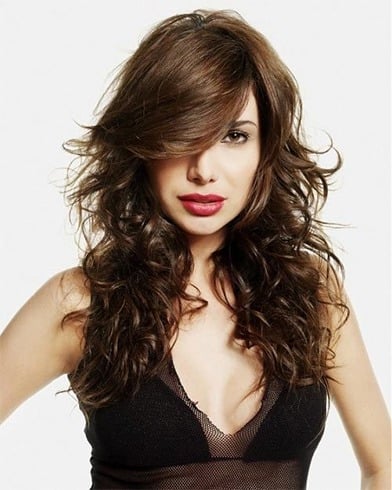 8. The Corporate Look with Feather Cut
If you prefer to keep your long locks loose and open at your workplace then go for this graduated layered haircut, which can give you a mess-free style. However, you need to use a fixing spray to ensure the strands stay in place.

9. Wavy Hairstyle with Feather Cut Bangs
The wavy look can never go out of fashion. Waves look great on any type of face and for this you'll require some big Velcro curlers and big barrel curler. After your curls are set, brush them outwards and a few inwards. Remember to sport nice bangs or else you'll just end up having a regular look.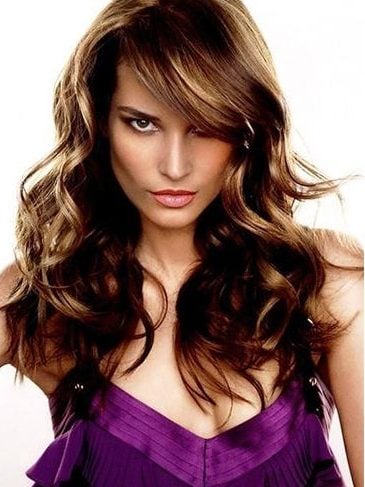 10. The Waves Waterfall Look with Feather Cut
For this you'll need a stylist's help. Because this style requires exceptionally large Velcro curlers to create this awesome waterfall look.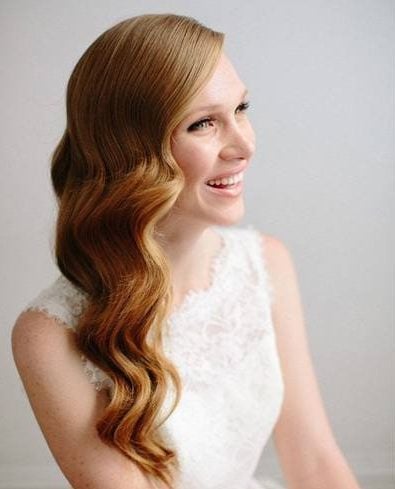 11. Long Beach Waves And Feather Cut
You will never in your life regret getting this feather cut for long hair if you have light curls. The best part going about this hairstyle is that longer locks have been curved inwards, while the shorter ones framing the face have an outward curve.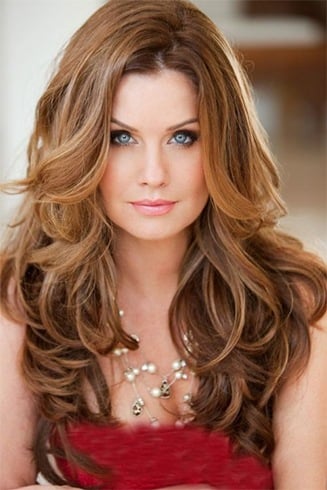 12. Soft And Curled Feather Cut
In this feather cut, notice the soft-edged curls that give this hairstyle a unique look. Ideal for girls who are in their 20s.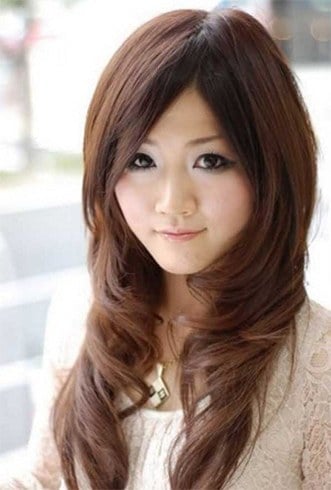 13. Feather Cut With Curls And Layers
The feather haircut in this design has been done on layers. In fact, the long ends of the hairs have also been curled to get you the right look.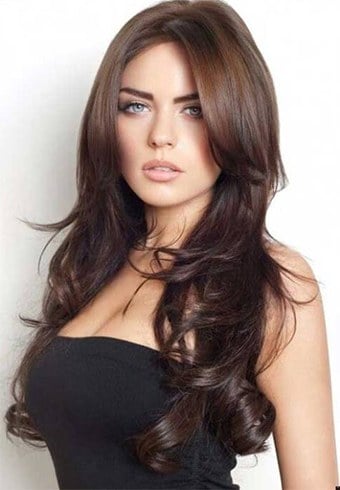 14. Feather Cut And Highlighted Tips
Another good example of feather cut for long hair. Full marks to highlights at the end of the hair locks (though not compulsory).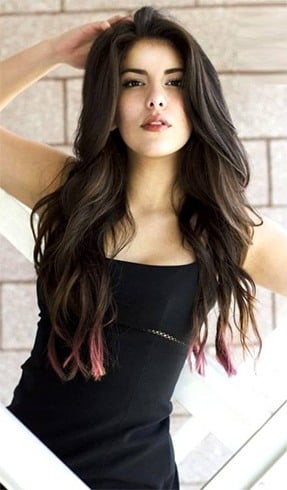 15. Of Layered Hairs And Feather Cut
Yes, it is a fact. That feather haircut looks most stylish when paired with layer cut. See the symmetric feather cut and the side swept front bang adding to the glamour part. Perfect for stylish lasses. Age is no bar.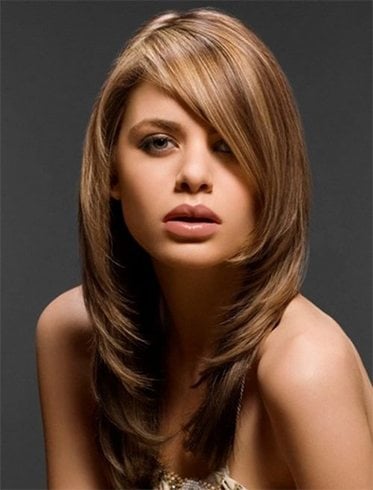 Short Feathered Hairstyles:
Short is crisp, as they say. So is the feather cut for short crop.
16. Undercut feather style with longer side-locks
This stylish feather cut hairstyle is extremely intriguing. It starts with a total crop look on the back and moves forward to longer fringes in the front. With long side locks covering the ears, this feather cut gives a complete rock-star look.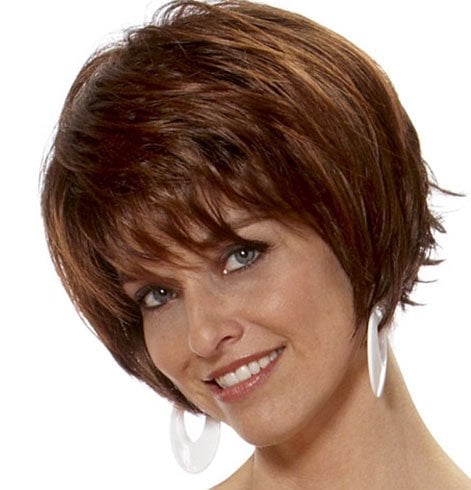 17. Ruffled And Messy Style
It's no wonder that the short and messy hairdo's are the most easily manageable and widely sought ones. This is an apt feather haircut for short hair, don't you think? It goes great with any style of outfit without much ado.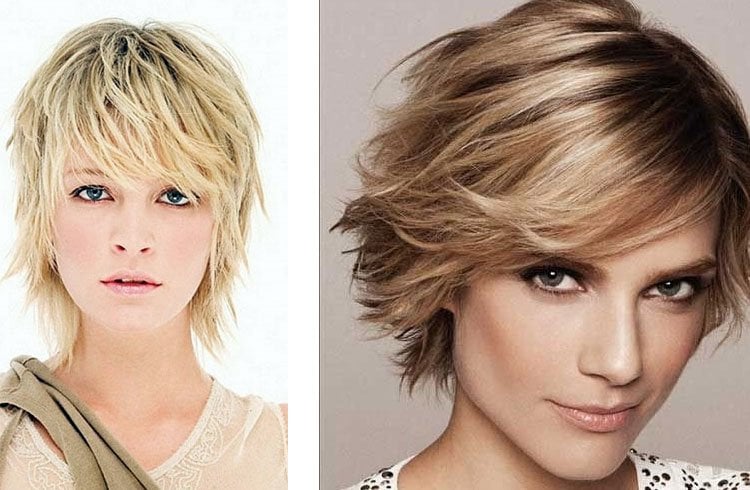 18. Highlight Contours Of Face
Leave the forehead bare or add a fringe, it's upto you with this style. It's a regular feather layered haircut that is given a different touch with facial frame highlights. Let the highlights define the cut and contour of your face giving the style a new dimension.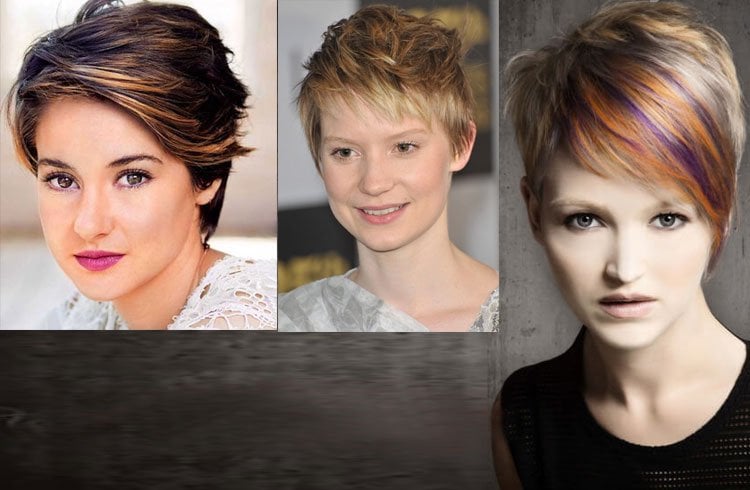 19. Asymmetric and Fringed
If you are bored with your regular short hairdo, try out this asymmetrical feather haircut and give yourself a lovely makeover. It is a challenge to carry the lows and highs of the fringes in the right way. If you think you will be able to justify this crazy style, give it a shot.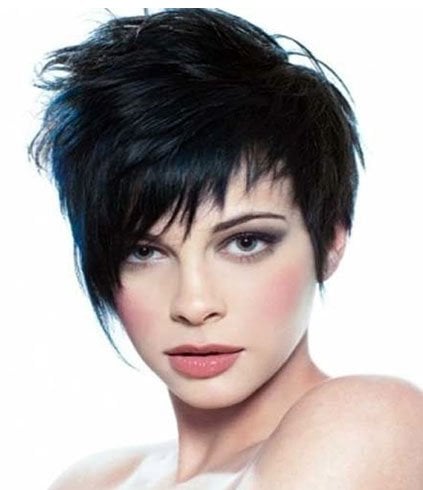 20. Shaved side feather
Are you up for a bold and dynamic hair game? Then go with the shaved feather cut hairstyle and surprise yourself. This is one tricky style and is definitely not everyone's cup of tea. As the shaved side will take time to grow back, this look lasts for quite a while.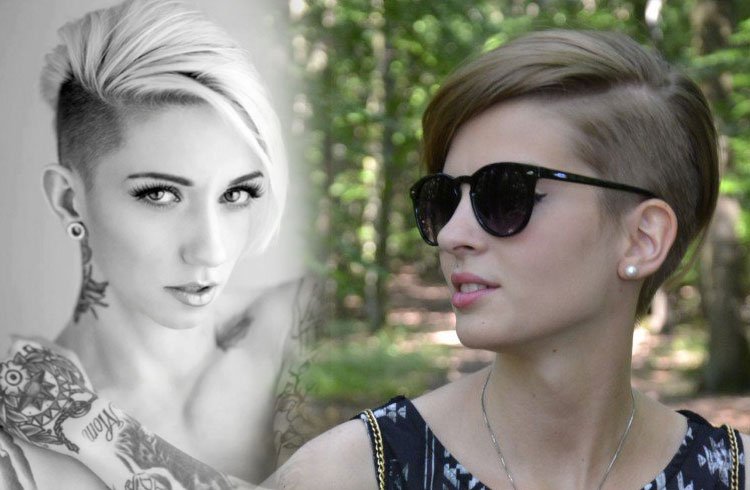 21. Side Swept Style
This feathered hairstyle partials with one side of the face giving a narrowed down definition of the features. Give this feathered hair an extra edge by streaking it with a bold shade.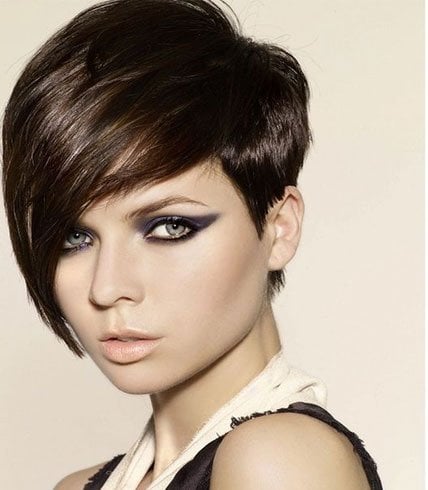 22. Curly Feather Hairstyle
This style definitely requires assistance from hair experts. Curling short hair is a challenge in itself and with feather cut is even more tougher to achieve. Let the experts work this magic for you and we are sure you will love the flirtatious look that this feather cut works for your curly hair.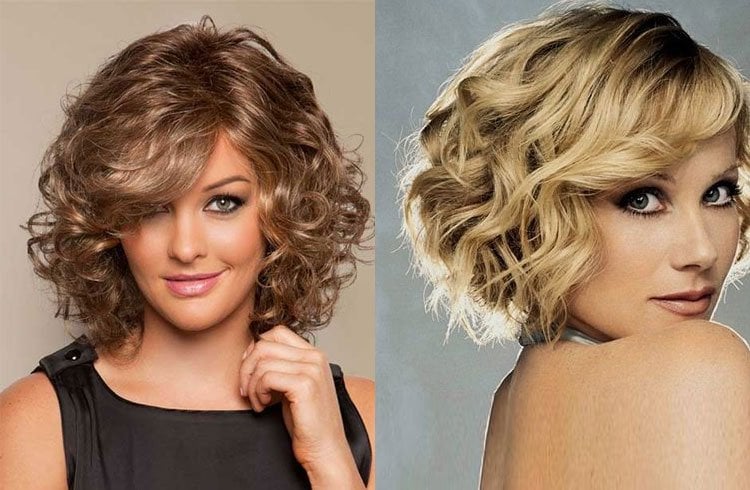 23. Beachy Feather Style
It is very similar to the messy feather cut hairstyle. The trick of this look is to brush the hair in no definitive style. The asymmetrical cut with little waves will give it the look an extra bounce.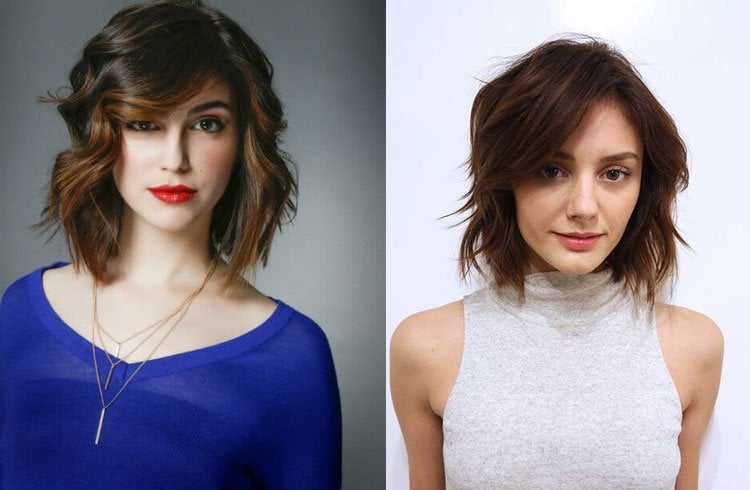 24. Feathered Bob
We are pretty familiar with the stacked bob hairdo, aren't we? Now adding the feather cut will make the look even more interesting. Be it an asymmetrical bob or symmetrical bob, the feathered hairstyle gives it a trendy touch.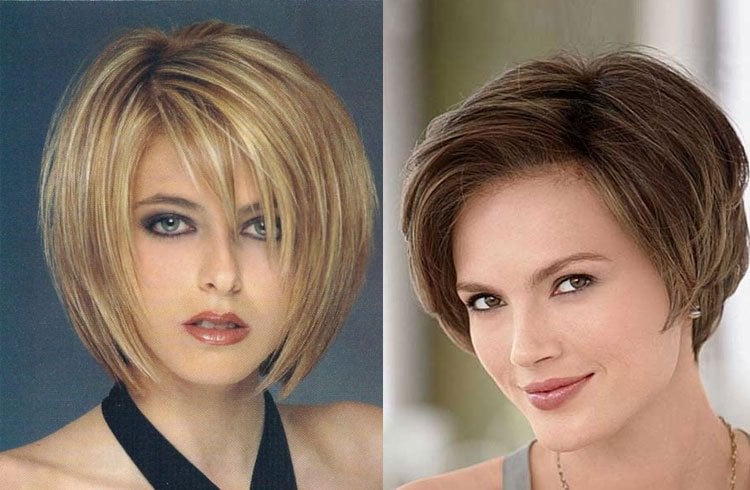 25. Feathered Crop Style
Usually summers and the scorching sun call for the crop style haircut. Add feathered style to this cropped look to give it a girly feel.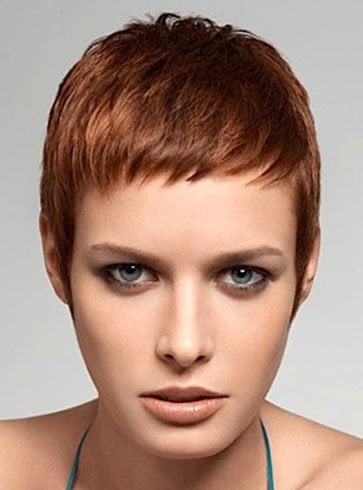 26. Mixed Layered Short Hairstyle With Feather Cut
Ideal for long and oval faces this is. Looks perfect on matured women. Light bangs at the front accentuate the feather haircut. Add some highlights (did we smell caramel?) and you could be a thorough professional in winning hearts.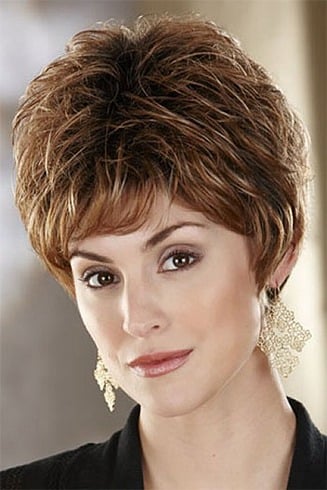 27. Symmetric Short Feather Cut Hairstyle
Short and bold it is and then low in maintenance. What more do you want?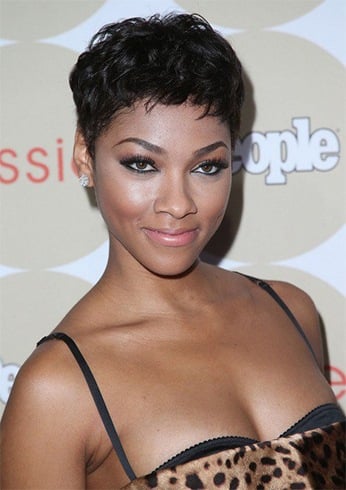 28. Straight Feather Cut
Different it is from the messy look you saw above in some of the feather haircut styles. But since it is a straight haircut, it will surely give you the right look if you are a college-goer or a jobber.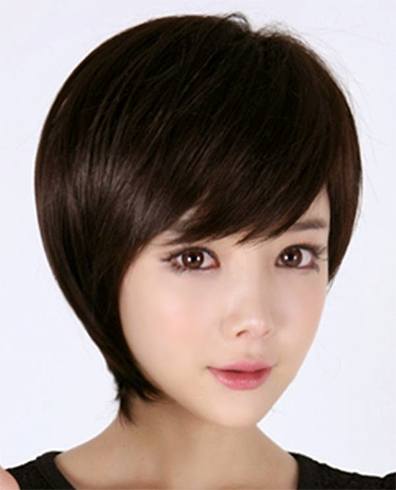 Feathered Hairstyles For Medium Hair:
Go the "middle" route if you have medium hair.
29. Feather Cut With Side Fringe
Medium length hair is ideal for any feather cut hairstyle. A simple straight feather cut with a side fringe will keep the look both trendy and uptown. A perfect hairdo to carry to work and any party, don't you agree?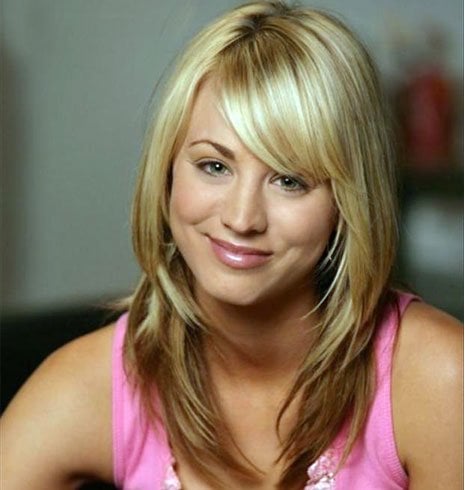 30. Feather Cut With Front Bangs
Go the baby doll style with this feather cut hairstyle. Take off a few years from your age by giving yourself front bangs and perfectly scissored feather cut. It is an ideal feather cut for thick hair. Give the tresses an inside swirl and let them curl around the face beautifully.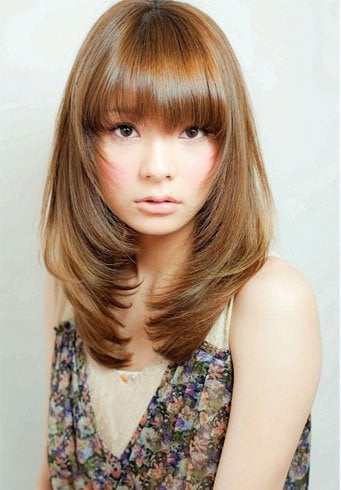 31. Razor Sharp Feather
This feather cut is suitable for women with thin hair. The razor sharp cuts and the outward swirls will give the look a bit of volume.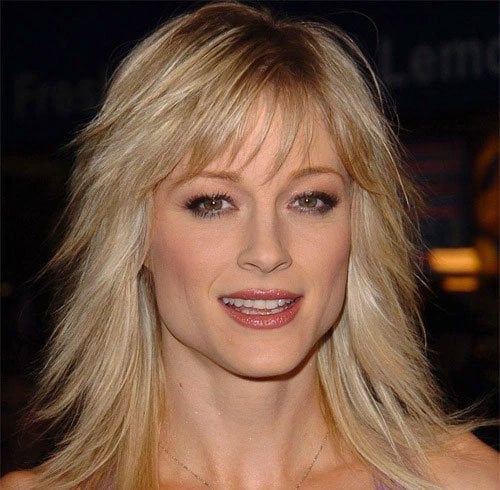 32. Messy Feathers
Ruffle up your feathered hair for a cool, trendy touch. Just blow dry your hair without a round brush and comb it in the end. It will give you this feathered hairstyle which is the best just-out-of-bed look. If you have a wide forehead, remember to align your fringe in the front.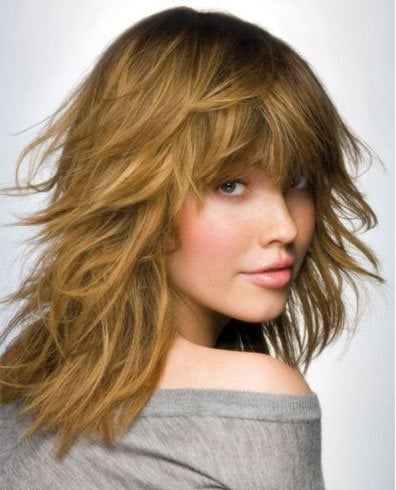 33. Layered and Feathered Style
This style is pretty similar to one of the long feathered hairstyles. Give the front and outline of the face a sharp feather cut and along the feathered back hair, add layers to give the look a bit of boost. Flatten the feathered bangs with outward swirl towards the end. Work this technique all along the hair and enjoy the style.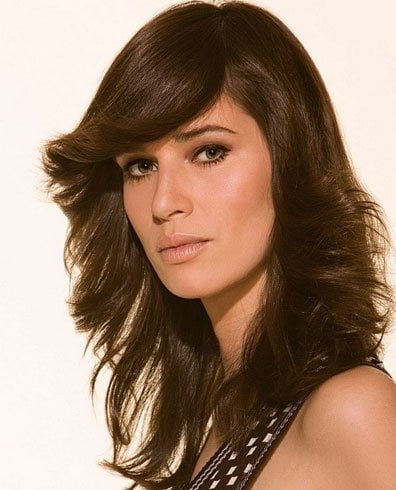 34. Soft Curls Hairstyle
If you an ardent fan of the feather cut like us, you will definitely love this look. Let the feathered hair fall casually with soft curls added towards the end. A true party or bridal style, don't you agree?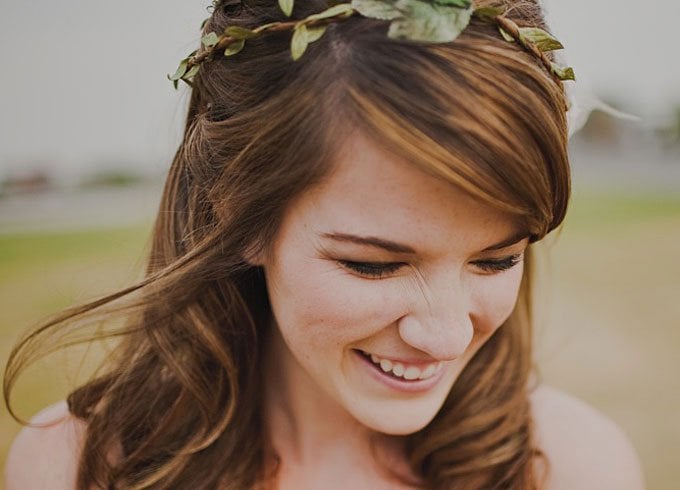 35. Chopped Layers And Feathers
This is one of the easily maintainable feather cut style. The fringe can be adjusted either to the side or front as per choice. The feather haircut back view shows the graduating chopped layer style.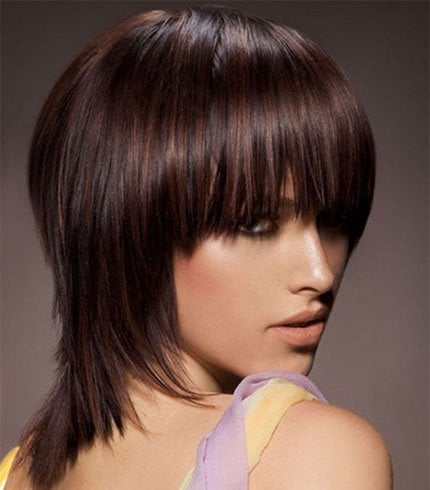 36. Blunt Cut
The one style that straight hair women can carry off with ease is the blunt cut hairstyle. The straight finish with no inward or outward twirl completes this style.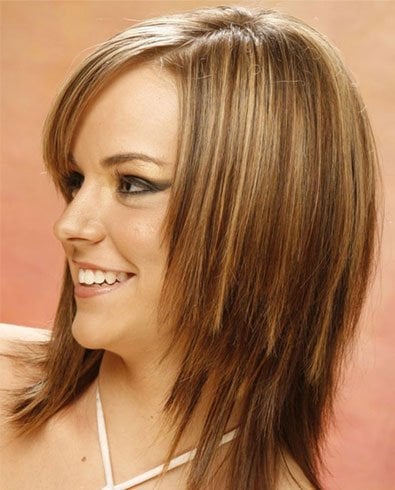 37. Tapered Curls
Add some drama to your simple non-fussy feather cut with tapered curls. Let the hair fall smoothly on the top of the head and in the front but start curling the feathers gradually till the end. This is a smart and fun hairstyle to try.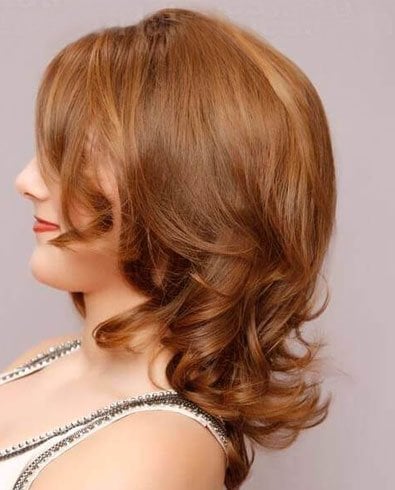 38. Asymmetrical Feather Cut
A asymmetrical style will look great on medium length hair. This style with slight highlighting and streaks adds more charm to the look.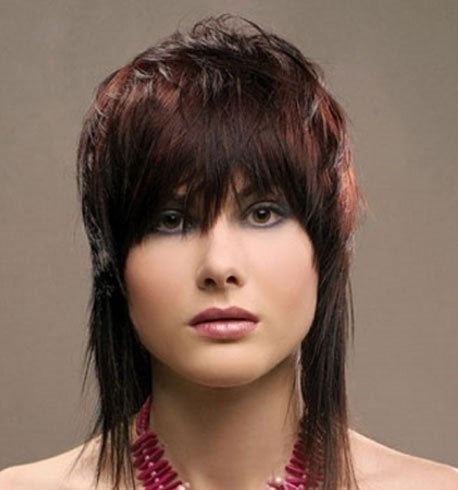 39. Messy Again
The right choice of hairstyle for mature-looking women this is. It is bold and gives you the benefit to keeping your curls and tresses mid-length.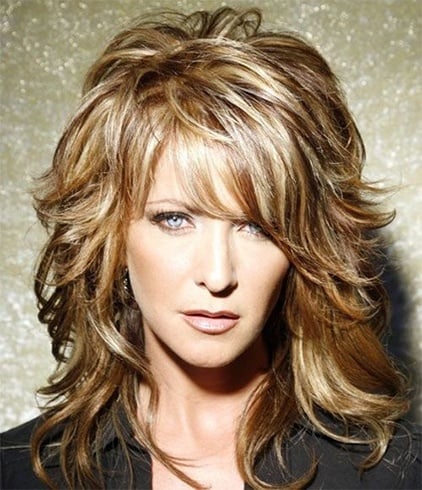 40. Messy Feather Cut For Hair Of Medium Length
In this feather cut for medium hair, some hair ends of the cut point inward whereas some other ends point outward. Interesting twist it is, what do you say? The benefit of longer bangs in the front is that covers a wide forehead and gives a long/oval face a slightly more roundish look.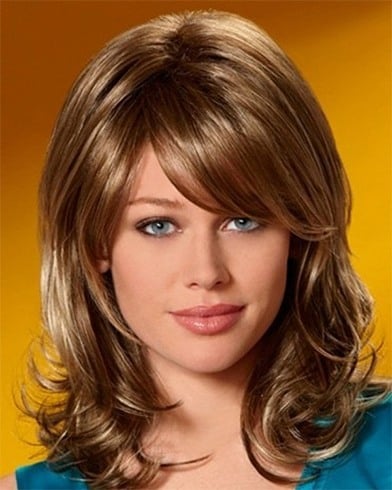 Hope you found this post on the Top Amazing Hairstyling Ideas with Feather Cut useful! Watch the feather cut images closely to understand if they can match your hair style and texture before you just decide to randomly chop them off in the styles shown above.
Images Source: pinterest.com, beautyhealthtips.com