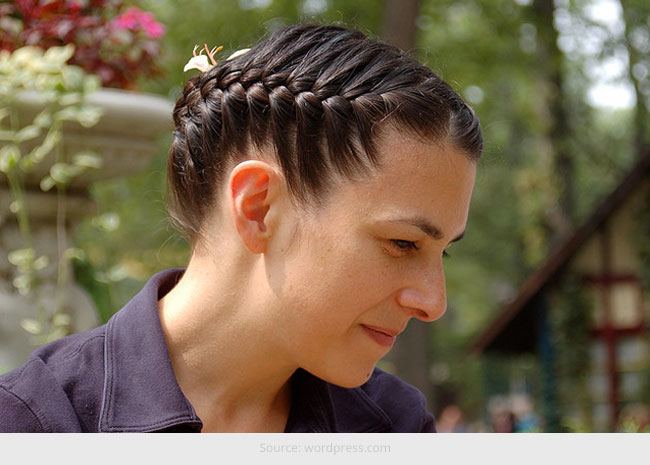 French braid hairstyles are becoming very popular among young girls. If you have decided to flaunt a cute French braid as one of your hairstyles for long hair, there are many fresh and stylish French braid hairstyles for you to try which you may not have considered them earlier. French braid hairstyles are easy to learn; you can create hundreds of French braid styles once you master the basic art. Especially if you have long, wavy or straight hair, you can experiment with so many styles such as formal French braid buns, traditional braid crowns, half-up-do braid hairstyles, etc.
These 10 hand-picked French braided hairstyles will serve you as a quick guide for a trendy look!
1. A classy crown with a French braid has always been popular among stylish girls. Create a French braid headband type crown and let the remaining hair loose. Make this crown even more graceful by decorating it with some floral hair accessories. There you go! French braid hairstyles with flowers!
2.  Here is another fine-looking braid hairstyle. Make a loose French braid without tying it. This is one of those messy French braid hairstyles that you can create in just 5 minutes.
[Also Read: Easy Hairstyles for Long Hair]
These braided hairstyles are perfect when you are out on a beach vacation or during summer. It helps keep away the hair from the face and also looks classy if made it in a little messy manner.
3. Just turn the tail end of the braided hairstyle and lock it using bobby pins without making a crown braid and you will easily resemble a hot celebrity. Aren't french braid hairstyles fun?
4. This headband French braid makes you look cool in hot summer weathers. It gives you a formal and classy look for a formal event.
[Also Read: French Braid]
5.  If you like to keep it simple, half-up French braided hairstyles are just perfect for you; give your French braid a unique look by ending with a modish fishtail.
[sc:mediad]
6.  A properly done French braid tail may give you an impressive and fresh look. Spice it up using a number of tiny tails joined with your main fishtail/ponytail. This french braid hairstyles for long hair will look extremely pretty when done neat. You might need some help in getting this French Braid Style
7. Make this simple side braided hairstyle look extraordinary by making French braid around your face, go for a fishtail for the rest of your hair.
8. If you have long and wavy hair then give yourself a fresh look by sporting tiny and easy French braid. Use only a very small section of your hair to make this braid.
[Also Read: How to french braid hair]
9. Look at this loose French braid hairstyle. You can make this angelic and casual hairstyle at night, if you are in a rush in the morning; this simple trick will make it look bit messy and casual.
10. If you are interested in something uncomplicated, sporty yet trendy enough to make people notice your hairstyle, then go for this French braid! Make two small French braids on both sides; secure both braids parallel to each other using bobby pins.
Hope you enjoyed this post on different braided hairstyles for long hair.