When we think of braids, we usually have memories from the past that pop up in our heads instantly. Memories of grandma or mom who had the dexterity and devotion to plait our hair in a beautiful three-strand braid that made us look the prettiest ever.
Beautifying one's look by enhancing their hair is an age old tradition and women have always adorned their hair. Right from tying ponytails for school to tying the high knot at college, women have always experimented with their hairdos and have flaunted them well. One among those gorgeous hairdos women love is the French Braid. It is the simplest of the braids and can be braided without the help of the others. French Braids are now in the limelight and are having a moment with so many celebs sporting this look at the red carpet and making a sexy statement with it.
[Also Read: Braid Hairstyles 101 for the Girly You]
So to help all you beautiful women on how to get French braid hairstyles right, we have listed each and everything you ought to know about this hairdo and how you could get it perfectly right! So let's begin to get your chic French braids right.
Like the famous French toast that isn't from France, the French braid too didn't originate in France. Most believe it was the Greek who got this hairdo into existence, however there are not many evidences supporting the same. But then wherever and whoever introduced this hairdo, they definitely did one amazing thing. French Braid is considered the most simple of the braids; however there are many types to it. Let me first enlighten you on how to French Braid and then we can learn about the different types of French Braids that exist.
How To Do A French Braid?
If you want your French braid to look stunning, you ought to wear it with attitude. A French braid can look fierce, edgy and bold if you braid it close to your scalp. It can look feminine and girly, if you tie it loose and let it be flowy.
So to ace your French braid hairstyles beautifully, read on to know the tips on how you could do so with great ease. This French braid tutorial will make this all easy for you.
Tools you would need:
A brush to detangle all your hair
An elastic holder to hold the strands right
A Comb to part the hair in three equal strands.
Steps to follow:
Brush your hair all down.
Untangle all those tangles softly till your brush can go freely through your hair.
Gather it to the top center section and tie it into a single strand.
Tie the strand with elastic, this makes the braid strong and stable.
[Also Read: Bohemian Braids To Wear This Season]
Take one section on the each side of the strand, one on the left and one on the right.
Now take these two sections and cross them over the center section.
Start braiding it to the length of your hair.
As you go down, add a different piece of hair to each section.
Continue this till the end of your neckline, braiding most of your hair.
Tie the remaining hair with elastic and finish the braid.
Now carefully remove the first elastic by cutting or you could just hide it into the braid.
For you to understand braiding better, here is a video on the French braid tutorial for you to do it all by yourself.
Now I hope you would know how the French braid is done right. So it is just about time to introduce you to the different French Braids that we have. Read on!
All The Different Braids!
If you are thinking it is going to be an easy task trying all the braids out, trust me it is going to be a bit difficult than you would think it to be. With the fashion industry pacing up at such lightening speed, coping with new and upcoming hairstyles can be a herculean task. Under the umbrella of braids, there are a number of looks; so many that you can pick up a new braid for each day of the year.
Each braid is unique in its own way. Each of them has their own twists and no two look the same.
To give you a gist of the different braids we have, I have listed the ones that are the most popular
See below to learn the braid lingo perfectly and see which braid would suit you the best. Good Luck!
Regular Three Strand Braid
This one is the most common braid sported by women and is the easiest of them all. This look is the baseline of braids which is done by taking three sections of hair.You braid by alternatively passing one section from each side over the center strand and braiding it till the length. Its like juggling up all that hair. Get Juggly!
The Fishtail Braid
To get this look, you need to separate your hair into two sections. Then you need to take a single strand from the underneath of one of the sections and then pass it over the other. You need to braid it till the length of your hair and repeat this on both sides continuously to get the pattern as seen in the picture.
[Also Read: Celebrity Braids Hairstyles]
The Dutch Braid
The Dutch Braid is a type of French braid but it is slightly different. To get this look, you have to pass the hair underneath the center section rather than passing the hair over each strand. This makes the braid on top of the head, thus in the inverted position. This can be used to create a beautiful hair- band braid or a marvellous pigtail headband.
The Milkmaid Braid
The easiest of all braids is the milkmaid braid. This can be created by making two regular pigtails and tying them up like a crown like a headband. This can also be created by making a French braid and pinning it on top of the head.
The Four-Strand Braid
If a three strand braid isn't satisfying you, then this look will definitely be the look you would be wishing. Just like the French braid, this one has to braided using four strands. This makes your braid look more voluminous, thus it appears wide and thick.
Pheeew! Have a look here to know how many braids you can try.
DIY-French Braid Across Head
Another popular hairstyle is having the French braid across the head. You could either have it in the front or have it from the behind. This look usually resembles the headband and looks spectacular.
To get this look, you should first braid a French braid from the side and then pull it across the front of the head, if you are a looking for a French braid across front of head. If from the behind, then pull it from the back and underneath to the other side of the head, which will make it look like a crown.
[Also Read: 10 French Braided Hairstyles for Long Hair]
Braids like these would look like the picture beneath. Have a look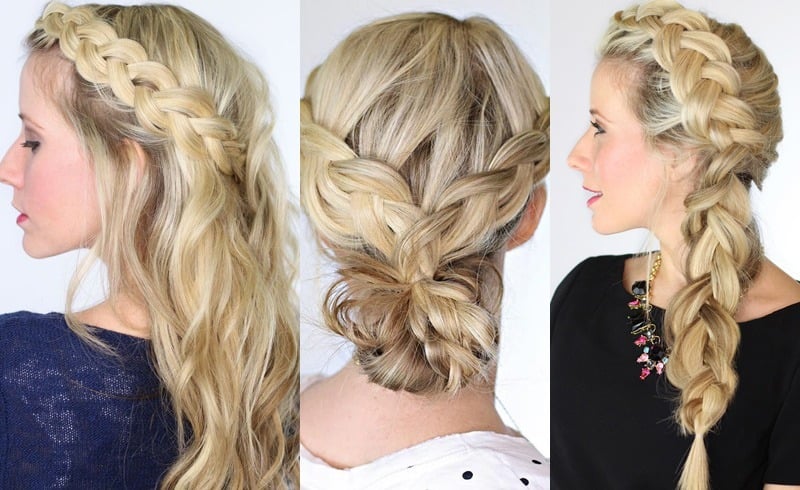 Another look that is the talk of the Celeb town is the French braid bangs.
Let me enlighten you with this look too.
French Braid Bangs
When you want to add spunk to your look and yet keep it traditional, braiding you bangs is the thing to do. Bangs can be difficult to handle. They keep curling up and turn all sticky and messy. So maybe to avoid one of those banged up bang looks, you could probably try these. The French braid bangs back in action with a bang on the red carpet too.
[sc:mediad]
DIY Tips – How To Braid Your Bangs
To get the look perfectly right, follow the tutorial mentioned below on how to braid your bangs and watch yourself your beauty best.
First part your hair creating a deep side part at least an inch apart.
Pick strands of your hair from the hairline and divide it into three different sections.
The hair at the front should be pulled over the center.
Follow the same by folding the hair at the back over the center.
Take the hair and in front of the hairline, add it to the front and then fold it over the center.
Now for the section at the back, add some more hair to fold over the center section.
Braid your hair across the hairline till just above the ear. Don't go further than that.
Use a band or some hairpins to secure and strengthen the braid and you are all ready to sizzle!
To help you get a better knack of it, we have the tutorial video for you. Have a look.
Now after all that braiding, let me give you two more amazing hairstyles to ogle over. They are the French braid bun and the French braid crown.
French Braid Bun
This is one of the most beautiful braid buns we have among all the other buns. A French braid bun, as it sounds is a French braid that is tied up into a bun.
DIY Guide- Getting Your Bun Right!
To guide you, I am listing out tips to get an amazing French braid bun step by step.
Step 1: Start braiding your hair into a French Plait by taking three strands of hair and plaiting them into a French braid. You could even do the sideways.
Step 2: Secure the end of the braid with an elastic band.
Step 3: Twist the end of the braid to form a bun. If you are pulling behind your head, you can opt for a flat bun. If you are tying a bun above your head, you can opt for a round bun.
Step 4: Pin ends to secure the bun. Use bobby pins they are sturdier.
Step 5: Spray some hairspray to lock the look, so that it stays all throughout the day.
If you have perfected your skills of plaiting a French braid, this look will be an easy French braid bun for you.
Go Glamorous With These Easy-to-do Braided Buns
To add some hairdos to your box of hairdos, I have listed out some beautiful easy to do braided buns for you. Check them out and see which one of these woe you the most.
The Braided Bun
The Knot Updo
The Topsy Tail
The Easy French Twist
The Braided Bun
The Knot Updo
The Topsy Tail
The Easy French Twist
These braided buns are all very convenient and they look superbly stunning.
The next look that you could try is the French Braid Crown.
Be The Queen- The French Braid Crown Is Here
Crown braids are very popular for weddings. A French braid crown looks gorgeous when it is embellished with various embellishments. A tiara looks the best on a French braid crown.
Here we have step by step video on a French braid crown tutorial for all our lovely ladies. Enjoy watching it.
I am sure after watching this video; you would be all motivated to try this look. Though there are many embellishments that you could add to this look, but I feel the one that stands out all the time is the natural hair braid crown.
You can try adding a few extensions if you feel your hair is short, but try keeping it as natural as possible.
[Also Read: 10 Floral Crowns for Every Occasion]
Your perfect French braid crown should look like the picture underneath. Try till you get this perfect and you look killer.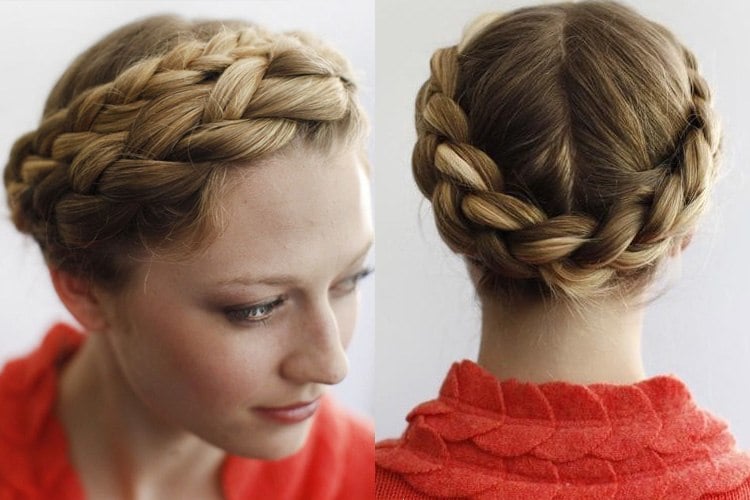 I hope I could give you all you lovely ladies out there all the details you were looking out. It would be great to see all you pretty women trying these beautiful hairdos out and looking as gorgeous as ever.
I wish all of you have a great time styling up. Enjoy your French Braid ladies.
Happy hairstyling till then!