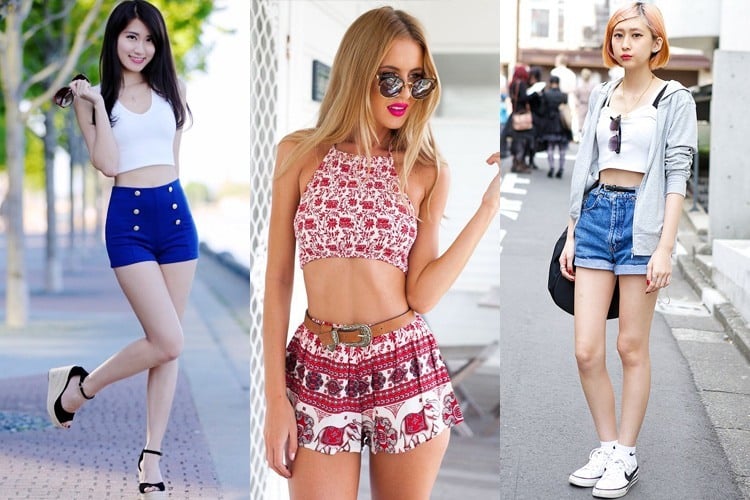 If high waisted jeans weren't enough alone, we now have the high waisted shorts to style. Well, don't split the ends of your hair straining your brain brooding on what to wear with high waisted denim short. There are honestly more stylish ways to wear the shorts with high waist than you can even imagine. And I have jotted a few of the most popular styles for you.
[Also Read: How to Wear High Waist Jeans]
What To Wear With High Waisted Denim Short
1. You can achieve a super boho look in a high waist shorts. Just team it up with the loosest tank top in your closet and pick up the longest front open sweater you have ever seen. Humongous heels are optional though, I would always vote for them.
2. While winters are going to extend till February in a lot of regions, you don't have to worry on how to wear high waisted shorts in this chill. You can still rock your favorite pair of shorts by teaming them up with a pair of thigh-high woolen socks, which apparently look really cool. In a chilly weather, add a cute scarf and a beanie for added layering and some style.
3. For the shy babes not that comfortable showcasing the booties in the open – you girls can actually use this pair of high waist jeans as a beach cover up. This will help you cover up some big chunk of your skin while you relax by the beach or the pool.
[Also Read: How To Wear Booties]
4. One may also use these high waisted jeans to get some super casual and rocker-inspired look. All you got to do is get yourself a loud graphic tee. Now tuck your tee inside your shorts. Complete the look with a pair of bright heels that speak out the mood.
5. You can continue wearing your pair of high waisted shorts even during the spring time. How about you warm it a little with a cozy little sweater and comfy sneakers. Now that will make the look really cute and uber casual!
[Also Read: Shorts With Heels]
6. And there is of course this most common way to wear high-waisted shorts – couple it with a crop top. Let's face it, these two are just so made for each other, there is not a chance in a million that it wouldn't work.
7. For beginner with crop tops, I'd suggest start off with showing a little bit of your abs by wearing those cute high-waisted shorts with a shirt that features a front tie. This pinup girl inspired look can just be worked out by wearing a regular button up shirt and knotting it up the end of the shirt.
[Also Read: What To Wear With Floral Shorts]
8. What's more? You can in fact wear a high waisted short even to work. However, go for a pair in formal fabric and dismiss the denims for now. Throw in a blazer over a conservative blouse or shirt and you are good to go.
9. To achieve a more dolled up look out of those shorts, slip in to the laceiest top in your collection. Accessorize the look with a trendy belt and bracelets that go with the entirety of the outfit.
10. Not very comfortable with all the skin show going on and the shape of the body getting all prominent? No worries! Pick up a really loose boxy tee-shirt and there you go. You look casual yet not too tacky.
11. But if you're daring enough to get your shorts bring out the best in you, combine it with a bralette top. Here we are indeed wearing a top so it save the impression that you are just wearing a bra or bikini. Till you get your comfort straight, cover up with a cardigan.
[Also Read: How To Wear Crop Tops For Different Occasions]
12. For a little different look pair up your denim short with a funnel shirt. Tuck the shirt completely inside, of just let one side loosely dangling outside while the other one stays put. This rocker-chic look will be more pronounced if you find yourself a real good pair of boots.
13. Corset and bustier tops are associated with more formal or dressed up appearance. You can still make them a tad casual by teaming them up with these denim high-waisted shorts. It will make for an amazing fusn by blending two diverse styles.
14. Not really prepped up to show those legs off? No worries, you can still go ahead and wear your black high waisted jeans shorts. Wear a pair of black sheer tights beneath them and your legs are covered and yet to get to rock those shorts.
[sc:mediad]
15. We also have this real popular way of sporting a pair of well fitted high waisted shorts with an all denim button up shirt. But, this look might not fly if your shorts are denim too. I suggest pick up a bright colored shorts in a different texture or hot pants and team them well with a blue denim collar shirt.
16. Last but not the least, go all matchy-matchy by wearing a tube top, a noodle strap or a halter neck top with your favorite shorts. These matching pieces of shorts and tops are available at all fashion stores so you can select from the wide range spread out to you. Or just pick up a fabric that suits your situation and get these matching separates tailor made for yourself.
Whoa! Now these are a hell top of varied ways you can wear a high waist short. If you are a girly girl or a tom boy, I am sure you have found a style that goes with your personality. Yeah..yeah, you're welcome, guys.