No other piece of attire has a trend as dynamic as your pair of denims. We have witnessed styles as varied as boot cuts, bell-bottoms, low-waists, skin tights, straight cuts, and many more in the past decade. Now with Selena Gomez, Rihanna, Kim Kardashian sporting it in fashion magazines, parties and a regular day out, the high waist denim has made it to the top list of the most 'in' thing for this season.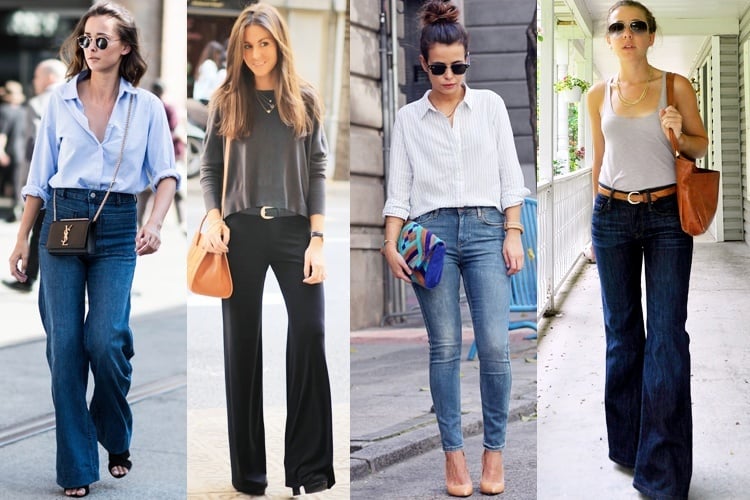 Are you yet to own one for yourself? Are you still brooding over the items in your wardrobe which will complement the high waist jeans in the best way? Here we are with our observations of the fashion trends around the globe. You don't need to serve the internet anymore and go through various style blogs.
[Also Read: Ways to Style Bell-Bottoms]
Here's How To Wear High Waist Jeans:
We have the latest trends to stylize your high waist jeans that will make you look cute and classy at the same time.
1. Wear Tank Top With High Waist Jeans:
Teaming up your high waists jeans with a bright tank top is yet another way of styling the denims. You may choose to wear some chunky neckpieces that goes into complete the look. But if your tank is too bright and has a lot of graffiti on it, you might just ditch the neckpieces. A combination of too much off graphics and too much jewelry will make your bust area look very busy and cumbersome.
[Also Read: How To Wear Flare Jeans]
2. Smart Shirt With High Waist Jeans:
One of the best ways to style high waisted jeans is with buttoned up shirts. A buttoned up shirt is never 'last season'. They always rock, if added to any look you sport. And so is the case with the high waist jeans. Take out your best fitted button up shirt from your wardrobe. Iron it perfectly and make sure there are no creases. Creases will make you look clumsy and unkempt. Tuck it in neatly under your high waist denims. Match it with closed and if available ankle length shoes. And you are ready to rock. You may even try out this look for official rendezvous. The Kim Kardashian pic below is a perfect illustration of this look.
3. Crop Top With High Waist Jeans:
Remember the summer crop top that took a back seat in your wardrobe since the monsoon hit the country? It is now the perfect time to pull it out. A loose summer crop top makes a perfect upper for the high waist denims. With the high waist of jeans covering most of your skin, the little bit of gap between the hem of the crop top and the waistline of the denims, makes you look cute. Nothing cheesy about it. Just look at the picture below and check out how cute Selena Gomez looks in her skin tight high waist denims with a loose fitted crop top. You may recreate this look easily.
[Also Read: How to Wear Crop Tops!]
4. Girly Tops With High Waist Jeans:
Another look that will make you look slimmer, sexier, and taller will be achieved by wearing a stylish girly top or blouse with the high waist jeans. The girly tops are the latest trend in Fashion right now. Pick up a top or a blouse that fits you well. Choose one with a lot of frills or ruffles. They will bring out the feminine element in you better than any other upper wear. Try to go for a color that contrasts with the color of your denim. But at the same time is vibrant and bright. Neon colored tops are just perfect. Wear a chucky earing to match the outfit. Your high waist denims will do you the best favor if you team it with a pair of black, silver or nude stilettoes to complete this look.
[Also Read: Recycle Old Jeans]
5. Go Retro!
Yes, going retro is never so-last-season. And the best way to go retro with a pair of high waist jeans is to flaunt it with a polka dotted collared blouse. Manage your hair into a neat look and wear a hair band to go with it. If your wish to tie-up your hair, go for a loud head band that matches your blouse. Big hoop earring would be the most perfect to nail this look.
[sc:mediad]
6. Suspenders:
Ever thought of sporting good old grand pa's suspenders in style? No? Well, now is the time. Wear a solid T-shirt and tuck it in neatly. Now accessorize this plain combination with a pair of bright suspenders. That's different yet cool. You don't need any earring or necklace to enhance this look. But if you are out in a sunny day, then you may want to wear a hat and that's all. You look perfect!
[Also Read: How to Carry Off Suspenders Like A Pro]
7. Boyfriend Shirt and High Waist Jeans:
Yet another experiment that would bring back the 90's air is to wear your boyfriend's shirt over your denims and tie the lower half of the shirt in a knot. I would personally prefer wearing a spaghetti top or vest inside and keep the shirt totally unbuttoned.
[Also Read: Bleaching Jeans]
8. High Waist Jeans and Belts:
Increase your belt collection. Even if you do not require these belts to hold your jeans to your waist, a wide or ornamental belt can make a plain and simple pair of high waist denims a chique appeal. Refer to the below pictures to derive an idea of how a piece of accessory works magic to your otherwise monotonous attire. You could add a piece of neck piece or a few bracelets that goes well with the belt and complete the look.
[Also Read: What To Wear With Flare Jeans]
These are the styles that the celebs are sporting – in Hollywood as well as Bollywood. Now you know how to style high waist jeans. Try them out yourself and discover the diva in you. Stand out as a celebrity in your flock.