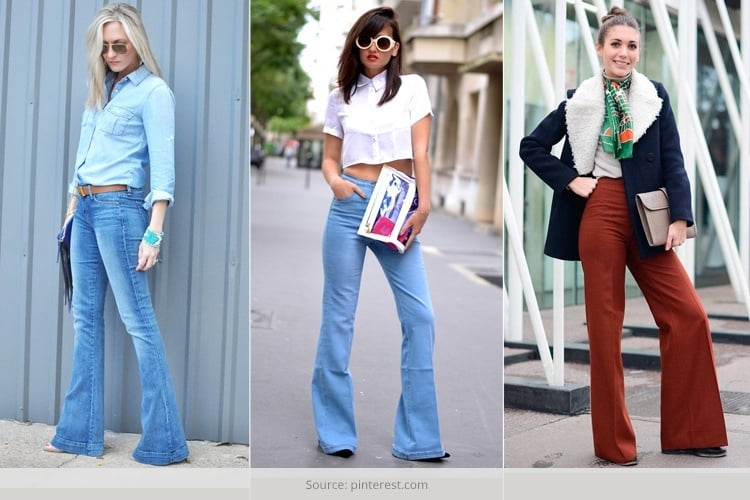 Pair of jeans is one of the most favorite item of clothing in a woman's wardrobe. It is that one piece of wardrobe staple that can go with any mood and every occasion! Nowadays, skinny jeans are the hottest type of jeans in fashion, as they show off the beautiful silhouette of rear and legs. From a canvas of colours to cropped and tattered, skinny jeans is all you'll see. Need a break from it all? Flair up your attire with flare jeans. Yes! Flare Jeans Fashion is back and trending. And don't worry. We have you covered as to what to wear with flare jeans.
[Also Read: Flared Pants Are Back With a Bang]
How To Style Flare Jeans?
These particular denims bring back the aura of the 1970s. They'll make you look laid back and give an off-hand ambiance. The best part? They are so much more complacent than the skinny denims.
However, styling your outfit with these flare jeans can be a little tricky. You have oodles of experience with the simple skinny ones, so this one may take some time. And that's why we're here! How to style flare jeans? Read on for some fabulous styling tips –
1. The Button-down Shirt Look
Create a simple ensemble by matching up your flare jeans with a button-down shirt. Put on some heels to tie up the attire. Maybe even leave your shirt half tucked in and half untucked for a varied demeanor.
2. The Denim With Denim Look
Don your denim shirt or vest with your denim flares. Put on a statement necklace and throw in some shades for extra funk! For a formal look put on some blazers and carry your tote along.
3. The Blazer Look
For the work appeal team up your flare jeans with either a blouse or solid top and put on a blazer. Finish the ensemble with some alluring accessories or just a necklace.
4. The Leather Jacket Look
Pair your leather jacket with a pair of flare denims by wearing a lace top, crop top or any other tee underneath the jacket. It looks super stylish and gives a defining bold look. Add on some accessories to furnish the apparel.
5. The Tattered Look
For the cowgirl getup select out a pair of distressed flare denims and add to it a solid coloured tee. Complete it with a tad bit of jewelry and an alluring hat.
6. The Tank Top Look
Pair up your flare jeans with a tank top and along with either a pair of wedges or platforms. Put on some shades and colourful printed scarf for the ultimate casual look! If you own a long light vest, add it to the garb.
[sc:mediad]
7. The Cropped Top Look
Pair up your flare jeans with a crop top. Have a high waist flare jeans? Wear that! It will go just as brilliantly with a crop top.
8. The Kimono Look
Have a graceful floral kimono? Wear it with your flare jeans with a matching top beneath. Don't forget to wear your shades. They will look better with high waisted jeans, if you own a pair.
9. The Colourful Jeans Look
Pair up your colourful or printed flare jeans with a top. Be careful, if your jeans are plain add them up with a striped or patterned top then. Printed jeans work with plain tops.
10. The Belted Look
Show off your body curves by belting up your top at the waist. Brilliant way to shape up your body.
[Also Read: Do's And Don'ts To Wear Flare Jeans]
11. The Florescent Top Look
Own a neon or florescent top or shirt? Pair it up with your flare denims and brighten up your ensemble. Add on shades for the final touch.
You have all the ideas to help you work what to wear with flare jeans now. You can even customize your flare jeans outfit for the chillier days. How? Pair up these jeans with a sweater. Or wrap yourself around with a blanket scarf. Or complete the outfit with a pretty cardigan. Flare jeans are just as splendid and versatile as the skinny ones.
A few things to keep in mind while wearing flare denims are –
The style of jeans should be such that it remains fitted to your knee and then flare out with design. They should not be all out of shape and over-flared.
Try not to overdo the 'casual look' by completely combining laid-back elements with the overall attire.
Avert from wearing flats and heels with the same pair of flare jeans. It can rip up the hem-line. Keep heels for one and flats for another.
All you ladies can start styling flare denims right away and see how remarkable there really are. Try it for yourself!