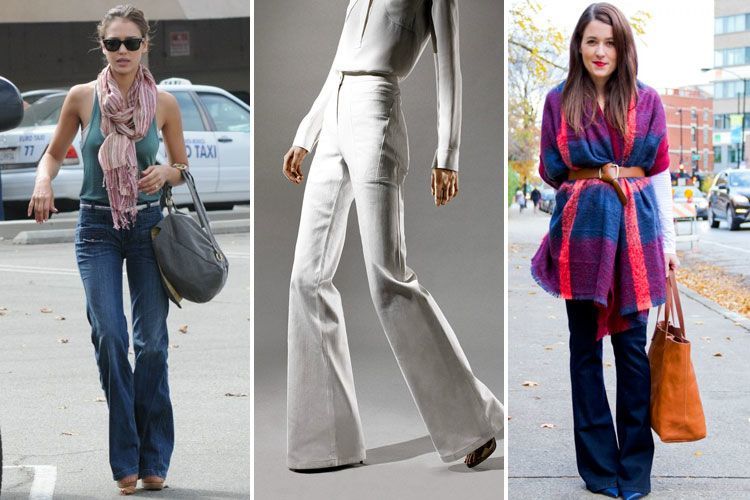 Which woman are you? The denim brigade, the trouser clan or flare rocking? Admittedly, slim-fit legs and tapered styles are dominating the ramps but flared pants are coming up as a good competitor.
[Also Read: How to Wear Dhoti Pants This Summer]
Flares are in the trend and there is no denying Tommy Hilfiger, House Of Holland and Tom Ford Spring 2015 fashion shows where models walked and strutted on the ramp in flared pants.
Fashion brand Gucci revamped its collection by getting none other than bellbottom jeans after a couple of vintage washes. Topshop, not to be left behind has entered the high street by presenting Cara Delevingne in its spring campaign, who is clad in 'MOTO Clean Cut Flare Jeans'. So, flared pants as you can see are back in the fashion race and retail stores. If you were to see it dispassionately, they never went out of style in the first place.
What to team up with Flares?
Size and proportion matter a lot when trying and experimenting out with fashion newbies. A 'Top' is a must item in wardrobe which needs to be looked into while wearing flared pants. You can try out three forms of tops while wearing flared pants – structured tee (in leather, denim or suede), bralet (which is sporty enough) and the long tunic. Even a crop top would add the right pizzazz to the flared pant when worn. So give up your thoughts of the boring weather and dare to flare your dressing by wearing flared pants in the form of denims and trousers.
[Also Read: Chic Sweatpants Styles: For the Lazy and the Stylish]
Plus points of Flared Trousers and Jeans
Like all new items in clothing and apparels, flared bottoms bring their own sense of charm.
Figure Flattering
Flared denims and trousers go well with pear shaped bodies as their silhouette balances out the proportions.
[Also Read: How To Wear Flare Jeans]
Ventilating Effect
Sticky and humid summers take up most part of a year. Flared trousers are like a refreshing lime since they have room for ventilation making you wear it with extraordinary ease and comfort.
Rules to Follow while wearing Flared Pants
Getting new fashion hotties in your wardrobe can be nerve-racking. That's why, we get you a rulebook which you should abide by when slipping into flared bottoms.
Wear Heels
It's not a fiction but a reality. The slight exaggerated shape of flared trousers gives the impression of elongated legs. A heel adds up to the tall look, which is why go and wear heels whenever you are in a mood to wear flared bottoms.
[Also Read: How To Style Harem Pants With A Razorback Tee]
Dress in High Waist Cut
If you want a curvy figure, go for flared pants that sit high on your hips. This will give am impression of long legs. You can add a belt too if you want to further define your waist line.
[sc:mediad]
Hemline
Go for a higher hemline in your flared pants than the normal standard one. This will make you appear relatively taller than before.
Flared Pants for Work
Make the professional-at-workplace in you look a bit playful by sporting a blazer with your flared bottoms to create a 'suit-shuit' impression. Wearing an asymmetrical top and pumps would complete the diva look.
[Also Read: What To Wear To Church]
Flared Pants for Evening
Put a button down shirt for evening dos under a crop top. If you want to look a bit sexier, go leave the bottom buttons of the shirt undone and you are ready for the cocktail effect with the shoe.
Flared Pants for Weekend Leisure
Add a touch of the '70s retro to your flared denims by putting a wide-brim hat, a waistcoat and a marble-accented pendant.
[Also Read: What To Wear With Flare Jeans]
Buy yourself flared pants and get spoilt for choice. Happy walking around in flared bottoms!