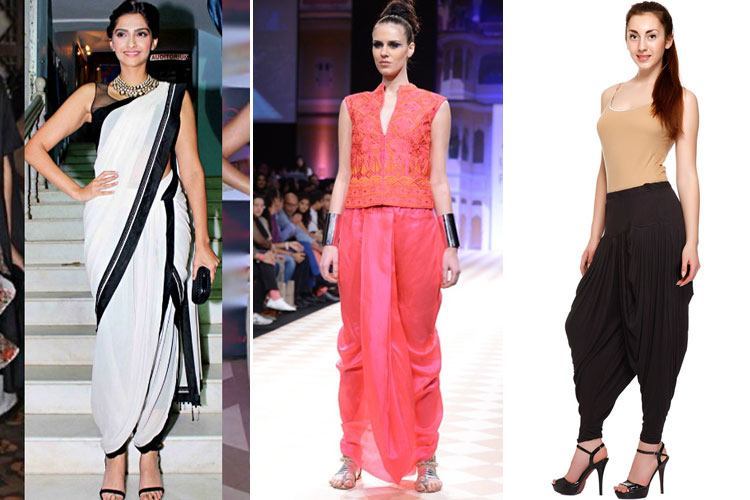 Girls want to have all the fun. And they know how to get their way out too, whether it is at home, work or gossip. Take a look at fashion corridors where women have grabbed the news by adopting dhoti pants as attire. It is no longer a male domain but an upcoming fashion twist that girls are happily wearing and flaunting. Remember Bollywood star Rani Mukherji who created a fashion rage by wearing dhoti pants in the film Bunty aur Babli.
[Also Read: What To Wear With Green Pants]
Dhoti pants have come of age ever since the trend stepped in. Today, one gets to see a range of vibrant colours, exotic prints and innovative fabrics in dhoti pant. It's an Indian garment that lets you be your creative self. There is a lot of casual and colourful look to it which is easy carrying to work as much as it is doing errand jobs in the house.
Pant Patterns
Summers are at their blistering high. With dhoti pants, you can create a new wardrobe definition and fan following. Pastel colours are haute as much as solid colours such as blue, green, pink and red. Floral and paisley prints give a quirky and hippie look. As for availability, check out the lanes and bylanes of Janpath in Delhi, Dilli Haat in INA Market or the happening Sarojini Nagar market, as these are some of the best shopping places in Delhi, for some artsy and ethnic prints in dhoti pants. However, if you are a travel bug, go to tourist places such as Puducherry and Mahabalipuram where these pants are not only dirt cheap, most of the firang tourists are found wearing them due to their comfort quotient.
Fashion Comparison
What is so unique about the dhoti pant? The fabric of these low-rise pants has several pleats that create an interesting width at the top (that is around the thigh area). For simplicity purpose, they are essentially loose at the upper leg area and start tapering down to the ankle making it attention-grabbing. This could be one of the reasons why dhoti pant has become the hottie in college girls as much as on the glam runway.
[Also Read: How to Style The Black Kurti]
How different are harem pants from dhoti pants? Harem pants are found loose throughout the leg that is the thigh area but not so at the hemline. Dhoti pants have more of gathered fabric than harem pants.
And why forget the jeans? The skin hugging fabric that has been there around for many years sometimes poses a bit of a problem for girls as they tend to get 'restrictive' not free flowing. It is the airy feel that girls look forward to and adopt more easily given the cruel Indian summers.
[Also Read: How to Wear White Kurti in Different Ways]
[sc:mediad]
At the end of the day, dhoti pants have comfort and functionality rolled into one which explains the ease, stretching and flexing that go with it.
Fashion Pairing
Whichever garment you wear, pairing is a must. This formula applies in the case of dhoti pant too. A cropped top, a peasant top or a short fitted kurta and a pair of stiletto heels help you cast a bindaas look with dhoti pant. You can go for a sleeveless top too. If you want to look rocker chic, team up your dhoti pant with a simple going colour T-shirt, hat and sling bag. And yes, Bohemian accessories in the form of statement jewelry will help you look a diva in this new found fashion cult.
Choosing the right Dhoti Pants
Fashion trends come and go but what you have to see is that they should fit well with your personality. Interestingly, dhoti pants go well with all body types, whether you are tall or short.
[Also Read: How To Wear Drapey Pants]
You will be pleasantly surprised to know that dhoti pants go well with short petite women as they help in hiding their bulges and excess weight.
If you have toned legs, then go for cropped dhoti pants. But if you have a pear-shaped body, then avoid wearing a voluminous dhoti pant around the hip area as it might look in bad taste.
Surely, dhoti pants have in them a unique element of surprise that will glam up your wardrobe and add to your personality. Since it's a welcome shift from the body to the style, dhoti pants are the best bet in making fashion beat the heat. Happy wearing!